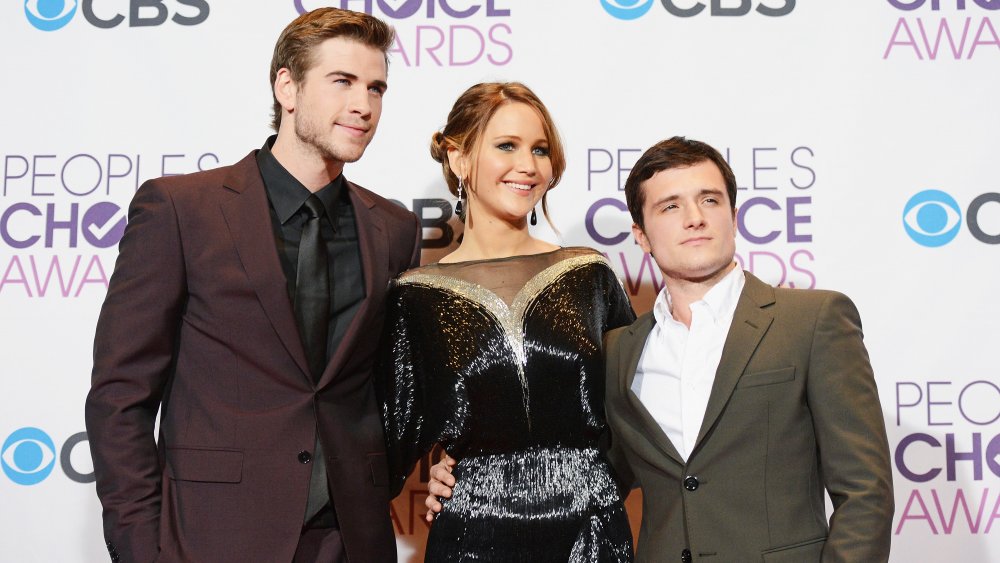 The Hunger Games franchise, based on Suzanne Collins' wildly popular young adult book series of the same name, was one of the biggest pop culture phenomenons of the 2010s. Although it's been years since Katniss Everdeen bravely volunteered herself as tribute on the big screen, the series is arguably just as popular today as it ever was. Just look at the video game sensation Fortnite, which essentially utilizes the exact same premise, or the waves of dystopian fiction that continue to splash across our bookstores and multiplexes, a la Divergent.
The very first Hunger Games movie, which debuted in 2012, boasts a number of very recognizable names. But at the time, the film's leads were a bunch of relatively unknown kids. This changed tremendously over the course of four highly successful blockbusters, pulling in a combined total of nearly $3 billion at the worldwide box office. Today, those kids have blossomed into some of the hottest names in Hollywood. Here is what the cast of The Hunger Games franchise has been up to since bidding farewell to Panem in 2015.
Jennifer Lawrence took an acting hiatus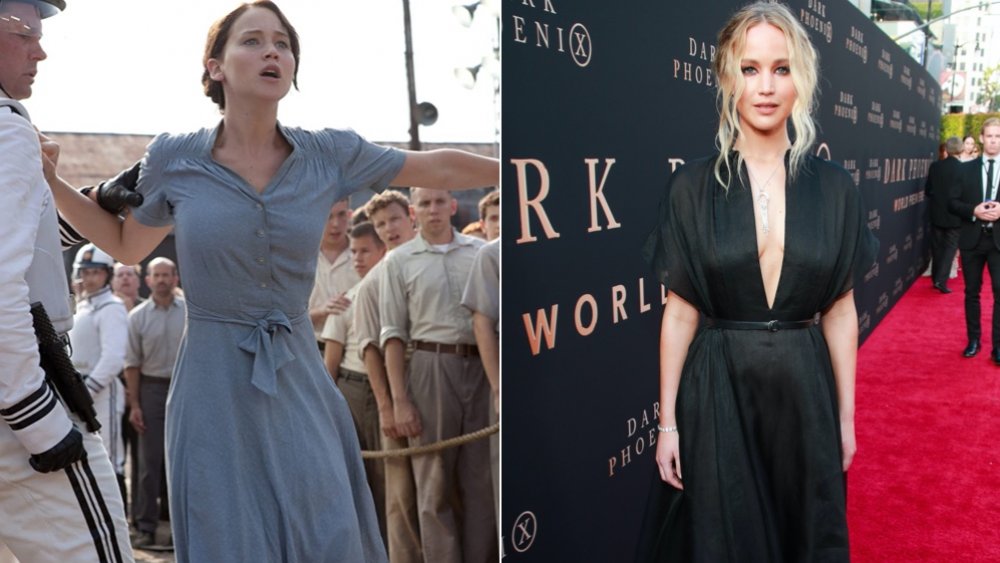 Before she landed the role of Katniss Everdeen, Jennifer Lawrence was best known for playing Lauren Pearson on The Bill Engvall Show and earning an Oscar nomination for her performance in 2011's Winter's Bone. This all earned her some industry clout, but it was undeniably The Hunger Games that catapulted her to new heights. At age 22, she tied Marlee Matin as the youngest actress to win the Best Actress Oscar for her role in 2012's Silver Linings Playbook, and by 2014, she was the top-grossing actor in Hollywood.
The Hunger Games wasn't even Lawrence's only big franchise. The Louisville native also had a large part in the X-Men universe, playing the shape-shifting mutant Mystique four times, most recently in 2019's ill-received X-Men: Dark Phoenix. After starring in 2018's Red Sparrow, the star decided to take an acting hiatus, during which she married art dealer Cooke Maroney.
Although it's been a while since fans have seen Lawrence in anything new, she has a few projects on the horizon. She'll be producing and starring in an adaptation of Pulitzer-Prize winner Teresa Carpenter's book Mob Girl, a true story about a mob wife who became an FBI informant. She's also teaming up with Adam McKay for a Netflix comedy entitled Don't Look Up, reportedly dropping in late 2020. Although she's long since retired her bow and arrow, it sounds like Katniss is still a leading lady.
Josh Hutcherson became Future Man
As a child actor, Josh Hutcherson enjoyed a fairly respectable career, starring in flicks like The Polar Express, Kicking and Screaming, and Bridge to Terabithia before he even turned 16. Perhaps these early credits helped him nab the coveted role of Peeta Mellark, District 12's earnest baker-turned Hunger Games contestant. As one-third of the story's main love triangle, Hutcherson and co-stars Jennifer Lawrence and Liam Hemsworth developed a lifelong bond, one that continued even after they bid adieu to their characters. "We talk to each other all the time, and we see each other when we're in the same cities … We talked about doing a reunion with everyone, but we hang out all the time anyway."
After 2015's Mockingjay — Part 2, Hutcherson has continued acting, appearing in a slew of films including 2017's Oscar-nominated The Disaster Artist. He also got into two new hobbies: DJing and directing. The Kentucky-bred actor eventually found a home on Hulu's ridiculous time-bending comedy series, Future Man, which ran for three seasons before taking a final bow in 2020.
Liam Hemsworth is playing the Most Dangerous Game
It's been a pretty rough few years for Liam Hemsworth. Since his time playing rebellious hunk Gale Hawthorne in the Hunger Games series, the Australian actor has seen his fair share of misfortunes, from starring in disappointing movies such as the mega-bomb Independence Day: Resurgence to seeing his entire Malibu house burn down during 2018's California wildfires. Then there's his on-again, off-again relationship with longtime lover Miley Cyrus, a roller coaster romance that spanned a decade before ultimately ending in divorce.
It certainly hasn't all been bad news for the Expendables star, though. In early 2020, Hemsworth struck up a romance with model Gabriella Brooks, and the Aussie pair appear to be going strong. He's also starring alongside Christoph Waltz in Quibi's thriller series Most Dangerous Game, which has been received fairly well by audiences. Although they haven't shared the screen yet, Hemsworth has also dropped hints that he's hoping to collaborate with his older brother, Thor star Chris Hemsworth, in the near future. "I really look up to my brother Chris … We're looking to do a film this year together, which is like a big action-comedy thing." Two Hemsworths for the price of one? What a bargain!
Woody Harrelson is causing Carnage
It's hard to imagine anyone other than Woody Harrelson playing Katniss and Peeta's callous mentor Haymitch Abernathy, but that was actually almost the case. "I turned it down and they re-offered it and I turned it down again … Then [the first film's writer and director] Gary Ross called me and convinced me to do it on the phone." Good thing the Cheers alum changed his mind, as Catching Fire is still the highest-grossing movie on his resume.
Since wrapping Mockingjay — Part 2 in 2015, Harrelson has seemingly been everywhere. He went toe-to-toe with Caesar's primate troops in 2017's War for the Planet of the Apes, visited a galaxy far, far away in 2018's Solo: A Star Wars Story, and even earned his third Oscar nomination for his poignant performance in 2018's Three Billboards Outside of Ebbing, Missouri. The one-time wild child has another big role on the horizon: Playing notorious Marvel Comics villain Carnage in the upcoming Venom sequel, Venom: Let There Be Carnage.
Elizabeth Banks will be Ms. Frizzle
Although each Hunger Games cast member performed well as their respective characters, it's no secret that Elizabeth Banks really stole the show as fan-favorite Effie Trinket, District 12's eccentric Capitol escort. For the Invincible star, it was love at first read, and she went out of her way to secure the role by having a mutual friend contact director Gary Ross to express her interest. "I love Effie Trinket … So tell Gary that if he's talking to Lionsgate about the movie that I want to do it." The rest, as they say, is history.
Although she's nearly unrecognizable without her thick layers of Effie makeup, Banks has enjoyed a busy career since Mockingjay — Part 2. She's starred in comedies like Pitch Perfect 3 and The Happytime Murders, and even stepped outside her comfort zone to play the lead in 2019's frightfully dark Brightburn. She also starred in and directed the Kristen Stewart-led Charlie's Angels, but unfortunately, her controversial comments about its poor reception seemingly made bigger headlines than the film itself.
While Effie is still one of her most iconic roles, Banks is actually confirmed to be tackling another classic literary figure in the near future: The Magic School Bus' Ms. Frizzle. The live-action remake's release date is still up in the air, but Banks will certainly be a perfect fit for the wildly imaginative teacher.
Stanley Tucci is flaunting his cocktail skills
In The Hunger Games, Oscar-nominated actor Stanley Tucci brought Caesar Flickerman, the Capitol's favorite TV talk show host/propaganda machine, to dazzling life. Since 2015, Tucci has continued to shine in movies like Transformers: The Last Knight, Submission, and Night Hunter – however, a lot of his more recent credits are actually voice acting. He voiced the piano Maestro Cadenza in 2017's live-action Beauty and the Beast, Philippe the French Papillion in 2018's Show Dogs, and even the crotchety hotel heiress Bitsy Brandenham in Apple's animated series, Central Park.
Recently, things have been quiet for Tucci, due to COVID-19. Still, that hasn't stopped him from unintentionally going viral after making a video of himself masterfully crafting a Negroni for his wife, Felicity Blunt. The actor credits his cocktail skills to a past job: "I was a bartender many years ago, when I was young. And I suppose those skills stay with you." Perhaps Tucci can put this suave skill to use when he stars in the highly-anticipated Kingsman prequel, The King's Man, currently slated for a 2021 release. Always remember: Manners maketh man.
Donald Sutherland co-starred with a Rolling Stone
Every great franchise needs a big, bad villain. Star Wars has Emperor Palpatine, the MCU has Thanos, and Harry Potter has Lord Voldemort. As for the Hunger Games, Katniss and crew lead a revolution against Donald Sutherland's President Snow, the Capitol's oppressive commander-in-chief. The MASH star admitted that he had never heard of the books, but after reading the script, he knew he wanted the role. "Nobody asked me to do it. I wasn't offered it. I like to read scripts and it captured my passion. I wrote them a letter … I thought it was an incredibly important film, and I wanted to be a part of it."
Since portraying Snow, Sutherland has starred in a number of films and TV shows. Perhaps most notably, he played Thomas Pruitt in 2019's Oscar-nominated space adventure, Ad Astra. Recently, Sutherland also co-starred with rock icon Mick Jagger in The Burnt Orange Heresy, and although the two didn't get to share any screen time, they at least enjoyed a quiet moment behind the scenes. "He came in just as I was leaving but we sat on beach chairs … on a wharf on Lake Como where he is waiting to shoot and I am waiting for a car to take me to the airport and it was like two old guys sitting. It was lovely."
Willow Shields has been dancing up a storm
Willow Shields was only 11 when she landed the role of Katniss' younger sister, Primrose Everdeen, in 2012's The Hunger Games. While it wasn't her first acting gig, it was most definitely her breakout role, and even today, it is still undoubtedly her career's largest credit. In fact, the young New Mexican actress hasn't starred in much else since Prim's last outing in 2015's Mockingjay — Part 2.
Although she hasn't been in many movies, Shields achieved more fame by competing on the 20th season of Dancing with the Stars, becoming the show's youngest contestant at the age of 14. She and partner Mark Ballas ultimately fell short of winning, but the show helped the young starlet build confidence. "Once you commit to it, you have a lot of fun and start to find out a lot of things about yourself that you never knew you could do."
Most recently, Shields played teenage figure skater Serena Baker in Netflix's Spinning Out. Although the show was canceled after its first season, you haven't seen the last of Shields. She will star alongside Lost's Elizabeth Mitchell in the upcoming indie drama, When Time Got Louder.
Sam Claflin joined Peaky Blinders
Sam Claflin burst onto the scene in 2011 after starring alongside Johnny Depp's infamous swashbuckler Captain Jack Sparrow in Pirates of the Caribbean: On Stranger Tides. The young English heartthrob was then cast as Finnick Odair for 2013's Catching Fire, and immediately shone as one of the franchise's new faces. There's no denying that the trident-tossing survivor quickly became a fan favorite.
Perhaps unsurprisingly, Claflin went on to star in a few steamy romance movies, such as 2016's Me Before You and 2018's Adrift. However, don't mistake him for a strictly chick-flick actor, as he teamed up with fellow Hunger Games alum Elizabeth Banks for 2019's Charlie's Angels. He is next set to appear alongside Millie Bobby Brown and Henry Cavill in Netflix's Enola Holmes.
Fans of Netflix's wildly popular 1900s crime drama Peaky Blinders will also recognize Claflin for playing Oswald Mosley, a real-life politician who debuted in the show's fifth season to oppose Cillian Murphy's Thomas Shelby. As the villainous Mosley, Claflin got the chance to step out of his comfort zone and portray a different kind of character. "For me, having the opportunity to step away from that kind of good boy romantic lead and to step into a darker, devilish character like Oswald Mosley, that's what I always dreamt of doing."
Jena Malone created her own instrument
One thing that comes across abundantly clear in Catching Fire is that Johanna Mason isn't someone you want to mess with. Sucker Punch actress Jena Malone brought serious intensity to District 7's fiery, axe-wielding Quarter Quell contestant, a role she went on to reprise in both Mockingjay films.
Since then, the Sparks, Nevada-born star has been busy. She had a small role in the DCEU blockbuster Batman v Superman: Dawn of Justice, and also starred in 2016's Oscar-nominated drama, Nocturnal Animals. Up next, Malone will share the screen with Janelle Monáe in the highly anticipated horror flick, Antebellum.
Although she's primarily known as an actress, Malone is also a talented musician. The singer-songwriter recently went on The Kelly Clarkson Show and dished about creating her own instrument and the unorthodox places she likes to play music: "We play on street corners, rooftops, girl's bathrooms, that kind of thing." A true artist indeed.
Lenny Kravitz is still jamming
Who could forget Grammy-winning rocker Lenny Kravitz's performance as Katniss' personal stylist, Cinna? Although Kravitz had gained silver screen fame from his role in 2009's Precious, Hunger Games marked his biggest splash in Hollywood. When speaking to CNN in 2012, the "Fly Away" singer opened up about the future of his newfound acting career: "I'm just waiting for the right roles to come in."
Evidently, those "right roles" were few and far between. Since giving his final performance as Cinna in 2013's Catching Fire, Kravitz has only starred in a handful of projects. In 2016, he popped up as Mel Trueblood in one episode of Pamela Adlon's FX comedy Better Things, and he later played the small role of Roland Cane in two episodes of FOX's drama, Star.
While his acting credits haven't exactly mounted, the New York-born artist has remained busy. He dropped his 11th studio album, Raise Vibration, in late 2018, and spent a good chunk of 2019 touring North America. He's also been busy penning his autobiography, Let Love Rule.
Jeffrey Wright helps Bond and Batman
Although he didn't join the franchise until the second film, Jeffrey Wright certainly left his mark on the Hunger Games series. His thinker-tinkerer Beetee made a big splash in Catching Fire, and he continued to play a large role in both Mockingjay films.
Since then, Wright has seemingly become one of HBO's go-to guys. He's played the robotic Bernard Lowe in every season of the highly-touted Westworld, and even headlined the HBO original film O.G. in 2018. On a more G-rated note, he also voiced McWinkle in Netflix's Dr. Seuss-inspired animated series, Green Eggs and Ham.
Wright's career success shows no signs of evaporating any time soon. He's set to reprise his role as CIA operative and Bond ally Felix Leiter in the highly-anticipated No Time to Die, and will voice Uatu the Watcher in the upcoming Disney+ animated series What If…?. Finally, the Washington D.C.-born actor will dip his toes into the DC Comics universe, portraying James Gordon in Matt Reeves' The Batman. The future looks bright for Jeffrey Wright!
Paula Malcomson got to revive an old character
When Paula Malcomson landed the role of Katniss Everdeen's mother in The Hunger Games, it actually wasn't the first time she'd played Jennifer Lawrence's mother on-screen. In 2007, the two played mother and daughter on an episode of Cold Case. Talk about kismet casting!
The Northern Irish actress, who starred in all four Hunger Games movies, struck gold by being cast as Abby Donovan on the award-winning Showtime crime drama, Ray Donovan, where she appeared in 60 episodes before her character died of cancer in the fifth season. In 2019, she got to reprise her role as Trixie on HBO's Deadwood when the network decided to revive the western series in Deadwood: The Movie.
Finally, although it was a very small role, eagle-eyed fans of HBO's gritty mini-series Watchmen might've noticed that Malcomson briefly popped up as Renee, Looking Glass' love interest, in the episode entitled "Little Fear of Lightning."