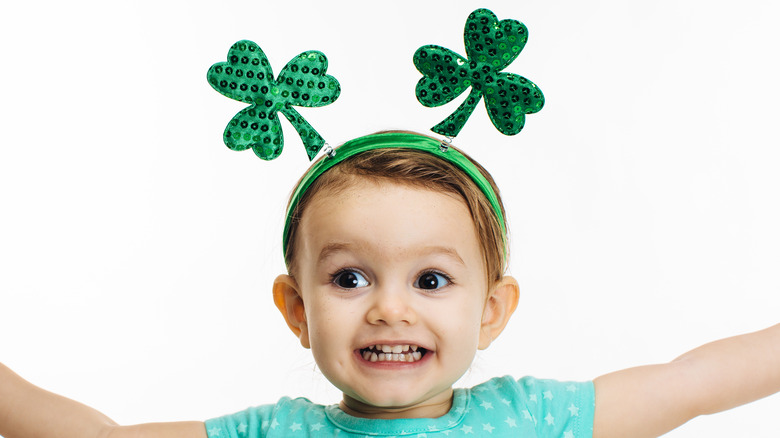 The Irish are famous for their beautiful, somewhat bizarre names. You've probably come across some of the more common Irish names like Liam or Patrick; however, there are plenty of other unusual Irish names that you may not know. These names are often spelled quite differently to how they're pronounced — think "Niamh" for Neev or "Roisin" for Rosheen. Nevertheless, Irish names are a lot like the Irish accent — lilting, charming, and mesmerizingly beautiful. If you're looking for a unique baby name, why not borrow a classic name from the Irish?
Irish names are so unique because they derive from the Gaelic language, which has its own rules for spelling and pronunciation. Many names use something called a fada, which is a slanted accent over a vowel. The fada indicates a specific pronunciation change (via The Guardian). It can also make your baby's name look even prettier on paper.
Using an Irish name for your baby is a wonderful way to make sure your child's name stands out — but make sure you do your research. In 2020, one couple discovered that they had been pronouncing their own son's name wrong (via The Mirror)!
Here are some stunning Irish names along with information about their history and their pronunciation.
Aoife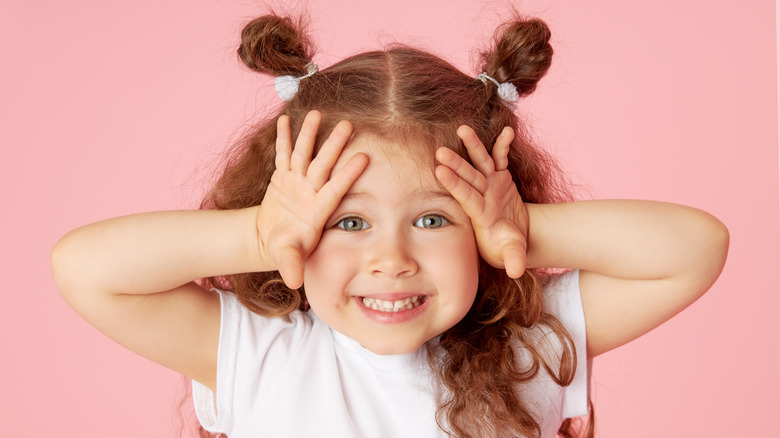 Aoife is a girls' name of Gaelic origin. While it may look like ay-oh-eef, it's actually pronounced ee-fah — which we think is absolutely gorgeous! According to BabyNames.com, the name comes from the Gaelic word aoibh, which translates to mean "beautiful" or "radiant."
The name, in fact, dates all the way back to ancient mythology. As Oxford Reference explained, Aífe was a famous warrior queen. As the story goes, Aífe was enemies with a man called Cú Chulainn, who distracted her during battle, then bargained with her to bear him a son. Apparently, Aífe is one of the most powerful warriors in Irish history — Cú Chulainn could easily defeat any opponent, but when it came to Aífe, he had to trick her. In other words, she was pretty powerful!
As of 2021, the name Aoife is still relatively unknown, making it a great choice for parents who are looking for an extremely unique name. Apparently, as of this writing, the name is the 1,768th most-popular name (via BabyCenter).
Declan
Declan is traditionally a boys' name. Unlike some Irish names, Declan is easy to pronounce — it's pretty much exactly how it looks on the page! According to BabyNames.com, the name comes from the Gaelic name Deaglán and means "full of goodness." The name also has links to an ancient Irish saint who founded the Monastery of Ardmore.
Perhaps because of its relatively easy pronunciation, Declan is one of the more popular Irish names. In fact, you've probably come across a few well-known Declans already. Declan Rice, for instance, is a famous soccer player who plays for West Ham in the U.K. You may have also heard of Declan O'Rourke, the Irish singer-songwriter best known for the song "Galileo." Another famous Declan is the famous singer Elvis Costello, who changed his name from Declan to Elvis when he became a singer.
Declan is a fairly common name these days. In fact, as of 2021, it is the 90th most-popular name in the United States.
Saoirse
Saoirse is one of those Irish girls' names that is impossible to pronounce unless you already know the name. Many people, quite understandably, assume it's pronounced say-or-ise or sowrs, but the name is actually much prettier — it's pronounced ser-shah or seer-shah. As BabyNames.com explained, the name means "freedom."
The name has become much more popular in recent years, in part due to the rise of Academy Award-nominated actress Saoirse Ronan, known for her roles in the films "Brooklyn," "Atonement," "Little Women," and "Lady Bird." As the actress said on "This Morning," it isn't always easy having such an unusual name in Hollywood, and people often get it wrong. "As I've gotten older I just find it really funny," she said. She went on to explain that the name is tricky because the pronunciation changes depending on where you're from. She pronounces it seer-shah, while Americans would pronounce it ser-shah. In other parts of Ireland, however, the name is sometimes pronounced sore-shah. "Everyone's got their own version of it," she said. If you're brave enough to deal with plenty of mispronunciations, this is one stunning Irish name.
Eoin
Eoin is a classic Irish boys' name. While you may read this name as ee-an, it's actually pronounced like the English name Owen. This makes it a familiar, recognizable, and memorable name with a unique, historic spelling. As BabyNames.com wrote, the name means "God is gracious." Even though it's pronounced like Owen, the name is actually an Irish version of the Anglicized name John.
According to one article from The Names Dictionary, the name Eoin was originally adapted by the Irish during medieval times from the Greek name Ioannes.
Throughout history, the most famous Eoin was Eoin MacNeill, an Irish politician and scholar who believed in Gaelic Irish patriotism (via Irish America). You may have also heard of Eoin Colfer, the author of the celebrated "Artemis Fowl" books, or Eoin Morgan, the famous cricket player. Other famous Eoins include American tennis player Eoin Collins and Irish soccer player Eoin Jess.
Niamh
Niamh is one of those Irish girls' names that really doesn't make sense to English speakers. If you try to sound it out, you might come up with something like neye-am. However, this gorgeous name is actually pronounced neev — we know, it doesn't make any sense!
According to BabyNames.com, Niamh translates to mean "bright." As noted by Oxford Reference, Niamh was a mythological character, namely the daughter of the god of the sea, according to an old Irish legend. Eventually, she fell in love with a poet named Oisín. Basically, she's like the Irish Little Mermaid!
Niamh is still a relatively unknown name in America. According to BabyCenter, the name is the 3,728th most-popular name in the country as of 2021, so, chances are, your child will be the only Niamh in class by quite a long shot. You may have heard of the actress Niamh Cusack, sister of Sinead Cusack, who is, perhaps, the best-known Niamh.
Finian
Finian is an adorable boys' name that has Gaelic origins. As BabyNames.com noted, the name means "white." While this may have slightly uncomfortable connotations, Finian, itself, is a lovely, classic Irish name.
For hardcore musical theater fans, the name may remind you of the famous Irish musical "Finian's Rainbow" that first opened on Broadway in 1947. As The Wall Street Journal reported, the musical was never a big success after its initial run, and the 1968 film, which starred none other than Fred Astaire, was also a flop. However, Finian is a lovely name for theater fans who want to pay homage to a classic.
There are few famous Finians today aside from a couple of Irish athletes and a politician. And, Finian — which can also be spelled "Finnian" with a double "n" — is the 3,931st most-popular name as of 2021 — yet its popularity is falling dramatically year by year. This means that your child will have a truly unique name. Plus, you'll get to use the adorable nickname "Finn!"
Róisín
Róisín is a girls' Irish name that, according to BabyNames.com, means "rose." It's pronounced ro-sheen. We love this pretty Irish name and the potential nicknames like "Ro" or even "Rose" or "Rosie." While the name is usually around the 27th most-popular name in Ireland, it's ranked in the United States at 9,927 as of 2021.
One famous Róisín is Róisín Murphy, the dance-electronica singer. Her 2020 album "Róisín Machine" literally gave us all a lesson in Irish name pronunciation. As Murphy put it to Bloop, "It rhymes a bit with Róisín, so hopefully people can really get their heads around saying my name correctly!" Clearly, lots of people go for the obvious roy-sin when they read the name.
Other well-known Róisíns include Róisín Shortall, the Irish politician, Róisín Conaty, the actress and comedian known for "GameFace," "After Life," and "Man Down," and Róisín O, the Irish singer known for "Heart + Bones."
Cillian
Cillian (pronounced kill-ee-an) is a relatively obscure boys' name from Ireland that has been made extremely popular, thanks to Irish actor Cillian Murphy. According to BabyNames.com, the name means "church" or "monk's cell," making it a particularly good name for religious parents. Cillian can also be spelled "Killian" for parents looking for something even more unusual.
Along with the "Peaky Blinders" star Cillian Murphy, other well-known Cillians include the Irish soccer player Cillian Sheridan and the Celtic musician Cillian Vallely.
In Ireland, the name Cillian is extremely common. In fact, in 2011, it was the 11th most-popular name in the country. In the U.S., the name is also becoming more and more common. According to Baby Name DNA, as of 2020, it's the 964th most-popular name, making it a great choice for parents who want a pretty Irish name that's easy to pronounce and not too "out there."
Cara
Here's another gorgeous Irish girls' name. Unlike some Irish names, Cara is beautiful, simple, and, most importantly, easy to spell correctly — choosing this Irish name will save your future daughter countless embarrassing trips to the Starbucks drink collection counter. According to The Bump, Cara has a Gaelic origin and means "beloved" or "friend." Cara can be pronounced as either cah-rah or kee-rah. Another neat thing about the name Cara is that it's also an Italian name — making it the perfect name for a half-Irish, half-Italian baby.
In recent years, Cara has become relatively well known, thanks to British model and actress Cara Delevingne. Delevingne even did an Irish accent for the series "Carnival Row." As she told PA (via RTE), "Irish, in my opinion, is one of the most beautiful [accents]," noting "the way they speak and the lyrical way of their words." Who knows, maybe she has some Irish heritage in her family line?
Cara is the 734th most-popular name in the U.S. as of 2021, according to BabyCenter.
Oisín
The boys' name Oisín is famous in Irish culture and, according to BabyNames.com, means "little deer" — how cute! The name is pronounced oh-sheen and rhymes with the girls' name Róisín. Most Americans struggle with this name, as demonstrated by Saoirse Ronan on "The Late Show." It seems that even British people have difficulty with this one. As The Daily Edge reported in 2015, a Sky News reporter pronounced the name oy-sin — which, apparently, sent Irish Twitter into meltdown.
Oisín was, apparently, a warrior and a poet, according to Irish legend. The Irish poet William Butler Yeats even wrote an epic poem about the warrior Oisín called "The Wanderings of Oisín." In the poem, a fairy princess called Niamh falls in love with Oisín after reading his poems and holds him captive. He finally returns to Ireland hundreds of years later to find his friends are dead. It may not be the cheeriest story, but it's a beautiful poem.
A few other famous Oisíns in history include Oisín Kelly, a famous Irish sculptor whose art is found all over Ireland, and Oisín Fagan, also known as "Gael Force," an Irish boxer.
Aisling
The Irish girls' name Aisling, pronounced ash-leen or ash-ling, is a beautiful name that's easy to say, but a little harder to spell. It also has a beautiful meaning — according to BabyNames.com, the name means "dream" or "vision."
You probably won't come across many Aislings in the States. According to BabyCenter, it's 2,820th in terms of popularity. However, there are a few famous Aislings who are starting to make the name more popular. Aisling Bea is probably the best-known Aisling. Bea is an actor and comedian known for "This Way Up" and "Living With Yourself." As the Irish Examiner reported, Bea's real name is actually Aisling O'Sullivan — and it doesn't get much more Irish than that! You may also know Aisling Franciosi, the Irish-Italian actress known for "The Fall," "Game of Thrones," and "Clique."
We think Aisling is a beautiful name for a baby girl. Plus, if you're worried about the mispronunciations, many people use the spelling "Ashling." And, you can use the adorable nickname "Ash!"
Liam
Liam is one of the most common Irish boys' names. According to BabyNames.com, it directly translates to mean "with gilded helmet." The name originally derives from the name William, which comes from the Belgic word "guildhelm."
While many Irish names are extremely unusual and difficult to spell, Liam is the opposite. The name has become incredibly common in the United States. In fact, according to The Guardian, the name shot up in popularity, becoming the most-common boys' name in the country in 2018, 2019, and 2020. Apparently, multiple countries have now overtaken Ireland in terms of the name's popularity. In other words, if you choose this name, your child will be in good company.
There are plenty of well-known Liams out there: actor Liam Neeson, best known for "Schindler's List," "Taken," and "Love Actually," actor Liam Hemsworth, known for "The Hunger Games" and "The Last Song," and Liam Payne, the pop singer of One Direction fame, to name just a few. Liam is a wonderful choice for Irish parents looking for a boys' name that won't stand out too much, but will still pay subtle homage to their heritage.
Áine
Áine is, in our opinion, one of the prettiest Irish girls' names. While it may look like ain, it's actually pronounced awn-yah, similar to the Russian name Anya. This name is also, essentially, the Irish version of the name Anna. According to BabyNames.com, the name means "gracious" or "merciful" and comes from Irish mythology. According to legend, Áine was the daughter of a Scottish king who married the famous Fionn MacCumhaill (or Finn McCool in English). Áine was also the goddess of summer and wealth.
If you've never come across this name, there's probably a good reason. According to BabyCenter, this name was the 4,621st most-popular name in the United States in 2021. In fact, there are very few well-known Áines. You may have heard the name on the British show "This Way Up," which stars (and was written by) Irish actress Aisling Bea as Áine. Who knows, maybe she wanted to resurrect this beautiful, old Irish name. We can definitely see why — this name deserves a revival.
Connell
Connell is an Irish boys' name that is pronounced much like it's spelled — caw-nul. This is a relatively-common Irish name that won't turn too many heads. According to BabyNames.com, it means "strong wolf." Another version of the name is "Conal," which is the Scottish version of the same name. O'Connell is also a fairly common Irish surname.
The name became much more popular in 2020, rising to No. 5,214 in the United States. As The Irish Sun reported, this is likely due to the BBC show "Normal People," which starred Paul Mescal as Connell Waldron, a character who quickly became something of a sex symbol, and, as The Telegraph put it, "a feminist's daydream." Of course, the character has his problems, but it's easy to see why so many parents were inspired to make the young, brooding Irishman their baby's namesake. Another famous Connell is Connell McShane, the Fox News reporter.