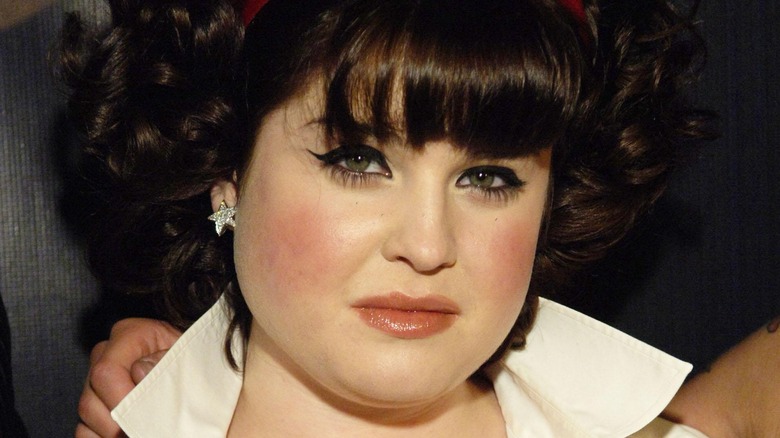 Growing up in the spotlight can take its toll on any teenager. But for the teenage daughter of rock and roll icon Ozzy Osbourne, that spotlight was even more intense than most. Kelly Osbourne rose to stardom in the early 2000s when her family's reality TV show, "The Osbournes," quickly gained popularity. But Kelly, who was just reaching adulthood when the show began, and her brother, Jack, quickly felt the weight of reality TV and its effects on her famous family.
As if growing up an Osbourne wasn't already a wild experience, having cameras follow you around as Kelly transitioned from teen to adult proved to be harrowing. Kelly has openly talked about her wild teen and young adult years, reaching incredible lows and the highest of highs, and her weight has been at the crux of it all. However, Kelly's struggles with drug and food addictions have helped her transform into the gorgeous woman we stan today. Here's an inside look at Kelly Osbourne's amazing weight loss transformation that has everyone talking.
Kelly Osbourne had her fair share of teen troubles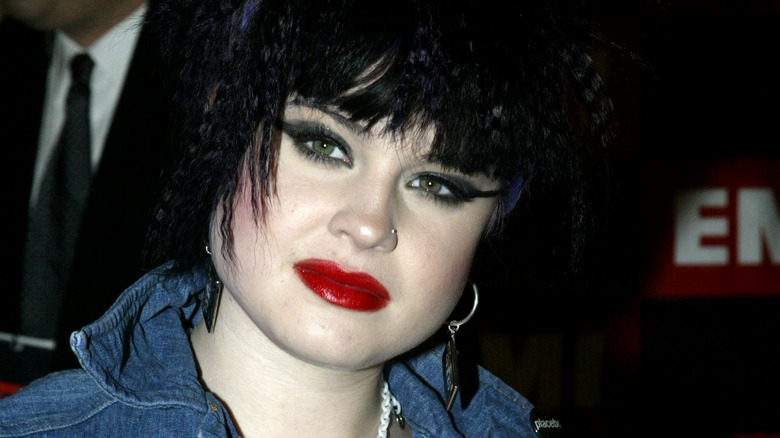 Kelly Osbourne has been transparent about her struggles with addiction during her teen years that led to her low self-esteem and weight problems. Before and during the time "The Osbournes" aired, Kelly was already navigating a drug addiction that wouldn't hit its lowest point until years later. On a June 2021 episode of "Red Table Talk," Kelly admitted that she was first given Vicodin after having tonsil surgery when she was 13 years old (via The Sun). Vicodin soon spiraled into other, cheaper drugs that gave her a similar high, like heroin.
Kelly explained that Vicodin gave her an easy way out of all the nagging thoughts in her head: "I went from having every voice in my head going like, 'You're fat.' 'You're ugly.' 'You're not good enough.' 'No one likes you.' 'You don't deserve this.' 'People don't like you because of who your parents are.' And all of a sudden, every single voice was silenced and it felt like life gave me a hug."
Rehab and sobriety affected her weight
By 2004, Kelly Osbourne's addiction had spiraled out of control, leading to her first stint in rehab in 2004. According to MTV News, Kelly checked into rehab for her painkiller addiction about one year after her brother Jack checked himself in. Although Kelly's parents were the ones to call the rehab center, mom Sharon says that Kelly went willingly, understanding that she had a real problem.
In more recent interviews, Kelly has admitted that if she hadn't gotten help, she probably wouldn't be alive today. Although her first time in rehab wasn't her last — the Daily Mail reported Kelly entered rehab seven times up until 2020 — she is proud of the progress she's made since the lowest points in her life.
Still, Kelly says that sobriety led her down an even more tumultuous road of weight gain and a hatred for her body. On a 2020 episode of DJ Fat Tony's podcast, "The Recovery," Kelly says, "I gained a lot of weight when I first got sober, like a lot of weight, because I was emotionally replacing drugs with food." She explained that her body "went into overdrive" as she "had denied my body proper nourishment for so long." In turn, that weight gain made her "very unhappy."
She was fat-shamed through her most vulnerable years
Kelly Osbourne's drug addiction wasn't the only thing that led to her crushed self-confidence surrounding her weight. In several interviews, Kelly has admitted that she was fat-shamed through her most vulnerable teenage years. On Dax Shepard's podcast, "Armchair Expert," Kelly said that she's been bullied and shamed more for being fat than she has for her drug addiction, something that perplexes her to this day.
And the fat-shaming hasn't come just from your run-of-the-mill keyboard warriors who enjoy bashing celebrities from behind their computer screen. Some of the worst bullying has come from others in the industry who could relate to Kelly's struggles, even if only from the level of being in the spotlight. For example, Kelly's rivalry with Christina Aguilera was quite the head-turner back in the day, and she says it stemmed from Aguilera's comments about her weight and looks. Billboard reported that a segment at the 2003 MTV Europe Music Awards showed Aguilera throwing darts at a picture of Kelly, saying, "I didn't realize it was still Halloween."
In an interview with Shape, Kelly said, "I understand that being judged by others comes with the territory, but it broke my heart and ruined my self-esteem. It sets you up to hate yourself in a huge way. I was so angry about the things people said about me."
Kelly Osbourne gets involved in the fashion world
As haters kept hating, Kelly Osbourne began launching her career outside of "The Osbournes" and her famous family. As it turns out, one of her deepest passions was fashion, which she proved throughout the time her family's reality show aired. Despite her taste in clothing being different than what mainstream America may have considered fashionable at the time, it was clear that Kelly had her own tastes and she wasn't afraid to show them off.
In 2006, "Project Catwalk," the UK version of "Project Runway," saw something in Kelly and her unique fashion sense. The series bumped the previous host, Elizabeth Hurley, from the position, and crowned Kelly the new host.
Kelly credits the show with boosting her confidence on camera and off. In an interview with Elle, she explained, "Elizabeth Hurley was the previous host and I was really nervous because I'm not a model and I'm not a part of the fashion world until I did this show. And I thought, 'Why would they want me to host it when they could get Kate Moss or another British model?'" Still, the show's decision-makers chose her, allowing her to host two seasons of the show that would transition her into the confident, fashion-forward Kelly Osbourne we know and love today.
Dancing with the Stars sparked positive changes
Throughout the mid to late '00s, Kelly Osbourne was on top of her career. "Project Catwalk" catapulted her to fashion stardom, allowing her other modeling and hosting opportunities. Plus, Kelly was past her drug addiction and focusing on bigger and better things in her life, like the career she loved.
Her new confidence was obvious, and perhaps the reason that "Dancing with the Stars" asked the young starlet to join Season 9 of the show. Kelly partnered up with Louis van Amstel, who she adored from the get-go. Together, the pair would reach third place, something Kelly never saw herself achieving.
Kelly continued to blossom throughout the season, with fans noticing her confidence build and pounds shed from her waistline. Kelly contributes all the positives to her fans and her partner, telling "Access Hollywood," "Louis van Amstel and 'Dancing with the Stars' changed my life, and as cheesy and cliché and that sounds, America had a [huge] part in that. By picking up the phone and voting for me every week and all the amazing things they said gave me the confidence to keep going at something that I was so scared and so terrified to do." Kelly also noted that van Amstel taught her how to take care of her body through dedication and commitment.
Still, her relationship with food and exercise was a struggle
Although her weight loss during her season on "Dancing with the Stars" was noticeable to fans, Kelly Osbourne said that behind the scenes, she was majorly struggling with her weight and eating healthy, even after the show was over. Throughout the course of the show, Kelly dropped about 20 pounds, but she found it challenging to keep up her regimen of healthy eating and exercising.
Kelly told Shape, "[During the show], I started losing weight and realized, 'Oh, it's true what they say: Diet and exercise really work!'" But after the show, she admitted, "I didn't like it one bit." Still, she felt determined. "I thought, 'Kelly, you've come this far, let's see what you can really do!'," she remembered. In the same interview, Kelly said that she continued to work on staying fit and active by hiking with her mom and hiring a personal trainer, eventually shedding another 30 pounds by 2011.
Kelly lands on the cover of Shape magazine
Imagine having a hateful relationship with your health and weight for most of your life and eventually ending up on the cover of Shape magazine. That's exactly what happened to Kelly Osbourne in late 2010, when she wowed the magazine's readers with her svelte body in a tiny red bikini. Not surprisingly, landing the cover was just the boost to the star's confidence that she had been searching for.
In an interview with Us Weekly, Kelly said, "I have never worn a bikini in my life before yesterday. I never even thought of wearing one! I cried when I saw the picture. Everyone that was there, we all just burst into tears. It was a thrilling experience."
Kelly also opened up about what she'd been doing to keep the weight off and stay healthy, telling Us Weekly that she's continued working with her celebrity personal trainer. "I just commit to half an hour a day. It doesn't seem overwhelming and I can handle that. I do half an hour on the treadmill and when I feel like doing more, I'll do a few sit-ups and some weights."
From troubled teen to fashion icon
After Kelly Osbourne's time on "Dancing with the Stars," her career began to take an even more exciting turn than she ever expected. E!'s new show, "Fashion Police," was going to have Kelly as one of its hosts, right next to the beloved Joan Rivers (per Entertainment Weekly). Before she knew it, her body and fashion sense were entirely in the public's view, watched by celebrity and fashion enthusiasts all over the country, leaving her as vulnerable as ever to being scrutinized.
However, Kelly faced the challenge head-on as a co-host for five years. On a 2015 episode of "The Talk" recounted by Entertainment Weekly, Kelly opened up about her time on the show and what an exciting time in her life it was for her. "It was the five best working years of my life. I am so grateful for the experience. I can't even," she admitted. "Working with Joan Rivers for five years was incredible. I learned so much."
Kelly opens up about having weight loss surgery
Kelly Osbourne's thrust into the public eye happened quickly, and there were no signs of it stopping for years, even after she decided to leave "Fashion Police." Kelly had several hosting gigs, guest appearances, and stints on other popular shows, including "Project Runway Junior," "Australia's Got Talent," and "The Masked Singer," ensuring that her career and fans remained in place.
During this time, Osbourne stayed somewhat quiet about her weight and health. She looked as healthy and happy as ever, so it's not surprising that naysayers didn't have much to say — until she started shedding what looked like a lot of weight again.
Kelly decided to break her silence during a 2020 interview on the "Hollywood Raw" podcast, revealing she had gastric sleeve surgery to maintain the weight loss she'd worked so hard for (via Good Housekeeping). "I had surgery, I don't give a f*** what anyone has to say," she said. I did the gastric sleeve. All it does is change the shape of your stomach. I got that almost two years ago."
She did it for much more than her looks
After revealing her weight loss surgery, Kelly Osbourne began talking more about her transformation. However, she didn't talk as much about her looks as she did about her health and wellness, which she says were her priority reasons for losing close to 90 pounds in total.
In an interview with Extra in early 2021, Kelly explained how she felt when people would talk about her incredible weight loss. "Everyone was so, like, caught up in how, how I look. They never asked me how I felt," she admitted. "And the truth is I was so f***ing happy and I felt amazing. I did it for me. I did it because I wanted to live. What I saw in the mirror … I wanted the body to match the mind, because … I spent so much time working on my mind and then I spent a year working on my body and now it's about the soul. [I] did the mind, the body, now the soul."
Kelly Osbourne follows a strict workout routine
Since losing weight and getting her body and health to where she wants them to be, Kelly Osbourne has stuck with a workout regimen that helps her keep her womanly curves while getting rid of unwanted weight. Kelly focuses on high-intensity interval training (HIIT). This form of exercise, which blends quick bursts of high-intensity moves with short cool-down periods, burns lots of calories in a short period of time and keeps your metabolism going strong long after you exercise (per Healthline).
Trainer Lacey Stone, who helps Kelly stay in shape, told Hollywood Life, "Spin is a great way to lose pounds, but strength training is an absolute must-have to keep your curves. You don't want to do so much cardio that you lose definition and that's why adding a strength component is essential to a weight loss plan even though you'd think it [would] add size."
She's turned her relationship with food into something positive
Kelly Osbourne may not have always had a great relationship with food. She's spoken to the public about turning to food when she navigated her addiction, making it become somewhat of a crutch for comfort (via Us Weekly). Kelly had to rise above her food addiction, too, and one of the ways she did that was by viewing food in a more positive light. Since "Dancing with the Stars," Kelly's view of food completely shifted as she learned to eat healthier in ways that fueled her body.
Perhaps one way Kelly continues to move past her negative relationship with eating is by volunteering. In April 2021, the Daily Mail reported that Kelly volunteered at a food drive led by the LA County Sheriff's Department in California. Rather than making food the focal point of her life, she used her time to help others in need of nutritious foods. Pictures from the event show Kelly handing out food, water, and face masks to those in need.
She's committed to fighting for her sobriety and her health
With all amazing things in life often comes setbacks. For Kelly Osbourne, it was a major setback, which she opened up about in 2021. After losing close to 90 pounds and remaining completely sober for four years, Kelly admitted in an "Extra" interview about her relapse, which happened during the COVID-19 pandemic.
Kelly explained that alcohol ended up being her downfall. "I don't know why my nervous breakdown happened at the end of the lockdown. I made it all the way through, everything was great, and my life was perfect. I am an addict and had thought that I had enough time under my belt and I could drink like a normal person, and it turns out I cannot and I will never be normal."
Fortunately, Kelly said that her setback wasn't a major one. "I don't know why I even tried it," she admitted. "It's not for me and it took me a matter of days and I was like done, not doing this." Thankfully, she's committed to getting back on track with her sobriety for her own betterment.
Kelly's focusing her newfound confidence on acting
Now that Kelly Osbourne has more confidence in herself than ever before, what has she been up to? In addition to staying on top of her fitness and health goals, she is putting much of her focus and confidence into her acting career. Thus far, the firecracker of the Osbourne family has mostly had outspoken hosting and guest star roles, but her desire to spread her wings and show off her talents led her to acting.
According to The Sun, Kelly spent a lot of time writing ideas for TV shows in 2020, including music-related and reality shows. Kelly told the publication that she'd been getting more interested in acting after getting sober and healthy, and that a few of her show ideas have already sold. "I am in training every day and in acting classes every day and really preparing for this new thing that all starts and stops with me being good at it, so it's a lot of pressure," she revealed. "I've got terrible anxiety from it all but it's my dreams and my dreams are finally coming true." We're so ready to watch her chase her dreams!