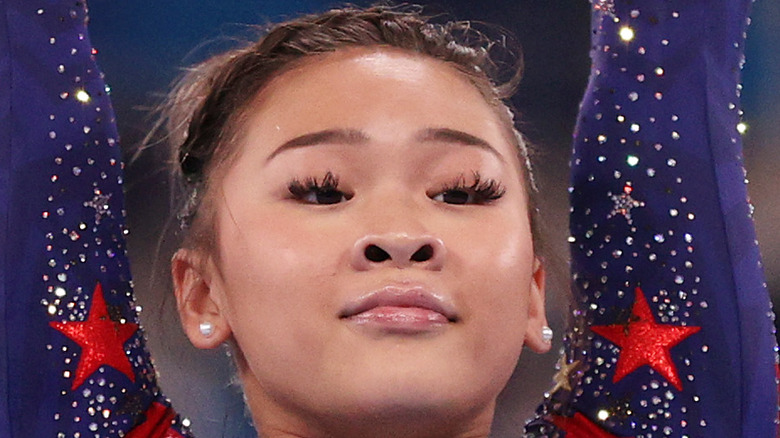 A lot of parents lament the amount of videos their kids watch on YouTube. Yet, in some cases, like in that of gymnast Sunisa "Suni" Lee, watching YouTube videos of people doing gymnastics when she was just 6 years old was the catalyst for where she is now — in Tokyo as a top member of the U.S. women's gymnastics team. "Once I started, I just couldn't stop. It looked so fun, and I wanted to try it myself," Lee told The New York Times.
That was back in 2009 when she was 6. Since then, the now 18-year-old has trained, practiced, and worked her way to qualifying for the team, finishing just second behind five-time Olympic medalist Simone Biles.
While Lee's road to the Tokyo Olympics took a bumpy turn over the last couple of years due family tragedies, personal injuries, and the pandemic — which temporarily put her Olympic dreams and training on hold — she has emerged through it all with a steely determination to show the world what she can do.
Suni Lee is a regular teen girl underneath her phenomenal talent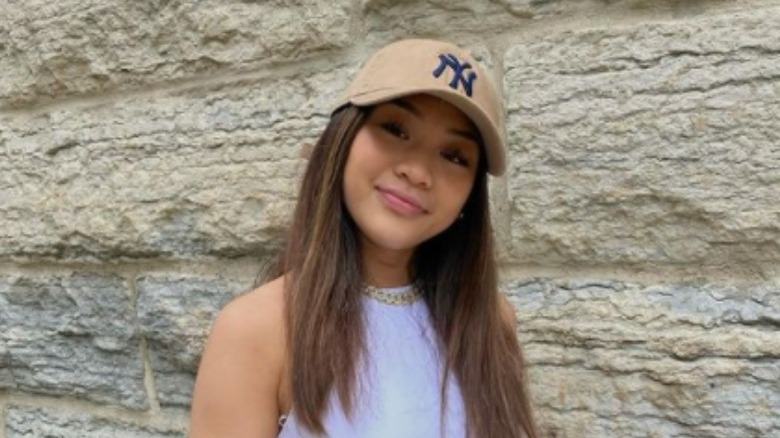 Suni Lee hails from St. Paul, Minnesota, where she graduated from high school this year, just ahead of competing in the Olympics before she heads to Auburn to start college, according to USA Gymnastics. She was raised in the twin city by her parents Yeev Thoj and John Lee along with five siblings, one of which, Evionn, is also involved in gymnastics.
Even though Lee is capable of jaw-dropping gymnastic feats, she is also a regular teen who likes pop music, camping, fishing, science, and Harry Potter books, per USA Gymnastics. Her Instagram account is dominated by gymnastics photos featuring her and her friends, but it's also peppered with regular teen girl stuff like a prom photo or of her striking cute poses either all dolled-up or just rocking regular street wear.
USA Gymnastics cited Lee as wanting to get into gymnastics because "it was fun and I liked to do flips," and after years in the sport, she said her favorite thing about it is still "friends and fun." However, Lee told The New York Times in June 2020 that after her gym, Midwest Gymnastics Center, finally reopened following a temporary shutdown due to COVID-19 precautions that some of the enjoyment was diminished due to ongoing safety measures. Still, she said at least it was "really fun to see my friends again," even if they couldn't hug and had to stay 6 feet away from each other.
In 2019 Suni Lee's father was paralyzed in a accident
The year 2019 was a roller coaster year for Suni Lee. She was slated to compete in the national championships in Kansas City when her father suffered a terrible accident. According to USA Today, her father, John Lee, was helping a friend trim a tree when he fell off a ladder. He broke his right wrist and several ribs, but worst of all, he incurred a spinal cord injury that left him paralyzed from the chest down. Lee told The New York Times in 2020 that despite his devastating injury, her dad still pushed her to compete.
"I thought he was going to pass away when he was in the hospital, so I didn't want to go to nationals and compete," Lee said. "But he told me to go, that he really wanted me to go. So I did. Now I realize that if he didn't push me like that, I wouldn't be in the spot I am right now with the Olympics so close."
Lee's father has slowly made progress. On March 19, 2021, she tweeted a short video of John Lee sitting in a wheelchair and moving his leg with the caption, "Proud." Then in June he was able to see her compete in person for the first time since the accident in the 2021 U.S. Gymnastics Championships, according to USA Today.
"I just told her, 'Go out there, just go have fun, don't worry about anything, just enjoy,'" John Lee told USA Today. "Do your best."
More family tragedy was to follow her dad's accident
Suni Lee is among the millions of people who lost a loved one to COVID-19 in 2020 when her mother's sister succumbed to the disease. According to what Lee told The New York Times, Lee's aunt was in her 60s, and it was a heartbreaking loss. She described her aunt as "loving and caring and … always supportive of me. She wanted the best for me, and I appreciated that."
To add to the tragedy, her aunt's husband died 13 days later. He also had COVID-19, but seemed to be recovered. Then he died suddenly of a heart attack. Lee told The New York Times that the double death blow was extra tragic because the pandemic meant the family could not be together in the aftermath, nor could they honor their loved ones in the traditional Hmong culture way, which is the ethnic background of Lee's family.
Lee told The New York Times that her uncle was "a shaman, a Hmong healer" and her parents would take her to him and her aunt when she was injured. "They would give me herbs and give me massages, or wrap my injured ankle to have the swelling go down," she said.
Ironically, just a couple of weeks after they died, Lee twisted her ankle after falling off the uneven bars, re-injuring the same ankle that had healed just in time for the 2019 National Championships.
Suni Lee is the first Hmong American Olympic gymnast
Suni Lee made history as the first person of Hmong descent to ever compete in any Olympic event, according to Minnesota Public Radio. The Hmong people are an ethnic group who originated from southwestern China thousands of years ago, but migrated over time to multiple other Asian nations as various factions vied for power, per The Max Planck Institute. The Hmong people do not have a country of their own.
In 1975, Hmong refugees starting coming to Minnesota in record numbers to flee wars in Laos, and since then, 66,000 Hmong have moved to the North Star State. Today, Minneapolis/St. Paul has the largest concentration of Hmong people in the U.S., according to the Minnesota Historical Society.
With such a large Hmong population in Lee's hometown, along with one of the officers involved in George Floyd's death being Hmong and some still blaming the Chinese for the coronavirus, Lee said ahead of securing a spot in the Olympics that it's been hard dealing with racism. Yet, if she made it to the Olympics, it might help change people's thinking.
"People hate on us for no reason," Lee told Elle Magazine. "It would be cool to show that we are more than what they say. I don't know how to explain that…"
"It would be the greatest accomplishment of any Hmong person in the U.S. ever," John Lee added. "It will go down in history."
Suni Lee's routine on the uneven bars is nearly perfect
While Suni Lee's gymnastic abilities are among the best in the world, there is one area where she is nearly unmatched — the uneven bars. According to The New York Times, the uneven bars are one of the most difficult events because it relies on the use of arms throughout. What makes Lee so amazing at the event, though, is that she can seamlessly connect four of the most difficult moves in one routine, which requires exact timing and precision.
"It's just about as close to perfection as I think anyone can get. If one little thing goes wrong, the whole routine could essentially fall apart," Nastia Liukin, a five-time Olympic medalist who is now an analyst for NBC, told The New York Times.
All that said, Lee is also passionate about her floor routine and the beam. Words often associated with the young gymnast's routines are grace, flow, fearlessness, consistency, and flawlessness. After two years of hardships, the teen is finally realizing her dream of competing in the Olympics after 12 years of commitment and dedication to her craft.
"I was able to work through all that pain and all that depression," Lee told The New York Times. "I'm just so close and it feels so good."