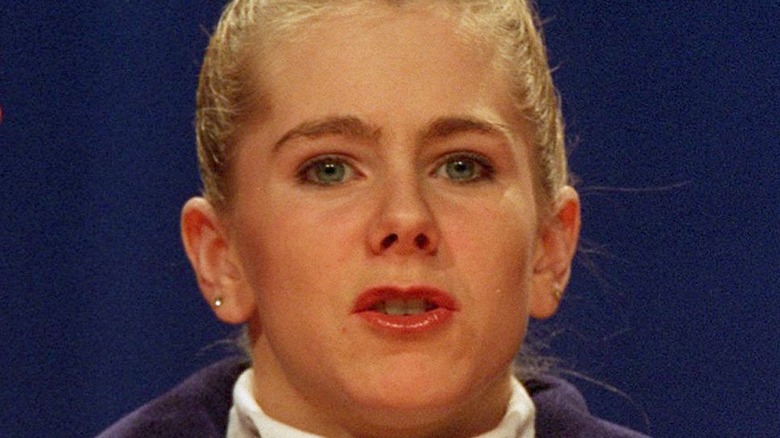 The following article includes mentions of domestic violence and sexual assault allegations.
In 1991, Tonya Harding became the "first American woman to land the triple axel jump in competition" when she skated in the U.S. National Figure Skating Championships (via ABC News). As a nation, we now know her better as the woman who was involved, however passively, in the "whack heard around the world" — a.k.a. the attack on Nancy Kerrigan's right knee before the U.S. National Championships in 1994, which rendered her unable to compete in the event.
For many years, Harding was considered a national pariah because of her association with the attack. She was even banned from participating in the sport of figure skating in any meaningful capacity for the rest of her life by the National Figure Skating Association (via The New York Times). In 2017, our conversations about Harding changed when "I, Tonya," a film based on her life story written by Steven Rogers, was released and received critical acclaim. It paints Harding in a more sympathetic light, explaining the hardships in her life to help us better understand her behavior. Harding even told OK! that because of the movie, "I'm just really glad that now my son can grow up knowing that his mommy wasn't a cheater."
No matter what your opinion of Harding is, there is no denying that she has a track record of questionable behavior. So, we are uncovering the shady side of Tonya Harding to get a better idea of the real woman outside of the movie script.
Tonya Harding is a convicted felon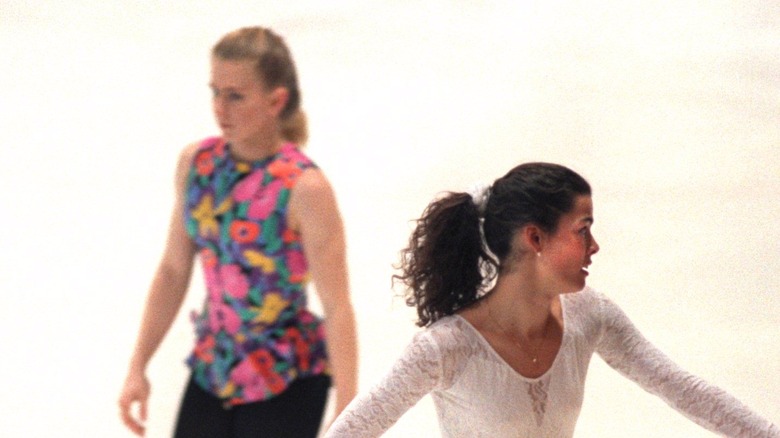 Figure skater Nancy Kerrigan was clubbed in the right knee by Shane Stant on January 6, 1994, after practicing for the U.S. National Championships at the Cobo Arena in Detroit, Michigan. Kerrigan's landing knee was badly bruised, so she was unable to compete in the event, per Bleacher Report. Rules of the National Figure Skating Association allowed them to name Kerrigan as part of the Olympic team (via The Washington Post), and she won a silver medal in Lillehammer, Norway.
Kerrigan's saga is not infamous because of her triumph. It's infamous because the "masterminds" and perpetrators of the attack had connections to her biggest rival at the time — Tonya Harding. We know that Stant and his getaway driver, Derek Smith, were hired by Harding's "bodyguard," Sean Eckhardt, and her ex-husband, Jeff Gillooly, to commit the crime, according to ABC News. Harding has always denied having "prior knowledge" of the attack, but during a 1994 press conference, she admitted some culpability.
"I had no prior knowledge of the planned assault on Nancy Kerrigan," she said, in-part (via ESPN's "30 For 30: The Price of Gold"). "I am responsible, however, for failing to report things I learned about the assault when I returned home from Nationals." Per The New York Times, Harding's failure to report details to the FBI led her to plead guilty to the felony charge of hindering the prosecution. Her sentence included three years of supervised probation, and she was ordered to set up a fund to benefit the Special Olympics.
She has also been arrested for domestic violence
Tonya Harding's troubles with the law did not end in the mid-'90s. The spotlight on her struggles just moved from the sports world into her personal life. In 2000, she was arrested on a fourth degree domestic assault charge for allegedly "repeatedly punching" her boyfriend, Darren Silver, in the face and "throwing a hubcap" at him (via the Los Angeles Times). The couple had been living together for three years in Camas, Washington when the fight occurred. Silver reportedly said Harding was "hooking me like Mike Tyson" during the alleged incident, and his face was "bruised and bloodied." Harding was released from custody an hour after her arrest and ordered to appear in court. However, Seattle Pi reported that was later convicted on the charge and spent three days in jail. She was also put on two years of probation.
Years later, Harding explained to the University Of Oregon School of Law that she was only ever the aggressor to defend herself in allegedly abusive situations. "I hate violence! I hate arguing and all that," she said. "If people call me the aggressor — it is because I said, 'No, I am not going to take it anymore!' 'Get off of me!' 'You can't treat me like this!' So, I hit back." Harding did not explicitly reference her arrest for alleged domestic violence in the interview.
If you or someone you know is dealing with domestic abuse, you can call the National Domestic Violence Hotline at 1−800−799−7233. You can also find more information, resources, and support at their website.
Tonya Harding violated her probation
Tonya Harding has also gotten into alcohol-induced trouble with the law. In April 2002, she was "cited for drunken driving" in Battle Ground, Washington, when she "crashed her pickup into a ditch" (via the AP). She had a passenger in her car, but thankfully no one was hurt. Per Seattle Pi, Harding claimed that something went wrong with her truck's power steering, but she reportedly failed both a sobriety and a breath test. Seattle Pi also reported that her blood-alcohol level was .16%, which is two times' Washington's legal limit and high enough for her to face jail time. Harding was also on probation at the time because of the aforementioned domestic violence charge, which could have potentially increased the severity of her punishment, since she was violating her probation by drinking alcohol at all.
On August 9, 2002, Harding was sentenced to 30 days in jail, which was reduced to just 10 under the condition that she took "12 hours of classes for troubled young adults," per News On 6. Harding made brief comments after her sentencing. "I'm grateful to the judge for giving me this opportunity; I finally found out what my problem is: It's alcohol," she said. "I'm glad it happened so no one gets hurt, I don't get hurt and I'm making something right in my life for a change."
The FBI suspected Tonya Harding knew about the plans to attack Nancy Kerrigan
Tonya Harding has always maintained that she "had no prior knowledge of the planned assault on Nancy Kerrigan," as she said in a press conference in 1994 (via "30 For 30: The Price of Gold"). But many people think she's lying, and Nancy Kerrigan told the Daily Mail that some of those people were FBI agents. "[The FBI] told me: 'We can't give you hard proof, but we do this for a living, and we are convinced Harding knew,'" she said in a 2013 interview.
People who were once close to Harding also have a hard time believing her claims of ignorance prior to the incident. Sandra Luckow, a childhood friend and the director of "Sharp Edges" — the 1986 film about Harding's first national competition before the world knew her name — said in "30 for 30: The Price of Gold" that she tries to avoid discussing whether she thinks Harding knew about the attack beforehand, because she wants to believe the best, but alleged, "But of course she was involved." Olympic silver medalist Paul Wylie said in the film that the consequences Harding suffered for her role in the incident, like being banned from the U.S. Figure Skating Association, were "deserved."
Meanwhile, Harding's ex-husband Jeff Gillolly, who now goes by Jeff Stone, claimed to Deadspin in 2013, "Of course she [knew]. I think most people know that she did."
Tonya Harding allegedly faked issues with her skates during competitions
Tonya Harding sued the U.S. Olympic Committee to "block" them from holding a meeting to discuss if she should be banned from representing the U.S. at the 1994 Olympics in Lillehammer, Norway (via Bleacher Report). Once she got there, Harding allegedly had an issue with her skates that would make her path to a gold medal even harder than being at the center of one of the biggest sports scandals in history — her right skate laces were apparently broken.
However, many people inside the world of figure skating are somewhat skeptical, saying that Harding had a history of problems with her skates during competitions that were not going her way. "This was not the first time that Tonya had a mishap with her clothing or her skates," said 1992 Olympian Paul Wylie in the film, "30 for 30: The Price of Gold." "And there was a sense that nobody believed that Tonya's skate lace actually broke. They believed that she was starting over because she made a mistake."
Audrey Williams was an Olympic figure skating judge in 1994 who shares Wylie's skepticism. Williams told Good Housekeeping that she was once a referee at a Skate America event where Harding claimed her "blade was loose." Williams said she "didn't feel any weakness on the blade." She admitted that, at the Olympics, she wasn't close enough to Harding to see if the lace was actually broken, but said she "didn't believe" that it was.
Shady details surrounding the former figure skater's sex tape
In 1994, Penthouse released a sex tape featuring Tonya Harding and her ex-husband, Jeff Gillooly, and published stills from it in the magazine. A clip of the tape was also broadcast on "A Current Affair," per The Seattle Times. The 35-minute video "shows Tonya Harding at a Halloween party, wearing a wedding dress … and at one point she drops the dress to her waist and is topless," the publication reported a spokesperson for "A Current Affair" as saying.
The video is called "Tonya and Jeff's Wedding Night" and has its own IMDb page. Now, we're not shaming anyone for creating a sex tape. As the Chicago Tribune reported in 1994, "The sex is consensual, but the publication is not." And that same year, Harding's manager said her client opposed the sale of the tape. "She has been offered upwards of $600,000 to pose nude and she has totally rejected the idea," said Merrill Eichenberger (via UPI).
However, many publications, including Deadspin, who spoke to Gillooly (now known as Jeff Stone), have since reported that it's confirmed that he and Harding split the profits from selling the tape — "$200,000 apiece, plus royalties." Hmm.
Tonya Harding never 'directly' apologized to Nancy Kerrigan
We are still talking about the Tonya Harding and Nancy Kerrigan incident as of this writing in 2021, so it's no surprise that the year of the Winter Olympics after Lillehammer, in 1998, the former rivals were in the spotlight again. Fox aired "Breaking the Ice," a special featuring the women speaking face-to-face for the first time since the scandal. Harding did not take responsibility for the attack, instead offering Kerrigan an apology that skirted around any personal culpability.
"Nancy, I want to apologize again, for being in the wrong place at the wrong time around the wrong people," Harding said. "If I would have known anything in the beginning, I would have done anything I could to stop it. Anything. I mean, I would have dropped everything I had in my whole life to do that."
We won't speculate on the sincerity of Harding's words, but she does seem to be talking in a bit of a circle. Kerrigan confirmed to ABC News in 2017 that she's never received a "direct" apology from Harding, adding, "Does it matter at this point?" Well, if it doesn't matter to you, Nancy, we suppose it shouldn't matter so much to us.
She can't stop throwing shade at Nancy Kerrigan
For someone who said she would have allegedly "done anything [she] could to stop" the attack on Nancy Kerrigan, Tonya Harding sure does seem to love throwing shade at her former rival, even in more recent years. "She was a great skater, I was a great skater," Harding said of Kerrigan in the 2014 ESPN film, "The Price of Gold." "But of course, she was treated like this huge queen." Harding did not get the endorsement deals that Kerrigan did, even before the scandal, and quotes like that make her appear a bit bitter about it to this day.
At the Lillehammer Olympics, after Harding had admitted to the felony crime of hindering the prosecution (via The New York Times), she said in "The Price of Gold" that she tried to apologize to Kerrigan for the people she associated with when they were practicing at the same rink. "But she just blew it off like it was nothing," Harding claimed. "For her to treat me like that, like I was nothing, like she was above me, I mean that's rude."
Harding also took issue with how Kerrigan was treated at the Olympics. "She's a princess and I'm a pile of crap," the former figure skater said in the film. She also called Kerrigan a "crybaby who didn't win the gold," commenting on footage of Kerrigan appearing frustrated that Oksana Baiul was delaying the medal ceremony to put on makeup. Harding said Kerrigan should have "shut up" and stopped "whining."
Tonya Harding has a history of fighting with the United States Figure Skating Association
It's no secret that Tonya Harding grew up in poverty. Her longtime coach, Diane Schatz-Rawlinson, explained the extent of Harding's situation as early as 1986 in the documentary film, "Sharp Edges." "Skating, for Tonya, is her ticket out of the gutter," she said. "[She lives] in a terrible rental house, no supervision at all, she has no direction, there's not much to do." Schatz-Rawlinson added that she would pay for many of Harding's figure skating expenses and sometimes her costumes were homemade.
Harding recalled a confrontation she had with a judge who scolded her for wearing a bright pink dress she'd made herself to a competition in ESPN's film, "30 for 30: The Price of Gold." "I said, 'Well, you know what? If you can come up with $5000 for a costume for me, then I won't have to make it. But until then, stay out of my face." Vulture reported on the conversation.
It seems as though Tonya Harding often blames the powers-that-be in her former sport for the consequences of her behavior. "I never get to skate again, ever, in competition. I'm kicked out of the association," she said in "The Price of Gold," frustrated as she feels she didn't get true support from the USFSA at the 1994 Olympics. Harding claimed they let her go knowing she wouldn't "get the marks that she deserves" or "anything in her life to do with skating ever again [afterward]."
Some of Tonya Harding's stories are hard to verify
The District Attorney in Multnomah County, Oregon said in ESPN's "30 for 30: The Price of Gold" that there was "strong evidence" that Tonya Harding participated in planning the attack on Nancy Kerrigan, like the piece of paper found with Kerrigan's practice rink information on it. "We had the handwriting tested and it was identified as [Tonya's] handwriting." In the same film, Harding makes the opposite claim. "They tested the handwriting and [it] was not mine," she said. Either way, it was not strong enough evidence to convict her of anything more than hindering prosecution. But that is an investigator's word against a former suspect's. Hmm.
Harding has also made serious allegations against family members. She has claimed that her deceased half-brother, Chris Davidson, sexually assaulted her in Lynda Prouse's biography, "The Tonya Tapes," and in an interview with Oregon University School of Law. Harding's mother alleged that the incident was not as serious as Harding made it seem and told SI her daughter had a "vivid imagination." Meanwhile, Harding's ex-husband, Jeff Gillooly (now Jeff Stone), claimed to Deadspin that most people "laughed" at Harding's allegation in "The Tonya Tapes" that he and two other men raped her at gunpoint.
While it's admittedly often hard to find people close to Harding who will verify her various allegations, we should point out that there's obviously nothing funny at all about alleged rape and sexual assault, and we simply don't know the truth about any of these claims.
If you or anyone you know has been a victim of sexual assault, help is available. Visit the Rape, Abuse & Incest National Network website or contact RAINN's National Helpline at 1-800-656-HOPE (4673).
Does Tonya Harding 'exploit' her infamous place in sports history?
Tonya Harding did not exactly go on to live a quiet life contemplating her consequences after she was banned from figure skating in 1994 (via The New York Times). She made her singing debut in 1995 in a band called The Golden Blades and tried to perform at a concert fundraiser, but was booed throughout the performance, per Deseret News. In the early 2000s, she returned to the sports world and tried her hand as a professional boxer, but that only lasted for six matches. "Tonya started [boxing] way too late and was very limited," boxing promoter Tony Holden, who worked with Harding briefly, told ESPN.
Harding also participated in "Dancing With the Stars," and seems eager to tell her story in many documentaries. She even sold her life story rights to "I, Tonya" writer Steven Rogers for just $1,500, per The New York Times. (It's unclear how much money she made after the film's success). And hey, Tonya Harding, of course, has a right to make money — but these career moves, which seem to rely on her infamous place in sports history for her monetary advantage, haven't gone by without criticism. For example, a History piece covering the attack against Nancy Kerrigan claimed that the former figure skater "wasn't above trying to exploit the crime and her notoriety herself."