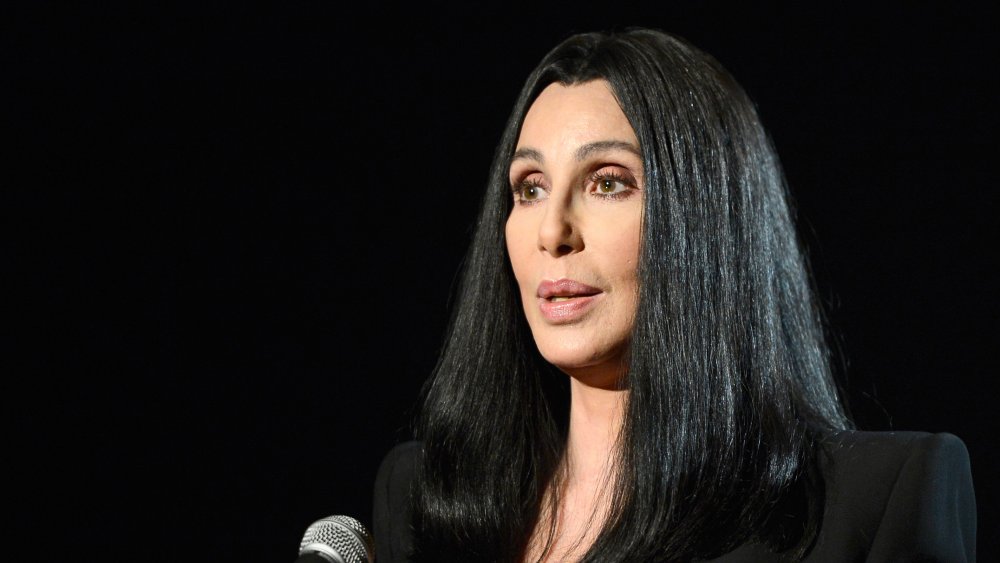 Known for her powerful voice, stunning looks, and razor-sharp tongue, Cher has ruled the music world as the undisputed Goddess of Pop. From her humble beginnings in the 1960s as one half of the popular folk rock duo Sonny and Cher to her constantly evolving career as a solo artist, she paved the way for Madonna, Beyoncé, Lady Gaga, and countless other pop divas. An icon of feminine empowerment, Cher continues to carve out a unique niche in the notoriously male-dominated music business on her own terms through talent, hard work, and sheer force of will.
Music, however, is just one facet of Cher's immense talent. By the mid-'70s, she had already conquered television as a capable comedienne opposite her ex-husband and musical partner Sonny Bono on their hit The Sonny and Cher Comedy Hour and later as the host of her own self-titled variety show. In the 1980s, Cher turned her attention to acting, first on Broadway and then in film, quickly establishing herself as one of the best dramatic actresses of her generation. Receiving critical accolades and award nominations for her work in the films Silkwood and Mask, Cher would win the Academy Award for best actress for the 1987 romantic comedy Moonstruck, cementing her reputation as an unparalleled cinematic talent.
Having faced down poverty, illness, divorce, and ever-changing public tastes, Cher continues to beat the odds, winning over generation after generation of fans with her unwavering dedication and authenticity. This is her tragic real-life story.
Cher came from a broken family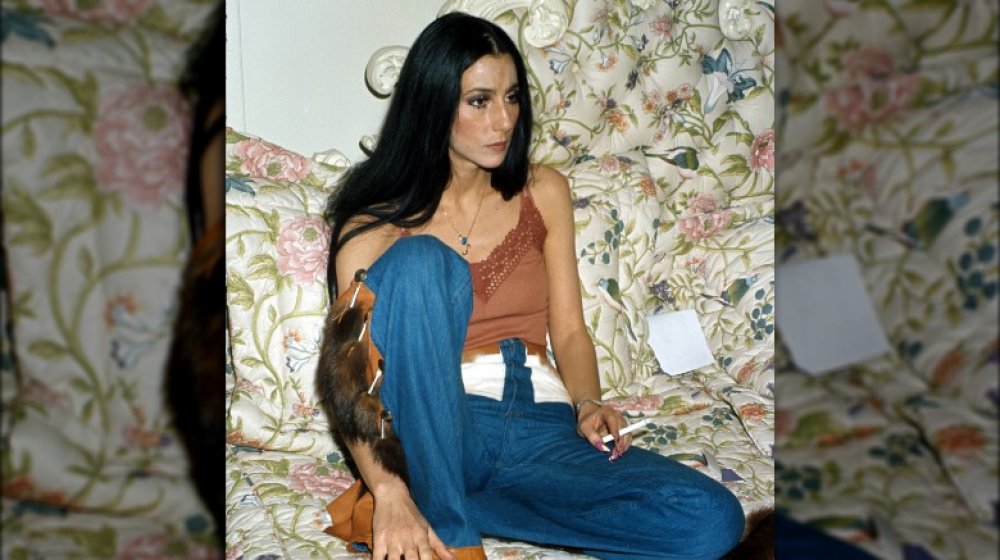 Cher's parents, Georgia Holt and John Sarkisian, had a short and tumultuous relationship that ended in divorce. According to a 1978 interview with People, Holt met truck driver Sarkisian as a teenager while she was working in a Fresno, California, donut shop. Wooed by Sarkisian's charm and good looks, Holt was immediately smitten by the older man. The couple were soon wed in a quickie ceremony in Reno, Nevada. "Johnny was very charming and could talk you into anything," Holt explained.
However, Holt immediately regretted her new nuptials. "I left him the day after," Holt remembers. "I knew I didn't want to be married. But he told me to try it for three months, and if I didn't like it, then I could walk out. Well, before three months was out I was pregnant with Cher." The couple divorced when Cher was just ten months old. Cher would know little of her father until Holt briefly reconciled with Sarkisian when she was 11. Cher's relationship with her father, a struggling gambler and drug addict, was at times volatile, and they rarely spoke. Nevertheless, Cher took from her troubled father a deep love and respect for her Armenian heritage.
The man whom Cher would consider her real father was Holt's third husband, actor John Southall. Southall, father of Cher's half-sister Georgeanne LaPierre, was wed to Holt for five years, during which the couple fought violently and frequently separated. Holt and Southall divorced when Cher was nine.
Cher's impoverished childhood
Cher's mother, Georgia Holt, was married seven times (twice to Cher's father, John Sarkisian). In 1978, Holt told People, "In those days it wasn't right to sleep with someone if you weren't married. So I ended up getting married a lot." Holt's frequent divorces led to a nomadic and often impoverished lifestyle for young Cher. An aspiring actress and singer, Holt subsisted on bit parts in movies and the occasional singing gig. When Cher was only two years-old, circumstances became so dire that Holt, single mother, was forced to place her daughter in the care of a Catholic orphanage for several weeks until she could get on firmer financial footing.
Still, Cher and her half-sister frequently found themselves staying with their grandparents, often for months at a time, while a struggling Holt lived in cheap apartments looking for work in the entertainment industry. In a 2010 cover story, Cher told Vanity Fair of her hardscrabble upbringing. "I remember being really ashamed of my clothes," Cher recalled. "I was so hard on my shoes. My mom would say, 'Jesus Christ, Cher, we can't afford shoes. Stop this!' I remember going to school with rubber bands around my shoes to keep my soles on." However, Holt's occasional inroads to Hollywood made for a sometimes confusing existence. "We ate a can of stew or a can of beans one week, but then sometimes we lived in Beverly Hills. It was a very strange life," Cher said.
School was difficult for Cher
Attractive and undeniably intelligent despite her poor grades, Cher felt like an outsider in high school. Nevertheless, she was far from aimless. From an early age, she knew exactly what she wanted to be — a star. As recounted in the 2001 biography Cher: If You Believe by Mark Bego, Cher took little interest in academics. "I hated school because I didn't fit into the right spaces," Cher recalled. "…I was always thinking about something else. I was thinking about when I was grown-up and famous, where I'd want to live or who I'd go out with or what kind of dresses I would wear … I wasn't into high school at all."
However, Cher's daydreams of stardom were only a minor factor in her academic struggles. Cher suffers from dyslexia, a learning disability that affects reading comprehension, spelling, and writing. Like many people with dyslexia who grew up in an era when little was understood about the condition, young Cher was often accused of not applying herself. University of Michigan's Dyslexia Help website quotes Cher on her high school difficulties. "I got really bad grades, D's and F's and C's in some classes, and A's and B's in other classes," Cher said. "When I was in school, it was really difficult … My report cards always said that I was not living up to my potential." Eventually, frustration with school got the better of 16-year-old Cher, and she dropped out in 11th grade.
The rise and fall of Sonny and Cher
As recounted by Biography, 16-year-old Cher left home in 1963 for Los Angeles, where she met Salvatore "Sonny" Bono, a 27-year-old songwriter and record promoter. Kicked out by her roommates, Cher moved in with Bono, ostensibly as a housekeeper. Although Bono and Cher initially kept things platonic and professional, their relationship and career as the folk-pop duo Sonny and Cher was on fire by 1965 with the release of their hit song "I Got You Babe." A gentle ode to young love against the odds, the song struck a chord with '60s youth culture, catapulting Sonny and Cher to international fame.
Sonny and Cher followed "I Got You Babe" with a string of hits, including a re-release of their first single "Baby Don't Go" and 1967's "The Beat Goes On." Emboldened by their success, the duo attempted to break into the movies with the 1967 comedy Good Times. The film was a critical and commercial failure. The couple then invested much of their accumulated fortune into the film Chastity, a drama written and produced by Bono as a starring vehicle for Cher. It, too, flopped and brought the couple to the brink of financial ruin. Fate dealt Sonny and Cher yet another blow as shifting tastes made their brand of light, folky pop woefully unhip with youthful audiences, who were turning to heavier psychedelic music. Heavily in debt, Sonny and Cher headed for Las Vegas and reinvented themselves as a nightclub act.
Sonny and Cher's divorce
Ironically, Sonny and Cher's Vegas lounge act would be the key to their return to the pop culture spotlight. Their act, which relied in equal parts on music and comedy in the form of the couple's between-song banter, and specifically Cher's pointed, deadpan put-downs of Bono, opened the doors to TV success. Premiering in 1971, The Sonny and Cher Comedy Hour was a ratings hit, but by the following year, cracks were beginning to show in their relationship. Although both Cher and Bono indulged in extramarital affairs, Bono's constant womanizing took its toll on Cher. "One woman, or even five, was not enough for him," Cher says of Bono.
Choosing to stay married for business reasons, the couple struggled to maintain their public facade while seeing other partners, some of whom would live with them in their house. Biography reports that in a diary entry dated August 21, 1973, Bono wrote, "…my public wife is still Cher in order to maintain all the things I want right now. That's the way it has to be." By 1974, the strain of maintaining a public illusion of marital bliss became unbearable, and Bono separated from Cher. In turn, Cher demanded a divorce, citing "involuntary servitude" as the reason for the marriage's dissolution. Their divorce became final in 1975, and Cher, who had been content to allow Bono to handle the business end of their careers, walked away virtually penniless and owing her ex-husband millions.
Cher on her own
Following her divorce from Bono, Cher attempted to revive both her TV and music careers. Her solo followup to The Sonny and Cher Comedy Hour, titled Cher, was a hit, proving Bono's admonition to the singer that "America will hate you and you won't have a job" undeniably false. Meanwhile, Bono's competing show The Sonny Comedy Revue tanked after just one season.
Although Cher continued to captivate TV audiences, her fortunes as a recording artist were dismal. Her 1975 album Stars stalled at 153 on the Billboard 200. Her next album, 1976's I'd Rather Believe in You, fared even worse. A dismal commercial flop, the record failed to chart. Cher's next post-Sonny effort, 1977's Cherished, also failed to chart. Teaming up with her new husband, Southern rocker Gregg Allman, for 1977's Two the Hard Way (credited to Allman and Woman), was also a misfire. The couple's clashing styles failed to excite public interest among fans of either artist. In 1978, according to TV Party, Warner Brothers terminated Cher's contract.
Another rocky relationship
In the midst of her acrimonious divorce from Sonny Bono, Cher entered into a whirlwind romance with hard-partying Southern rocker Gregg Allman, vocalist for the Allman Brothers Band. As reported by Entertainment Weekly, Cher and Allman wed just three days after Cher's 1975 divorce from Bono. Just nine days later, Cher filed to dissolve the marriage. Sheltered from the notorious wild side of the music business by both Bono and her former boyfriend, record producer David Geffen, the singer was ill-prepared to deal with Allman's alcoholism and heroin abuse. Quoting from J. Randy Taraborrelli's bio Cher, EW reports that Allman was too impaired to understand that Cher was dumping him. "He was so high he didn't even understand me," Cher says.
Allman, pledging to get clean and sober, reconciled with Cher a month later. However, Cher's decision to reunite with Sonny Bono for a reboot of their successful variety show in 1976 put further strain on the couple's tumultuous relationship, leading to Allman himself filing for divorce. Allman relented when he learned that Cher was pregnant with their son, Elijah Blue, and the two remained married until calling it quits for the last time in 1978. In 2017, Allman lost his long battle with liver cancer, passing away at 69. Cher reacted via Twitter, stating "Words are impossible."
Cher's failed rock band
Following her divorce from Gregg Allman, Cher signed with Casablanca Records. With disco dominating the charts, the label pressured the singer to record an album of dance-oriented pop. Cher, who considered herself a rock artist, reluctantly recorded Take Me Home. The album's title track proved to be the hit Cher needed, simultaneously reviving her recording career and recasting her as disco diva in the mold of Donna Summer. Her next album, Prisoner, released later the same year, was initially planned as a showcase for both Cher's rock and disco sides, but Cher's insistence on including less danceable material doomed the record. History seemed to be repeating itself, as Prisoner failed to chart.
Cher chose to double down on her rock star aspirations by forming the band Black Rose with her on-again, off-again boyfriend, guitarist Led Dudek, in 1980. As author Mark Bego recounts in his Cher bio If You Believe, the band's single self-titled release was a straight-ahead, rough-around-the-edges rock 'n' roll record complete with biting lyrics and screaming guitars. Although Cher finally got her opportunity to shine as the lead singer in a hard rock band, the absence of her name on the album's cover confused her fans and resulted in dismal sales. By 1982, both Black Rose and Cher's relationship with Dudek were over for good.
Health woes derail Cher's film and music success
With her recording career in a tailspin. Cher chose to focus on acting. In 1983, Cher was cast in a supporting role opposite Meryl Streep and Kurt Russell in Silkwood. The film, based on the real-life story of atomic energy whistleblower Karen Silkwood, earned respectable box office returns and critical praise for Cher, who won a Golden Globe and earned an Academy Award nomination for best supporting actress. She followed her Silkwood success with critically acclaimed dramatic roles in the films Mask and Suspect. However, her greatest cinematic success would come with the 1987 romantic comedy Moonstruck, for which Cher nabbed the Oscar for best actress. By the decade's close, Cher successfully returned to music with the 1989 hit "If I Could Turn Back Time."
Yet, just as Cher was enjoying the greatest successes of her career, fate would deal her another blow that would temporarily sideline her from both film and music. As recounted by Vanity Fair, Cher discovered she had contracted Epstein-Barr virus while filming the 1987's The Witches of Eastwick, though she wouldn't feel the full brunt of the disease until some time later. As she told The New York Times, "For two years, I couldn't work. It was terrible. I ended the second year with pneumonia. All these movie offers were coming in, but I had to turn them all down. I was really, really upset about it. And when I came back, I had to work my way back up from the beginning…"
Sonny Bono's death
Without Cher by his side, Sonny Bono's career as an entertainer was over by the 1980s. In 1988, Bono turned his attention to politics in a successful bid for mayor of Palm Springs, California. Reinventing himself as a conservative politician, Bono ran for Senate in 1992. Although he lost, Bono was undeterred in his ambitions to hold national office. In 1994, he was elected to Congress as a representative of California's 44th district.
Bono's new role as a star of the Republican party would be cut tragically short. While on vacation in Aspen, Colorado, in January 1998, Bono died in a skiing accident. As reported in a 1998 article from The Washington Post, Cher immediately flew from London to Los Angeles when she learned of Bono's death. In a tearful eulogy to her ex-husband, Cher praised Bono for his intelligence and foresight. "He was smart enough to take an introverted 16-year-old girl and a guy with a bad voice and turn them into the most successful, beloved couple of our generation," an emotional Cher said. "He allowed himself to be the butt of our jokes, but people don't realize he created Sonny and Cher. He knew what was right for us."
Estranged from her youngest son
Cher's busy career left little time for her to be a conventional mother to her children. In a revealing 2014 interview with Entertainment Tonight, Cher's youngest son Elijah Blue Allman opened up about his troubled childhood. "When you go to boarding school at 7 years old, it's kind of hard to feel like you're not being shunned," Allman said. Although he's come to terms with his childhood, he still holds some resentment toward his mother. "I'm at an age where I'm making peace with it because you just have to. But I still . . . it doesn't mean it's right. It's still wrong to do that," he explains.
Allman and his wife, Marieangela King, briefly moved in with Cher in 2013, but an undisclosed dispute led to mother and son ceasing contact. Allman described his relationship with his mother as a work in progress. "…We have our issues. We've worked through a lot of them," Allman explains."We've got some more to go, but when you're an adult, you take on a different sort of tone than when you're an adolescent … But, there's unresolved stuff, for sure." Despite their differences, Allman says he still admires his mother. "You know, she's really talented. She's gorgeous — I mean, she's Cher. What's not to love?"
Cher had trouble accepting her transgender child
Cher's marriage to Sonny Bono produced one child, son Chaz Salvatore Bono. Born Chastity Sun Bono, he underwent a two-year female-to-male transition beginning in 2008. According to the Orlando Sentinel, Bono, then identifying as a woman, was outed as a lesbian by a tabloid in 1990. Despite Cher's reputation as gay icon, Bono says that his famous mother initially struggled to accept his sexuality, before becoming an ardent advocate for LGBTQ rights.
Cher opened up on her acceptance of Bono's transition in a 2018 interview with Pridesource. "I didn't go through it that easily," Cher explains, "…there's such a fear of losing the child you love, and what will replace that child … I felt, who will this new person be? Because I know who the person is now, but who will the new person be and how will it work and will I have lost somebody?" Still, she knew her son's happiness must come first. "…It doesn't make any difference what anyone else feels or what anyone else thinks. Chaz is so happy now and we get along better than ever."