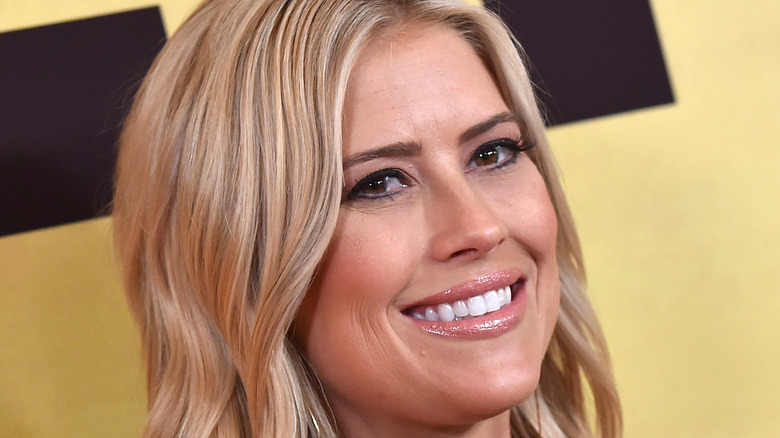 The HGTV network debuted back in 1994 as a rather wholesome source of gardening, crafts, and home decorating programming. Who can forget the no-nonsense design guidance of Kitty Bartholomew's "You're Home" or Paul James' equally practical "Gardening by the Yard," for example? But in more recent years, the channel has provided more soap opera-style drama than a complete "The Young and the Restless" boxset.
Yes, since pivoting to the worlds of house flipping and real estate firms, HGTV has propelled a number of previous unknowns into tabloid fame. Take Christina Haack, for example. The Californian real estate investor has become a fixture of People magazine thanks to her turbulent personal life, as well as her marriage and subsequent divorce from her "Flip or Flop" co-star, Tarek El Moussa, in particular.
Of course, her first ex-husband is only part of the Christina Haack story. From her business pursuits to her BFFs, here's a look at the Home and Garden TV star's untold truth.
Christina Haack has had the same best friend since her teens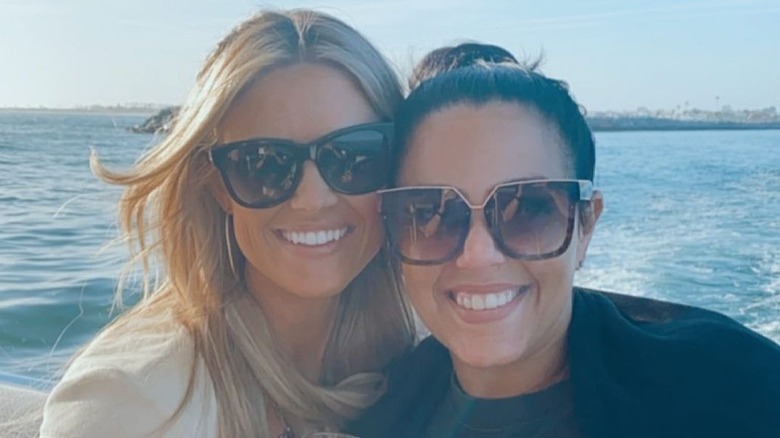 Christina Haack may have gone through two husbands and several other short-lived suitors since rising to fame on the HGTV network (more on all of that below), but one thing has remained constant: her best friend and publicist Cassie Zebisch. The pair have been close pals since their mid-teens, as Haack explained to E! in 2021. "We constantly talk about how grateful we are," she said. "Not only are we best friends, but we get to work together and film together on camera and have so much fun. We grew up talking about our goals and ambitions and we are truly living that life of our dreams."
That same year, Zebisch, who has regularly popped up on Haack's solo show, "Christina on the Coast," got hitched to James Schienle. And her HGTV star BFF was on hand to provide both support and a speech at the Malibu ceremony. Haack later took to Instagram to enthuse about the big day, sharing, "My best friend's wedding. The most selfless, inspirational, fun, beautiful human to exist. Cassie I love you … I carry your heart … I carry it in my heart."
The HGTV star prefers working with homeowners
Christina Haack made her name inspiring the nation to flip houses — in 2017, for example, more than 207,000 American properties were bought and then quickly resold. However, when it comes to building a human connection, the realtor much prefers working with those who haven't purchased a home simply for profit.
In 2019, Haack proved she could cut it as a solo artist when she landed another show on the HGTV network. As with "Flip or Flop" — which she continues to co-present alongside ex-husband Tarek El Moussa — "Christina on the Coast" sees the reality TV star help to give a glow-up to houses that have seen better days. But the difference here is that the work carried out is for the benefit of existing homeowners.
Two years after the show premiered, Haack told E! that she couldn't be happier about its premise: "I love working with the homeowners as opposed to doing flips because I feel like it's so much more personal. I'm redesigning for people and families and getting to know them and their style is fun and the transformations are huge. The look on their faces when they walk through the door is everything for me."
Her first marriage ended following dramatic circumstances
"Like many couples, we have had challenges in our marriage," Christina Haack and Tarek El Moussa noted while announcing their split in 2016 (via People). The challenge that ultimately ended their relationship, however, was on a different scale. Indeed, several months previously, police had been called to the Chino Hills State Park Main Ridge Trail over reports of a "possibly suicidal male with a gun."
People magazine reported that nearly a dozen officers took to the area, with a nearby witness claiming that he'd spotted El Moussa jumping over his fence to the hiking trail while armed. The neighbor had been informed by a visibly upset Haack that her then-husband had left their family home with a gun in his backpack. Meanwhile, her make-up artist, Shannon Rhodes, also told cops that she'd witnessed El Moussa departing with a gun in tow, but that he hadn't made any threats beforehand. Luckily, the "Flip or Flop" co-host was swiftly located and immediately complied with officers before returning home.
El Moussa insisted that he'd ventured into the mountainside simply to "blow off some steam" and that his handgun was only to fend off any dangerous wildlife on the trail. Although he voluntarily surrendered his firearm collection for a month, no charges were ever filed regarding the incident, which the divorcees described as an "unfortunate misunderstanding." Indeed, as El Moussa later told "Today," the situation "got really blown out of proportion."
If you or anyone you know is having suicidal thoughts, please call the National Suicide Prevention Lifeline​ at​ 1-800-273-TALK (8255)​.
Christina Haack has a good relationship with her ex
Christina Haack and Tarek El Moussa's marriage may have ended following some rather dramatic circumstances in 2016, but the pair have since managed to patch up their differences for the sake of both their careers and their kids.
Many "Flip or Flop" fans thought the show would end following its co-hosts' divorce. But instead, it's gone from strength to strength — and in 2020, it was renewed by HGTV for a tenth season! And the former couple still occasionally engage in flirtatious banter, too. Take the episode where Haack told El Moussa (via the Daily Mail), "You know who you look like? Ice Ice Baby!" And El Moussa replied, "I look like the best you ever had. Alright, let's flip a house."
The exes appear to be just as cordial off screen, too. Referring to their parental duties in 2018, Haack told Us Weekly, "We have a schedule where we make sure that if one of us has to travel, that the other picks up for the other one. And we just make sure that whatever's best for the kids is what we're going to do." Interestingly, the "Christina on the Coast" star also has a healthy relationship with El Moussa's new beau, Heather Rae Young. In another Us Weekly interview, Haack revealed, "We'll, like, text each other random recipes right now during isolation. She'll, like, send me whatever her, like, favorite go-to granola bar is, and I'll text her back, like, whatever mine is."
This real estate investor is also a wellness advocate
As well as transforming various Californian homes, Christina Haack's second HGTV series also explores her passion for wellness. While promoting "Christina on the Coast" in 2021, the star — who has a thyroid disease called Hashimoto's, as well as polycystic ovary syndrome (PCOS) — told ET, "That's one of the most important things to me, is just staying mentally and physically healthy." She added, "With autoimmune conditions, if I don't take time to meditate and go for walks and focus on spirituality, I will just kind of hit a wall. And I don't really have that option with kids and work and everything, so that's just a big part of my journey."
Haack proved just how invested she was in the subject a year earlier, when she teamed up with nutritionist pal Cara Clark to publish the book, "The Wellness Remodel." The interior designer also regularly takes to Instagram to share her latest tips, once admitting that her travel wish list includes a spiritual trip to Peru to learn more about Shamanism, and also has plans to open her very own wellness center.
During a 2021 episode of her Discovery+ show, "Christina: Stronger by Design," Haack explained to bestie Cassie Zebisch and another close pal, Shannon Houston, that she aims to buy a piece of land in Utah for the retreat. "I feel like that's calling to me," she said (via House Beautiful), before adding that she needs a break from her constant adrenaline-charged California lifestyle.
Her second marriage lasted just two years
Christina Haack surprised everyone — including her ex-husband — when she walked down the aisle with British TV host Ant Anstead in 2018, the same year that she'd officially finalized her divorce from Tarek El Moussa. Sadly, it didn't prove to be second time lucky, as by the end of 2020, the "Flip or Flop" star was once again heading for the divorce courts.
Haack took to Instagram to announce that she'd separated from the father of her third child, Hudson, telling her followers in a since-deleted post (via E!), "We are grateful for each other and as always, our children will remain our priority. We appreciate your support and ask for privacy for us and our family as we navigate the future." The HGTV regular has kept quiet about the specific reasons for the split, reiterating to People several months later that she was more focused on keeping her family time both private and positive.
But Haack didn't waste any time in distancing herself even further from Anstead. Within six months of filing for divorce, she put their Newport Beach home up for sale for a whopping $6 million. The fact that the near-5,000-square-foot property was the venue for their winter wedding may well have played a part in Haack's hastiness, too.
Christina Haack was accused of scamming fans
Christina Haack's squeaky-clean reputation took a bit of a hit in 2016, when she and then-husband Tarek El Moussa were accused of scamming aspiring house flippers. The pair had appeared on promotional material for a series of classes, which suggested that they'd physically be in attendance to impart their property renovating wisdom. But it's fair to say that those who signed up didn't get what they expected.
Instead of teaching at the front of the classroom, Haack and El Moussa only appeared via pre-recorded video. And the introductory session appeared designed solely to encourage attendees to spend thousands of dollars on further classes and software. One man, Doug Stephens, claimed to the AP that his group was even asked to get an increase on their credit card limit as homework in order to pay for such additions. Approximately a dozen people interviewed made similar allegations about the classes run by Zurixx, LLC, including Carol Lepine, who said, "It's a definite bait and switch," and Patricia Briggs, who admitted that whenever Haack and El Moussa do show up on screen, "I want to go through my screen and shake the both of them."
The Utah-based education company insisted that they'd never explicitly promised the "Flip or Flop" stars would be attending every session. However, this didn't stop the FTC from filing a temporary restraining order against the firm in 2019. The former couple at the center of all the drama, though, have never commented on the issue.
The TV personality has faced conception struggles
Christina Haack and Tarek El Moussa first became parents in 2010, the year after they got married, with the birth of daughter Taylor. But their attempts to welcome a second child into the world were a little more complicated.
In 2013, the pair decided to freeze El Moussa's sperm before he underwent radiation therapy for testicular and thyroid cancer, two conditions from which he thankfully recovered. Their first attempt at in-vitro fertilization sadly failed, and tragically, their second resulted in a miscarriage. However, on the third try, Haack was able to carry to full term, and son Brayden arrived in 2015. Haack later told People how much of a struggle she'd faced while pregnant with her second-born: "I had to be really strict. I had to do one full week in bed. For 13 weeks after that, I couldn't go for a walk and couldn't lift anything over a gallon of milk. At around six weeks pregnant I started spotting, so I thought that we lost the baby again."
The "Flip or Flop" star also had a hard time while carrying her third child in her first trimester. In a since-deleted Instagram post, she wrote (via Today), "Maybe I just forgot how bad it was with Tay and Bray … but yikes, it really blindsided me. Nausea, exhaustion, too many food aversions, too many carbs … anyways I'm officially back to feeling somewhat normal." Son Hudson, her only child with second husband Ant Anstead, arrived via C-section in 2019.
Christina Haack took back her family name
You could have been forgiven for thinking that HGTV had hired a new name if you were perusing the TV listings in early 2021. Who was this Christina Haack and where did she come from? In fact, it was the same Christina that had been a fixture of the network for the previous eight years!
Yes, having adopted the surnames of her now ex-husbands, Tarek El Moussa and Ant Anstead, the "Flip or Flop" star decided that, as a single woman, it was high time she put her family name in the spotlight. She changed her moniker on Instagram to her maiden name, Christina Haack, and wrote in one particular post that both of her grandparents would be "smiling from above" as a result.
Haack also explained that her grandmother, Mildred (a.k.a. "Biddy"), was a formative "influence" when she was a child: "She was always real in a world of so many fakes. I spent the summers on my family's farm and we would stay up all night talking. She's the only person I've ever really trusted with my life. Even in the era she grew up in she colored outside the lines and did things without fear of judgement. She loved me hard and always let me know I could achieve anything I wanted to. She spoke life into me when I was down and taught me what unconditional love is. I miss her every single day."
She has an entrepreneurial spirit
Christina Haack appears to rule the roost when it comes to finding homes to flip for her long-running HGTV show with Tarek El Moussa. During one particular episode of "Flip and Flop" in 2021 (via People), the interior designer asks her ex-husband to step inside her office, where she reveals a nameplate engraved with "Boss Lady."
Haack lived up to her self-proclaimed status when she launched a range of home furnishings that same year dubbed Christina @ HOME. And she was more than comfortable giving the hard sell in an interview with People magazine, claiming that "dirty paw prints and finger smudges are no problem" for the 35-plus different pieces she classes as "California Contemporary."
The reality star also boasts that she drew upon her years of experience in both the design and TV worlds: "Understanding what homeowners want is so much of what I do every single day. My design clients are real-life modern families and I am in their homes finding out what their needs and desires are and how to bring that, and more, to them on realistic budgets. That's just the way everyone is living today. Your home and what's in it must accommodate your all-encompassing lifestyle."
Christina Haack has faced her fair share of online abuse
Christina Haack has unfortunately experienced one of the major pitfalls of being a celebrity in the digital age: online abuse. Take the time she uploaded an innocuous selfie to Instagram wearing an all-black sweatshirt-and-jeans combo captioned "#johnnycashvibes" in 2021, for example. While many of the comments were positive, there was also a significant amount of questionable feedback about her weight.
As quoted by Heavy, one follower remarked, "I feel her thinness isn't because she eats healthy and exercises. I hope people that love her will help her," while another responded, "There's a sadness and emptiness in her eyes." Noticing this display of body shaming, Haack herself was quick to shoot down any rumors in the comments section, adding, "Chill people — I eat, and I eat healthy." But it's not just her health that's been called into question.
Following her split from second husband Ant Anstead, many online troublemakers pointed out that, contrary to her ex, Haack rarely posted anything on social media about their son, Hudson. Understandably, the "Christina on the Coast" host soon fired back to refute claims she was an "absent mother." She captioned an Instagram post with, "I hardly post anymore … and I def do not want to post my kids every freaking day to make it a contest of who's a better parent [for] that. This doesn't mean I'm not with my kids — it means the opposite — I am with them — I'm present."
The HGTV star played the field following her first divorce
After splitting with Tarek El Moussa in 2016, Christina Haack started dating the man who'd reportedly sparked jealousy during the final throes of her marriage. The HGTV star had previously insisted that there was nothing romantic between herself and Gary Anderson. But just a few months into her single life, she was spotted out and about with the contractor who'd been hired to work on the family swimming pool.
An anonymous source stuck the boot into El Moussa even further, claiming to In Touch, "There's nothing that could be more upsetting to Tarek than to see her with a guy who is like him but better — and that's Gary. He's in the same industry as Tarek, but he's older and more established and has more money." But Haack's reported relationship with the more experienced and considerably richer Anderson was pretty much over before it began.
It was a similar story with Nate Thompson, a hockey player for the Anaheim Ducks, whom Haack briefly dated in the spring that same year. Likewise with Doug Spedding, a former car dealership owner, whom she moved on to in the summertime. By the end of an eventful 2017 dating-wise (hey, you do you, Christina!), Haack had also met the man who would become husband and divorcee number two, Ant Anstead.
She hasn't given up hope of finding the one
Christina Haack may have been unlucky in love on several occasions — including two marriages that ended in divorce. But she hasn't yet given up on finding the man she really does end up spending the rest of her life with. In June 2021, she told E!, "I believe that everyone deserves to have love and find love and I hope that happens for me." However, Haack insisted that she had no plans to go on the hunt for Mr. Right just yet: "It would take a really special someone and my goal right now is just to focus on my kids and keeping my private life, as private as it can possibly be."
That same month, Haack's second ex-hubby, Ant Anstead, proved he had no such qualms about re-entering the dating game. Per TMZ, the motoring expert managed to woo the one and only Renée Zellweger after they worked together on Discovery+ show "Celebrity IOU: Joyride." Anstead hosts the spin-off show in which celebs nominate a loved one to get their ride well and truly pimped.
But back to Christina Haack: By July 2021, her romantic life made headlines once again when she was spotted holding hands with Texan realtor Joshua Hall at LAX, as the pair jetted off on a trip to celebrate Haack's birthday. "They recently started dating each other and it was an immediate, real connection," a source cited by People claimed. "They've enjoyed getting to know each other one-on-one without outside noise."
Christina Haack has a massive net worth
During the financial crisis of 2008, Christina Haack and her then-husband, Tarek El Moussa, lost nearly event cent they'd made as successful realtors, per The OC Register. As a result, they had to downgrade their $6,000 per month home to one that cost $700 and slowly build their business back up from the ground.
Luckily, their hard work paid off five years later, when they became the new faces of the HGTV network. The once-happy couple reportedly earned $10,000 per episode each during the early years of "Flip or Flop." That figure had increased four-fold by the time the show entered its third season. And then in 2019, when Haack was married to another TV star, Ant Anstead, she was deemed to be worth $50,000 for every episode of her own show, "Christina on the Coast."
It's little wonder, then, that according to Celebrity Net Worth, the interior designer has approximately $12 million in the bank! And she's still adding to her tally. As of this writing, Haack has three shows on the Home and Garden TV network, and — true to her HGTV brand, she also sold her Newport Beach pad in 2021 for nearly $2 million more than she'd paid for it just three years earlier.