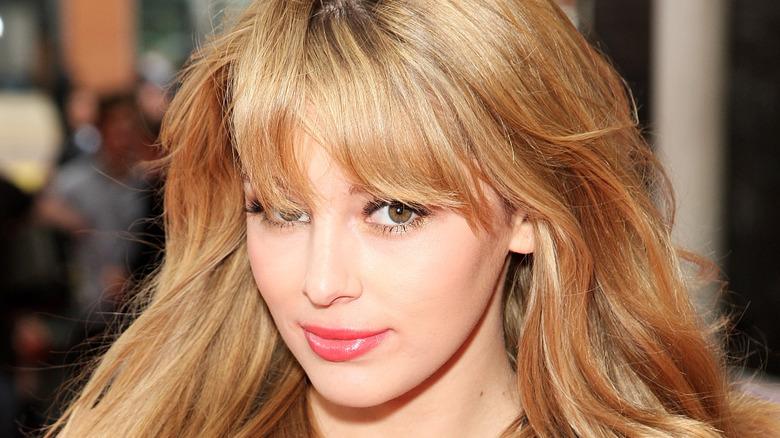 Until recently, Samantha Fox, the pin-up who scored three US Top 10 hits back in the late 1980s, looked to have the title of the most successful Page 3 graduate sewn up. After all, the British tabloid tradition in which a glamor model poses topless on, well, page three, was put out to pasture in 2019. However, thanks to the slightly less prestigious alternative to "The Crown" and an Emmy-nominated sitcom about soccer, Keeley Hazell now looks set to take the mantle.
Yes, "The Royals" and "Ted Lasso" star had already established herself in Hollywood before a high-profile relationship with Jason Sudeikis became public knowledge. But her romance with the former Mr. Olivia Wilde has certainly helped to raise her profile even higher.
But apart from the fact that she once used to take her clothes off for a living, what else do we know about the rising star? From philanthropic endeavors to pop star efforts, here's a look at Hazell's untold truth.
Keeley Hazell came from humble beginnings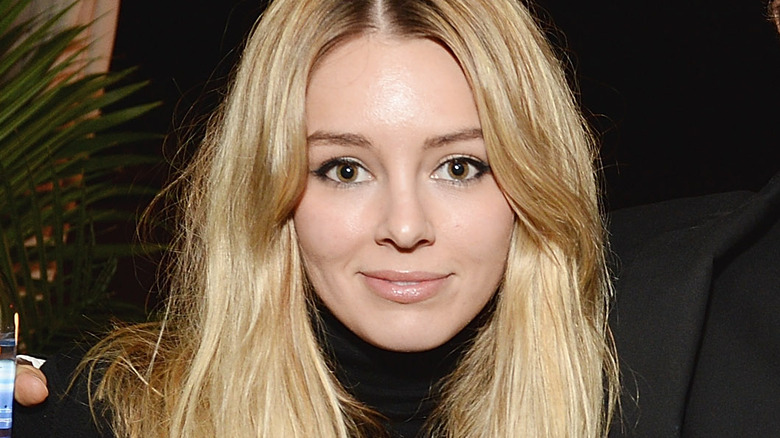 While many British actors who make it big in America seem to hail from the wealthiest parts of London (see everyone from the Eton-educated Eddie Redmayne to former prime minister David Cameron's old classmate Dominic West), Keeley Hazell had a much more humble upbringing.
The "Ted Lasso" star grew up in the Grove Park area of the capital city with her dinner lady mom Amber and window fitter father Roy. Keeley told the Independent in 2017 that her impoverished childhood left her believing that Hollywood would only ever be a pipe dream.
She said, "I wanted to act from a young age and I didn't seem like a reality for me growing up. My family were poor so really early I didn't think that would be something that could happen and when I modeled I realized I didn't want to do it anymore, and I thought with acting 'I really want to give this a shot.'" Keeley had actually planned to pursue a career in hairdressing before the modeling world came calling.
Keeley Hazell got her big break in a Beach Babe contest
Keeley Hazell first came to attention at the age of just 17 in 2004 when she emerged victorious at the Search for a Beach Babe contest organized by British tabloid The Daily Star. But as she hadn't yet turned 18, she wasn't legally allowed to bare all for its Page 3 feature.
The aspiring model had to wait several months to go completely topless, and she did so in a rival newspaper, too. Hazell had applied for The Sun's Page 3 Idol competition while studying fashion at Lewisham College. And after once again taking pole position she was able to quit her studies and pursue a career posing half-naked for the cameras.
Hazell later told the Independent that she was initially reluctant to make the step up from Beach Babe to Page 3: "I had a boyfriend take some photos. I was hesitant so I entered the pictures on the last day. I thought, 'Is this something that I want to show?' And then I was like 'oh f*** it.' Back then my process was bit different. You're so young and you think 'I don't have much going on.'"
Keeley Hazell isn't ashamed of her glamor model past
While some stars who bared all before they were famous would rather forget about their past, Keeley Hazell seems more than happy to embrace hers. During a 2020 interview with one of her old stomping grounds, The Sun, the actor revealed she has nothing but fond memories of her time as a Page 3 girl.
Hazell said, "It was an amazing job and a catalyst for future opportunities. While a lot of my friends were working in Sainsbury's, I was traveling the world and appearing in newspapers, magazines and attending glamorous photoshoots. It was so surreal and I loved that part of my life — it still makes me smile now." "The Royals" star recalled one particular trip to Ibiza which made her feel like she was "living the teenage dream."
The Londoner did admit that her stint as a glamor model had impacted on her acting ambitions early on, revealing that several directors and casting agents in the U.K. refused to even give her an audition because of pure snobbery. And she was keen to point out the double standards in the industry: "Some doors were closed in my face because of my modeling. I'm sure a male underwear model wouldn't lose opportunities because he was photographed in his pants."
Keeley Hazell has experienced the showbiz industry's abuse of power
While Keeley Hazell told the Independent in 2017 that she hadn't experienced any form of sexual harassment in the world of glamor modeling, she did reveal that it was a different story when it came to her acting career.
Referring to the Harvey Weinstein scandal that sparked the #MeToo movement, the Brit said, "The abuse of power in the film and television industry is a tale as old as time. I've lost count of the amount of times I have attended professional meetings with someone in a more powerful position than myself under the pretense of work."
Hazell explained how several of these meetings then advanced to more casual restaurant encounters and personal cell phone calls, adding, "Before you know it, their intention of only wanting to have sex with you comes out [and] you are left with an ultimatum of having sex with them to continue having this work relationship, or not having sex with them and severing all ties." The "Deadly Matrimony" actor stated that she's always rejected any advances, with one particular industry figure passive-aggressively telling her to "have a nice life" as a result.
Keeley Hazell took her acting ambitions seriously
Perhaps knowing her glamor model past would make it even more difficult to forge an acting career, Keeley Hazell decided to commit herself fully to the profession. In 2009, she relocated to Los Angeles where she landed a place at the prestigious Lee Strasberg Theater and Film Institute, a training ground for the likes of Angelina Jolie, Uma Thurman and Claire Danes.
As Hazell told Daily Actor in 2014, it was an experience she remains truly grateful for: "I think it was great and I only see the positives. I only saw it as a fresh start and that was positive because that was what I needed and what I wanted. And the going out and doing that was kind of fun. It was also a struggle. Struggle can be challenging and the challenge can be great, but it's also a struggle when you haven't done it."
It was also an experience that helped Hazell to fulfill her Hollywood dreams. In 2011, she landed a supporting part in romantic drama "Like Crazy" and soon she was taking leading roles in films such as "Whispers" and "Awful Nice," starring alongside Chris Pine in Horrible Bosses 2 and playing palace maid Violet in E!'s hit series "The Royals." In a 2020 chat with The Sun, the actor revealed she still has plenty of goals left: "Maybe playing Bond — I could see myself as the new 007. But I'd love to work on some British movies."
Keeley Hazell launched a brief pop career
Glamor model, actor, philanthropist, TV presenter. Keeley Hazell appears to be a woman of many talents. And in 2008, she attempted to add pop star to her list with the release of a Britney Spears-esque single titled "Voyeur."
Released at the peak of her lad mag days, it's little surprise to learn that the synth-pop effort also came accompanied by a rather raunchy video. Not only did Hazell sport a black skin-tight Catwoman costume but she also spent much of the promo writhing around in front of a bathroom mirror and showing off her pole dancing skills.
Hazell told Daily Star that she had little experience of the latter before the shoot: "I'm not trained in pole dancing, but I once went to a strip club and spent three hours teaching myself how to flip upside down on the pole. I'm amazed I didn't land on my head." Sadly, such effort reaped little reward. Unlike her Page 3 predecessor Samantha Fox, Hazell's music career pretty much stalled before it had even started when "Voyeur" failed to get anywhere near the charts.
Keeley Hazell has been hailed as an environmental hero
Keeley Hazell unexpectedly found herself at the center of a political debate in 2006 when she was named as an environmental hero by British prime minister David Cameron. The glamor model was cited alongside Sir David Attenborough and Arnold Schwarzenegger on a list of names the Conservative Party believed had positively impacted on green issues.
Of course, some Labour supporters believed this was little more than a publicity stunt designed to make the Tories seem less staid. However, the inclusion of Hazell was defended by a spokesman who argued (via Evening Standard), "She has been bringing awareness to a wider audience, people who wouldn't normally consider climate change a priority." And the star herself answered her detractors penning a piece for Daily Mail, writing, "I've been interested in green issues for some time. I don't see how anyone who reads the papers or listens to the news can fail to be. Global warming is something that seriously worries me and I'm happy to do anything I can to help slow down climate change."
So how did Hazell help exactly? Well, while covering her half-naked body in green paint, she reportedly offered The Sun readers invaluable tips on how to be more environmentally friendly and sexier in the process. These included avoiding unnecessary car journeys ("Cycling will tone you up, giving you a fantastic physique and making you irresistible to the opposite sex") and saving electricity while getting intimate ("Turning off lights can be a big turn-on").
Keeley Hazell has posed naked for PETA
Keeley Hazell was always one of the most socially conscious glamor models of her era. As well as being hailed an environmental hero by prime minister David Cameron, the Brit also supported an initiative to help raise awareness of the symptoms of breast cancer. And in 2009 she fronted an anti-fur campaign for animal rights organization PETA.
Hazell, who posed naked for the ad while clutching a stuffed toy tiger, explained why she decided to get involved in an interview with the organization (via Female First): "Once you learn how the fur trade treats animals, it's impossible to think of wearing fur as sexy or glamorous. I believe that killing animals for vanity is wrong."
And this wasn't just hollow talk, either. Hazell also revealed that she refuses to wear any fur-items related while on a shoot, adding, "It's never been a problem — after all, everyone from Stella McCartney and Vivienne Westwood to H&M and Topshop have no-fur policies. I like to support designers who are able to create fashionable and popular clothes without getting blood on their hands."
Keeley Hazell struggled at school
Keeley Hazell wasn't exactly a model pupil while attending high school, as she freely admitted to The Sun in 2012: "It wasn't right for me when I was younger. I couldn't abide by rules and found it restricting. Education is extremely important, but I like it on my own terms."
Although the future "Ted Lasso" star would often skip school, she insists that it wasn't for an unwillingness to be educated. Hazell was diagnosed with a learning disorder in her youth, something which still impacts her life today: "My dyslexia can make things tricky as an actress — I will read something and say something else. But generally I can overcome these problems, and they say dyslexia makes you more creative."
Of course, one way Hazell has proven she can overcome such a problem is by graduating from the prestigious Lee Strasberg Theater and Film Institute. It's an achievement she remains immensely proud of adding, "I felt there was a huge part of my life that I had missed out on and it was great to go back to education."
Keeley Hazell had a brief fling with Jason Sudeikis
A Golden Globe wasn't the only thing that Jason Sudeikis bagged with "Ted Lasso." He also bagged a girlfriend, albeit a short-lived one, thanks to the Apple TV+ soccer sitcom. In February 2021, rumors began surfacing that Sudeikis, who'd split from fiancee Olivia Wilde a year earlier, was dating co-star Keeley Hazell. In fact, it was during the actor's acceptance speech at the Golden Globes that highly observant viewers spotted the same white fireplace which had previously cropped up several times on the latter's Instagram account.
And the couple appeared to make things official several months later when they were pictured walking around New York arm in arm. Hazell and Sudeikis had actually first met way back in 2014 when they both appeared in "Horrible Bosses 2" and have reportedly remained friends ever since. But following the latter's split with Wilde, the pair's relationship seemed to turn from platonic to romantic.
Sadly, just a few weeks after going public for the first time, the actors appeared to realize they were better suited as just pals. An insider told E!, "Jason and Keeley were never in a serious relationship. It was definitely never a serious thing." Another anonymous source had previously told the same site that Sudeikis wasn't interested in another major commitment and that he was just enjoying having "someone to spend time with."
Keeley Hazell has previously been linked with two British TV stars
Jason Sudeikis isn't the only celebrity that Keeley Hazell has been linked with during her career. In 2011, she was pictured out and about with Steve Jones, the "X Factor USA" host who'd previously had dalliances with the likes of Hayden Panettiere and Pamela Anderson. But it's another talent show name that the former glamor model appears to have enjoyed a much closer relationship with.
Indeed, "Britain's Got Talent" judge David Walliams was regularly photographed hitting the town with Hazell in the late '00s. And although the pair never confirmed whether there's ever been a romance between them, they've remained in touch ever since. In 2020, Hazell reportedly stayed at Walliams' London house for nine months on her return from the States. And a year later, they were spotted having dinner in the trendy London area of Mayfair.
But the identity of Hazell's most serious boyfriend has so far remained under wraps. The "Ted Lasso" actor did reveal that he was American in a chat with The Sun and that they spent nearly four years together before realizing they wanted different things: "Our relationship got to a point where we were deciding if we wanted to get married and have kids, but his idea of a future was to live on a ranch and be a cowboy. I just didn't see myself riding a horse to the local shop on a Sunday morning to buy a pint of milk."
Keeley Hazell was the inspiration for a character in Ted Lasso
Keeley Hazell was reportedly an inspiration for one of the supporting characters in "Ted Lasso," Apple TV+'s Golden Globe-winning sitcom about an American football coach transferring to an English soccer team. But it wasn't the one that she played.
The former tabloid pin-up was cast as Bex, the new girlfriend of Anthony Head's former club owner, in the heartwarming comedy. But Juno Temple told ET in 2021 that it's her own character, model Keeley Jones, who takes after Hazell: "She is a [friend] of Jason [Sudeikis] that inspired some of Keeley's character. She was an inspiration for the part."
Hazell may well have been in line to take on her namesake, though, as she hinted to The Sun: "I originally auditioned for one role and got offered a different part playing Bex, a woman who sees all of the good side of a man who has been terrible to his ex-wife." But the actor is just happy to be a part of the team whoever she plays, adding, "I was ecstatic for the opportunity. The show is based in Richmond upon Thames, which was great as I got to fly from Los Angeles to London to film throughout summer last year. The show is currently number one on Apple at the moment. It has really taken off in the U.S. which is incredible."
Keeley Hazell classes herself as a feminist
Although Keeley Hazell admits she's not on board with everything the movement stands for, she does class herself as a feminist. In a 2017 interview with the Independent, the star advocated for men and women receiving equal pay. But her most interesting comment on the issue related to her former career as a glamor model.
Hazell acknowledged that the days of Page 3 girls were numbered — The Sun had stopped the feature two years previously while The Daily Star would follow suit in 2019. But she also felt it was unfair that those making a living in the glamor world hadn't been consulted about the issue: "I think it's hard with the whole nudity thing. I guess it's a woman's choice what they want to do but it's tough."
The "Ted Lasso" star, who gave up glamor modeling to pursue an acting career in the late '00s, continued, "They objectified us in their own way by saying the industry is wrong. They didn't take into consideration the models and their careers. And that's how we made money. I think there should have been more involvement with the models to see why they did it and understand their point of view."
Keeley Hazell has a net worth of $5 million
Keeley Hazell may not have had much money while growing up, but that all changed in her late teens when she left a career in hairdressing for the world of glamor modeling. At the height of the lad mag boom, the star was earning up to £30,000 (approximately $50,000) per shoot!
In 2017, Hazell told the Independent, "I was traveling all the time, and financially my situation changed a lot. I was earning a lot of money. At the time you don't realize and I look back and think 'that was crazy.'" Although the bumper paydays eventually dried up, the model appears to have been shrewd with her earnings. According to Celebrity Net Worth, she still has a whopping $5 million in the bank.
Of course, Hazell has also topped up her earnings with acting roles in the likes of "The Royals," "Horrible Bosses 2" and the Golden Globe-winning sitcom "Ted Lasso." And having become a tabloid favorite thanks to her brief dalliance with the latter's leading man Jason Sudeikis, the Brit's value will no doubt shoot up even higher.