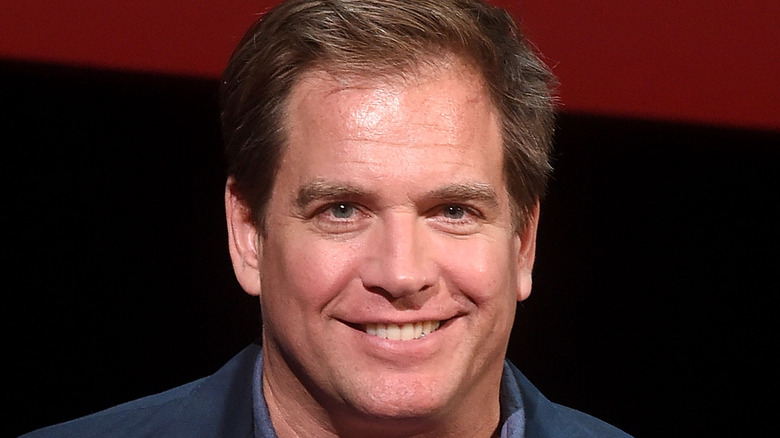 The following article includes allegations of sexual harassment.
Michael Weatherly boasts one of television's most recognizable faces. This is certainly understandable, given that he spent more than a decade as an integral part of "NCIS," which held the title of the world's most-watched TV show for years. Following 13 seasons as Tony DiNozzo, Weatherly broke fans' hearts when he announced he was leaving the series — only to return to TV pretty much immediately in the CBS drama, "Bull."
In fact, Weatherly's acting career spans from the early 1990s until the present, with credits including playing a "preppy killer" on soap opera "Guiding Light," a role on the 1980s daytime drama, "Loving," and portraying the son of Rodney Dangerfield's character in the 1997 comedy, "Meet Wally Sparks." He also landed a recurring gig in the short-lived Christina Applegate sitcom, "Jesse," before becoming a series regular in the James Cameron-produced sci-fi drama, "Dark Angel."
He may be about as close to a household name as a television actor can get, yet how much do his fans really know about this versatile actor? From his musical pursuits to his celebrity dating history to his occasional scandals, keep reading to discover the untold truth of Michael Weatherly.
Michael Weatherly lost his first acting job by irking Bill Cosby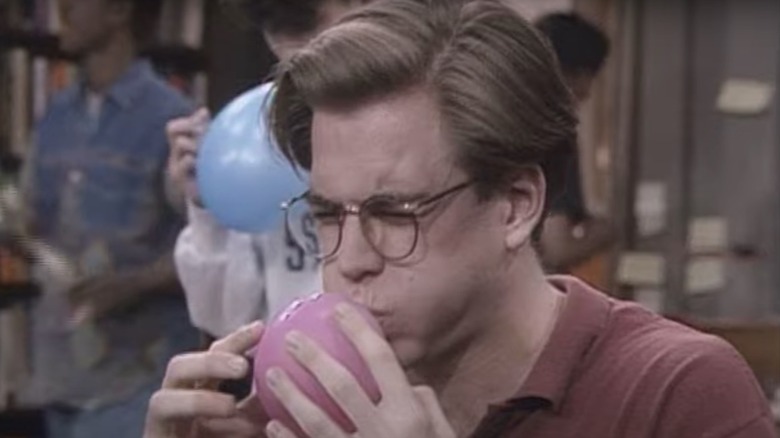 During a 2012 visit to "CBS This Morning," anchor Gayle King reminded viewers that Michael Weatherly played the roommate of Theo Huxtable (Malcolm Jamal Warner) in a 1991 episode of "The Cosby Show."
As Weatherly recalled, his manager represented the actor initially cast, and suggested Weatherly as a replacement when the other actor landed a movie and was no longer available for the sitcom. "But I was the same size as him, so she called me and said, 'Get out to Queens, you're gonna meet Bill Cosby and if he signs off on you, you're gonna be working this afternoon, they're taping.' … And I met him and he was in a track suit smoking a cigar, he had a rubber chicken nailed to his dressing room door," Weatherly recalled. He added with a laugh, "I did okay, but they never invited me back … It was a one shot deal."
In a subsequent interview with the New York Post, Weatherly revealed a possible reason why his character never reappeared. "It was my very first acting job," he said, explaining, "I didn't know my a** from my elbow; I taped a subway token on my forehead during rehearsals and Cosby said, 'What's that?' I said, 'I'm the token white guy.' They did not invite me back."
He was once engaged to Dark Angel co-star Jessica Alba
In 2000, Michael Weatherly was cast in the Fox drama "Dark Angel," a new series from "Terminator" and "Titanic" director James Cameron starring Jessica Alba as a genetically-enhanced young woman with superhuman abilities. During the course of the show, the co-stars became a couple — and eventually got engaged. Eyebrows, however, were raised due to that fact that Weatherly, then at age 30, was more than a decade older than his then-18-year-old co-star.
"It just didn't work out. I was so young, 18, when I started dating him," Alba told Cosmopolitan of their 2003 breakup. "I was a virgin. I knew I wanted to be in love with the first person I slept with, because for almost everyone I knew, the first experience made them feel like s**t. So I wanted to be really careful that he was going to be in love with me and wasn't just going to leave me."
Alba admitted she found it "really, really, really difficult to have the same occupation as the person you're with — especially when you're both actors." After her experience with Weatherly, she said, "I've decided I'll never date an actor again."
Michael Weatherly once got a free lunch when he was mistaken for another actor
In a tongue-in-cheek interview with TV Guide, Michael Weatherly recalled the various times he'd been misidentified as other actors. "I was once mistaken as George Peppard by a 93-year-old woman," he revealed, a case of mistaken identity made all the more incredible given that the silver-haired "A-Team" star died in 1994. In addition, Weatherly recalled the time "somebody thought I was Blair from 'Facts of Life,'" (a.k.a. actor Lisa Whelchel), although he pointed out the individual who'd suggested that was "a blind person, and they were really going more on feel."
Weatherly also explained how his resemblance to Sean Patrick Flanery (whose screen credits include "The Boondock Saints" and playing TV's "Young Indiana Jones") resulted in a comped meal. "Planet Hollywood, Vancouver, 1998," Weatherly remembered. "And they were like, 'What are you having?' I'm like, 'Hamburger, bottle of wine, french fries, calamari, maybe a salad and, can I have a friend come?' 'Cause I had feeling it was going to be free, and you know what? Thank you, Sean Patrick Flanery — free lunch."
This actor is also talented musician whose music has appeared on NCIS
In addition to his work as an actor, Michael Weatherly has also carved out a niche in the milieu of music. As his website pointed out, Weatherly is "an accomplished musician, talented on the piano and guitar in addition to singing." As "NCIS" fans may recall, some of Weatherly's songs have appeared on soundtracks for the series — such as, "Bitter and Blue" — and are also available on streaming platforms. He's also translated his songs into music videos, such as the 2013 video for his song, "Under the Sun," which appears on one of the "NCIS" soundtracks.
In an interview with Music Times about that soundtrack, Weatherly and "NCIS" co-star Pauley Perrette — who likewise has a musical sideline, as a singer-songwriter — discussed their individual tracks. "'Under The Sun' is an interesting song," Weatherly said of the tune. "It has a strange group of meanings, and a whole cluster of ideas about existential journeys and self-examination."
According to Music Times, he began to write the song after 9/11, but ultimately crafted the lyrics to mark the exit of "NCIS" co-star Cote de Pablo from the show.
He lost 35 pounds after splitting numerous pairs of pants on NCIS
Viewers of "NCIS" no doubt noticed a change in Michael Weatherly's appearance between the series' 11th and 12th seasons. As the actor revealed in an interview with People, he'd embarked on a diet and fitness regime that resulted in shedding 35 pounds after a weight gain that led him to "split five pairs of pants" in Season 11.
"This is not an excuse, but the craft-service table is not filled with a lot of super healthy options," he explained. "Then you get to working late, there's pizza and Chinese food. You try to be good. But while the crew guys are lifting things and pushing things, I just tended to sit at the trough and continue to graze … It reached a tipping point. Even the writers made jokes about Tony needing to go on a cleanse."
Weatherly wound up enlisting the services of trainer Juliet Kaska, who shaped his exercise regimen and diet, which included pretty much eliminating carbs. "I stayed away from pasta, rice, bread, potatoes, anything that's fun to eat, I did not eat. And I pulled way back on alcohol consumption," he said, bringing his weight from 240 lbs. down to "around the 200-lb. marker."
Michael Weatherly was arrested for a 2015 DUI
Michael Weatherly was known for fighting fictionalized crime on the CBS procedural drama, "NCIS," but in November 2015, he found himself on the other side of the law. As TMZ reported at the time, the actor was placed under arrest while driving in Hollywood at about 1 a.m. He was reportedly pulled over by police for speeding; believing he'd had a few drinks, the officers conducted tests that confirmed the actor's blood alcohol exceeded the legal limit. Weatherly was booked, and reportedly spent close to 15 hours in jail before he was released and charged with two counts of DUI.
In a subsequent story the following January, TMZ reported that Weatherly issued a plea of no contest to the charges. He managed to avoid spending any additional time behind bars; instead, he was reportedly sentenced to three years probation and ordered to undertake "a three-month alcohol program." By June 2016, Weatherly completed all requirements imposed by the judge at his sentencing.
The reason he decided to leave NCIS at the height of its popularity
In January 2016, fans of "NCIS" received the shocking news that Michael Weatherly was leaving the show. Speaking with TV Insider, Weatherly explained that there was no drama behind his exit; he simply felt that after 13 years portraying Tony DiNozzo, he was done. "I meet 20-year-olds who were in first grade when we started. Basically, their entire lives they've known me as, 'Hey, you're on television, playing that guy,'" the actor joked.
According to Weatherly, by then the "great dynamic" that had initially existed between DiNozzo and Ziva (Cote de Pablo) "was gone." He added, "Then I got to the point where I felt I'd stayed at the party for too long." While he was heartened by starring on a TV show that "was a huge success," he'd also come to realize "that I probably had other things that I should be doing."
In fact, Weatherly greeted the prospect of his impending unemployment with joy. "I'm very excited to get back to reality for a few months, even if I have no idea what the future holds," he said. "As Pinocchio would say, 'I'm a real live boy!'"
Why Michael Weatherly decided to return to TV after exiting NCIS
As it turned out, Michael Weatherly's departure from television was a brief one. Two months after CBS confirmed his exit from "NCIS," TVLine reported that the actor had signed on to star in "Bull," a new drama series for the network, based on Dr. Phil McGraw's pre-television career analyzing juries in court cases and making recommendations to lawyers.
However, Weatherly insisted that while it may have looked like he quit "NCIS" to star in his own show, that wasn't necessarily his initial plan. Speaking to reporters at the 2016 Television Critics Association's summer press tour, noted The Hollywood Reporter, he admitted he'd grown "really tired" of the grueling "NCIS" shooting schedule. As for why he decided to jump from one one-hour drama to another, Weatherly said that his new show "came about at the right time," adding, "I was burnt out by 'NCIS' and I was ready for a new challenge. Sometimes change is as good as a rest."
Meanwhile, Weatherly also received a seal of approval from Dr. Phil himself, one of the executive producers on "Bull." Weatherly's casting, said the TV doc, was "just an absolute home run."
Michael Weatherly's alleged sexual harassment toward a female co-star cost CBS millions
In the spring of 2017, CBS announced that actor Eliza Dushku was joining Michael Weatherly's "Bull" in a recurring role, positioned to become to a series regular. But instead, The New York Times later reported, Dushku's character was written out of the show after she complained about being sexually harassed by Weatherly; she ultimately received a $9.5 million settlement.
Weatherly issued a statement, admitting he "made some jokes mocking some lines in the script." He added, "When Eliza told me that she wasn't comfortable with my language and attempt at humor, I was mortified to have offended her and immediately apologized … what I said was both not funny and not appropriate."
Dushku, however, shared her version of events in a scathing op-ed for the Boston Globe, alleging Weatherly's misconduct was far more egregious than what he'd described. "The narrative propagated by CBS, actor Michael Weatherly, and writer-producer Glenn Gordon Caron is deceptive and in no way fits with how they treated me on the set of the television show 'Bull' and retaliated against me for simply asking to do my job without relentless sexual harassment," Dushku wrote. "I took a job and, because I did not want to be harassed, I was fired."
If you or anyone you know has been a victim of sexual harassment or assault, help is available. Visit the Rape, Abuse & Incest National Network website or contact RAINN's National Helpline at 1-800-656-HOPE (4673).
His NCIS co-stars came to his defense following the scandal
When news broke that CBS had paid actor Eliza Dushku a $9.5-million settlement after she accused Michael Weatherly of sexual harassment on the set of "Bull," there was further fallout. Most notably, reported USA Today, director Steven Spielberg (an executive producer on "Bull") announced neither he nor his company, Amblin Entertainment, would have any further association with the show in the wake of Dushku's allegations.
However, Weatherly was not without his supporters, as some of his former "NCIS" co-stars came forward to speak out on his behalf. Pauley Perrette, who portrayed "NCIS" forensic scientist Abby Sciuto, came to Weatherly's defense in a tweet. "This man… I love, respect, trust, and I KNOW," Perrette wrote, accompanying a photo of herself and Weatherly. "TWO decades of friendship and respect. The best. I love you @M_Weatherly Always and forever."
Sasha Alexander, who played Caitlin Todd on "NCIS" from 2003 until 2005, likewise supported Weatherly via Twitter. "I have been in trenches w/ my friend @M_Weatherly Always laughs, true friend & [heart emoji] as big as they come," wrote Alexander in a tweet that was subsequently deleted (via The Hollywood Reporter).
Michael Weatherly once played Jesus in a video promoting female reproductive rights
In addition to his work on "Bull," "NCIS" and "Dark Angel," Michael Weatherly has had many other acting roles. One of these was somewhat unusual, in that Weatherly portrayed Jesus Christ in a 2014 comedy video that contained a serious message. In the five-minute short titled "Sarah Silverman is Visited by Jesus Christ," comedian Sarah Silverman speaks with Weatherly's Jesus about female reproductive rights while sharing a bowl of popcorn.
Discussing the video with Rolling Stone, Silverman explained that she wanted to draw attention to efforts of "the far right … to make abortion illegal." Her goal, she explained, was "to make something that was informational, though obviously with comedy." As one might expect, those opposing pro-choice viewpoints were predictably offended, as detailed by the Christian Post, by both the pro-choice message and the comedic depiction of the Son of God.
Weatherly referenced the video in a tweet he issued shortly after its release, comparing Jesus to his "NCIS" character. "Now that I know Jesus more, he is SUCH a DiNozzo!" he wrote.
He got into a hilarious faux feud with James Corden
In September 2016, James Corden was shocked to see that a billboard on the side of a soundstage at CBS Television City in Los Angeles, which had previously featured his visage to promote "The Late Late Show," had been changed. Instead, the billboard now featured Michael Weatherly's "Bull." Growing (jokingly) irked at seeing Weatherly's "face smirking down at him every day," noted CBS, Corden enlisted one of his show's writers to join him on a clandestine late-night mission, rappelling down the side of the building and spray-painting graffiti on the "Bull" billboard in some revenge-fueled vandalism.
Weatherly, however, exacted his "revenge" from Corden when he was later invited to appear on "The Late Late Show." Assisted by his daughter, Olivia — whom he shares with wife Dr. Bojana Jankovic — and some sharpies, Weatherly vandalized a poster of Corden hanging in a "Late Late Show" hallway, drawing glasses, forehead wrinkles, and facial hair on the photo of the British TV host.
Once completed, Weatherly popped one of the sharpies in his mouth like a cigar, and posed for a hilarious photo as he leaned against the wall to admire his handiwork.
The popular actor directed an award-winning documentary
When Michael Weatherly announced his departure from "NCIS," one of the reasons he gave for his exit was a desire to pursue new creative opportunities. One of these was "Jamaica Man," a 2017 documentary he'd directed (Weatherly has also directed episodes of "NCIS" and "Bull"). The film focuses on Nigel Pemberton, a British expat living in Jamaica. According to The Monthly Film Festival, "Jamaica Man" is described as a "biographical picaresque" that presents "a highly stylized and unconventional portrait of a raconteur nearing the end of his life."
The film made its premiere at the prestigious Telluride Film Festival, and was subsequently featured in numerous other film festivals. Among these was the Los Angeles Documentary Film Festival, where "Jamaica Man" won the award for best documentary portrait. In addition, Weatherly's documentary won two awards at the 2018 edition of the New York City Independent Film Festival, taking the honors for best documentary and best cinematography.
Michael Weatherly has amassed an impressive net worth
Given that Michael Weatherly spent more than a decade as a key cast member on one of the world's most popular TV series, it shouldn't be surprising that he's managed to stash away a few bucks over the years. In fact, according to Celebrity Net Worth, Weatherly's fortune is estimated at a very comfortable $45 million, while his annual salary is said to be $10 million.
Of course, acting is only one of the ways in which Weatherly earns money. In addition to his directing work, Weatherly is also a producer via his own production company, Solar Drive Productions, based at CBS Studios. In 2014, The Hollywood Reporter noted that Weatherly staffed up his production company with two key hires: Laura Lancaster, who had previously served as executive vice president of drama programming at NBC Entertainment; and Tiffany Grant, former head of development at Ping Pong Productions, hired as Solar Drive's vice president of development.
"We're going to make inventive, adrenalized, powerful hit series in every platform available to us, by partnering with the most forward-thinking, visionary creators out there," Weatherly and Lancaster said in a joint statement at the time.