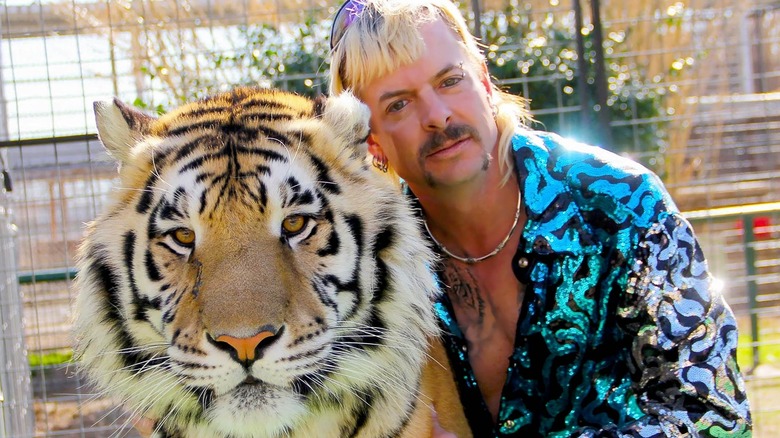 When it comes to efficient means of escaping the real world, Netflix is hard to beat. Anytime reality seems too stressful or overwhelming, we can always count on the stalwart streaming service to offer us a distraction, a window into another world just beyond the screen where things make a little more sense (maybe because they're scripted that way).
Sometimes, though, instead of escaping the world, we want to learn more about it. As terrifying as life can be sometimes, it's also incredibly fascinating, and if you want to dive deeper into it rather than distract from it, Netflix has you covered in that event, too: There are dozens of documentaries on the streaming platform that offer us creative looks into sports, history, animals, culture, and of course, eccentric home zoo owners. If you're looking to get a novel glimpse of the world from the comfort of your couch, Netflix has something for everyone.
Updated on July 30, 2021: Netflix has an ever-evolving catalogue of films and shows, and we've updated this list to reflect the best documentaries currently offered by the streaming service. These picks will make you laugh, cry, learn, gasp, or cringe, depending on what you're looking for — and they'll accomplish it all with the most difficult cinematic device of all: the truth.
Jim & Andy: The Great Beyond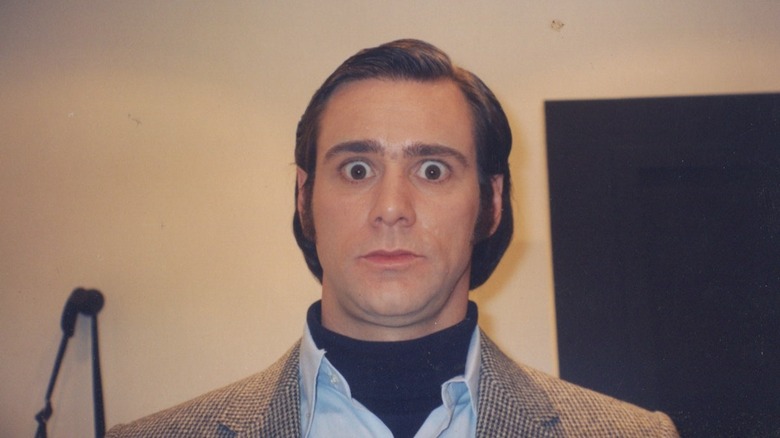 In "Jim & Andy: The Great Beyond," we see Jim Carrey in what may be his greatest role yet: Himself. Well, more or less. This documentary tells the story of another film: 1999's "Man on the Moon," which features Jim Carrey's portrayal of performer Andy Kaufman. Carrey remained in character as the eccentric "song and dance man" throughout the shoot.
The story of that role is steeped in complex layers. Carrey was so committed to the portrayal of Kaufman that he ended up having trouble separating himself from the character — much like the line between Kaufman and his characters often seemed to blur. This documentary is a fantastically entertaining and convoluted portrait that tiptoes right up to the edge of madness.
Director: Chris Smith

Year: 2017

Runtime: 94 minutes

Rating: Not Rated
Audible
The clever title of the 2021 documentary "Audible" is a dual reference to the Deaf high school football player that the short piece revolves around: "audible" refers both to things that can be heard, and to the practice of "calling an audible" in football — changing the planned play at the last minute.
This documentary fittingly centers around challenge and change, both upon and beyond the gridiron. As the Maryland School for the Deaf prepares for their final homecoming game, they must also cope with the loss of a friend to suicide in this poignant story of loss and youth.
Director: Matthew Ogens

Year: 2021

Runtime: 39 minutes

Rating: PG-13
Dogs
Dogs (the titular subjects of this Netflix documentary series, now in its second season) are man's best friend. But that relationship, as simple as it may seem, can take many forms in a wide and emotional variety of circumstances. "Dogs" attempts to not only capture as many of these special bonds as it can, but to celebrate them.
Creator: Glen Zipper

Year: 2018 – current

Runtime: 20 episodes, 44-54 minutes each

Rating: TV-PG
The Last Dance
The explosive documentary "The Last Dance" is actually about another form of athleticism: Basketball, and specifically, the 1997-1998 Chicago Bulls NBA team, led by Michael Jordan. But the miniseries goes beyond the game of basketball, offering a window into the lives, struggles, triumphs, and relationships of the men who led one of the greatest franchises in NBA history.
Brilliantly edited archive footage pairs with a compelling soundtrack and heartfelt present-day interviews to paint an unparalleled portrait of a larger-than-life legacy.
Director: Jason Hehir

Year: 2020

Runtime: 10 episodes, 48-50 minutes each

Rating: TV-MA
Explained
Netflix viewers love this series from the news site Vox, and its third season in July 2021 continues the show's tradition of answering some of the internet's most-asked (and rarer, lesser-asked, and all the more interesting) questions in witty, easily-digestible fashion. From designer DNA to K-pop, the racial wealth gap to cults, these episodes are an easy way to bone up on your general knowledge, better understand the world, or prepare for your next trivia night.
Creators: Ezra Klein and Joe Posner

Year: 2018 – present

Runtime: 30 episodes, 14-26 minutes each

Rating: TV-MA
13th
Some of the documentaries on this list will illuminate fascinating tidbits from niche parts of the world, from the bottom of the ocean to the lives of dogs. But "13th" is different: It shows us a crucial history of racial inequality in the United States, an issue that, while of paramount importance in modern society, requires much more widespread, practical education.
It all adds up to a shocking window into the institutional disenfranchisement of communities that is held up by the way our society functions. If you've heard terms like "prison-industrial complex" lately and want to learn more about what they really mean, this is a great place to start.
Director: Ava DuVernay

Year: 2016

Runtime: 100 minutes

Rating: TV-MA
The Movies That Made Us
After two well-loved seasons (one of which focused exclusively on holiday films), "The Movies That Made Us" is making another appearance. The third season also focuses on some of the classic films, like "Jurassic Park," that have earned immortality in our culture. We quote them in conversation, watch them for comfort, and even use stills from their scenes to express our common humor through memes. These films have such a huge impact on the way we think, feel, connect, and live, and now we get an inside peek.
Director: Brian Volk-Weiss

Year: 2019 – current

Runtime: 10 episodes, 45-52 minutes each

Rating: TV-MA
My Octopus Teacher
When this stunning documentary hit Netflix, audiences were enraptured. And unlike a lot of the titles on this list, you can easily watch this one with your kids — with a rating of TV-G and saturated with magical underwater visuals, they're even likely to sit still for it. And that's despite the fact that the scope encompasses an entire year of Craig Foster's effort to cultivate a unique bond with a wild octopus.
Directors: Pippa Ehrlich, James Reed

Year: 2020

Runtime: 85 minutes

Rating: TV-G
I Am Not Your Negro
According to Metacritic, this film is not only one of the best documentaries on Netflix, but one of the best movies on Netflix, period. With captivating narration by Samuel L. Jackson and the moving words of James Baldwin, the film is a timeless exploration of race relations in America through the eyes of history's seminal civil rights leaders. Baldwin had close relationships with many of these men, from Martin Luther King, Jr. to Malcolm X. Their efforts and interactions are indispensable, mind-opening viewing.
Director: Raoul Peck

Year: 2016

Runtime: 93 minutes

Rating: PG-13
Icarus
Did you ever have a dream of being an Olympic champion as a kid? A lot of people will go to just about any length for that dream. They'll put a family on hold, they'll skip years of high school or college, they'll spend months in grueling training and diet regimens. And that's just the stuff that's legal.
As you'll see in "Icarus," corruption runs rampant in the Olympics, which is supposed to be the height of athleticism and nobility. Sometimes, these evils are perpetrated at the very hands of those who are supposed to guard against it — and they'll do anything, to anyone, to maintain their clandestine advantage.
Director: Bryan Fogel

Year: 2017

Runtime: 121 minutes

Rating: TV-MA
Tiger King: Murder, Mayhem and Madness
"Tiger King" hit the small screen just as the world itself got much smaller: Lockdown measures forced people to stay inside for much of the spring and summer, at least. With so much free time, many turned to streaming services to cure the boredom. And the perfect antidote arrived at precisely the right time: The bizarre and sensational spectacle of Joe Exotic and his home zoo.
Social media grew saturated with memes and discussions of his insane antics: His rivalry with zoo owner Carole Baskin (who might have killed her husband?), his eccentric lifestyle, and his five husbands. Before long, Joe wasn't just king of the tigers — he was ostensibly king of the pop culture world.
Directors: Eric Goode and Rebecca Chaiklin

Year: 2020

Runtime: 7 episodes, 41-48 minutes each

Rating: TV-MA
Five Came Back
"Five Came Back" is a documentary, based on a book, based on five filmmakers who returned from war to make films inspired by their experiences. These works and the men behind them, along with their haunting frontline experiences, are analyzed and discussed in "Five Came Back" by other members of the entertainment industry. The overarching narrative is guided impeccably by the voice of Meryl Streep.
These five directors — John Ford, William Wyler, John Huston, Frank Capra, and George Stevens — have been some of the most influential in American cinematic history, and were undeniably shaped by their experiences in war.
Director: Laurent Bouzereau

Year: 2017

Runtime: 3 episodes, 59-69 minutes each

Rating: TV-14
Seaspiracy
We see what we want to see … but "Seaspiracy" does its best to lift the veil. The film immediately attracted controversy for the way it advocates for an end to the consumption of fish — but along the way, it illuminates the myriad ways in which human activity, from fishing and otherwise, affects marine life to extents far beyond what we might assume. While curtailing consumption is of course up to each individual viewer, curtailing assumption is a natural consequence of this hard-hitting documentary.
Directors: Ali Tabrizi, Richard O'Barry, Lori Marino

Year: 2021

Runtime: 89 minutes

Rating: TV-MA
Dirty Money
We'd all like to believe that scandals are rare, that as money changes hands in tax brackets far above most of us, it's all for the most part up to snuff. But "Dirty Money" on Netflix challenges that notion, and indeed the very idea of trust and integrity from the most powerful people in the country to the car company down the street.
Directors: Various — including Alex Gibney, Fisher Stevens, Jesse Moss

Year: 2018 – present

Runtime: 12 episodes, 50-77 minutes each

Rating: TV-14
Athlete A
The documentary "Athlete A" is crucial but difficult viewing, and must come with a trigger warning for audiences based on topics of trauma and sexual assault. The film lifts the voices of members of the USA Gymnastics national team, who survived abuse at the hands of someone who was supposed to take care of them: former team doctor Larry Nassar. Not only does the film indict Nassar, but the often toxic culture that allowed these abuses to persist.
Directors: Bonni Cohen and John Shenk

Year: 2020

Runtime: 103 minutes

Rating: PG-13
Wild Wild Country
Critics have said "Wild Wild Country" is as mesmerizing as its subject, the controversial guru Bhagwan Shree Rajneesh, who led a community of followers as their spiritual leader. This is something of an obscure piece of American history, and certainly a bizarre one. If you like to learn about cults and their uncanny ability to blur the lines between reality and fiction, good and evil, you'll be enthralled by this expose.
Director: Maclain Way and Chapman Way

Year: 2018

Runtime: 6 episodes, 68-71 minutes each

Rating: TV-MA
Jeffrey Epstein: Filthy Rich
If you were alarmed by "Dirty Money," you'll be rightfully appalled by "Jeffrey Epstein: Filthy Rich," which takes corruption and evil to new and horrific levels. There is, of course, a trigger warning for this content, which deals with the abusive acts perpetrated by Epstein and his powerful cohort against vulnerable and underage girls.
The documentary does an excellent job not only of putting together the pieces that reveal the ugly truth, but of illuminating the lasting impact on survivors as they struggle for justice and closure.
Director: Lisa Bryant

Year: 2020

Runtime: 4 episodes, 55-57 minutes each

Rating: TV-MA
Don't F**k With Cats: Hunting An Internet Killer
You might not be able to guess what this documentary is about based on its title, "Don't F**k With Cats," but once you've seen it, you'll agree that, even if most of the victims were human, this is the only title that truly fits.
In between, you'll see a series of increasingly shocking crimes and follow an extremely unique detective force on the case: a Facebook group full of total strangers attempting to cobble together as much information as possible from personal research at all corners of the world. It's insane what the internet can accomplish when it puts its collective mind (and enthusiasm for felines) to it.
Director(s): Mark Lewis

Year: 2019

Runtime: 3 episodes, 57-66 minutes each

Rating: TV-MA
David Attenborough: A Life on Our Planet
It would be all too easy to fall asleep to this documentary, narrated by the soothing voice of David Attenborough, if the focal point of the movie weren't the dire existential crisis facing our planet. Though the visuals of our beautiful Earth are as dreamy as they come, the concerns Attenborough raises in this film will certainly keep you up at night.
Directors: Alastair Fothergill, Jonathan Hughes, Keith Scholey

Year: 2020

Runtime: 83 minutes

Rating: PG
Fyre
In a documentary that apparently eked out a win over Hulu's piece on the same subject matter, 2019's "Fyre" details "The Greatest Party That Never Happened." We're talking, of course, about the infamous Fyre Festival, falsely marketed as a luxury music festival in 2017 only to collapse into chaos due to poor planning and outright fraud. Instead of "luxury villas," there were FEMA tents. Instead of gourmet meals, attendees got boxed cheese sandwiches.
Despite promotion by various celebrities on social media (maybe the organizers should have used the money they paid these influencers to pay for the actual event instead), the event was a disaster — but one that is an equally entertaining and horrifying lesson in the perils of extravagant wealth.
Directors: Chris Smith

Year: 2019

Runtime: 97 minutes

Rating: TV-MA
Crip Camp: A Disability Revolution
There are two astounding documentaries on Netflix produced by Barack and Michelle Obama's production company, Higher Ground Productions. The first, "American Factory," is also incredibly worth watching — but "Crip Camp," the second, is a heartfelt and nearly perfect window into Camp Jened, a camp for teens with disabilities. The documentary, and the campers themselves, have come to be key influences in the disability rights movement, and the film is an insightful, touching look into a group of people who made the world a truly better place.
Director: Nicole Newnham and James Lebrecht

Year: 2020

Runtime: 108 minutes

Rating: R
The Keepers
Any good documentary list needs a few stellar true crime pictures, and "The Keepers" fits the bill creepily well. It even has elements of classical horror, considering it takes place largely in a Catholic high school and features the kind of religious imagery you often find in the genre. The murder of Catherine Cesnik, a nun who taught at the school, remains unsolved, but her former students believe, and the documentary suggests, that there was a murder and cover-up after the sister began to suspect a priest at the school of sexual abuse.
This film, despite the obvious trigger warning, is filled with the elements of true crime that make it addicting: corruption, power, murder, conspiracy. (Didn't the murderers know that most of those things are sins?)
Director: Ryan White

Year: 2017

Runtime: 7 episodes, 56-66 minutes each

Rating: TV-MA
Making a Murderer
This documentary was an instant sensation and has tugged at the public imagination ever since. The story of Steven Avery in "Making a Murderer" begins with a wrongful conviction and 18-year prison sentence, from which he was released only to be accused, tried, and convicted of murder again just a few years later.
Both cases are seemingly rife with bias and dishonesty on the part of law enforcement and legal counsel, and we're left with the possibility that Avery was a convenient scapegoat for something far more sinister –or at the very least, suffered a violation of his rights. The documentary is a bizarre, infuriating, bewildering ride that raises questions that should have been asked during the original events.
Director: Laura Ricciardi and Moira Demos

Year: 2015 – 2018

Runtime: 20 episodes, 47-77 minutes each

Rating: TV-14
Pray Away
Often one of the hardest things to do as a member of the LGBTQ+ community is to accept yourself for who you are and find support in those who accept you as well. Sadly, the "ex-gay movement" that took off in the 1970s, led by a group known as Exodus International, sought to actively undo countless gay individuals' self-affirming journeys into their true identities.
Exodus International used prayer and conversion therapy to "free" individuals from the queer community. However, as the documentary "Pray Away" makes clear, through interviews with former participants and the leaders of the movement itself, this "freedom" was really abuse. "Pray Away" details a dark chapter in the struggle for LGBTQ+ rights and serves as a reminder that the battle against discrimination is far from over.
Director: Kristine Stolakis

Year: 2020

Runtime: 101 minutes

Rating: PG-13
Fantastic Fungi
Narrated by Brie Larsen, "Fantastic Fungi" is full of breathtaking visuals and mood-making music that are so captivating that you'll forget you're actually learning something! But you are, and the knowledge may just change how you think about your place in the universe and the harmony of the natural world. At the very least, you'll learn some really cool fungus facts for your next trivia night. (Did you know that the largest organism in the world is a fungus, or that slime molds are just as good as humans at designing metropolitan rail systems?)
Director: Louie Schwartzberg

Year: 2019

Runtime: 81 minutes

Rating: TV-14
Untold
The stars of the sports world can sometimes seem larger than life, almost superhuman. But there's more to the stories of these athletes and teams than meets the eye (or is portrayed in the media).
"Untold" reaches behind the scenes in weekly stand-alone documentary films to tell tales unheard by even the most avid sports fans. We get a window into the notorious brawl at a 2004 Pacers-Pistons game, the rise of Christy Martin in the boxing world as she battled personal demons and even a threat on her life, and a rag-tag hockey team run by the teenage son of a mobster, among other stories.
"Untold" installments arrive weekly, beginning on August 10.
Directors: Floyd Russ, Laura Brownson, Crystal Moselle, Chapman Way, Maclain Way

Year: 2021

Runtime: varies by film

Rating: ranges from TV-14 to TV-MA

Rotten Tomatoes Score: TBA
Misha and the Wolves
The story behind "Misha and the Wolves" is almost too insane to believe — and that's what makes for such fascinating viewing. The documentary takes turns sympathetically exploring Misha Defonseca's story of surviving the Holocaust by escaping the Nazis and living with the wolves, then raising valid points of skepticism about the wild narrative and the darker truth at the heart of the story.
This push and pull creates twists that keep you interested as more and more of Misha's outlandish story is revealed. As she herself says, if she'd made it up, who would believe her? Will you?
"Misha and the Wolves" will be available to stream on August 11.
Director: Sam Hobkinson

Year: 2021

Runtime: 90 minutes

Rating: PG-13
Memories of a Murderer: The Nilsen Tapes
Sure, streaming services are saturated with true-crime documentaries, but let's be real — we'll never get enough of them. And there's something extra chilling about a killer's story when it's told in his own words. One of the things we can't help but wonder when faced with horrific crimes is, "Why did they do it? What were they thinking?" In the case of Dennis Nilsen, we don't have to wonder: He's narrated his grisly truth himself.
"Memories of a Murderer: The Nilsen Tapes" will be available on August 18.
Director: Michael Harte

Year: 2021

Runtime: 84 minutes

Rating: TV-MA

Rotten Tomatoes Score: TBA
Bob Ross: Happy Accidents, Betrayal, & Greed
If you don't play Bob Ross videos in the background while you're doing homework or when you just need some good, soothing vibes, you're really missing out. The late painter hosted an art instruction program on PBS, entitled "The Joy of Painting," for 11 years beginning in 1983, but Ross' videos and personality have helped generations find joy in so much more than painting.
But few people know the sordid history of betrayal and greed behind Ross' business empire — perpetrated by some of the partners he trusted most and persisting even after his death.
"Bob Ross: Happy Accidents, Betrayal, & Greed" hits Netflix on August 25.
Director: Joshua Rofé

Year: 2021

Runtime: 92 minutes

Rating: TV-14

Rotten Tomatoes Score: TBA
John of God: The Crimes of a Spiritual Healer
A lot of people think that psychics and mediums are scam artists. But usually, the worst thing they'll do is overcharge you to tell you something you already know about yourself — you're never in any physical danger.
That wasn't the case for the followers of John of God, the name by which widely revered medium João Teixeira de Faria was known. After he achieved worldwide renown, survivors came forward, with the help of the media and the law, to reveal the horrendous abuse they'd suffered at the hands of this "spiritual healer."
"John of God: The Crimes of a Spiritual Healer" premieres on August 25.
Director: TBA

Year: 2021

Runtime: Varies per episode

Rating: TV-MA

Rotten Tomatoes Score: TBA