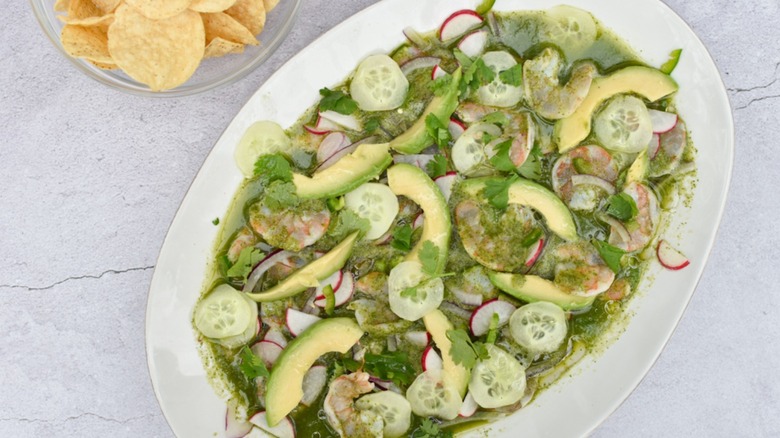 It's time to step up — and maybe even spice up — your appetizer game. Recipe developer Stephanie Rapone of Pantry to Plate Meals is going to walk you through preparing a delicious, authentic aguachile recipe. And don't worry, because her recipe is mild — that is, unless you want to amp up the heat factor.
First, you may wonder what aguachile is, as you gaze with wonder at the beauty beheld in that colorful, fresh-looking platter of vegetable and seafood goodness. "[It's] seafood, most commonly shrimp, in a citrus, hot pepper, and herb marinade," Rapone explains, adding that her dish is "very similar to ceviche."
Please don't feel intimidated about making this tasty dish, though. If you follow each step of this recipe, from prepping your shrimp, to "cooking" it in a simple lime juice, to dicing your topping elements like avocado and cilantro, to blending the marinade, and finally, chilling the dish before serving it, you will ace aguachile and impress, well, anyone you serve it to. "It's totally worth the wait!" Rapone assures us, and judging from how gorgeous her platter is, we don't doubt it for an instant.
Gather the ingredients to prepare mild aguachile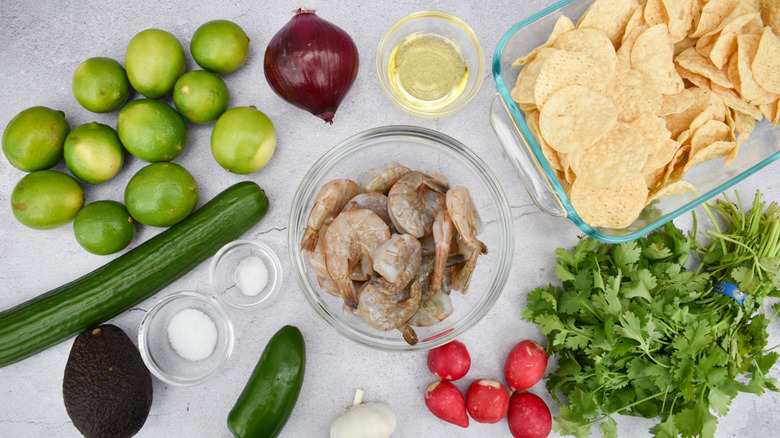 This lovely dish is chock-full of fresh vegetables, and of course, you will need to buy high-quality shrimp, with the recipe calling for 1 pound of the raw variety. "I recommend [buying] 16 to 21, already deveined," Rapone says.
Add eight to 10 limes to your cart, as well as a 6-inch English cucumber, with Rapone explaining about this variety, "They are longer than regular cucumbers and have much smaller seeds and lower water content, so they blend nicely without getting bits from the bigger seeds like a regular cucumber." Grab a red onion, garlic, cilantro, a jalapeño, avocado, and radishes, too.
The mild aguachile recipe also requires kosher salt, olive oil, and optionally, sugar. Pick up some tortilla chips, tostadas, or saltine crackers for serving, and you're all set. Now let's get cooking — well, not really, since this recipe requires no actual cooking. But you will see what we mean in a short bit!
Prep the shrimp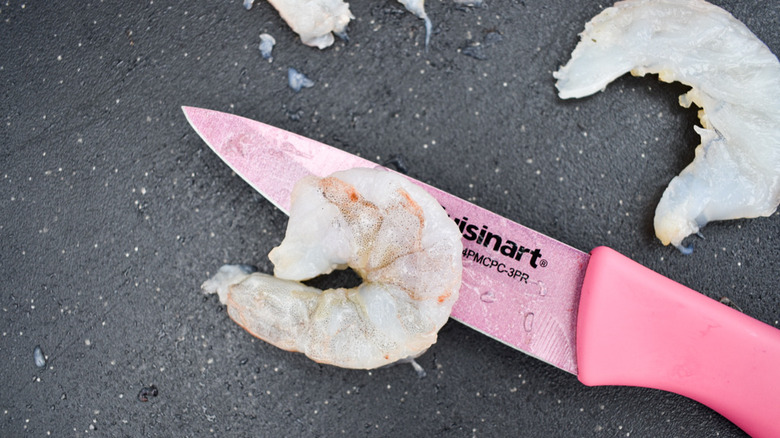 Step one will be to get your shrimp ready. If you choose to go with frozen shrimp, thaw them in your fridge overnight. "If your shrimp is not peeled and/or deveined, or still has tails, start with removing those," Rapone instructs.
Now, butterfly your shrimp, which means you will slice the shrimp in half lengthwise. "One reason it's important to butterfly the shrimp — or even chop them [into] small [pieces] — is so that the citrus can penetrate and complete that cooking process," Rapone notes.
Once the shrimp are prepped, place them in a shallow dish or pan in a single layer. Set the dish aside for a quick moment so you can juice your limes.
Cook the shrimp in lime juice
You will use four to five of your limes at this stage, juicing them until you get ½ cup of juice. "I recommend looking for limes that have a smoother peel and have some 'give' when you squeeze them," Rapone says, adding, "These tend to be juicier and have a smoother flavor, [and are] not as acidic."
Pour the lime juice over the shrimp, and sprinkle the mixture with ½ teaspoon of kosher salt. You will cover the shrimp with plastic wrap or a lid, and chill the dish in your fridge for 20 to 30 minutes. This process "cooks" your shrimp, with Southern Living noting the citric acid will break up the seafood's proteins and get rid of bad bacteria so the meal is safe to eat.
Prepare the toppings
While your shrimp is "cooking," you can get to work preparing your aguachile toppings. First, turn your attention to the red onion. Rapone has a great tip for taking the sting out of it. "Place [your sliced onion] in a bowl, and cover [it] with water. Add ¼ teaspoon of sugar … I've been using [this] method for years and do it in virtually all recipes where red onion is called for," she says.
Meanwhile, you will wash and thinly slice the colorful radishes. Next, rinse your cilantro, then it pat dry, and remove a few leaves for garnish. Set them aside. Your avocado gets peeled and thinly sliced. Rinse and thinly slice 3 inches of your English cucumber — the other half is set aside for your marinade.
Finally, rinse the jalapeño. Rapone recommends removing the seeds, but feel free to leave them in for a spicier version of this dish. Half of your pepper is used as a topping, so chop that up finely, while the rest of it can get cut into large chunks and set aside.
Make the marinade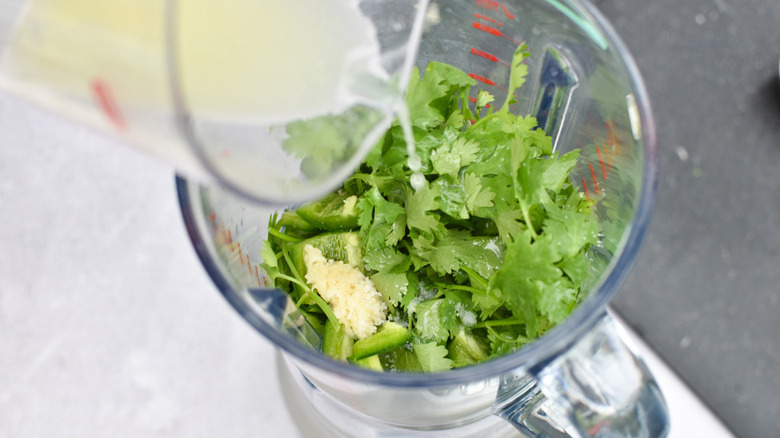 The only prep work left is to create your marinade. You will chop up the rest of your cucumber into 1-inch chunks. The rest of your limes should produce another ½ cup of lime juice. Then, Rapone suggests grating a clove of garlic on a micrograter. The cucumber, lime juice, remaining ½ teaspoon of kosher salt, 1 cup of your cilantro leaves and stems, and that half of your jalapeño all go into a blender, with Rapone noting about using the entire cilantro plant, "Cilantro is unique in that the stems are very tender and have the same flavor as the leaves, so why waste them?" Blend the ingredients for your marinade until the mixture is nice and smooth.
Add the marinade to the shrimp, and chill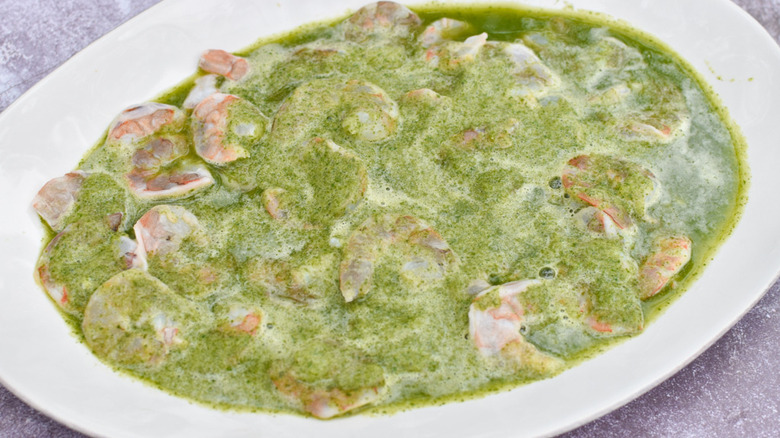 Now, you will pour the blended marinade on top of your "cooked" shrimp. Remember, the shrimp and lime juice should have been combining for 20 to 30 minutes. Before adding the marinade, just be sure to remove the shrimp from the lime juice, and arrange them on a serving platter. If you were soaking your red onion, drain it, and layer the slices on top of the shrimp and marinade. Next, arrange your radishes and jalapeño.
At this stage, cover the dish, refrigerating it for at least another 30 minutes, or up to 4 hours. "It needs to be kept chilled to keep the shrimp from going bad," Rapone explains, adding, "The marinade step is to help the flavors really get in the shrimp." So don't skip this part! After all, your aguachile is really all about taste — not just presentation.
Add the toppings, and serve
After a half hour, or however long your decided to chill your aguachile, you will want to sneak a taste, with Rapone noting you can add salt if you'd like. When the dish is ready to wow your guests, simply layer on the avocado slices and cilantro. The final flourish is to drizzle the tantalizing treat for nearly all of the senses with 1 to 2 tablespoons of your favorite quality olive oil.
Each salty, cool, sharp and savory bite is served with tortilla chips, tostadas, or saltine crackers. Just be sure to eat the aguachile within a day — as if you could resist!
1 pound raw shrimp
1 cup lime juice from 8 to 10 limes, divided
1 teaspoon kosher salt, divided
¼ red onion
5 radishes
1 cup cilantro (leaves and stems), plus more leaves for garnish
1 avocado
6-inch section of English cucumber
1 jalapeño
1 clove garlic
2 tablespoons olive oil
Optional Ingredients
¼ teaspoon sugar
tortilla chips, tostadas, or saltine crackers, for serving
If using frozen shrimp, thaw in fridge overnight. Peel, devein, and remove shrimp tails, if necessary.
Slice the shrimp in half lengthwise, butterflying the shrimp. Place in a shallow dish or pan in a single layer.
Juice the limes until you get ½ cup of lime juice (4 to 5 limes). Pour over the shrimp, and sprinkle with ½ teaspoon of kosher salt.
Cover with plastic wrap or a lid, and let rest in the fridge for 20 to 30 minutes.
For the toppings, thinly slice the red onion. Wash and thinly slice the radishes. Rinse the cilantro, pat dry, and remove leaves for garnish, and set aside. Peel and thinly slice the avocado. Rinse and peel the English cucumber. Thinly slice about 3 inches of the cucumber. Set the rest aside for the marinade. Rinse the jalapeño. Cut in half, and remove the seeds and stems. Finely chop half the jalapeño for toppings. Cut the other half into large chunks, and set aside for the marinade.
For the marinade, chop the remaining 3-inch length of the English cucumber into 1-inch chunks. Juice the remaining limes to reach another ½ cup of lime juice. Grate the garlic on a micrograter. Add the cucumber chunks, ½ cup of lime juice, remaining ½ teaspoon of kosher salt, 1 cup of cilantro leaves and stems, the ½ jalapeño (cut into large chunks), and the grated garlic to a blender. Blend until smooth.
After the shrimp has "cooked" in the lime juice for 20 to 30 minutes, remove from the lime juice to a serving platter or bowl. Pour the marinade over the shrimp, and toss to coat. Drain the onions, and layer on top. Add the radishes, and finely chopped jalapeño. Cover and refrigerate for at least 30 min, or up to 4 hours.
Before serving, taste to ensure the seasoning level is good. Add salt, if needed.
Layer on the avocado and cilantro leaves, and drizzle with 1 to 2 tablespoons of olive oil.
Serve cold with tortilla chips, tostadas, or saltine crackers.