Comedy "Ted Lasso" took over the streaming service world during a time when people were in desperate need of laughter and cheer. The Apple TV+ series became an instant hit in 2020, and the titular character, played by Jason Sudeikis, entered our hearts with his far-fetched optimism. There are many wonderful aspects of the show, but one regular occurrence that's hard to forget is Ted Lasso making his boss, Rebecca Welton (Hannah Waddingham), shortbread biscuits every day.
Enter the Ted Lasso's shortbread biscuits copycat recipe. Thanks to chef and recipe developer Hayley MacLean of Happy Healthy Hayley, you can bake these biscuits in the comfort of your home –– for yourself, your loved ones, or anyone who could use a pick-me-up. And you should note that the results will be more like the much tastier Season 2 version of Ted Lasso's shortbread cookies than Season 1.
"These shortbread biscuits are so delicious and easy to put together," MacLean said. "My favorite thing about it is the way they just melt in your mouth when you take a bite, and the rich butter and light sweetness from the sugar come together perfectly."Although these biscuits are perfect just the way they are, if you're vegan and have a sweet tooth, then a couple of ingredient swaps are all you need. "To make a vegan version, you could even swap out the butter for a plant-based substitute, or use brown sugar to make an even richer version," MacLean continued.
Follow these steps to get a little piece of happiness in the form of Ted Lasso's shortbread biscuits copycat recipe.
Gather the ingredients for the biscuits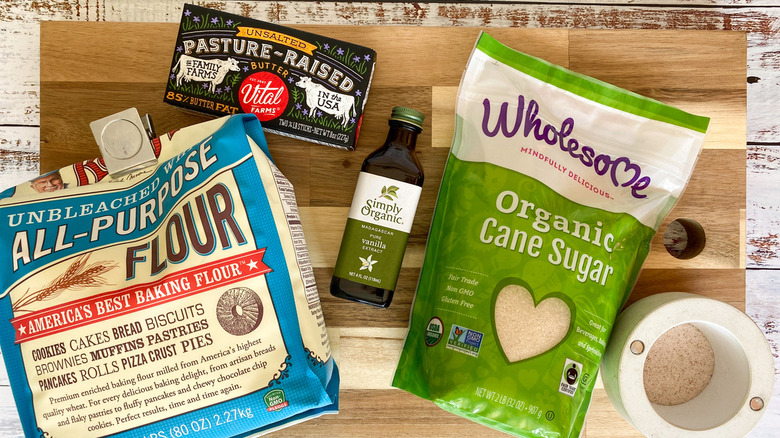 Before you can bake these delightful and famous biscuits, you need to gather the ingredients. You'll need a cup (or two sticks) of butter, all-purpose flour, sugar, salt, and vanilla extract. You can also take this time to get a knife and cutting board, a baking pan, butter, cooking spray, or parchment paper, an electric mixer (either a food processor or a hand mixer or stand mixer), a spatula, and a fork.
Although we recommend bakers to follow this recipe to a tee –– at least the first time through –– the dough is delicious and versatile. "One more thing about this recipe –– it can be used as a base for so many other flavors," MacLean said. "Adding lemon zest or almond extract to these, instead of vanilla, would bring some brightness. Or even adding things like toffee bits would be a great addition!"
Cut the butter into cubes, preheat the oven, and prepare the baking pan
Now that you have all the ingredients, you can start baking. First, you'll cut the butter into cubes and allow them to soften at room temperature while you proceed with the recipe.
Next, preheat the oven to 350 F. Although it's tempting to skip the preheating phase — and easy to forget — these Ted Lasso shortbread biscuits are special and you want them to cook properly, so preheating is essential.
Then, you'll grease a 9×13-inch baking pan. Butter or cooking spray will suffice. Or you can line the pan with parchment paper.
Make the dough
Now the real fun begins, as it's time to mix the ingredients and create the shortbread biscuit dough.
First, you'll mix the flour, sugar, and salt with an electric mixer. If you don't have one, you can mix these ingredients in a bowl with a whisk or other stirring utensil. It might take more time to mix by hand, but it'll have been worth it for these 28 shortbread biscuits.
You'll then add the butter cubes and vanilla and mix until the dough comes together and forms a coarse meal.
Bake the biscuit dough
Now that the dough is finished, you'll press it into the baking pan using a spatula. Next, prick the dough all over with a fork. MacLean uses a pretty, lined up design for pricking the dough, but it's completely your choice. The shortbread biscuits will taste just as good if you don't make your pattern parallel.
You'll then put the baking pan in the oven and bake for 30 to 35 minutes, until golden brown.
Cool the baked biscuits
After the shortbread biscuits have turned golden brown, you'll take them out of the oven and set them aside.
At this point, the sweet biscuit aroma is likely making your taste buds dance, but before you can dive in, one important step remains: you'll want to let the biscuits cool down. "The biggest tip is to make sure they are completely cooled before removing them from the pan, otherwise they are too crumbly and will not hold together," MacLean said. You also don't want to burn yourself.
Trust us, patience is a virtue when it comes to this recipe.
Once the copycat Ted Lasso's shortbread biscuits are cool, you can slice them and enjoy! "You can also cut these into any shape you like, but I like the traditional rectangle biscuit –– perfect for dipping into tea (even if Ted Lasso would disagree, not being a tea fan and all)," MacLean exclaimed.