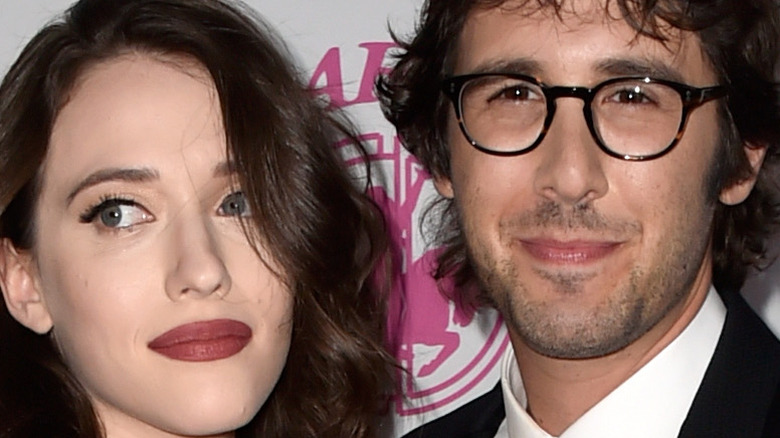 Kat Dennings and Josh Groban were one of Hollywood's most adored couples from the moment they started dating in 2014. They made their first public debut as a couple at the Beverly Hills Carousel of Hope Ball in October of the same year (per E!). In the following months, the pair were often spotted casually hanging out together and having low-key date nights in New York.
Dennings' "Two Broke Girls" co-star Beth Behrs takes credit for introducing the couple earlier in 2014. Behrs, who has a long-standing friendship with Groban, told People that she "always wanted to find him the right girl." The actor believed her friends were perfect for each other and introduced them when "they happened to both be single for once at the same time." There was immediate chemistry between Dennings and Groban according to Behrs, who said setting them up "didn't take much coaxing for either of them."
Dennings and Groban had almost two years of (what seemed like) romantic bliss, during which time they could be found gushing about each other in interviews or posting cute couple selfies on social media. However, this romantic facade came crashing down when the pair unexpectedly called it quits in August 2016. Despite plenty of speculation from media and fans, the reason Dennings and Groban broke up was never very clear at the time. Did they consciously uncouple or was their relationship rocked by scandal? Read on to find out the real reason Kat Dennings and Josh Groban split.
Kat Dennings and Josh Groban's relationship seemed perfect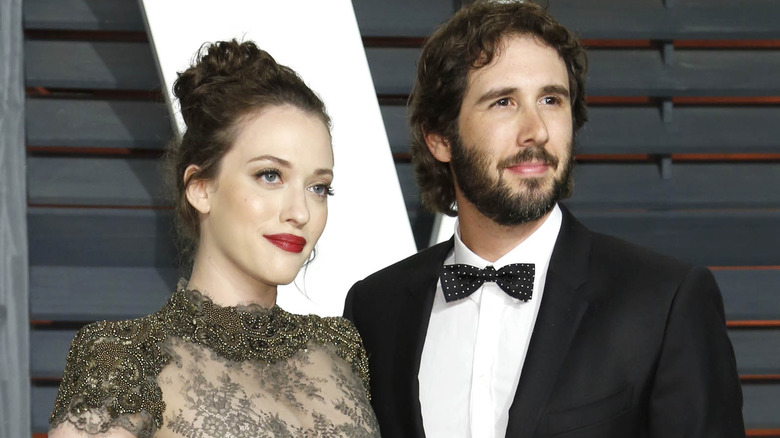 After Kat Dennings and Josh Groban went public with their relationship in October 2014, the couple were often spotted packing on the PDA and seen praising each other in interviews. Early on in their relationship, Dennings appeared on "Late Night with Seth Meyers" and announced how "excited" she was to be dating the singer-actor.
In 2015, the "Thor" actor spoke about their relationship again. She praised Groban on "The Ellen Show," calling him "talented and amazing." As she gushed, "What you may not know is that he's one of those people who can sit at a piano and play anything, anything off the top of his [head] … he's just a genius." In a separate interview with Ellen DeGeneres, the "You Raise Me Up" singer reciprocated his girlfriend's praise, describing her as "such a brilliant and funny person" (via ET).
The secret to their budding romance seemed to be because both had the same sense of humor and because they're "both, you know, nerds," Dennings revealed on The Ellen Show. She explained that it was Groban's sense of humor that initially impressed her as she read his "witty" tweets online. As for Groban, he echoed a similar sentiment during his own time on DeGeneres' show, dishing, "Humor is such a huge thing for me, so, you know, the fact that we could talk about 'Monty Python' and all sorts of weird other things, I was like, okay, yeah, we're on the same page."
Kat Dennings and Josh Groban preferred to keep their relationship low-key
One thing that made Kat Dennings and Josh Groban's relationship so intriguing (and relatable) was the pair's relaxed and down-to-earth attitudes. They enjoyed a relatively low-key romance, especially compared to other celeb couples — even their friends Beth Behrs and Michael Gladis, who regularly share relationship stories in interviews and post photos and videos together on social media.
The low-key attitude Dennings and Groban had while dating also marked a change from their own previous relationships. When Dennings dated her "Two Broke Girls" co-star Nick Zano, the pair had quite a public relationship — they were even spotted hanging out at a 2012 Los Angeles Lakers game with Ashton Kutcher, per Us Weekly. Groban also previously had a high-profile relationship with January Jones from 2003 to 2006 and was later linked to singer Katy Perry in 2009, according to Good Housekeeping. So, it's possible that Dennings and Groban simply preferred to keep things more relaxed this time around.
Dennings did dish out a few details about their relationship, though. When she appeared on "Late Night with Seth Meyers," the "Dollface" actor revealed how she and Groban liked to spend their downtime together. "He was here in New York and we had a lovely week together," she told Meyers, adding, "We went and saw some plays. That was fun. We slept late. We ate a lot of food. We cooked some food. We played some video games — normal people things."
The timing wasn't right for them as a couple
When Kat Dennings and Josh Groban reportedly split up in June 2016, an inside source explained to E! that the reason was that "it's not the right time for them now as a couple." This could come across as a pretty vague blanket statement cited by many celeb couples as the reason for breaking up if it weren't for the fact that timing had been an issue for Dennings and Groban from the start of their relationship.
Their mutual friend Beth Behrs was trying to set them up in 2014 but said it was difficult because, "At the time, Kat was in a relationship, so I couldn't," the "Two Broke Girls" actor explained to People. Beth was likely referring to Dennings' long-term relationship with her "TBG" co-star Nick Zano which ended sometime that same year, PopSugar confirmed.
While Behrs managed to introduce Dennings and Groban when then they both "happened" to be single, it seems like timing may have become a recurring issue for the couple who were at very different places in their careers. Dennings' fame was just starting to grow as a result of her thriving CBS comedy series and double foray in the Marvel Cinematic Universe as Darcy Lewis in the "Thor" franchise. However, Groban had been enjoying a successful music and television career for over 15 years when he began dating Dennings. If the timing wasn't right, it's possible the couple just grew apart.
Kat Dennings and Josh Groban's split was 'mutual'
While many celeb relationships have ended in scandal or controversy, it seems like Kat Dennings and Josh Groban simply made the unexpected decision to consciously uncouple. The end of their relationship came as a shock to most of Hollywood and their fans because, while the pair were pretty low-key on social media, they had still been posting intermittent couple selfies.
Dennings and Groban had been together for almost two years before they decided to part ways. "It was a mutual breakup," an inside source revealed to E!. The source also stated that Dennings and Groban are "still friends" and that they will always "care about each other."
The reasons for their "mutual" break up aren't clear, however, but when speaking to the Los Angeles Times about her Hulu series "Dollface" in 2019, Dennings revealed how intense a past relationship was. "I've been through this thing where you're so in love that you forget yourself," the actor said. "I'm guilty of being completely swept up and ignoring everything around me. It's no one's fault. I just feel like it happens to everyone to some extent. Maybe I'm a little more intense about it. I've been working on it. I'm 33 now, so I'm a little better at it." It's not clear which of her ex-beaus Dennings was speaking about here, but if it is Groban, it could explain what was going on behind closed doors and why the couple called it quits so unexpectedly.
Did they choose to focus on their careers?
Kat Dennings and Josh Groban's careers continued to thrive during the course of their relationship, with Dennings playing Max Black on long-running series "Two Broke Girls" and Groban releasing "Stages," an album of Broadway covers, in 2015. However, after their split in 2016, the pair really took the time to focus on their careers.
After her breakup with Groban, Dennings returned to "TBG" to shoot Season 5 and, subsequently, the series's sixth and final season. The actor then had a recurring role on the adult animated sitcom "Big Mouth" as well as guest appearances on "Drunk History" and "The Simpsons." Since their breakup, Dennings' fame has continued to grow, and the actor nabbed several starring roles, most notably in "Dollface" and "Friendsgiving." She also returned to the MCU to play beloved scientist Darcy Lewis in "WandaVision" alongside Randall Park, Elizabeth Olsen, Paul Bettany, and Kathryn Hahn — and there's even been talk of a spin-off series starring Dennings and Park.
Groban also went on to great things following his split from Dennings. In October 2016, the singer-actor made his Broadway debut in "Natasha, Pierre & The Great Comet of 1812." Groban thoroughly enjoyed the experience, telling Good Morning America, "this is truly the most brilliant cast of musicians and actors I've ever had the pleasure of working with." After his stint on stage, the musician released his eighth studio album "Bridges," which debuted at number two on US charts.
Josh Groban said dating someone in the same industry can be a 'challenge'
Before splitting with Kat Dennings, Josh Groban told E!, "The fact we're both in the industry can be more of a challenge because we're always traveling and working" (via Female First). This wasn't the first sign that Groban might struggle to date someone in the same industry, either. Before he and Dennings got together, the singer and "Crazy, Stupid, Love" actor told the Independent that dating around his demanding work schedule can be difficult: "I travel so much, and my job demands so much. Sometimes the schedule is just crazy." It's worthwhile noting that he also added that rather than dating someone in the same industry, it can be "wonderful to go out with someone who does something completely different. You can learn from what they do."
During the course of his relationship with Dennings, the pair spent a lot of time in different places. Groban had been traveling and touring, while Dennings was based in Los Angeles to shoot "Two Broke Girls." This meant that a lot of the time, they had to try to make their relationship work long distance. Beth Behrs apparently thought her pals were getting through it without putting too much pressure on their relationship, telling People, "They're in this crazy business, they're both very calm and mellow and wonderful." However, it turns out that the "challenge" of dating someone in the same industry may have been too much for this former couple.
Kat Dennings and Josh Groban probably aren't getting back together
This A-list couple really seemed perfect for each other while they were dating, and since their breakup, there has been plenty of speculation about whether the pair might ever get back together. However, it isn't looking likely, as both Kat Dennings and Josh Groban have both moved on with new partners since their split in 2016.
In April 2021 Dennings publicly confirmed her relationship with Andrew W.K. by posting two pictures of her beau on Instagram and captioning the post with a love heart. The couple announced their engagement less than two weeks later. The "WandaVision" actor shared news of her engagement to the rock singer through a series of pictures on social media showing off her engagement ring, which she captioned, "Don't mind if I do."
Meanwhile, Groban has been dating the "Call Me Kat" actor, Schuyler Helford, since 2017 (per Daily Mail). The couple tends to keep a low profile on social media, only occasionally posting pictures together – but all signs point to them being happy and loved up.