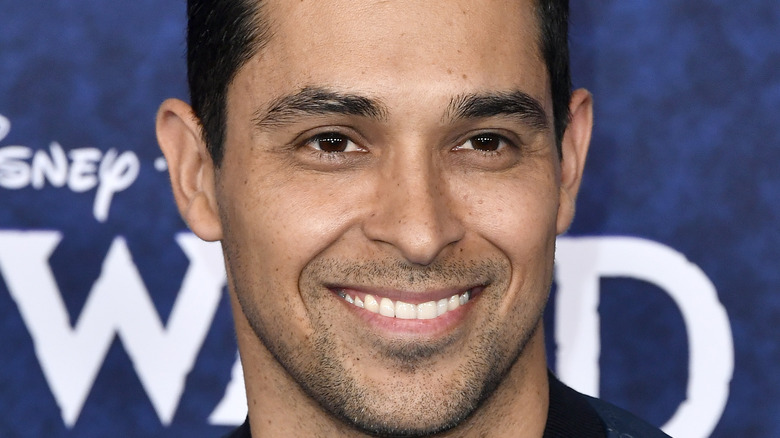 It's hard to fathom that Wilmer Valderrama has already had a career in Hollywood that has spanned over two decades. The actor first launched to fame in the late '90s thanks to his role in the iconic comedy series "That 70's Show." Valderrama went on to make a name for himself in L.A. not only because of the acting roles he took but also because of the long list of celebrities he has dated or partied with, especially during the early 2000s.
These days, Valderrama is in the headlines for very different reasons. He recently launched the podcast "Essential Voices," which, according to Variety, features interviews with essential and frontline workers. The TV personality explained that it was his father's serious battle with COVID-19 and two heart attacks that inspired him to create the podcast. He revealed, "They showed up and helped my dad be with us for many more years." He continued, "I'm so thankful, and I want to make sure their voices are heard. That's my small contribution back for what they've done for my family."
When Valderrama isn't recording his podcast, he's currently starring on the long-running CBS military crime drama "NCIS" and taking care of his newborn daughter, Nakano Oceana Valderrama. It appears that the new dad has come a long way since his days as the hilarious Fez on "That '70s Show," so let's take a look back at his transformation throughout the years.
Wilmer Valderrama was 18 when he landed That '70s Show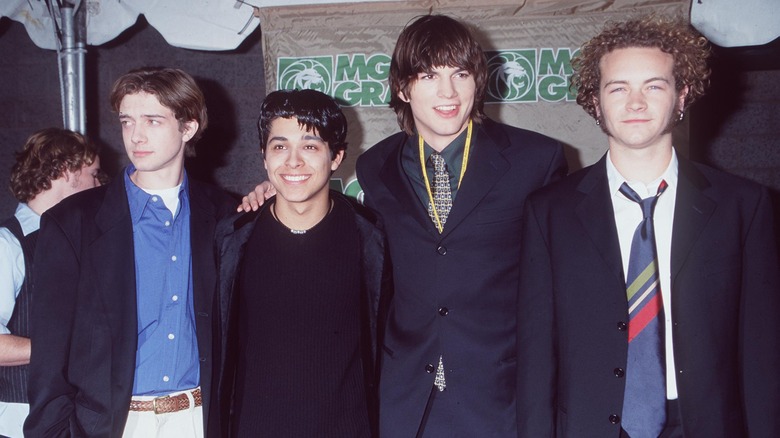 Wilmer Valderrama's most recognizable role is playing Fez in "That '70s Show" from 1998 to 2006. While the show was a huge hit with fans and remains a cult classic to this day, Valderrama only realized after the show that his role meant much more to some fans. He recalled to Yahoo in 2016, "I remember when I got "That '70s Show," it was a big deal for my family and a big deal for me. But I really didn't know what it represented."
Valderrama had booked the show after moving back to the U.S. from Venezuela. At the time, it was one of the only Latino roles on Fox. The "Summer Catch" actor explained, "I didn't know that eventually [Fez] was going to be representing so many of us, coming to a country to learn a culture and to assimilate." He added, "I've had a lot of people come up to me and say 'When I saw [Fez] on television, I felt like I existed."
Not only was Valderrama able to make an impact, but he also made lifelong friends with his fellow cast members. He revealed (via Showbiz Cheat Sheet), "[When] you spend eight years and 200 episodes with a cast, you know for a fact that this is going to be a forever friendship." He continued, "What we experienced and the time we experienced it was unique. We were the outcasts. We were the rebels of television."
At age 20, Wilmer Valderrama started dating celebrities
Wilmer Valderrama had quite the reputation when it came to dating young Hollywood starlets. In 2000, when Valderrama was on "That '70s Show," he began dating singer/actor Mandy Moore. The "This Is Us" star revealed (via Elle) that she got together with Valderrama when she was 16 or 17, and that she had "never French-kissed a boy" before him. She added, "He was like my first, real, true boyfriend." Valderrama went on to give an interview to Howard Stern in 2006, claiming he took the former pop star's virginity. But Moore later said (via Elle), "I was so shocked by it because not only was it a fib, but it was so unlike him, it was so uncharacteristic."
Another high-profile romance for Valderrama around that time was with Lindsay Lohan. He dated the "Mean Girls" star in 2004 when he was 24 and she was only 17. The two eventually went public with their relationship when she became of age. Valderrama told People that while their romance wasn't a secret, "We try to keep it more under wraps because it is a lot more meaningful that way. At this point we don't need all the free press."
Valderrama remained by Lohan's side during her 2004 hospitalization, People reported at the time, but the two eventually split later that year. Valderrama was rumored to have moved on to another pop princess, Ashlee Simpson. Yet, that wasn't Valderrama's last high-profile relationship with a pop star.
Wilmer Valderrama became a TV host and producer at age 26
After "That '70s Show" ended, Wilmer Valderrama switched gears a bit from TV series star to MTV host and producer. In 2006, at age 26, Valderrama launched "Yo Mamma," which was a reality competition where the actor scoured the streets to look for the best trash talkers. At the time, Valderrama told The New York Times, "What surprised me more than anything is that there are so many of these jokes out there."
That same year, he switched things up again by voicing a character on the Disney series "Handy Manny." He also took on the big screen with roles in films like "Fast Food Nation" and "Unaccompanied Minors." Valderrama even branched out into business that year, investing in the Los Angeles restaurants Dolce and Geisha House with his former "That '70s Show" co-star Ashton Kutcher, per LAist.
It appeared that in 2006, Valderrama was ready to shake his party-boy reputation, explaining to the Times, "I'm really focusing on the next chapter of my life. I've got to keep growing as an entertainer, keep challenging myself." Valderrama eventually spent the next few years landing TV roles and getting into a serious relationship.
At age 36, Wilmer Valderrama joined NCIS and broke up with Demi Lovato
It appears that 2016 was a big year for Wilmer Valderrama, both professionally and personally. At age 36, Valderrama not only appeared in several episodes of the popular TV drama, "Grey's Anatomy," but he also reunited with his former "That '70s Show" co-stars Ashton Kutcher and Danny Masterson by appearing on their show "The Ranch." That year, Kutcher told Entertainment Weekly, "​​We built this show to work with people we like," and clearly Valderrama was one of them.
That same year, Valderrama landed a permanent role on the long-running military crime drama "NCIS" as Special Agent Nick Torres. Executive producer Gary Glasberg said to EW, "Wilmer Valderrama will be able to flex his dramatic, physical, and comedic talents in this classic 'NCIS' role." It was a good move for the actor, who still stars on the show as of 2021.
In 2016, Valderrama also split with his on-and-off partner of six years, pop singer Demi Lovato. The two began dating in 2010, with Lovato saying (via Hello!), "I think it was love at first sight, we connected on a level that I've never connected with anybody before." Lovato also credited him for helping them as they struggled with addiction. Lovato revealed in 2015 (via Hello!), "I really wouldn't be alive today without him." But things didn't last between the two, and in 2016, they decided that they are "better as best friends."
If you or anyone you know is struggling with addiction issues, help is available. Visit the Substance Abuse and Mental Health Services Administration website or contact SAMHSA's National Helpline at 1-800-662-HELP (4357).
At age 41, Wilmer Valderrama became a father
On February 15, 2021, Wilmer Valderrama and his fiancee, Amanda Pacheco, welcomed their first child, a girl named Nakano Oceana Valderrama. The "NCIS" actor told People that he was "genetically built to be a dad," adding, "There was a very beautiful, primal, and magical trait that woke up in me that just kind of engaged the moment that baby came."
Valderrama also explained that he and Pacheco felt it was more important for them to start their family than to plan a wedding during the pandemic. The two had gotten engaged in January 2020 after less than a year of dating. The "That '70s Show" star revealed, "Amanda and I were planning to have a family way before this pandemic. We had made up our mind that family in the very near future was part of the plan." He added that their wedding will eventually happen but, "It was more important [to us] to start a family and then the wedding could happen when it could happen and when we can responsibly have one."
With a successful TV career and a beautiful new family, it's clear that Valderrama has come a long way since his start in Hollywood when he was only a teen. While some fans will always remember him best as Fez, Valderrama has transformed into so much more.