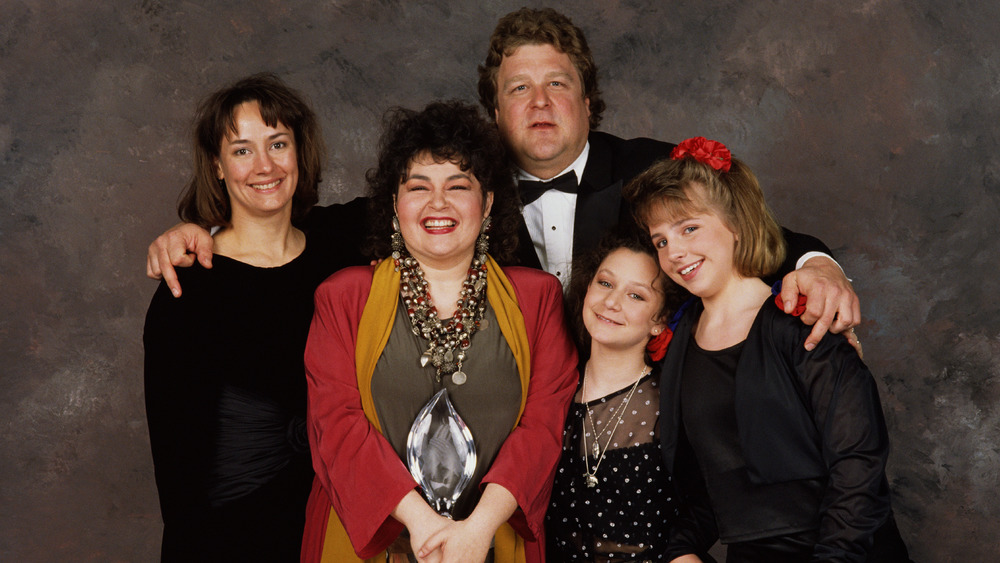 Over the years, the Conner family has been through a lot of hardship on screen. Sure, both Roseanne and The Conners are bona fide sitcoms, but there is no denying that the franchise has delivered its fair share of gutting moments. There was the Roseanne storyline in which Roseanne, Dan, and Darlene learn Jackie had been hit by her boyfriend. In another episode, Roseanne comes to terms with her complicated relationship with her late father, ultimately reaching a place of bittersweet forgiveness. And if that Season 9 finale reveal about Dan does not create a lump in your throat, what will?
Offscreen, the actors have been through several tribulations of their own. From career-destroying moments to deeply personal tragedies, including struggles with addiction, family illnesses, and death, the cast of Roseanne's lives seem to be full of much more drama than comedy in real life. Here are some of the most tragic real-life details about the cast of Roseanne.
Roseanne Barr's ongoing mental health issues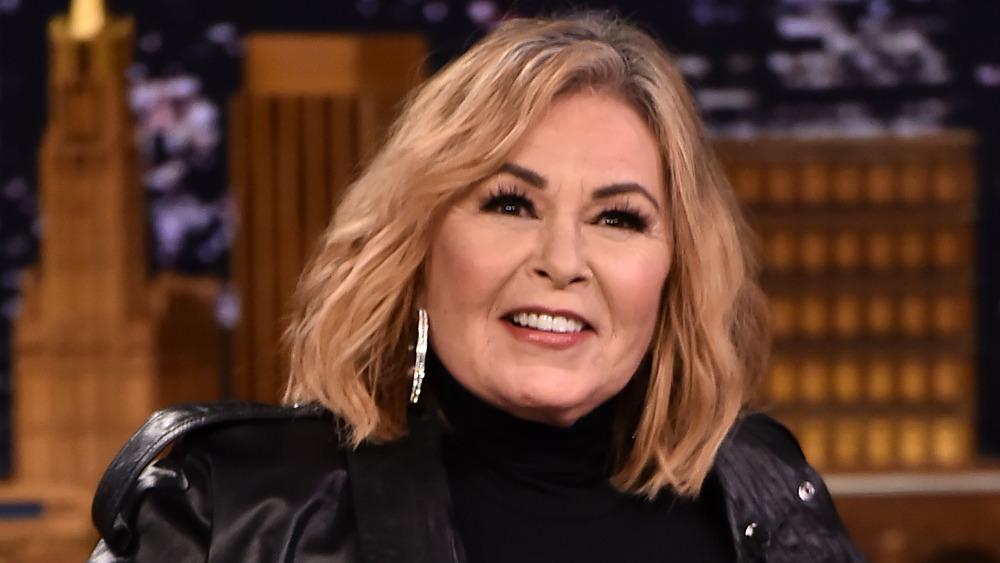 It would be impossible to discuss the real-life tragedies of the cast of Roseanne without acknowledging the public struggles of its star and creator, Roseanne Barr. In 2018, Barr infamously took to Twitter and fired off a racist post about former President Barack Obama's senior advisor, Valerie Jarrett. The fallout was swift and intense, resulting in the cancellation of Roseanne just one year into its rebooted incarnation. The show was quickly picked up as a spinoff, The Conners, with Barr's matriarch character written off. "I apologize to Valerie Jarrett and to all Americans. I am truly sorry for making a bad joke about her politics and her looks. I should have known better. Forgive me-my joke was in bad taste," Barr wrote in now-deleted tweets quoted at the time by Variety.
While Barr's tweets about Jarrett were reprehensible and her firing from the show justified, the incident drew attention to the comedian's battle with mental health, which she addressed on a 2011 episode of The Oprah Winfrey Show. During said interview, she retracted the incest claims she made in a 1991 issue of People magazine. "I was in a very unhappy relationship and I was prescribed numerous psychiatric drugs…to deal with the fact that I had some mental illness," she told Oprah (via Express). "I totally lost touch with reality…(and) I didn't know what the truth was."
Glenn Quinn's heroin addiction and death from overdose
Glenn Quinn, who played Becky Conner's boyfriend and eventual husband Mark Healy on Roseanne during its original run, died of a heroin overdose in 2002. The Irish actor, who went on to play Doyle on the Buffy the Vampire Slayer spinoff Angel, had been battling drug addiction for quite a while before his death, the Irish Independent reported. Quinn was 32 when he was found dead in a friend's home in North Hollywood, according to the Los Angeles Times.
In the rebooted version of the show, Quinn's character is revealed to have died sometime between the end of Season 9 and the beginning of Season 10 (the rebooted version of the show that premiered in 2018). The episode "Eggs Over, Not Easy," was dedicated to Quinn's memory and featured Becky talking about her own struggles to move on after losing her husband. Michael Fishman, who plays D.J. Conner, paid tribute to his late costar on Twitter in April 2018. "Glenn and family are frequently on my mind. We put his picture in the hallway we pass each day. After my #Roseanne press tour today drove down and visited him," he wrote, along with a picture of Quinn's gravestone. "As long as @RoseanneOnABC is on Glenn Quinn is part of it. I'll always honor him and the Quinn family in my work."
John Goodman's struggles with alcoholism
John Goodman has been open over the years about his ongoing struggles with alcoholism. "I couldn't control it," he recalled to Vanity Fair. "Lying to my wife all the time about how much I drank is where I've been. Hiding something all the time. Drinking at work." Speaking to Vulture in 2012, Goodman revealed that when he did theater, he would "have the shakes so bad" that he would "have a drink to get through the show" each night. "I'm lucky I never got fired," he admitted. In 2007, Goodman checked himself into rehab, determined to take on his decades-long battle. "It was getting to be too much," he explained in an interview with The Guardian in 2012. "It was 30 years of a disease that was taking its toll on everyone around me and it had got to the point where, every time I did it, it was becoming more and more debilitating. It was life or death. It was time to stop."
Goodman has been sober since that 2007 stint in rehab and AA meetings are now a part of his daily routine. Reflecting on his addiction, he told the New York Times in 2009, "I could never please myself. That's part of what fuels the alcoholic, I guess. You set yourself impossible goals, and then you kick yourself because you're not good enough."
Michael Fishman lost his teenaged son to drugs
In June 2020, Michael Fishman, who plays D.J. Conner, suffered a brutal tragedy in his own personal life when he lost his teenage son, Larry—whom he was in the process of adopting—to drug overdose. "I think he chose me, to be fair," Fishman told Tamron Hall of his late son, whom he met through Larry's sister, Camille. "A friend of mine kind of said, 'She needs some support and guidance and mentorship and we kind of took her into our home … And we became this family unit," Fishman explained, adding that Camille eventually asked him to be her dad—a role he also took on for Larry. Although Larry died of an overdose, Fishman doesn't believe his son had a serious drug problem, instead theorizing that Larry "tried drugs that turned out to be bad drugs that multiple people had a very serious reaction."
"I feel like I came to Larry maybe later than I wish I could," Fishman said. "I think for parents, you know, you wish you had more time." The notoriously private actor says he opened up about his story in the hopes of helping other families open a dialogue about drugs before it's too late. "A couple years ago, I probably would have never shared this, to be honest with you," Fishman added. "The really important part is that you're brave enough to admit when you struggle and that you need help or that you aren't strong."
Sara Gilbert felt she had to hide her sexuality
In 2013, Sara Gilbert shared that she realized she was gay while she was in a relationship with Roseanne costar Johnny Galecki. "I thought he was super cute and had a total crush on him," she recalled during an episode of The Talk. "We started dating and he would come over and we would, like, make out and then I would start to get depressed. And Johnny, you know Johnny felt badly, I think, and started to take it personally and didn't understand what was going on." She eventually opened up to him about her sexuality and, as she recalled, "he was super sweet about it." Even though Galecki was very understanding and supportive, Gilbert was still scared to publicly come out.
While Gilbert says she dated women during the original run of Roseanne, she held off on disclosing her sexuality to the world. Among other things, she was worried about how it could potentially impact her future as an actor. "I always felt so scared," Gilbert explained. "If it came out, what could happen? Could I lose my career? Will I ever be able to play a straight role again?"
Even now, Gilbert admits she will "try to act confident" when it comes discussing her sexuality but the fear still looms overhead. "We do often say things like, 'It gets better'—and it does get better," she said. "But I want people to know that there can still be a struggle with it and that's okay."
Lecy Goranson wasn't able to grieve with her family
Lecy Goranson, who plays Becky on The Conners (and was the "original Becky" on Roseanne during the sitcom's original run in the '80s and '90s, when the character was also played off and on by Sarah Chalke after Goranson left to focus on her studies at Vassar College), went through a devastating personal tragedy in early 2020. Goranson's mother, Linda, who was a longtime English teacher in the north suburbs of Chicago, died in January 2020. While Goranson hasn't made the cause of death public, she did reveal to The New York Times in October 2020 that "her family has not been able to hold a gathering" because of the coronavirus pandemic.
After halting production on the sitcom, The Connors started filming again in August 2020. Goranson recalled one moment from the season in particular that hit especially close. "Becky is quarantining with her family, and I was not able to," she told the outlet. "But in the scene, she says something about being alone, and it was almost confessional because it was so true to what I had experienced."
"One thing my mom told me before she died was, 'So little matters other than people,'" Goranson shared with The New York Times. "And that seems like cruel irony right now, because I haven't been around anyone I love since she said that."
Sarah Chalke's son was diagnosed with Kawasaki disease
Sarah Chalke also played Becky Conner during the original run of Roseanne (as the "second Becky" who took over when "original Becky" Lecy Goranson left the show). In real life, Chalke's son, Charlie, was diagnosed with a rare condition known as Kawasaki Disease when he was still a baby. "You present with all these symptoms, you get a lot of repeated misdiagnoses, you keep getting sent home [by doctors]…," Chalke explained to TVLine. "We had a really hard time getting him diagnosed."
The disease becomes harder to treat effectively the later it's caught, and the experience made Chalke passionate about raising awareness to help other kids and their families. Ultimately, she achieved that goal by guest starring on Grey's Anatomy. "We fought really hard to see a specialist, but got the treatment on Day 10-1/2," Chalke said. "It was on the late side, but thank God Charlie is OK…We thought, 'What can we do to help other parents and kids not have to go through what we went through? What about an episode on a medical show?'" And with that, the episode "Can't Fight This Feeling" happened.
Multiple members of Sarah Chalke's family had breast cancer
After her time as Becky Conner on Roseanne, Sarah Chalke went on to star in ABC's medical sitcom Scrubs. In real life, the actor's family has faced more than their fair share of medical tragedies. In addition to her son Charlie's early battle with Kawasaki Disease, Chalke's family has struggled with the loss and pain associated with cancer. "I lost both my aunt and my grandmother to breast cancer, both because it was not detected early enough," Chalke told CBS News.
The experience inspired Chalke to star in the Lifetime movie Why I Wore Lipstick To My Mastectomy, which is based on cancer survivor Geralyn Lucas' memoir of the same name. In the film, Chalke plays Lucas, a TV producer who "wore red matte lipstick to her mastectomy surgery" because, as Chalke explained to CBS News, "she really felt like she wanted to be out of context in the sterile operating room."
As empowering as the story is, Chalke admitted it was "really challenging" to "go through all the different stages" when filming a movie about a woman's fight with breast cancer. "And after having been through cancer with people who I love, it was really difficult to go back there," she shared. "That was probably the most difficult part for me."
Johnny Galecki's ranch was destroyed by a fire
Johnny Galecki is most famous as lovable nerd Leonard on The Big Bang Theory, but the actor first rose to fame on Roseanne, playing David Healy, Darlene's on-again, off-again boyfriend (and eventual husband). In 2017, TMZ reported Galecki was one of the California residents who lost their homes in the devastating Hill Fire. According to the California Department of Forestry and Fire Protection website, the fire blazed from June 26 until June 30, 2017 and burned up 1,598 acres of land in Southern California. The actor's ranch that burned in the fire was not his primary home.
"My heart goes out to all in the area who are also experiencing loss from this vicious fire. The threat of which we live with constantly, which may seem crazy to some but we do so because living in our beautiful, rural area makes it worthwhile," Galecki said in a statement given to CNN at the time. "It's never the structures that create a community — it's the people. And if the people of Santa Margarita have taught me anything it's that, once the smoke has cleared, literally and figuratively, it's a time to reach out and rebuild." He noted that the process would surely make the "community even closer and stronger."
Fred Willard was arrested for 'a lewd act'
The late Fred Willard, who played recurring character Scott on Roseanne during the show's eighth and ninth seasons, got in trouble with the law in 2012. According to the Los Angeles Times, he was "arrested on suspicion of engaging in a lewd act at an adult theater." Willard maintained his innocence but prosecutors said he could put the matter behind him and avoid jail time if he completed a diversion program. "Should he complete the course, we will consider the matter closed," Frank Mateljan, spokesman for Los Angeles City Attorney Carmen Trutanich, told the Los Angeles Times.
Willard, for his part, called the situation a "great misunderstanding" when asked about the incident by TMZ in July 2012. "It's all being straightened out," Willard told the cameras. "I have great respect for [the police], there's just a difference of opinion" as to what transpired. He insisted that "it did not happen," before adding, "My attorney said, you know, let them [handle the situation]." He also tweeted about the incident, writing, "Wait til u hear my version; much more PG."
Willard's attorney, Paul Takakjian said in a statement to TMZ at the time that they would work "vigorously to clear his name in this matter." In September 2012, Willard revealed to TMZ that he in fact "completed his court-ordered sex education course" as a result of the charges.