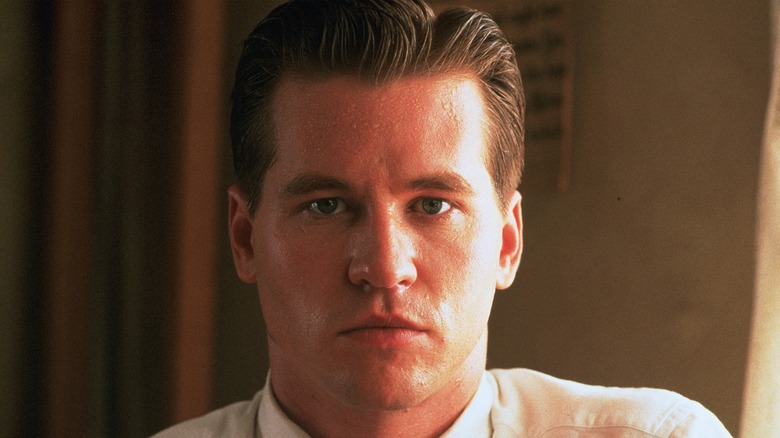 As easily as the word "eccentric" gets tossed around when describing actor Val Kilmer, "eclectic" can be used just as capably to describe his body of work. While his first two major roles came in comedic films, he quickly became known for action movie roles as well, though many of the films were as different as can be. Neo noir thrillers, Westerns, biographical dramas, and good, old-fashioned crime dramas, Kilmer's filmography is as diverse as it is enjoyable. It's enough to forgive any of the colorful behavior for which he's known. Accepted into the prestigious Juilliard School at age 17 — then the youngest student ever admitted into its drama program (via the Juilliard Journal) — Kilmer has amassed more than 100 acting credits since his feature film debut as fictional rock star Nick Rivers in 1984's "Top Secret!" (via IMDb).
In the years following, he took on the roles of a child prodigy, a naval aviator, a swordsman, a private investigator, real-life rock star Jim Morrison, an FBI agent, a bank robber, legendary southern gentleman Doc Holliday, and the ring of rock and roll, Elvis Presley, all within the first decade of his career. In the time since, he's managed to offer consistently solid performances in a variety of roles, mixing in turns as a violent prison philosopher, Wyatt Earp, and Mark Twain.
As legendary film critic Roger Ebert described it, "If there is an award for the most unsung leading man of his generation, Kilmer should get it." Here are Val Kilmer's best onscreen performances.
Chris Knight in Real Genius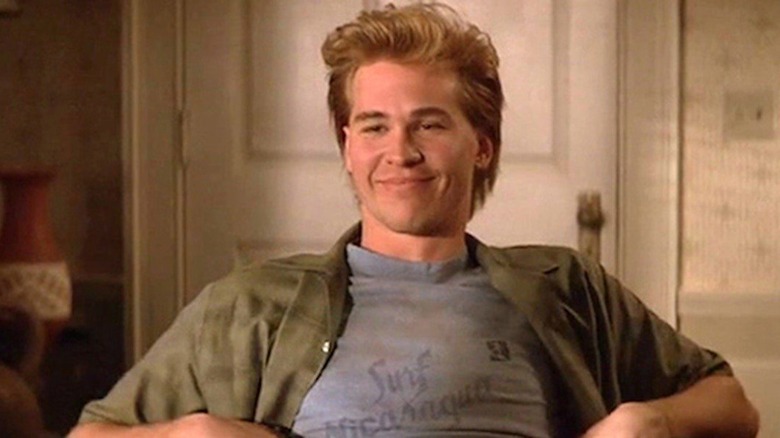 For his second-ever film role, Val Kilmer brought to life a genius slacker in the hilariously ridiculous 1985 spy-fi comedy "Real Genius." When the CIA secretly recruits tech university instructor Professor Jerry Hathaway (William Atherton) to develop a laser weapon, he assembles a group of brilliant students to unknowingly help him on the project. Among these genius pupils are new student Mitch Taylor (Gabriel Jarret) and resident wiseass Chris Knight (Kilmer), Mitch's idol and roommate. Having been made the lead on the project, Mitch feels the pressure as the deadline approaches, while Chris continues to be a goofball, which prompts Hathaway to threaten to kick him out of school. After being sabotaged by Hathaway's sycophantic graduate assistant Kent (Robert Prescott), Chris and Mitch complete the project with an entirely new design before being made aware of the project's true nature. At that point, there was nothing left to do but sabotage the weapons test, aiming the laser at Hathaway's home.
Film School Rejects writer Rob Hunter described "Real Genius as "a damn funny and highly quotable movie, and it's an environment in which Kilmer excels." "He's equally at home wooing an army general's daughter (the smile-inducing Deborah Foreman, whose too-limited time here is the film's only fault) as he is slicing liquid nitrogen wafers or riffing about kilojoules, and his rapid-fire delivery comes with the confidence of someone well beyond their second feature film."
In an interview with Rediscover the 80s, Jarret talked about working alongside Kilmer. "In my opinion, Val is a brilliant actor and should be a much bigger star than he is today."
Agent Ray Levoi in Thunderheart
For 1992's modern Western "Thunderheart", Val Klimer took on the role of FBI Agent Ray Levoi. Ray is assigned to investigate the murder of Leo Fast Elk (Allan R.J. Joseph), a tribal elder who was killed on a Native American reservation, owing to Levoi's one quarter Sioux heritage. He and his partner, Agent Frank Coutelle (Sam Shepard), initially butt heads with local law enforcement in the form of Walter Crow Horse (Graham Greene), whose distrust of the federal government makes their rapport strained at best. Ray's superiors believe he'll have a better chance at a successful investigation than his peers — hoping his heritage will incline locals to open up to him — but Walter comes to believe something else entirely: that he is the reincarnation of Thunderheart, a legendary warrior killed at the Wounded Knee Massacre in South Dakota.
In his review of "Thunderheart," critic Roger Ebert praised Vilmer's ability to disappear into a given role, noting he had watched the first 20 minutes of the film without realizing the actor was onscreen the entire time. "Kilmer's anonymity was not a trick of makeup or lighting. He plays the role unadorned, his hair cut short and neatly combed, his shirt buttoned, his tie in a neat knot. It is something inside Kilmer that seems to conceal him." Ebert compared Kilmer's performance as Ray Levoi to his turn as legendary rockstar Jim Morrison in "The Doors," noting there were zero common factors between the two characters. "He is so inside the one that you cannot get a glimpse of the other."
Gay Perry in Kiss Kiss Bang Bang
In 2005's dark action comedy "Kiss Kiss Bang Bang," Val Kilmer got the chance to show off his comedic chops, much as he did in his first film roles. He starred alongside a pre-"Iron Man" Robert Downey Jr. — who played protagonist Harry Lockhart — as "Gay" Perry Van Shrike, a private detective who mentors Downey's character for an upcoming acting gig. Along the way, they take several hilarious stumbles and get caught up in more than one confusing investigation, including the death of Jenna, sister to his childhood crush, Harmony Lane (Michelle Monaghan).
"Kiss Kiss Bang Bang" writer and director Shane Black — who would go on to direct Downey in "Iron Man 3" at the star's urging — told Variety that he wrote Kilmer's character as a way to break action movie and tough guy stereotypes. "I don't think I've ever seen the gay guy who kicks down the door, shoots everyone and bails your ass out before." Kilmer earned praise from Variety reviewer Todd McCarthy, who said "Kilmer is riotous at times as an impeccably groomed, businesslike guy keen to assert his orientation at every opportunity."
But critics weren't the only ones with praise for Kilmer's performance. Downey told interviewer Ian Winterton his costar threw down some amazing improv. "He's Val goddamn Kilmer. He's amazing. The stuff he came up with on the spot was great. Like when he's supposed to tell me to put my cigarette out and I ask him where and he just deadpans, 'Throw it in that clump of dry bushes, you moron.'"
Jim Morrison in The Doors
In 1991, Val Kilmer took on the role of a real person for the first time in director Oliver Stone's "The Doors," a biographical film about the American rock band of the same name and its lead singer Jim Morrison. The movie tells of the band's formation, with UCLA film student Morrison (Kilmer) meeting grad student and future Doors keyboardist Ray Manzarek (Kyle MacLachlan). Joined by guitarist Robby Krieger (Frank Whaley) and drummer John Densmore (Kevin Dillon), the band enjoys a meteoric rise to fame, tempered by tension as a result of Morrison's narcissism and use of drugs and alcohol. "The Doors" followed the titular band from its formation to Morrison's death in Paris a mere six years later at the age of 27.
The movie received mixed reviews, with a middling 57% critics score on review aggregator Rotten Tomatoes, though Kilmer's performance as the debauched rock star garnered stellar praise. Critic Roger Ebert said the film's soundtrack blended Morrison's vocals with Kilmer's "so seamlessly that there is never, not even for a moment, the sensation that Kilmer is not singing everything we hear." "That illusion is strengthened by Kilmer's appearance," Ebert added. "He looks so uncannily like Jim Morrison that we feel this is not a case of casting, but of possession."
The Doors drummer John Densmore echoed these sentiments in an interview with Forbes, saying "I think Val Kilmer should have been nominated for an Oscar. He gave me the creeps on the set – he was so close to Jim."
Chris Shiherlis in Heat
"Heat," a 1995 heist drama written and directed by Michael Mann, saw Val Kilmer join an ensemble cast. The acclaimed film featured Robert De Niro as Neil McCauley — a professional thief looking for a big final score — and Al Pacino as Vincent Hanna — the LAPD detective whose investigation leads to a showdown with McCauley and his crew. Kilmer appeared as McCauley's trigger-happy righthand man Chris Shiherlis and is joined in the crew by enforcers Michael Cheritto (Tom Sizemore) and Trejo (Danny Trejo), with Jon Voight appearing as McCauley's fence Nate, and Ashley Judd appearing as Kilmer's character's estranged wife Charlene Shiherlis.
Kilmer more than hold his own working alongside some of the best in the acting business. He later described what it was like working on "Heat" during a 2017 Reddit AMA. "Well imagine being able to say, "Al and Bob" for the rest of your life. Not many people can do that. I have seen Bob, giggling like a school girl in a van in the middle of the night, because we have to be quiet cause they are filming outside… I have been hugged by Al Pacino in the middle of downtown LA like he was my older brother. I have shot live rounds from high powered assault weapons over Bob's head while rehearsing lines from our film … I am in one of the greatest cops and robbers films in film history, has to be in the top 20. I am on the poster for goodness sake. What an honor!"
John Smith in Felon
The 2008 film "Felon" had a limited theatrical release and kind of flew under the radar, essentially a direct-to-video film. The fish-out-of-water tale follows family man Wade Porter (Stephen Dorff) in his journey through the penal system after unintentionally killing the burglar who targeted his family's house for a home invasion. Since his pursuit of the fleeing criminal outside the home went beyond the spirit of stand your ground laws or castle doctrine, he pleads no contest to manslaughter in order to avoid a murder charge. When he's sent to the Secure Housing Unit during an investigation into a stabbing on his prison transport bus, Wade bunks with John Smith (Kilmer) — a philosophical convicted murderer serving a life sentence — and they learn that their one hour of rec time is essentially an opportunity for the crooked prison guards to bet on fights between inmates. After getting more time added to his sentence, courtesy of guard Lieutenant Bill Jackson (Harold Perrineau), Wade loses his family and begins to lose his grip, with John his only ally.
In addition to offering visceral entertainment, "Felon" also served as commentary on the American justice system. "I don't think it's too grand to say the movie inspires you to think what it's really like in prison and make you grateful you're not there," Kilmer told the New York Daily News. "One out of 100 citizens of the U.S. is going to prison, and it's not that the system is making criminals, it's that it's making criminals better criminals."
Robert Scott in Spartan
David Mamet's 2004 thriller "Spartan" served as another opportunity for Val Kilmer to pull out his military-grade action chops. He stars as special forces operator Robert Scott — a Force Reconnaissance Marine who evaluates potential candidate for Delta Force — and gets caught up in a covert operation to track down Laura Newton (Kristen Bell), the daughter of the president of the United States. Scott works with Curtis (Derek Luke ), one of his spec ops recruits, to look into the first daughter's disappearance, quickly discovering that there's more to his investigation than he initially realized; she's not having an affair with one of her college professors, she's been abducted and is at risk of falling into a sex trafficking ring, all because her father pulled her Secret Service detail to cover up his extramarital affair.
Film critic Roger Ebert called Kilmer's turn in "Spartan" his best performance in a decade. "Val Kilmer, a versatile actor who can be good at almost anything (who else has played Batman and John Holmes?), here plays lean and hard, Sam Jackson style. His character is enormously resourceful with his craft, but becomes extremely puzzled about what he can do safely, and who he can trust."
JoBlo writer Paul Shirey had particular praise for the Robert Scott character. "He's Jack Bauer without the temper. Jason Bourne without the memory loss. And watching Kilmer seamlessly walk this part across the screen is a really cool thing to see."
Doc Holliday in Tombstone
"I'm your huckleberry." Nearly 30 years after Val Kilmer dropped this eminently quotable line in 1993's action Western "Tombstone," we're still not 100 percent sure what it means. But we do know that his turn as legendary gambler and gunfighter John "Doc" Holliday ranks among Kilmer's best onscreen performances. Action movie veteran Kurt Russell starred as protagonist Wyatt Earp — with Bill Paxton and Sam Elliott bringing to life his brothers Morgan and Virgil, respectively — in this take on the showdown between Team Earp and members of the outlaw Clanton and McLaury clans at the OK Corral in the titular Arizona town. Following these events, Wyatt Earp went on his legendary vendetta ride, chasing down the likes of real-life outlaw cowboys William "Curly Bill" Brocius (Powers Boothe) and Johnny Ringo (Michael Biehn).
Kilmer's performance as Doc Holliday was showered with praise. Film critic Roger Ebert would go on to use Kilmer's turn in the role as the measuring stick for all gunfighter roles in his review of "Wild Bill," referring to his performance in "Tombstone" as "the definitive saloon cowboy of our time." In an interview with Deadline, Kilmer revealed the genesis of the character he put together for the role. "I started with my secret weapon, the dialect and speech coach Tim Monich who works with the best people on earth, 24/7 for 30 years now. I told him I needed a dialect that didn't exist anymore and within days, there was a tape at my doorstep of a true Southern aristocrat who spoke so slowly and precisely about the theater he had restored … The dialect was key. It informs even the walk, the thought process… his condescension."