Blackfilm.com correspondent Ellen J. Wanjiru speaks with Jay Pharoah ("Saturday Night Live") and Sinqua Walls ("Friday Night Lights, "American Soul") about their roles alongside Christina Milian in the new Netflix rom-com film, Resort to Love, directed by Steven Tsuchida and produced by Alicia Keys. There were a few themes that stood out about their roles — a fresh take on the bond and nuances between younger and older brothers, black men expressing vulnerability and going after what one feels is right for them, despite the circumstances. Watch interview below!
Streaming now on Netflix!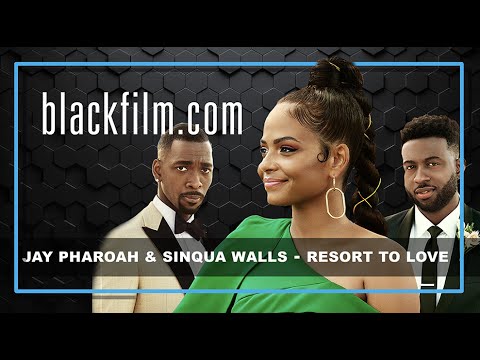 The film follows aspiring pop star Erica (Christina Milian) who ends up as the entertainment at her ex-fiancé's wedding after reluctantly taking a gig at a luxurious Mauritius island resort while in the wake of a music career meltdown. She tries to keep their past relationship a secret from his bride-to-be Beverly (Christiani Pitts), but Erica rediscovers her feelings for her ex, Jason (Jay Pharoah), despite his brother Caleb's (Sinqua Walls) attempts to keep them from falling back in love. In this warm and funny romantic story that explores the bonds of love and family, the question soon becomes will Erica sing at Beverly's wedding – or her own?
The cast also includes Karen Obilom, with Jeryl Prescott Gallien, and Tymberlee Hill, Alexander Hodge, TJ Power, Sylvaine Strike, Kayne Lee Harrison.
Watch blackfilm.com's Resort to Love interview with — Christina Milian!