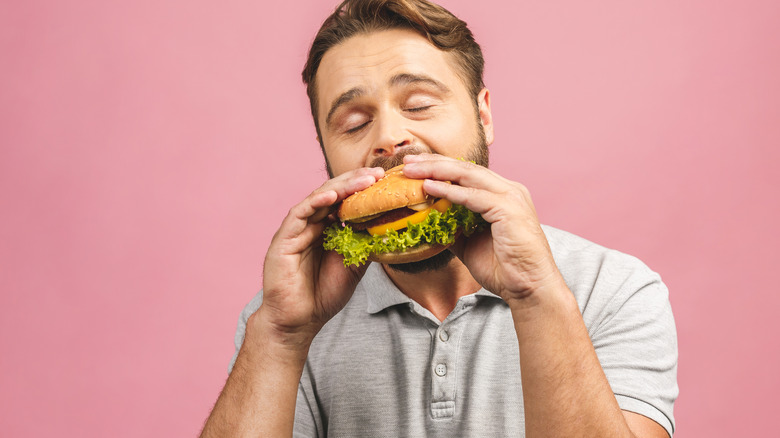 Historians may generally agree that White Castle, founded in 1921 in Wichita, Kansas was the United States' first fast food chain — but most modern day eaters would probably agree that the Southern swath of the country perfected the art of fast food. Everywhere you look, fast food restaurants throughout this part of the country boast a spate of mouthwatering down-home dining spots, serving up everything from juicy cheeseburgers and savory tacos to buttery biscuits and crispy fried chicken. In other words, if you can dream it, then a Southern cook somewhere has probably served it — or better yet, deep fried it.
But the problem for curious foodies is that not all of the region's best fast food joints can be found elsewhere in the country. That's why we've curated a list of the best chains the South has to offer. The next time you're in a Southern state, add one of these unique food brands to your to-do list — we promise you won't be disappointed.
Buc-ee's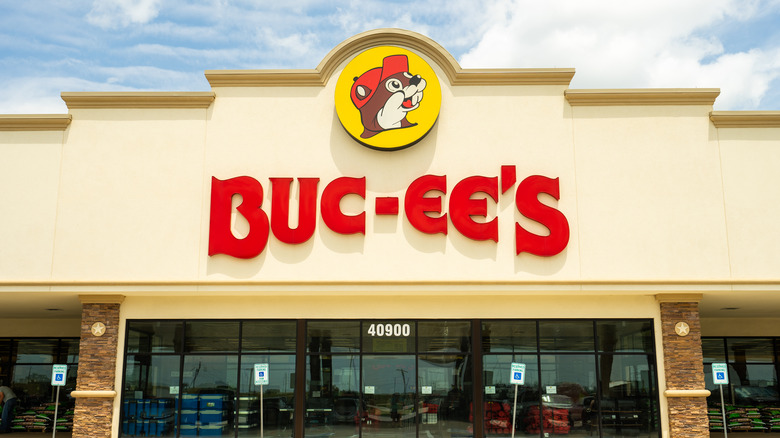 Ask any Texan, and they'll tell you without hesitation that Buc-ee's is the best convenience store and gas station there is. Buc-ee's opened in 1982 by co-founders Don Wasek and Arch "Beacher" Aplin (via Texas Monthly). The latter created the business name by combining the name of his childhood Labrador Retriever, Buck, with his childhood nickname, as well as the Ipana toothpaste's cartoon mascot, Bucky the beaver, according to Austonia. Since then, the chain has expanded to 40 locations across Texas, Alabama, Georgia, and Florida, with most situated near busy highways. More locations are underway in Kentucky, Mississippi, Tennessee, and South Carolina (via Southern Living).
Headquartered in Lake Jackson, Texas, Buc-ee's has developed a cult-like following for its dizzying array of snacks, prepared foods, beverages, and beef jerky. Although their Beaver Nuggets — sweet corn puff snacks with a brown sugar caramel taste — are the chain's star, there's plenty of other options, from chocolate covered pretzels and trail mix to breakfast tacos and pastrami Reuben.
If you're looking for a roadside attraction during a road trip, Buc-ee's is the way to go. Not only will their variety of goodies keep you full and satisfied until you reach your destination, Buc-ee's also boasts the cleanest bathrooms in America, according to their website. Why would you plan a pit stop anywhere else?
Whataburger
While Californians have In-N-Out Burger, Texans have Whataburger, a Southern burger restaurant with superfans so dedicated the brand launched its own Whataburger Museum of Art, an Instagram page featuring fan-made artwork of the iconic fast food chain.
The Whataburger fandom got its start in 1950 when founder Harmon Dobson opened the first location, a small burger stand, in Corpus Christi, Texas, according to the company website. His vision was simple: grill a burger so gigantic it would require two hands to hold and so delicious that customers would say, "What a burger!" Today, the San Antonio-based burger chain is still family-owned, and its iconic orange-and-white-striped roofed-buildings are visible at over 800 locations strewn across 10 states in southwestern and southeastern swaths of the country.
So, what about Whataburger makes its fans so fanatic? First, it's open 24/7. Its eponymous burger is made to order with 100% beef and served on a large, toasted bun. Fans are just as passionate about other menu items, including the chain's famous breakfast taquitos made with fluffy scrambled eggs, cheese, and sausage, bacon, chorizo, or potatoes, all wrapped in a tortilla and served with red or green salsa. Devotees are equally crazy about the patty melt — two beef patties, Monterrey jack cheese, grilled onions, and flavorful pepper sauce squished between buttery slices of Texas toast.
Waffle House
The first Waffle House opened in Avondale Estates, Georgia in 1955 by two neighbors, Joe Rogers Sr. and Tom Forkner, according to the company website. From the beginning, it was intended to be a 24-hour, sit-down restaurant with an emphasis on friendly customer service and long-term career growth for its employees. "We aren't in the food business. We're in the people business," Rogers is quoted as saying. Not long after the first restaurant opened, more of its iconic yellow signs popped up near busy highways in Georgia and neighboring states. Today, there are more than 1,900 locations across 25 states, and the original location is a museum, featuring a plaque from the Georgia Historical Society honoring its importance to American culture (via AJC).
As the name suggests, Waffle House is known for its fluffy, buttery-sweet waffles. It also serves typical breakfast fare, such as hash browns, bacon, and biscuits, along with lunch staples, like sandwiches and burgers — and don't forget the pies. While the menu is unlikely to get your nutritionist's approval, 18% of people polled by Mashed agree Waffle House is their favorite breakfast spot. Chef, author, and TV personality Anthony Bourdain was also a fan of the chain. But Waffle House is more than just a popular Southern diner — it's a cultural institution known for attracting passionate fans.
Fuzzy's Taco Shop
The first Fuzzy's Taco Shop set up shop in Fort Worth Texas in 2001. It didn't take long for the fast-casual Mexican restaurant to develop a loyal following among students at the nearby Texas Christian University. Its popularity grew, and in 2003, Chuck and Alan Bush bought Fuzzy's before rapidly franchising the business (via Dallas Morning News). Fuzzy's began popping up all over the metroplex and neighboring Southern states, especially at locations near college campuses, according to QSR Magazine. By 2012, the fast food chain had 50 locations, according to the Dallas Morning News, and in 2016 it had 100 locations under its belt, the Fort-Worth Star-Telegram reported. Today, Fuzzy's operates restaurants in 17 states, and they plan to hit over 200 locations by the end of 2021 (via Fort-Worth Star-Telegram).
As the name implies, Fuzzy's is known for its mouthwatering Baja-style tacos. But the menu itself is huge, with typical Tex-Mex fare from burritos and enchiladas to chips and queso and quesadillas — all served in a laid-back, colorful atmosphere. The chain's frozen margaritas are also a big hit. In fact, during the pandemic, Fuzzy's implemented to-go alcohol and Baja-inspired family meal packages, both of which are expected to stick around in the post-pandemic landscape (via Franchise Times). Don't forget to buy yourself a T-shirt before you leave from their selection of fun merchandise, which also make excellent gifts.
Dat Dog
Forget about dirty-water hot dogs you'd typically find from street vendors or at a carnival. If you happen to find yourself in Louisiana, be sure to check out one of Dat Dog's three locations in New Orleans for scrumptious gourmet hot dogs. Founded in 2011, what started out as a humble hot dog stand eventually evolved into a New Orleans cultural institution, according to the company website. Although the Southern fast food chain once had locations in Lafayette, Louisiana and College Station, Texas, both locations have since closed. It's a shame Dat Dog can't be found outside The Big Easy these days because its unexpected creations are bound to ignite anyone's taste buds.
Sink your teeth into the Bacon Werewolf, one of the hot dog chain's house specials that features smoked Slovenian bratwurst topped with bacon, sauerkraut, dill relish, grilled onions, tomatoes, and Creole mustard. Diners can also build their own hot dog with franks made of anything you can think of, from crawfish, duck, and even alligator. Plus, they offer four types of vegan sausages, if meat isn't your speed. The list of toppings includes more than 30 options, some as out-of-the-box as crawfish etouffee and blackberry sauce.
Golden Chick
You've undoubtedly heard of KFC, Chick-fil-A, and Popeyes. These fast food powerhouses are known for their scrumptious fried chicken, but none come close to matching Golden Chick's trademarked Golden Tenders. The name isn't an exaggeration — the Southern fast food chain's flagship marinated chicken is hand-dipped and fried until each boneless fillet achieves the ideal golden texture and mouthwatering crunch — according to the company website. You can even ask them to make your chicken strips spicy. Dunk the tenders in Golden Chick's complimentary creamy gravy, and you've got an unbeatable meal. Just as delectable are the hot, freshly baked yeast rolls, made hourly at each location (via Restaurant Business).
Golden Chick has been dazzling diners' tastebuds since the first location was opened by Howard and Jacque Walker in San Marcos, Texas in 1967, says its website. Back then, the original menu was just fried chicken and biscuits — all for 49 cents! Although the first location has since closed, the made-from-scratch recipes and Southern comfort hospitality remain today. A decade later, Golden Chick (then known as Golden Fried Chicken) locations sprung up across Central Texas. Eventually, locations spread to Dallas and then crossed state lines.
Today, there are roughly 200 locations across 6 states. Golden Chick's saw a 22 percent spike in sales in 2020 despite the pandemic, and added 17 new locations (via Dallas Business Journal). The chain shows no signs of slowing down, either. The chain told Restaurant News they aim to have 500 locations by 2030.
Zaxby's
Zaxby's is the brainchild of childhood friends Zach McLeroy and Tony Townley, who opened the first location in Statesboro, Georgia in 1990. The co-founders were actually inspired by another smaller chicken finger fast food chain called Guthrie's located near the University of Georgia in Athens, where McLeroy was a student at the time (via Money Inc). The chain's first location outside of Georgia opened in Bowling Green, Kentucky in 1994, but the company didn't see rapid expansion until the 2000s. Now, it's safe to say the fast food chicken chain has conquered the Southern U.S., with roughly 700 locations in 16 states and more underway in North Carolina and Indiana. Business is on an upswing, as well. In 2014, Zaxby's sales reached $1 billion, achieving more sales per unit than traditional fast food heavy hitters like Taco Bell or Chick-fil-A (via QSR magazine). According to Nation's Restaurant News, Zaxby's was the ninth fastest growing fast food chain in the U.S. in 2015.
Other than fried chicken, the company is known for its impressive lineup of sauces, including its signature, moderate heat Zax Sauce, along with the mild Wimpy Sauce, the spicier Nuclear Sauce, and the intense heat Insane Sauce. In fact, Zaxby's takes sauces so seriously, the chain even has an online quiz, which will tell you what your "saucenality" is, a word the company coined, which basically tells you what combinations of their in-house sauces might best suit your taste buds (via Money Inc).
Cook Out
While In-N-Out dominates the West Coast as the best fast food chain, and Shake Shack reigns supreme on the east, fans of Cook Out are adamant the burger-chain is the best in the South. The beloved Southern chain got its start in Greensboro, North Carolina in 1989, according to the company website. Since then, the North Carolina fast food chain has spawned a devoted cult following — there are nearly 300 locations in 10 states — and it's not hard to see why.
Most of its menu items are plucked straight from a typical Fourth of July cookout: hamburgers, hot dogs, and Southern-style barbecue. But the difference between Cook Out and a lot of fast food joints is that the Southern belle emphasizes fresh ingredients and menu items made to order. This is how the company got its motto, "Always Fresh, Never Frozen," its website says. The best way to sample the expansive menu is to order a Cook Out Tray, which allows diners to order hearty combinations of entrees, sides, and a drink — all for under $5. But it gets better: Cook Out is known for its hand-spun milkshakes, of which there are more than 40 flavors, from mint chocolate chip to Southern-style peach cobbler. The chain's real shining star, though, is the barbecue sandwich, which packs a punch with its tender and fatty pork (via Insider).
Ward's
Ward's may be one of the smallest chain on this list, but don't let that fool you — the fast food darling is known throughout Mississippi for its celebrated chili burgers and chili dogs. Founded in 1978, twins Richard and Ed Ward opened the first Ward's location in Hattiesburg. Back then, diners thought one man owned and operated the burger joint, and it was years before some customers realized they were identical brothers who rotated shifts, its company website says. Their hard work paid off as Ward's developed a steady base of customers who flocked to the restaurant for made-from-scratch chili and silky smooth root beer, both of which are made onsite every morning (via The Clarion Ledger). Some fans might be surprised to know the brand's iconic chili and root beer originate from the Frostop, a regional fast food chain, which the Wards opened in 1957. The chili dog was Frostop's most popular item. When the brothers opened Ward's, they added chili to the burgers, along with the chain's signature tangy sauce, pickles, onions, and cheese, which they dubbed the "Big One" and the "Lil One" — they remain Ward's most iconic menu times.
Today, the franchise has grown to 39 restaurants. In 2004, the brothers passed the torch to Shelley and Glen Sullivan, who became the owners, The Clarion Ledger reported. Ward's fandom is so intense that Sullivan has even had devotees ask them to ship menu items to them nationwide, Sullivan told The Clarion Ledger.
Pal's Sudden Service
Unless you've been to eastern Tennessee or southwest Virginia, you've probably never beheld the spectacular storefronts of Pal's Sudden Service, a wildly popular fast food chain. The bright blue buildings adorned with massive sculptures of burgers, hot dogs, and French fries are impossible to miss, but there's more to this charming than colorful pageantry.
Called Pal's for short, the Southern chain is known for its lightning-fast service — true to its name, all but two of Pal's total 30 locations are drive-thru only. Pal's is also noted for its exceptional customer service. According to Southern Living, Pal's was the first restaurant company to ever win the Malcolm Baldridge National Quality Award, which is normally awarded to hospitals, schools, and hotels.
Since the first Pal's opened in 1956 in Kingsport, Tennessee by founder Fred "Pal" Barger, the quirky chain has put a unique Southern spin on run-of-the-mill fast food fare (via The Kingsport Times). Its breakfast menu is bound to make a convert of anyone, with its savory cheddar rounds and buttery biscuits that come with creamy sausage country gravy. The Big Pal burger is famous, but the Bar-B-Dog, a hot dog bun loaded with BBQ pulled pork, onions, and sweet coleslaw, is Pal's main attraction (via Rare).
Taco Cabana
The past year hasn't been kind to Southern fast food chain Taco Cabana — after closing 19 locations, the San Antonio-based fast-casual Mexican was sold by its parent company to pay off a debt totaling $74.6 million, MySA reported. But one thing we hope doesn't change are Taco Cabana's breakfast tacos, an innovation unique to the Lone Star State, involving variations of eggs, beans, cheese, and meats, all wrapped in a tortilla. Taco Cabana's reign supreme for their soft and flavorful flour tortillas, handmade daily onsite. Taco Cabana's famed breakfast menu, served all day at its more than 165 locations across Texas and New Mexico, features a wide array of breakfast tacos.
Just as iconic are the neighborhood taqueria's slew of alcoholic drink options; they boast a lineup of 12 margarita flavors, nine of which are brand-new, including the polarizing pickle flavor. The margaritas are also a steal at $2 apiece. Not to mention its dining rooms and drive-thrus are open 24-7. Taco Cabana's popularity has endured since it was opened in the 1970s by a former nightclub-owner — and it's not hard to see why.
Texadelphia
In 1980, a man named Joel Stanley moved to Austin, Texas from Philadelphia, Pennsylvania, bringing with him a love for Philly's iconic sandwich, according to the restaurant's website. A year later, Stanley opened the first Texadelphia location in Austin, where he grilled and served up the "Original Texas Cheesesteak" — a Philly cheesesteak with Texas fixings, like jalapenos and homemade queso. Locations began popping up in and around Austin, and eventually spread to Houston, Dallas, and even Oklahoma City. In 2008, Stanley sold the company and the headquarters moved from Austin to Dallas (via The Houston Chronicle). Today, there are 12 locations overall. The Southern fast food chain has no plans to expand to Philadelphia, but the "Texified" cheesesteak got the stamp of approval from a native Philadelphian in a restaurant review, so maybe nationwide locations wouldn't be a bad idea.
In addition to cheesesteaks, Texadelphia also serves burgers, wraps, salads, and deli sandwiches. In typical Tex-Mex fashion, all entrees come with complimentary tortilla chips and salsa. Customers can also top their cheesesteaks with any one of the chain's specialty in-houses sauces. According to the Texadelphia website, they only use high quality, fresh ingredients and make each cheesesteak to order.