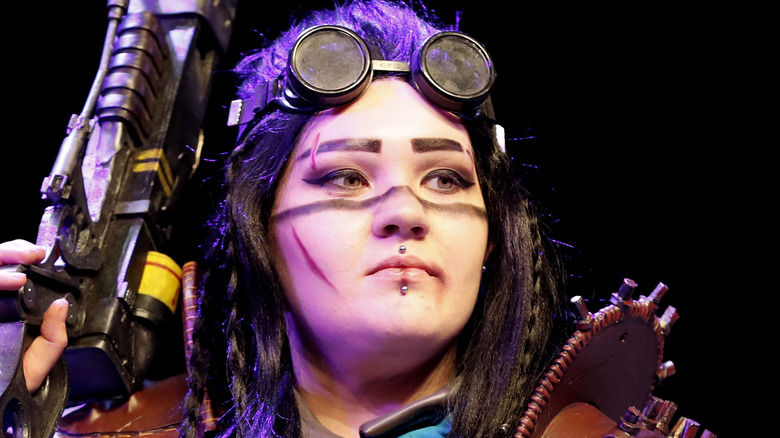 No matter what, cosplayers get the job done. From molding intricate accessories to creating armor out of foam and hope, cosplayers must be master costumers as well as actors. Some of the more dedicated cosplayers often stay in character throughout conventions, delighting attendees with performances both on and off the contest stage.
Like the above Vault Dweller from 2019's Insomnia64 Esports Gaming Festival, some cosplayers even create entirely new characters inspired by the games they love. Whether adding their own twist to an existing property or creating something completely new, cosplayers make fandom a fun place to be.
Cosplay plays an integral role in video game fandom. It can even serve as a content creator's first experience in the gaming world, leading them down paths they never anticipated. For example, Amouranth was a recognized cosplayer long before becoming one of the most notable (and controversial) streamers on Twitch.
The past decade of cosplay yielded many contest-winning looks, bold creations, and fun takes on classic characters. Here are some of the best video game cosplay ideas of the last ten years.
Feudal Mario Bros., Super Mario Bros.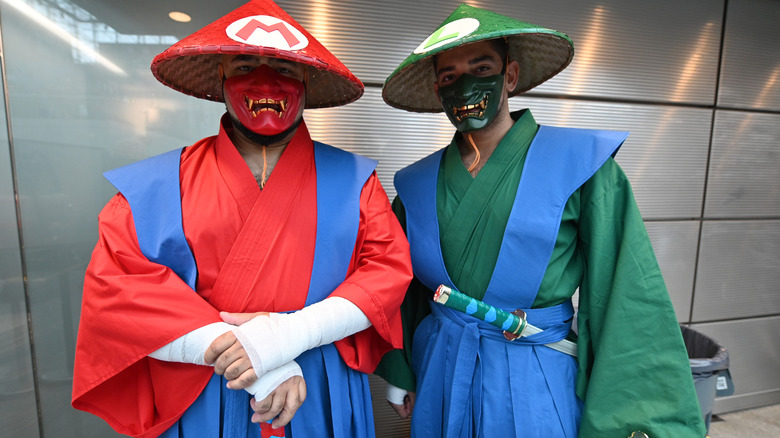 One of the most fun parts of cosplay is the ability to reimagine characters in a new setting. Two cosplayers did just that as the "Feudal Mario Bros." at the 2019 New York Comic Con. These cosplayers restyled Mario and Luigi as feudal lords, complete with katanas and traditional robes reminiscent of the brothers' iconic overalls.
Majora, Majora's Mask
"The Legend of Zelda: Majora's Mask" brought a delightful weirdness to the early 2000s. Not only did it feature a complex mask trading system, but it was full of oddities that could make any gamer cringe and laugh at the same time, like a haunted toilet. One cosplayer at the 2017 Birmingham MCM Comic-Con delighted fans with their turn as the impish Majora. The costume is incredibly detailed, featuring a tattered hat and a carved, aged mask.
Samus Aran, Metroid
Cosplayer Victoria Miller wowed the judges at the 2016 New York City Comic Con with her Samus Aran get-up. The outfit features intricate details of Samus' scuffed, worn armor, which tells its own story of her dangerous travels through space. Miller also included lights inside the Samus' helmet, adding a realistic touch to the outfit. As fans prepare for "Metroid Dread," this is the perfect cosplay to look back on.
Mercy, Overwatch
Even though Mercy doesn't always have the best skins in "Overwatch," cosplayer Effymia brought a beautiful version of the Support character to life at the 2018 London Comic Con. Effymia competed in the Euro Cosplay Championships, coming in 7th place. Effymia used all of her costuming talents to create a look true to the cartoonish style of "Overwatch."
Garen, League of Legends
Karash Cosplay represented "League of Legends" well with this Garen costume at 2018's Comic Con Germany. The outfit featured Garen's signature bright blue armor with fine details, like gold decorative engravings. Karash Cosplay also carried a large sword, which seemed weathered from battle and looked like it had some real weight to it.
Alexios, Assassin's Creed Odyssey
The graphically intense "Assassin's Creed: Odyssey" might make your hardware cry, but Leon Chiro's Alexios cosplay from Milan Games Week 2018 might make fans weep with joy. The professional cosplayer and model brought Alexios to life with his lush cloak and, of course, his chiseled face. Chiro looked like he had stepped out of "Assassin's Creed: Odyssey" itself, ready to do battle and slip back into the shadows.
Tyrande, World of Warcraft
Teegan Feehry portrayed the enigmatic Tyrande Whisperwind at the 2016 Eastern Championships of Cosplay at New York Comic Con. While some gamers might be sick of "World of Warcraft," the hardcore fan community is thriving now more than ever, as evidenced by all the wonderful cosplay tributes to the series. Feehry's intricate, handmade armor and her flawless face makeup brought the high priestess of Elune to life.
Ann, Persona 5
The beautiful Ann Takamaki from "Persona 5" entered the fray at the 2017 Frankfurt Book Fair. While Ann was unfortunately involved in a few cringeworthy scenes in "Persona 5," there was nothing embarrassing on display in the cosplay at the Book Fair. This Panther outfit featured an expertly molded mask, well-styled wig, and a fitted red costume perfect for stealing hearts.
Casual Princess Peach and Bowser, Super Mario Bros.
Princess Peach and Bowser stepped out at the 2017 Chicago Comic and Entertainment Festival (a.k.a. C2E2). While these cosplays weren't as detailed as some of the other attendants', they did take the time to reinvent what Bowser and Peach might look like in more casual situations, with Bowser's button-up shirt and tie being a clever choice. It's a fun idea that's definitely outside of the box, and fans will likely be interested to see Bowser and Peach together like this — especially considering the weird theories that some fans maintain about the duo.
Pyramid Head, Silent Hill
Pyramid Head is one of the creepiest monsters gamers can run into in the "Silent Hill" series, so it's only natural that he makes an impressive cosplay. One 2019 London MCM Comic Con group dressed up as Pyramid Head and two undead nurses, all bloodstained and tattered from too much time in "Silent Hill." The group looked weathered and grimy, a pitch perfect recreation of the game's enemies.
Travelers, Journey
"Journey" is a graceful, short trip through the process of pilgrimage for one devotee of an unnamed god. The game really only has one character, the stalwart Traveler who takes the titular journey, but one Norwegian duo showed up to the 2012 London Comic Con as matching robed figures. The couple's costumes represented one of the core mechanics of "Journey," the ability for players to float in and out of each others' games online, helping one another along the way.
William Birkin, Resident Evil 2
The timeline of "Resident Evil" might get a bit confusing, but there's no mistaking this William Birkin cosplay from the 2016 New York Comic Con any anything but impressive. Birkin's head and mutated torso are actually removable parts of the costume, allowing the cosplayer to adjust the costume as needed, or take a much deserved break to come up for air.
Sub-Zero, Mortal Kombat
"Mortal Kombat" clapped back at critics who said the game was too violent by introducing Friendships to the series, nonviolent ends to gruesome fights. One Sub-Zero cosplayer at the 2016 New York Comic Con had the bright idea of reminding the world that sometimes violence isn't the answer by proudly displaying a colorful friendship banner above his head.
Soul of Rebirth, Final Fantasy 2
Cosplayer Lyssa Kay debuted her beautiful "Soul of Rebirth" cosplay, honoring the classic "Final Fantasy 2" mission at the 2017 C2E2. The angelic costume was incredibly intricate, with a seemingly heavy set of feathery wings and decorative gold pieces adorning to the back. This gorgeous costume brought the pixelated 2D character to life for audiences.
Aloy and Rost, Horizon Zero Dawn
Two cosplayers, Dematerializ and Naeverin, took Rost and Aloy from "Horizon Zero Dawn" into the real world during a two day fan-convention in Germany. Their costumes were screen accurate, right down to Aloy's deadly bow and Rost's shaved haircut. Even the duo's poses mimicked the close relationship Rost and Aloy share. "Horizon Zero Dawn" launched to huge sales numbers, and fans can't wait to play "Horizon Forbidden West" soon, so it's no wonder it inspired such an accurate cosplay.
Link, Breath of the Wild
Not all of Link's armors are created equal, which is why the hero often finds himself scavenging for new pieces. One Hylian Hero at the 2019 New York City Comic Con sported new duds from "Breath of the Wild." The Ancient Set protects Link from the machines scattered around Hyrule, but no one could keep con attendees from meeting this Link's piercing, battle-ready gaze. As fans wait for "Breath of the Wild 2," it's good to look back and remember the Links of the past.
Pixelated Space Pirate, Metroid
Space Pirates are iconic enemies seen throughout the timeline of the "Metroid" series, and one fan took their cosplay to new screen-accurate heights by creating a 2D costume for the 2019 New York City Comic Con. The costume depicts the Space Pirates from older eras of "Metroid" games. While it was a difficult to photograph, this costume displays the sheer creativity of the cosplaying community.
Gaige, Borderlands
Gaige, the genius Mechromancer and breakout "Borderlands 2" DLC character wowed at the 2019 London Comic Con. One cosplayer recreated Gaige's look in photorealistic detail, closely matching the cartoony, cel-shaded aesthetic of the "Borderlands" series. From clever shading to a textured synthetic wig, this Vault Hunter could have just stepped out of the wastelands of Pandora and into London.
Vincent Valentine, Final Fantasy 7
Vincent Valentine has a special place in the "Final Fantasy 7" timeline, as well as the hearts of fans, and one fan at the 2017 MCM Birmingham Comic Con reminded everyone of Valentine's importance. From Valentine's red headband to his intensely buckled jacket and boots (seriously, so many buckles), this cosplay had every detail just right.
Draugr, Skyrim
"Skyrim" has tons of content that fans still enjoy sifting through years after its release, including bizarre Easter eggs and mysterious characters. Meanwhile, cosplayer Bill Doran came dressed to impress at Stan Lee's Comikaze Expo in 2013, sporting a draugr cosplay to scare any Nord back to where they came from. The glowing eyes and detailed armor made the costume hack and slash its way ahead of the rest at the con.
Genji and D.Va, Overwatch
There's no shortage of great "Overwatch" cosplay, but this Genji and D.Va at the 2018 London Comic Con definitely impressed con-goers, particular thanks to an unexpected crossover. While Genji is a straightforward interpretation, this D.Va takes inspiration from DC's Harley Quinn. No one knows what Harley's "puddin'" thought of her teaming up with the legendary swordsman.
Blood Elf Priest, World of Warcraft
"World of Warcraft" allows players to level up and customize characters to their hearts' content. One such gamer entered in the C2E2 Crown Champions of Cosplay 2017 contest as a custom-built Blood Elf Priest. The cosplay was immaculate, with heavy armor that was finely detailed and painted to look like an illustration come to life. The cosplayer also carried a custom staff and spell book to complete the look.
Fable, Fortnite
Fable might be one of the rarest skins in "Fortnite," but one cosplayer captured the Little Red Riding Hood-inspired look perfectly at London Comic Con in 2018. In addition to her game-accurate belted corset, Fable brought along her very own Big Bad Wolf in the form of an adorable pup riding comfortably on her back.
Princess Zelda, The Legend of Zelda
There are lots of Zelda cosplayers at any given con, but one attendee at the 2018 New York City Comic Con brought a fiercely regal look inspired by "Twilight Princess." "The Legend of Zelda" has changed over the years, and Zelda has transformed right along with it. While the "Twilight Princess" version of Zelda might be darker or moodier than her appearances in other games, that doesn't make her any less stunning.
2B and 9S, Nier Automata
"Nier Automata" was a strange game with an even more enigmatic creator, but there's nothing ambiguous about how beautiful these 2B and 9S cosplays were at the 2017 Frankfurt Book Fair. The cosplaying duo portrayed the two android warriors with grace, posing in a way that perfectly demonstrated the pair's closeness.
Minerva, Final Fantasy
Cosplayer Danielle Starky descended from the heavens at the 2012 London Comic Con to bring Minerva to life. The supernatural being from "Crisis Core: Final Fantasy 7" wore heavy armor at the con, which was clearly weathered from extensive use in an untold number of battles. The cosplayer also mastered Minerva's powerful stare, which is enough to scare any human into backing down.
Brotherhood of Steel member, Fallout
The Brotherhood of Steel, as well as their special power armor, holds a particular place in the "Fallout" universe. One player went all out to create a power armor for the 2016 Birmingham Comic Con by recreating the Brotherhood's bulky, sand-blasted armor and a massive helmet to wear at the con. While it's unclear how the cosplayer saw where they were walking when they were at the event, they certainly looked cool doing it.
Geralt, The Witcher
While it's hard to say how many attendees tossed a coin to this Geralt of Rivia at the 2019 New York Comic-Con, it's safe to assume he deserves more than he got. This Geralt's piercing yellow eyes and sculpted beard added to the Witcher's mystique. Hopefully, great cosplays will be able to satisfy fans until Season 2 of "The Witcher" premieres on Netflix.
Cindy Aurum, Final Fantasy 15
Cindy Aurum might be best known for fixing cars in "Final Fantasy 15," but she also looked great walking the floors at the 2017 Birmingham Comic Con. Cindy's yellow jacket popped against her red hat and signature red wrench. The cosplayer's confidence added to the costume, and her easy smile brought Cindy to life.
Steampunk Vault Dweller, Fallout
"Fallout 5" might not be emerging from the vault any time soon, but fans still enjoy cosplaying as different versions of the game's underground vault dwellers. One cosplayer at the 2019 New York City Comic-Con had the idea of bringing a steampunk-themed vault dweller out to play. No one wanted to challenge the vault dweller's specially designed gun, which featured working lights and a retro, waste-beaten look.
Cammy, Street Fighter
As a franchise, "Street Fighter" has gone through quite the transformation over the years. However, Cammy has steadily remained an icon, as well as a popular subject of cosplay appreciation at cons. This cosplayer at the 2019 New York Comic Con portrayed Cammy with ease, crouching into fighting position whenever a photographer drew near.
Morrigan, Darkstalkers
Morrigan Aensland, the succubus from "Darkstalkers," made an appearance at the 2019 New York Comic Con. Though she might have taken the subway to get to the con, it appears that her cosplay wasn't affected one bit. In fact, the cosplayer's fitted bodice and custom-painted bat tights looked pristine, just as the vampiric Morrigan would want them.
Ciri, The Witcher
Ciri, the character who may connect "The Witcher" and "Cyberpunk 2077," made an appearance at the 2017 Birmingham Comic Con, wielding her iconic silver sword as she made her way through the crowds of the con. Ciri's cosplayer clearly paid special attention to detail when sewing her costume, which includes faux fur accents and fine leather work.
Amaterasu, Okami
In "Okami," Amaterasu is a sun goddess that takes the form of a wolf on earth. A cosplayer at the 2017 Yorkshire Cosplay Convention decided to translate Amaterasu's wolfish style into a humanoid form. Amaterasu's red details became accents on a white kimono, but the character's ears stayed the same. Overall, the costume had an appearance similar to a humanoid wolf, which surely brought honor to the sun goddess. "Okami" might have been a huge flop when it first released, but this costume nailed the game's enduring appeal.
M. Bison, Street Fighter
The character of M. Bison might have been a rip-off of a movie character, but his red costume and menacing expressions remain one of the most iconic elements of "Street Fighter" character design. One cosplayer at the 2016 New York Comic Con put a feminine twist on M. Bison by creating a gender-bent version of the famous villain. The cosplayer's blank white eyes and snarl complete the look, giving her the airs of a real supervillain.
Toriel, Undertale
In 2018, a cosplayer from the Czech Republic showed the world how gentle and kind Toriel really was in "Undertale" by embodying the character in an incredibly detailed cosplay. The resulting look is stunning, with Toriel's cartoonish snout being created through makeup applications. Toriel may be a monster, but she has a kind heart, and this cosplayer portrayed that perfectly.
Hunter, Destiny
Bungie's "Destiny" has many different options for players to customize their characters, and one gamer brought their specific Hunter to life at the 2018 New York Comic Con. The Hunter's armor and jumpsuit were a brilliant and shiny yellow, replicating the game's vibrant color palette. Perhaps most impressive was the handmade weapon the cosplayer brought with them, which looks intimidating when slung over the Hunter's soldier.
Liara, Mass Effect
Some fans despised Liara's romance storyline in "Mass Effect," while others couldn't dream of partnering with anyone else. One Liara fan showed up to the 2015 MCM Comic Con in London in full blue paint and an impressive cap on their head, portraying Liara's full alien beauty. From the multi-toned shading in her makeup, to the textured jumpsuit, to the handmade weapon, this Liara easily stole the show — and probably the hearts of a few Commander Shepards.