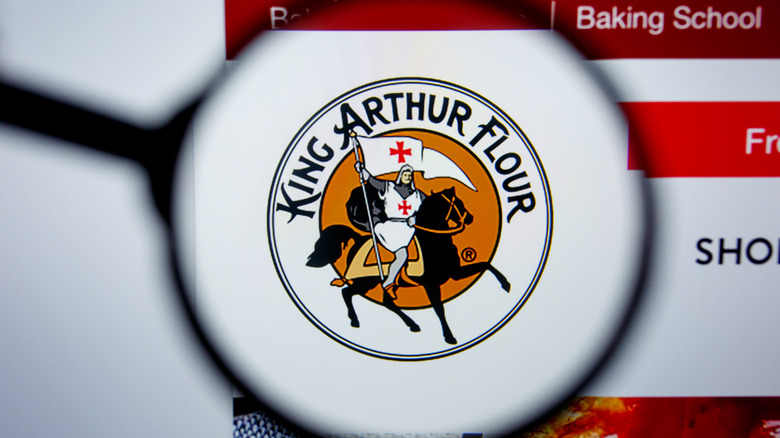 The King Arthur Baking Company has been around for a while — quite a long while, in fact. As one of the oldest flour companies in the country, this East Coast-based retail giant has remained dedicated to its customers and employees alike as its business continues to expand beyond its wildest dreams. Even as it continues to grow, King Arthur's corporate integrity is evident in their employee-owned business model and their high-quality products — there's a reason people prefer King Arthur to other flour brands on the grocery store shelf.
You may not realize that the King Arthur brand is much more than just flour retail, though the company recently changed its name from King Arthur Flour to the more expansive King Arthur Baking Company. This team of bakers and businesspeople offers services for home bakers of all ages and experience levels, too. Take their Baker's Hotline, a widely popular service that is available at a moment's notice, while their Baking School classes provide in-depth instruction for when you're ready to level up in your baking game. But, for all its success, how did the company get here? This is the untold truth of King Arthur Flour.
The King Arthur Baking Company was founded in 1790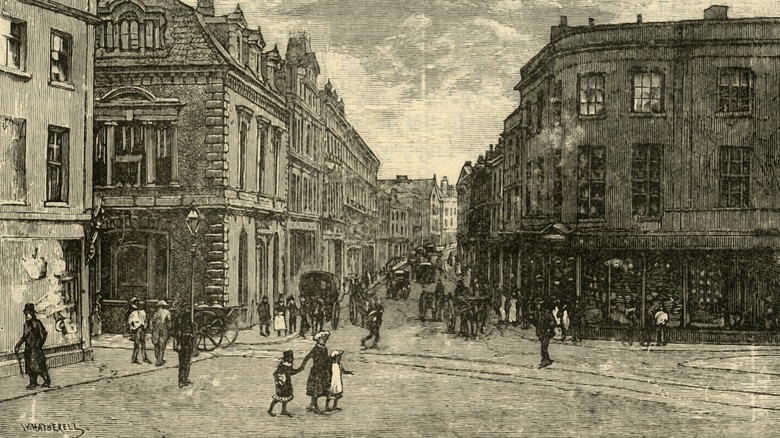 Yes, the truth is that King Arthur Flour really is that old. It all started in 1790 when a man named Henry Wood began importing flour from England to his Boston-based business. As the young country and its population (and appetite) grew, so did the demand for flour. Wood took advantage of the burgeoning economy and became one of the first flour providers in the United States. It was right around this time that Martha Washington's handwritten cookbook brought a recipe for flour-using apple pie to bakers across the 13 colonies (via King Arthur Flour Company).
By 1825, King Arthur Baking Company (then called Henry Wood & Company) was able to begin growing their own wheat in the United States, thanks to the country's ongoing westward expansion and the proliferation of home-grown American wheat. The company stopped importing wheat from England and started its own flour mill, which began to distribute its products via New York's Erie Canal.
By 1896, the company's continued success prompted its owners to reconsider the name of their brand. Instead of retaining the moniker of its original founder, it instead transformed King Arthur Flour. At the Boston Food Fair in the fall of 1896, the newly renamed brand took the market by storm — and it hasn't stopped since (via King Arthur Flour Company blog).
The inspiration behind the name
Before King Arthur Baking Company became King Arthur Baking Company, it went through a few different transformations. When Henry Wood started the flour company in 1790, he named it after himself, deeming it Henry Wood & Company. It didn't take long for the business to grow, however. In 1820, John Low Sands became a partner at the company, thus beginning the Sands family's multigenerational involvement and eventual ownership of the flour producer. In 1895, according to the Burlington Free Press, the company rebranded itself as Sands, Taylor, & Wood. Yet, this name didn't stick around for long.
Shortly after the renaming, some of the firm's partners attended a play about King Arthur, the legendary Celtic king of Round Table fame. The businessmen were inspired by the show and the powerful king's integrity and determination in battle. According to the Burlington Free Press, the play's themes reflected values that were important to the partners; they hoped their flour company would continue to prioritize purity, loyalty, and morality even as it grew increasingly larger than its humble beginnings. They decided to rename the business once again in 1896, only a year after the previous name change, but this time they kept the new name for far longer. These days, King Arthur is famous not just for his strength in battle, but also for delicious baked goods made with his namesake flour.
King Arthur Flour has been employee-owned since 2004
In 1996, Frank Sands was trying to figure out who would take over King Arthur Flour when he retired. At that point, five generations of Sands had stood at the helm of the business, but Frank was having trouble recruiting any of his contemporary family members to take the lead. "Frank decided to rethink what would be the best way to move forward," Ellen Kitchel, Sands' stepdaughter, told The New York Times. "He really liked the idea of having the employee ownership. He thought it brought out the best in people."
By 2004, King Arthur became 100% employee-owned, offering all employees who work at least 800 hours a year stakes in the company. The business uses an employee stock ownership program (ESOP), which provides workers retirement funds without any contribution requirement from the workers themselves. As The New York Times explains, this detail helps to make up for the risk of owning shares in a company — if King Arthur's stock value plummeted in a different set-up, workers could lose both their retirement money and their jobs.
But as the company continues to succeed, employees should see their hard work pay off. The longer they work for King Arthur, the more their retirement funds will grow in value. As Ralph Carlton, a company executive, told The New York Times, the employee-ownership model should allow most King Arthur workers "to retire in a very comfortable manner."
King Arthur carefully sources its ingredients
King Arthur Baking is a company dedicated to abiding by its values in every facet of the business. Their meticulous process ensures environmental sustainability, superior quality, and fair conditions for workers. According to the King Arthur Company website, almost all their products are made without genetically modified organisms, also known as GMOs (though, during the COVID-19 pandemic, the allulose used in their Baking Sugar Alternative became an exception). While GMOs are a controversial topic, King Arthur states that they believe people have the right to know what is in their food and to choose products made without GMOs. As such, they are committed to sourcing products that are made without GMOs and being transparent about when their mission falls short.
In addition, King Arthur's Food Philosophy boasts agricultural practices that support the environment and help to mitigate climate change. The products this company uses are grown with limited pesticides, and their Supplier Code of Conduct encourages the use of sustainable manufacturing equipment.
King Arthur further states that it never bleaches its flour. Meanwhile, most of its products contain a higher amount of protein compared to most other flours, making it a great option for baking bread. According to Stress Baking, a higher protein content yields dough that will hold its shape, a great option for structure applications like bread. For cakes and cupcakes, a more delicate flour like cake flour can be used.
The company has a baking hotline
In 1993, King Arthur launched a phone service to help anyone, from novice to experienced bakers, troubleshoot their projects. The staff includes numerous professionals with the answers to anyone and everyone's baking questions. According to Eater, during the pandemic, some home bakers would even frequently dial up the hotline just to chat about both their pastry endeavors and personal lives.
While the Baker's Hotline usually ramps up its activity during the holidays and the summer contest season, the COVID-19 pandemic saw a huge influx of callers, overwhelming the hotline experts. Bakers from other departments had to step in to help answer all the questions the hotline received.
The bakers noticed that, more than technical advice, what most callers wanted was a bit of comfort during a period of unprecedented challenges. "Right now, people are bored and anxieties are running high," Amanda Schlarbaum, one of King Arthur's baking experts, told Eater. "And I think people just need someone to be like, 'No, no, the bread will be fine. Just let it rise another half an hour. It'll be okay.' "
It is a Certified B Corporation
King Arthur's Baking is one of over 4,000 Certified B Corporations, a collection of businesses committed to more than just turning a profit. According to the B Corporation website, these companies must factor into their business models the health and well-being of their employees and purveyors, their company's environmental impact, and their effect on the communities that come into contact with them.
In addition to their Certified B status, King Arthur has also received praise for going above and beyond the basic requirements for B Corporations. Every year between 2012 and 2019, as well as 2021, they received accolades for being among the best companies for workers. They were also awarded the Best for Governance award in 2017 and 2019.
While King Arthur's report cards have been consistently strong over the years, this company is always looking for ways to improve. According to the company website, their goals for the 2020 fiscal year included limiting pesticide use in wheat and exploring strategies to decrease retail costs.
King Arthur Flour also runs a baking school
In July of 2020, King Arthur changed its name after 230 years of being known as King Arthur Flour. The moniker of "King Arthur Baking Company", as an official blog explained, better reflects their multifaceted business model — one that offers customers more than just flour.
One of those popular services is the King Arthur Baking School. Held in Vermont, Washington state, or online, King Arthur uses these classes to provide training for bakers of all experience levels. Most classes offer 1-2 hour lessons on a specific pastry or bread, allowing you to become an expert on something like croissants, ciabatta, or Japanese milk bread in a single afternoon.
King Arthur also has specific classes (and even a day camp) for kids, as well as a series of classes dedicated to learning the foundations of bread baking for beginners. Prices range from about $45 to $95 for a single class and $245 to $325 for the longer and more intensive camps and series. If you find a class that catches your eye, be sure to sign up as soon as possible, as there are limited spaces available.
It's more expensive than other flours, but it's worth it
A 5-pound bag of King Arthur's all-purpose flour will often run someone more than $5, depending on where you do your shopping. Compare that price to another brand, like Gold Medal, and you'll start to wonder if King Arthur's specialty flour really makes that much of a difference. With other brands coming in at half the price, it's tempting to leave King Arthur for the, well, kings. But King Arthur ensures their products are always worth the extra expense.
Karly Kuffler, a New York-based pastry chef, told Bloomberg that King Arthur has been her preferred flour brand since she was a child baking under her mother's direction. "I've always found King Arthur flour to be superconsistent in its quality."
Even Reddit users, a notoriously honest bunch, agree that King Arthur's flour is ideal for bread making and therefore worth the extra cost. Several users recommend using other flour brands for basic baking projects, like cookies and cakes, but many maintained that bread — which needs more protein from products like bread flour — is practically always better with the higher-protein King Arthur brand. "Your bread will appreciate the difference," said one user.
It faced unexpected challenges during the pandemic
Like many retail businesses, the COVID-19 pandemic proved to make things difficult for King Arthur. As a baking frenzy took hold of the socially distanced people who were often working from home, King Arthur Baking Company found themselves facing shortages, and fast. "COVID hit and it took 10 days to wipe us out," Brad Heald, the director of mill relations, told Eater. The company changed its agreements with suppliers so as to purchase the most flour possible to keep up with demand.
But that wasn't the end of their problems. Packaging supplies, for example, began to dwindle. Since most flour companies sell flour in folded paper bags and flours of any brand were practically flying off grocery store shelves, King Arthur was one of many corporations desperate for packaging. "Even though we could get flour, we would run the mill out of packaging. [Suppliers] would do everything they could for us in late March, but by April 15 they're out of packaging and they're waiting," Heald explained. To solve the problem King Arthur stopped selling two-pound bags of flour and introduced three- and eight-pound bags, which weren't as difficult to get as the two- and five-pounders.
In the end, King Arthur's efforts to meet those challenges paid off big time. According to Eater, April 1 through November 20, 2020 saw exponential growth for the business. King Arthur sold the equivalent of 43.1 million five-pound bags that year, compared to 23.7 million in 2019.
It supported workers and food pantries during the pandemic
Though the King Arthur Baking Company had some difficulties during the pandemic, its integrity and commitment to its value seemingly never wavered. According to Baking Business, King Arthur launched For Goodness Bakes when the pandemic began, an initiative to supply food to food pantries, unhoused communities, and unemployed people. King Arthur encouraged new and experienced bakers by purchasing baked goods from them to donate to people in need.
"As we navigate in these uncertain times, our north star remains our vision to inspire and share the joy of baking, building stronger and healthier communities," said the co-CEOs of King Arthur (via Baking Business).
Because the business is employee-owned and operated, the workers collaborated on decisions like this one, especially as they related to the pandemic. CEO Ralph Carlton told Forbes that one of the company's "highest priorities" was to allow particularly susceptible employees to take time off. They also initiated work-from-home policies when possible and provided increased wages for those whose positions required them to continue working in person.
King Arthur Flour isn't immune to bacteria outbreaks
In 2019, King Arthur's 5- and 25-pound bags of all-purpose flour were recalled due to potential E. coli bacterial growth. According to CNN, it wasn't just them, as several flour brands were taken off shelves due to an outbreak that affected 21 people in nine different states.
The Mayo Clinic explains that most kinds of E. coli are harmless, but a few specific strains can cause severe gastrointestinal distress, with symptoms such as vomiting, diarrhea, and cramps. Most people recover from the bacteria, but young children and the elderly are at greater risk of developing complications and, in rare worst-case scenarios, may even die due to kidney failure.
Along with Pillsbury and Baker's Corner, King Arthur recalled their flour in June of 2019, warning consumers that bags sold as far back as December 2018 could be contaminated with the bacteria (via CNN). As of June, however, CBS News reported that no illnesses were reported in connection to King Arthur's potentially contaminated flour.
King Arthur Baking has put out numerous cookbooks
The King Arthur team has penned multiple cookbooks to offer step-by-step instructions for using their products in the best way possible. The King Arthur brand has several cookbooks to choose from, depending on what your baking needs are. "Whole Grain Baking" offers bakers a wide range of recipes that let whole wheat flours take center stage, instead of the most common all-purpose flour. There are over 400 recipes in this collection, from pie crust to sandwich bread.
The "Cookie Companion" cookbook focuses on recipes for those of us with sweet tooths, featuring in-depth instructions for all kinds of cookies and cookie-adjacent treats. With sections on baking techniques and tools, this cookbook will improve your cookie game forevermore.
Perhaps its most versatile cookbook, "King Arthur Baker's Companion" is a must-have for all home bakers. The recipes here are meticulously tested and thoroughly explained. You'll learn when you can skip steps and when precision is key. These recipes exemplify King Arthur's dedication to accessible, foolproof baking for all levels of experience.