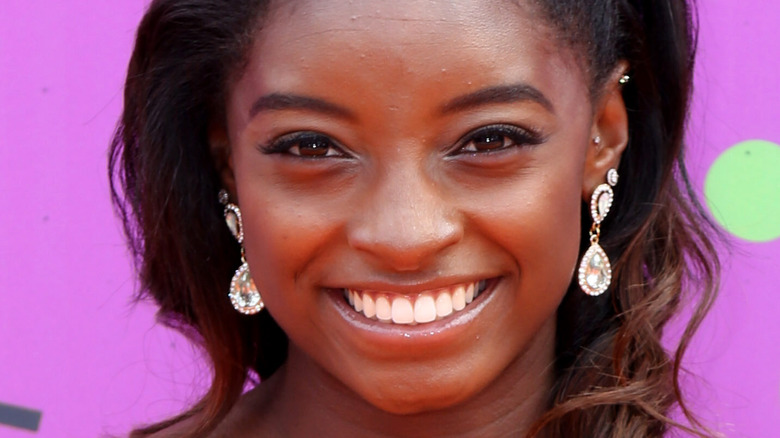 In the world of competitive gymnastics, one name looms larger than any other: Simone Biles. A five-time Olympic medalist, Biles' success at the 2016 Olympic games in Rio die Janeiro catapulted her to a level of celebrity that transcended sports, becoming a bona fide pop culture superstar.
Beyond her unparalleled athletic accomplishments, Biles has appeared in TV commercials for Uber Eats alongside "Queer Eye" star Jonathan Van Ness, has been the subject of a Lifetime made-for-TV biopic titled "The Simone Biles Story: Courage to Soar" (based on her #1 New York Times bestselling autobiography of the same name), and even endured that distinctive celebrity rite of passage known as "Dancing With the Stars" (she didn't win, but did make it to fourth place).
Given the success Biles experienced in Rio, hopes are high that this four-foot-eight dynamo will once again capture Olympic glory for Team USA at the 2020 games in Tokyo — which, due to the worldwide pandemic, were shifted to summer 2021. While there's no question she's arguably among the best — if not the best — gymnast of all time, to find out more about this extraordinary athlete, keep on reading to discover the untold truth of Simone Biles.
Simone Biles is the most decorated female gymnast in history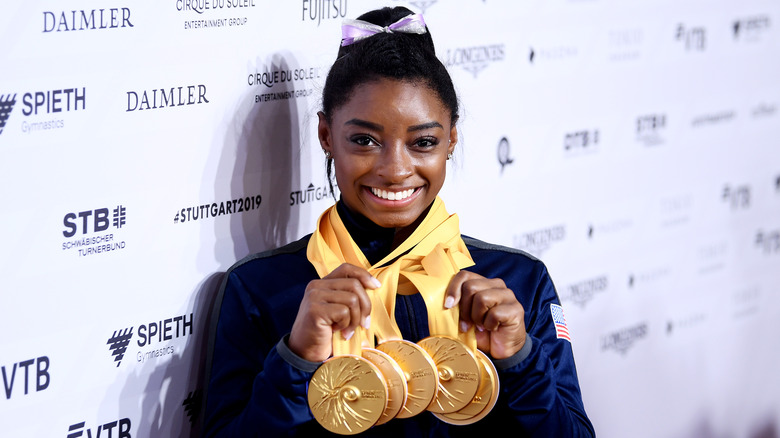 There have been some memorable gymnasts to have captured Olympic gold, yet Simone Biles is the undisputed GOAT. That's because she holds the record for the most gymnastics titles ever captured by a single athlete in the history of the sport.
In June 2021, Biles won her seventh national all-around title, making her the first American woman to ever hold that distinction. She also holds a record-setting 25 world championship medals, of which 19 are gold. Then, of course, there are all those medals that she won at the 2016 Olympics in Rio de Janeiro — one bronze and four gold, according to her Team USA stats.
According to an interview she gave to Sports Illustrated, Biles appeared to be less focused on her four gold medal wins than on the botched landing that cost her a fifth gold medal and instead earned her a bronze. "I was so happy that I even medaled because of the mistake that I had," she admitted. "But I felt so ashamed because people were pissed off that I ruined their [headline] of five gold medals."
A daycare field trip sparked Simone Biles' passion for gymnastics
A daycare field trip when she was just 6 years old changed Simone Biles' life — and, by extension, the entire world of gymnastics. As a bio on Biles for the World Champions Centre website recounted, the trip took the youngster to Bannon's Gymnastix, where she began to mimic the movements of the gymnasts she watched. One of the coaches noticed her ability to copy the moves with amazing accuracy, and told another coach. The two sent a letter home with Biles for her parents, advising them that she had natural ability and would benefit from taking some gymnastics classes. Her parents decided to enroll her.
According to Time for Kids, Biles may have been the most inexperienced child in her gymnastics class, but her natural ability shone through. It wasn't long before she had surpassed the other kids, and she spent the next decade-plus training relentlessly.
Gymnastics, noted a Sports Illustrated profile on Biles, is a sport that "steals your childhood and leaves you unprepared for adulthood," which Biles conceded was dead on. "It sucks when you reach your peak at 23, 24, you know?" she shared. "Because it's all downhill from there."
There are multiple gymnastics moves named after Simone Biles
Back in 1972, Soviet gymnast Olga Korbut debuted a backward flip that came to be her signature move, the Korbut Flip. Simone Biles can top that, with two signature moves named after her. According to NPR, in order for a move to be named after a gymnast, the athlete must submit the proposed move for consideration, and then successfully demonstrate it in a competition.
First, the gymnast pioneered the Biles, her double-double dismount that features "a double-twisting double backflip" from the balance beam. Then came another move, which came to be known as the Biles II. The latter move she debuted in 2019 during a competition in Stuttgart, Germany, when she landed a triple-double "composed of a double backflip with three twists."
In preparation for the 2020 Tokyo Olympics (which were delayed until 2021), Biles focused on perfecting her amped-up version of the Yurchenko Double Pike, named for Russian gymnast Natalia Yurchenko. As People described it, Biles' version of the Yurchenko Double Pike adds an additional flip. Admitting she's "a hundred percent confident" she can pull the punishingly difficult maneuver, Biles expressed hope it would become the third move to be named after her.
Simone Biles is freaked out by bees
Simone Biles has proven to be a stone-cold competitor who doesn't shrink from competition; she's also shown herself to be fearless when tackling never-before-performed gymnastics moves that boast a high degree of difficulty. There is, however, one thing that strikes fear into the heart of the celebrated athlete: bees.
That was apparent after the 2014 World Championships, immediately after Biles' routine had won the gold medal. As she held a bouquet she'd just been presented, a bee suddenly buzzed out of the flowers she was grasping. Biles lost her cool and flipped out, scurrying away from the podium as the bee buzzed after her (had she been thinking more clearly, she would dropped the bouquet, which is what the bee was clearly pursuing).
Biles subsequently spoke with Today about the bee, and admitted she probably could have handled it better. "It was in the flowers," said the then-17-year-old. "I tried not to freak out, but I just freaked out."
Simone Biles indulges in the same meal after every competition
Simone Biles knows how to treat herself when the time is appropriate. Speaking with ABC News, the gymnast revealed that she allows herself to indulge in a favorite food after each competition — and that it's the same dish every single time. "It doesn't even matter if I don't win a self-gold, after every meet I have pizza. Pepperoni pizza," she said.
However, in order to maintain her status as one of the world's top athletes, Biles eats accordingly. As a result, pizza remains more of a special-occasion treat than an everyday staple. Speaking with Women's Health, Biles shared that when she cooks for herself, "it's usually pasta, or chicken or salmon in the air fryer, oven, or on the grill." Biles is also a big fan of potatoes, "in any shape or form."
According to Biles, she tends to eat intuitively. "I do not track anything," she added. "I eat what I feel good with and try not to overeat or stuff myself because I'm always at the gym."
Simone Biles once competed hours after exiting the ER for a kidney stone
In 2018, Simone Biles was in Doha, Qatar to compete in the world gymnastics championships when, the night before her competition, she began to feel unwell. As ESPN reported, what began as discomfort quickly escalated "into searing agony that at times left her crawling on the floor."
A CT scan diagnosed a kidney stone — which Biles hilariously nicknamed the "Doha pearl." Biles was actually thankful that it was "just" a kidney stone and not appendicitis, as she feared, which would have forced her to drop out of the competition. "Nothing like a late night ER visit less than 24 hrs before world championships. This kidney stone can wait … doing it for my team!" Biles tweeted, accompanying some photos of herself in a hospital bed.
Despite the excruciating pain, Biles insisted on avoiding the medication she was prescribed because of the risk that she could be disqualified after taking a mandatory drug test. Despite her affliction, reported The Guardian, Biles nevertheless managed to walk away with "the highest individual scores on the beam, vault and floor, and was second on uneven bars through five of 11 qualifying groups."
Simone Biles' sister is also a gymnast who gets mistaken for her
Simone Biles isn't the only gymnast in the family. Her sister, Adria Biles, is also a competitive gymnast, and has trained alongside her sister since the very beginning. In an essay she wrote for ESPN, Adria describes her sister as "fearless." She also writes about what it's been like to have a front-row seat to her transformation "from normal Simone to famous Simone."
The sisters also look alike. When they were in Brazil for the Rio Olympics, Adria wrote, "people came up to me every day thinking I was her. They'd ask for autographs and take pictures. And many times they didn't speak English so I couldn't explain that I wasn't her. They'd just say, 'Simone! Simone!' and finally I decided it was easier to just let them take a picture."
Conceding that she does look a lot like Simone, Adria explained that the easiest way to tell the sisters apart is by height. Since Simone stands at a diminutive four-foot-eight and Adria towers over her at five-foot-two, "people can definitely tell us apart" when the two are standing next to each other, she added.
Simone Biles was diagnosed with ADHD as a child — and now considers it a superpower
In 2016, BBC News reported that Russian hackers managed to breach the database of the World Anti-Doping Agency, and among the athletes' medical records to be exposed were those of Simone Biles. The big revelation to emerge from the hack was that the celebrated gymnast had been diagnosed with ADHD as a child, and was still taking medication to treat the condition.
While that act of cyber-espionage may have been intended to embarrass Biles — presumably in retaliation for the way she embarrassed her Russian competitors at the Rio Olympics — it actually wound up propelling Biles' into a whole new sideline as an advocate for those who have ADHD. In 2017, Biles cemented this unanticipated advocacy role when she participated in a PSA-style video in which she speaks with two young girls, both of whom are aspiring gymnasts, and both of whom have ADHD. In her conversation with the girls, Biles offered some advice that shed light on how she views her own ADHD. "Just have fun in everything that you do, and don't think of anything as a downfall," she advised. "Think of it as a superpower."
Simone Biles completely crushed Spider-Man star Tom Holland's social media challenge
In the spring of 2020, "Spider-Man" star Tom Holland took to social media to issue a challenge — a handstand challenge. The goal, as he demonstrated in a video that he posted, was to do a handstand, supporting oneself against a wall, and put on a t-shirt while balancing in a handstand.
After the challenge was attempted by various celebrities — including an impressive showing from Holland's "Spider-Man: Far From Home" co-star Jake Gyllenhaal — Simone Biles shared her own attempt. Naturally, the Olympic gold medalist put her own unique spin on it.
In a video that she shared on Twitter, Biles performed a handstand, but unlike Holland, she was not supporting herself against a wall. Neither did she put on a t-shirt; instead, Biles demonstrated how to remove a pair of sweatpants while remaining in a handstand. Among the celebs who responded to Biles' extraordinary feat of near-superhuman strength was Ryan Reynolds, who simply tweeted "No." Also chiming in was Chrissy Teigen, who tweeted, "Simone I have to lay down and have someone else do it normally."
Simone Biles' boyfriend didn't know she was famous when they began dating
Simone Biles and boyfriend Jonathan Owens did not have a traditional courtship. In fact, the gymnast and the Houston Texans defensive back met on social media just as the COVID-19 pandemic sent the entire world into lockdown. As Owens told Texas Monthly, he was impressed by her four million-plus Instagram following but had no idea why she was so popular. "I didn't know who she was," Owens admitted. "I just hadn't heard of her, and when I told her that, that's one of the things she liked."
As the two got to know each other better, they totally clicked. "This was a match made in heaven," Owens continued. "There's no better person for me. She loves me, she's so affectionate. I just love that. And it's just intoxicating seeing how much work she puts into everything."
The fact that both Biles and Owens are upper-echelon athletes, with all the pressure that entails, also served to help them forge a tight bond. "We're both super competitive," added Owens. "When I see her getting up and going to practice every morning, it motivates me even more."
Simone Biles enlisted her Dancing with the Stars partner to choreograph her floor routine
Prior to preparing for the 2020 Olympics in Tokyo (delayed by the pandemic until the summer of 2021), Simone Biles hadn't competed since October 2019. Looking for something extra special for her routine, she revealed on her Facebook Watch series "What Can't I Do," she turned to dancer Sasha Barber to choreograph her routine. Barber, as viewers of "Dancing With the Stars" will recall, was Biles' dance partner when she competed in the show in 2017, and the two remained close.
"Usually, I have a different choreographer, but this year I felt like we needed to be a little bit different, spice it up," Biles explained, via Entertainment Tonight. "Whenever I worked with Sasha on 'Dancing with the Stars', we always said, 'Oh my gosh, if we could do a floor routine, how cool would that be?'"
Farber admitted he was "really excited" to help Biles create a routine designed to showcase the gymnast's "sassy" side. Meanwhile, Biles said that she's "way more involved" in creating this routine than she'd been with her earlier routines.
Simone Biles has a 'love-hate' relationship with the balance beam
Simone Biles famously won four gold medals and one bronze during the 2016 Olympics in Rio de Janeiro. Rather than bask in her four winning performances, however, Biles has admitted she's such a perfectionist that she's never stopped obsessing about that single bronze. That third-place medal came for her performance on the balance beam, the result of a botched landing when her foot slipped and sent her wobbling and nearly falling off the beam.
Speaking with USA Today in October 2019, ahead of the world gymnastics championships in Germany, Biles admitted slipping on the beam had "shot my confidence down." Regaining that confidence on the beam, Biles shared, "took awhile." Ever since, she said, she has come to have "this love-hate relationship with the beam. I've always told myself, 'If you hate beam, the beam will hate you.'"
Apparently Biles really learned to love the beam; as the Associated Press reported of that competition, Biles "posted the best individual scores on the vault, the balance beam and the floor."
Simone Biles is in a constant state of pain
Becoming one of the world's top gymnasts doesn't come without years of punishing training, forcing the body to do things it arguably shouldn't be doing. By 2019, when Simone Biles was just 22, that training had also left her in constant pain. "It starts when I wake up," she told the Daily Mail. "I joke to my friends a lot that I am going to be in a wheelchair at 30."
Despite her youth, Biles described her body feeling "like it is maybe in its 30s or 40s. Maybe older. Inside it is screaming and yelling at me." Constant pain, she revealed, had become something she'd not only grown used to, but in a weird way had come to welcome. "Pain is just something I live with and that is pretty odd for my age, right?" Biles continued. "It feels weird if I'm not in pain."
In fact, Biles had grown so used to being in pain that she'd suffered serious injuries without even realizing it. As she recalled, "it turned out my toe was shattered in five pieces after the last Olympics without me knowing."
The reason Simone Biles isn't modest about her gymnastic abilities
There's a school of thought that believes it's unseemly to brag about one's accomplishments. However, Simone Biles is not an adherent to that particular notion, and candidly explained why in a 2019 interview with USA Today. "It's not out of cockiness," said Biles of why she refuses to play humble about her gymnastic achievements. "I've won five world titles and if I say, 'I'm the best gymnast there is,' [the reaction is] 'Oh, she's cocky. Look at her now.' No, the facts are literally on the paper."
In a sport typically characterized by stoicism, as Biles matured she'd come to the realization "that it's OK to show real, raw emotion. You don't have to be a robot all the time, and you don't always have to seem happy out there."
Even with the pride she takes in her gymnastic abilities, Biles has admitted she'd like to someday have "an out-of-body experience" so she could watch herself as she competed, just so she could figure out what it is that she's doing that wins all those medals. "I really don't know how I do it sometimes," she revealed.