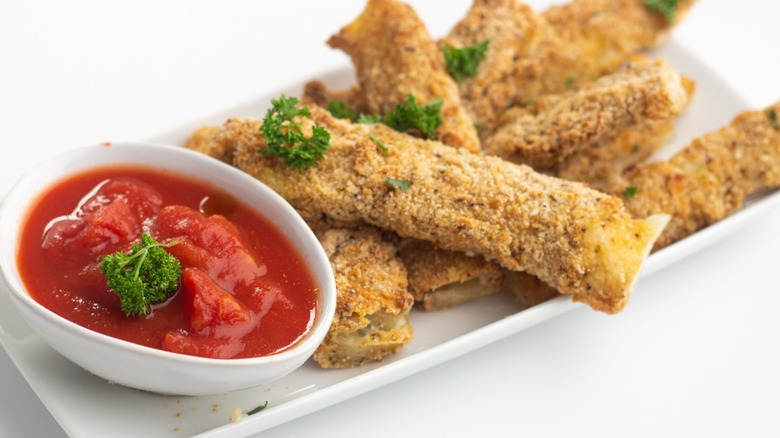 Mozzarella sticks are the quintessential American bar and snack and restaurant appetizer not just because they're an umami-rich treat wrapped in a Maillard reaction miracle but also because, like America, mozzarella sticks ideally comprise a warm and beautiful amalgamation of multiple cultures and histories. Born in France as a sort of inside-out cheese fondue in a cookbook dating back to 1393, they found their way into American culture during the 1970s by way of a Wisconsin cheesemaker named Frank Baker. He's the one who came up with the concept of string cheese snacks and we started dipping those treats in Italian-style tomato sauce in the 1980s thanks in part to restaurant chains such as TGI Friday's and Bennigan's (via Undeniably Dairy).
The only fault you might actually find with mozzarella sticks is the fact that they're deep-fried, which is admittedly not the healthiest way to prepare these cheesy snacks. But as it turns out, deep-frying is not the only cooking technique available for making delicious mozzarella sticks. Susan Olayinka of The Flexible Fridge has come up with a relatively heart-healthier way of making mozzarella sticks in an air fryer. "Air fryers are wonderful machines if you want to use less oil." Olayinka told Mashed. Read on to learn how to make these air fryer mozzarella sticks in well under half an hour.
Gather your ingredients for air fryer mozzarella sticks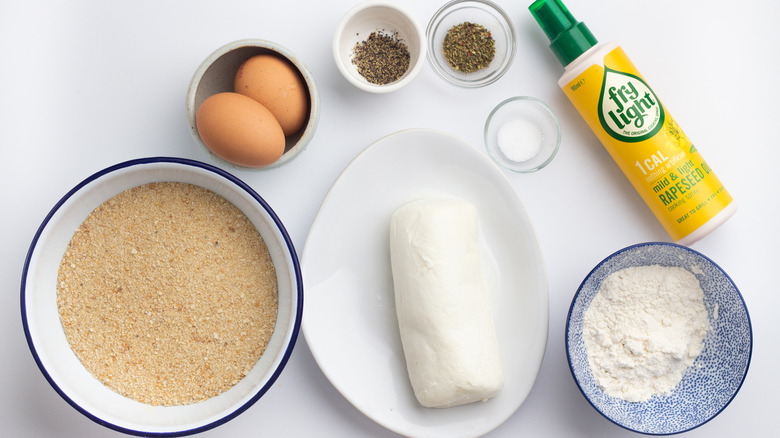 To make air fryer mozzarella sticks, you're going to need, first and foremost, a 9-ounce chunk of mozzarella cheese that you will then slice into mozzarella stick-sized strips. Recipe developer Susan Olayinka recommends getting the firmest mozzarella you can find to make the portioning process easier. Ideally, that's mozzarella that's been packed dry, as opposed to other types that have been packaged in liquid. Another option is simply to purchase pre-cut mozzarella from your grocery store if they offer it (and some indeed do offer mozzarella ready to be turned into mozzarella sticks, as Olayinka points out).
You'll also need 4 large eggs, 1 cup of unseasoned panko breadcrumbs, ½ teaspoon of salt, ½ teaspoon of black pepper, 1 ½ teaspoons of Italian seasoning, ¼ cup of all-purpose flour, and a container of spray oil. To give your air fryer mozzarella sticks an authentic '80s restaurant chain feel, you'll also want to have on hand ¼ cup of marinara sauce for dipping, though that's totally optional if marinara isn't quite your thing. And if you're feeling a little extra ambitious, it's actually quite easy to quickly make some homemade marinara sauce, too.
How to slice your mozzarella cheese into stick-sized pieces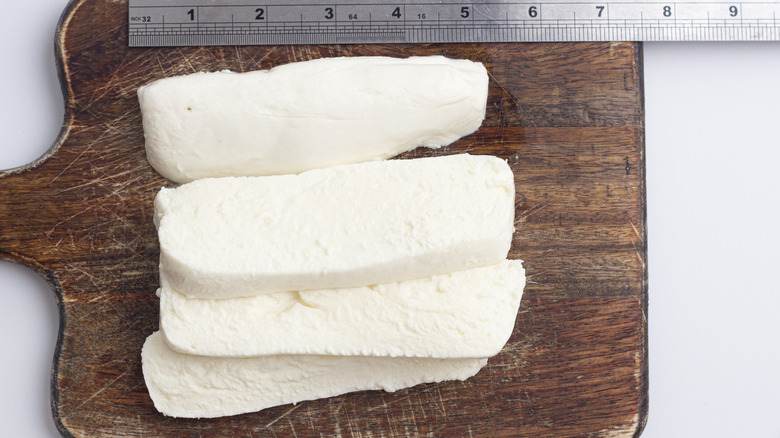 If you decided to forgo the pre-sliced mozzarella or simply couldn't find any at your local grocery store, then never fear. Your first step in making you air fryer mozzarella sticks will, of course, be to cut your mozzarella cheese into individual stick-sized slices, 5 inches long by 1 inch wide.
Use a sharp, medium-sized kitchen knife and a cutting board to get the job done neatly and efficiently. And, if you can, remember to sharpen and hone your kitchen knives so you won't have to manage a dangerously dull knife. You should end up with around 11 pieces that will eventually become the cores of your finished mozzarella sticks.
Prep your mozzarella sticks assembly line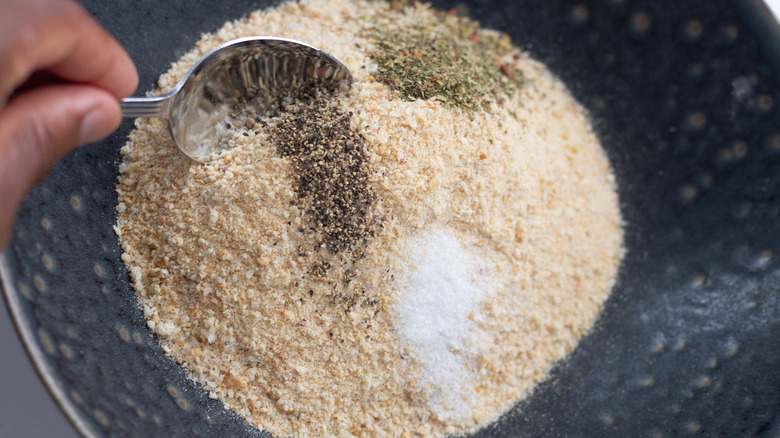 Coating the mozzarella cheese slices with a crunchy, seasoned coating is easy when you create an assembly line for it. In fact, this is also a good reminder to set out your pre-measured ingredients, which is a professional chef practice known as mise en place. Even though it's a professional hack, setting up a mise en place at home can make your process way more streamlined and easier to manage.
Start by getting out three large bowls. Into the first bowl, crack the eggs and mix them up with a fork until the yolks are well incorporated with the whites. Into the second bowl, place your breadcrumbs, salt, pepper, and Italian seasoning. Stir these ingredients until they are incorporated. Into the third bowl, place the all-purpose flour and give it a light sifting with a fork, which will avoid clumping and will also make dipping your coated mozzarella sticks a bit easier.
Bread the mozzarella sticks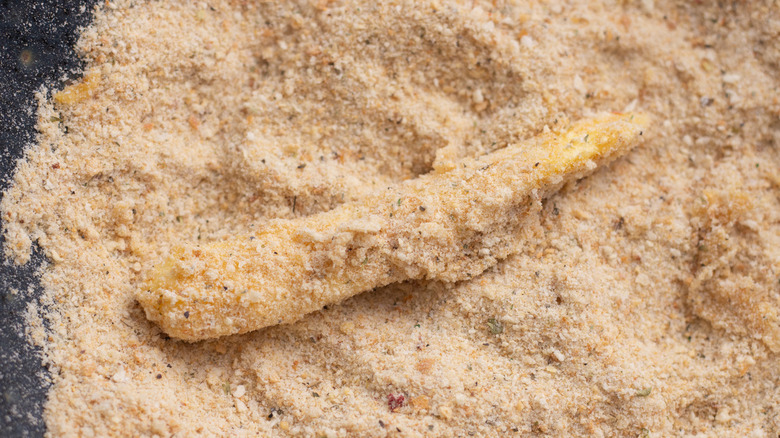 Before you start dipping and breading your mozzarella strips, get out a baking tray that is big enough to fit inside your freezer and line it with parchment paper.
Now, take one mozzarella stick and dip it into the bowl with the flour, being sure to coat every surface. Then dip that floured-up stick into the eggs, then the breadcrumb mixture. Then dip it once again into the eggs and then into the breadcrumbs. That's a total of five dips per stick if you're interested in keeping track that way. As you finish breading each mozzarella stick, place it on the baking tray. When you've breaded all of your mozzarella sticks, place the baking tray into the freezer for one hour. This will help to firm up the mozzarella sticks and keep the breading intact when you're at the air-frying stage.
It's time to get air-frying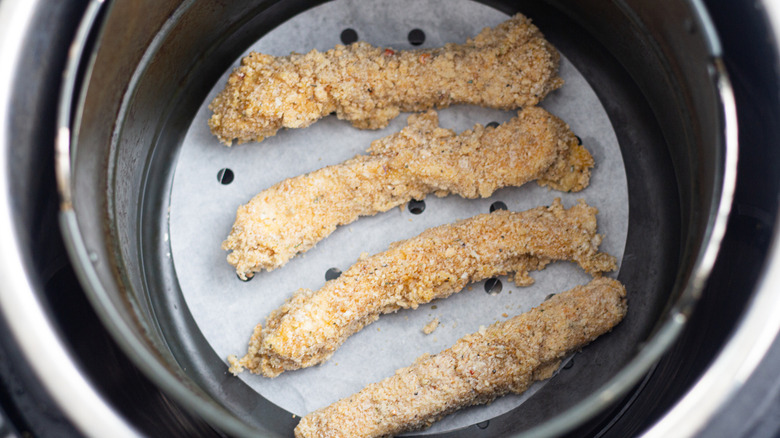 After your breaded mozzarella sticks have been in the freezer for one hour, spray your air-fryer with spray oil and place a single layer of frozen breaded mozzarella sticks into the tray of your air fryer. Leave room between the sticks, lest you crowd the tray, which could interfere with getting your crispiest air-fried result. If you're in doubt, err on the side of cooking fewer sticks at a time and simply work in batches. Once the first batch is inside the air fryer, spray inside once again with the oil spray. Set the air fryer to 375 degrees Fahrenheit and the time to 8 minutes.
When the 8 minutes are up, your mozzarella sticks should be golden in color and crispy on the outside. If they're not there yet, cook them for 2 minutes at a time beyond that, checking progress in between. Move them onto a serving dish while you air fry the rest. When all are done, serve either plain or with marinara sauce. Enjoy!