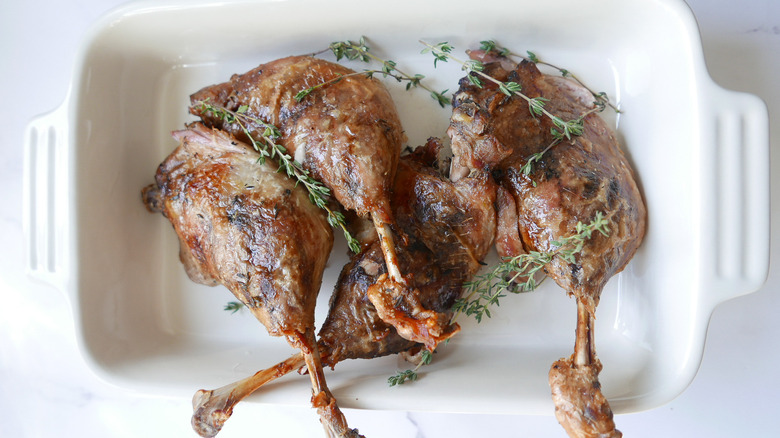 Believe it or not, you don't need to go to a restaurant in order to get some really good duck confit. Be excited, because you can actually make it in the comfort of your own home. This recipe for duck confit in the slow cooker is simple to prepare, tasty to eat, and it will make you feel like a top chef. There's nothing easier than putting something together in the slow cooker and not having to worry about it for hours. We love this recipe, because you can assemble it before you go to work and then have it ready when you're home. Walking into your home and smelling a delicious dinner that's ready to eat is always a great feeling — it actually doesn't get much better than that!
Recipe developer Ting Dalton of Cook Simply came up with this simple and delicious recipe that is great for any occasion. "This is a traditional French dish which to novice cooks may feel daunted," Dalton says. "But this is super easy to make, such a crowdpleaser, and really delicious." Whether you are looking to impress your family or make a meal for dinner with your friends, this duck confit will absolutely do the trick. Keep scrolling to find out how to make it.
Gather the ingredients to prepare slow cooker duck confit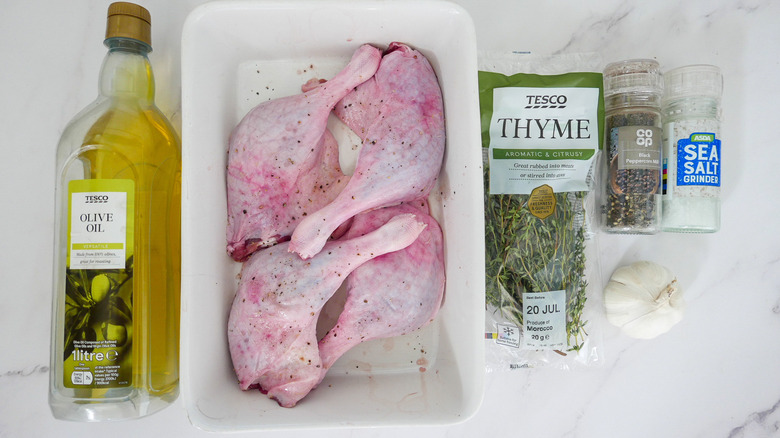 This recipe is excellent, because you don't need a lot of items to make it. For starters, you will need a few duck legs and salt and pepper for seasoning. To add even more flavor, add garlic and olive oil to your list. "I use olive oil for ease, but traditional recipes call for duck fat. Olive oil is a little healthier than duck fat and more easily available," Dalton notes. The last item on your list is a few sprigs of fresh thyme.
This recipe is truly so simple to make, and once you make it, you will love preparing it over and over again. And now that you have all of the ingredients assembled, you can get started!
Season the duck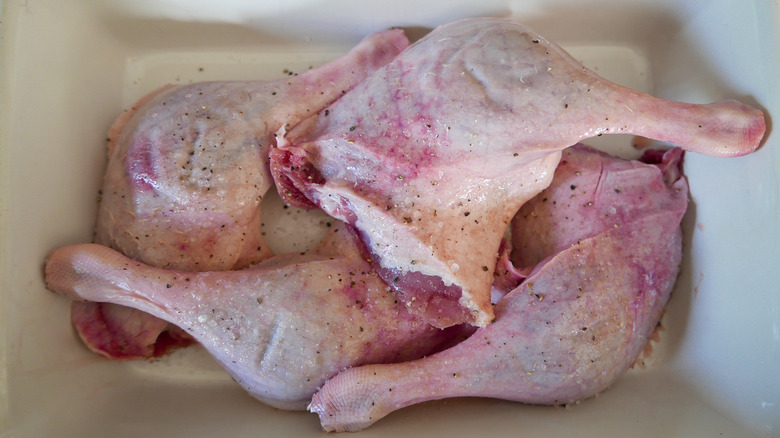 For the first real step in the process, season the duck legs with salt and pepper, and leave them overnight. This will provide a deeper depth of flavor. If you don't have enough time to leave them overnight, you can also season the duck legs about two to three hours before cooking.
"You can confit the duck ahead of time and put the duck [legs] in the refrigerator. It will keep for up to several weeks as long as the duck is immersed in the fat," Dalton shares. If you do that, Dalton continues to note, "Once you're ready to cook the duck legs, take them out of the duck fat, render them in a skillet, then place them in the oven to cook for 30 minutes."
Slow cook the duck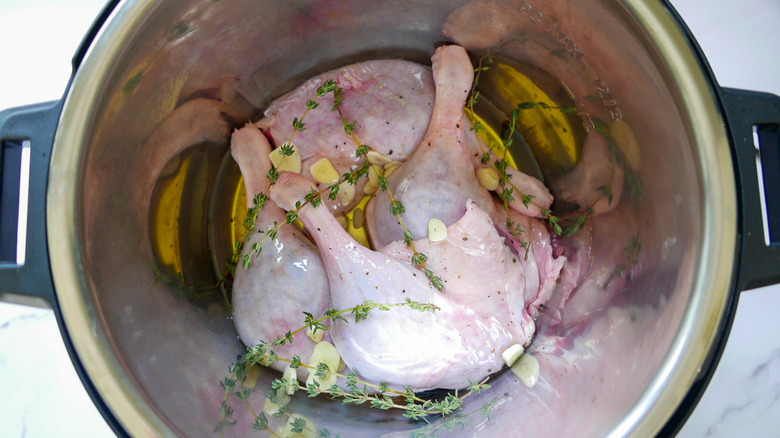 Once you've let the duck sit in the seasoning, it's time to take out your trusty slow cooker. First, add in the duck legs at the bottom, and make sure they do not overlap so they cook evenly. Next, add the garlic, thyme, and olive oil to the top of it. Once you're finished with that, put the lid over the crockpot, and cook it on low for about six hours. You can go about your day while the slow cooker does its thing, which is pretty awesome if you ask us.
Put the duck in the oven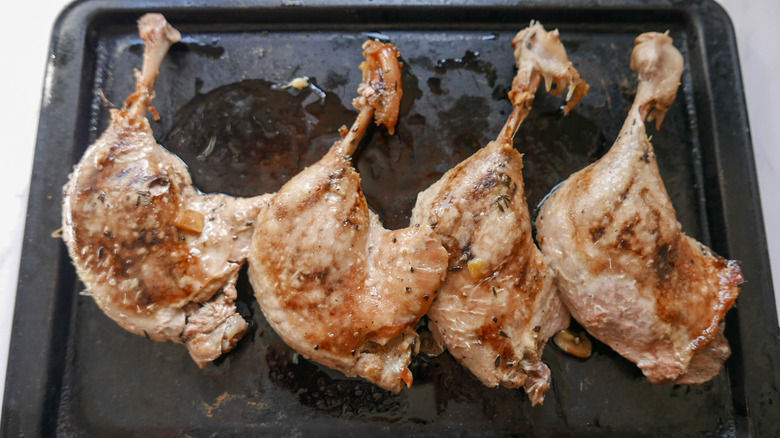 After the duck cooks for six hours in the slow cooker, you're almost done. Carefully remove the duck legs from the pot, and place them into a baking tray. Make sure that the oven has been preheated to 350 F, and put the duck in for 15 minutes to crisp the skin. "If you're short on time, you can serve the duck legs straight from the slow cooker. You can also crisp up the skin in a hot skillet for three to four minutes," Dalton shares. After the timer on your oven dings, take the duck out.
Serve, and enjoy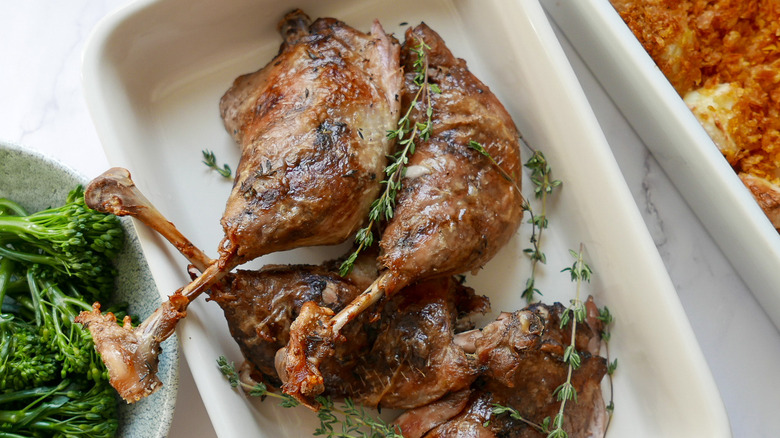 Here's the best part of any recipe: enjoying it! Feel free to plate the duck however you'd like. Dalton suggests green vegetables, potatoes, mashed potatoes, or Dauphinoise on the side, which all sound like pretty solid options to us. "I like to reserve the fat in a jar to use for roasting potatoes," Dalton suggests.
"To store leftover confit, place into a container and cover with melted duck fat," Dalton shares. Cool and refrigerate until needed for several months." You can also freeze the leftovers. "As long as the duck is covered in the fat, you can freeze for up to one year," Dalton shares. Now, enjoy!