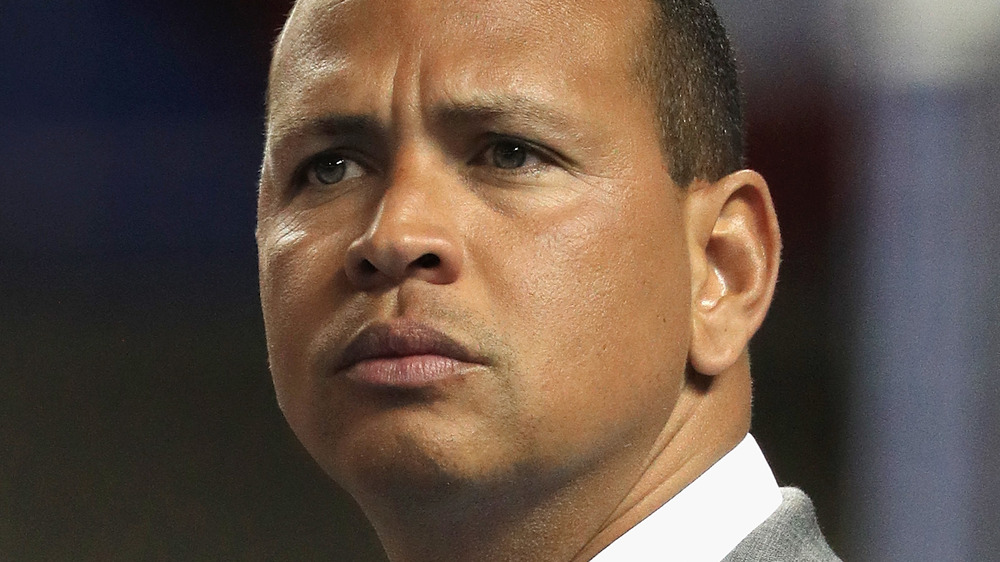 Only three men have hit more home runs than Alex Rodriguez: Barry Bonds, Hank Aaron, and Babe Ruth. Below him is Albert Pujols, rounding out probably the most elite top-five list in sports. A-Rod, as he became known, was the Seattle Mariners' first overall draft pick in 1993. The baby-faced basher debuted a year later, only 18 years old, a genuine baseball prodigy. By 1996, Rodriguez was the M's unstoppable starting shortstop, winning the MLB batting championship to boot.
A-Rod quickly cashed in on those generational skills. In 2001, he signed a whopping 10-year $252 million deal with the Texas Rangers. Only seven years later, he signed an even better 10-year deal with the New York Yankees — this time worth $275 million, according to the Star Tribune.
A-Rod brought a World Series to the Bronx in 2009 but never quite lived up to that big apple hype. His late-career productivity slipped when he was slapped with a "historic" suspension for violation of MLB's doping policy in 2013, missing the entire 2014 campaign. The cover-up that followed tanked A-Rod's reputation further still. New York Magazine's Intelligencer ran headlines like, "Today In Alex Rodriguez Being Shady." The New York Post dubbed A-Rod, "A-Rat" and "A-Hole," this sublime shortstop-turned-third baseman-turned baseball broadcaster had genuinely become a "villain," according to The New York Times Magazine. But aren't villains more interesting anyway? This is the shady side of baseball's most iconic anti-hero.
A-Rod lied about using steroids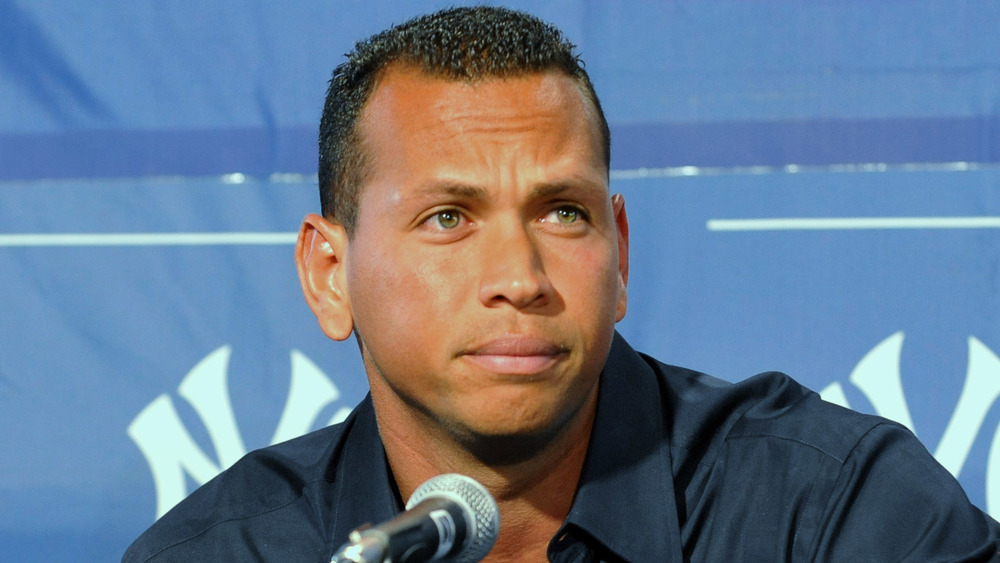 If there's one thing that can taint a hall of fame sports career — aside from Pete Rose-style gambling scandals — it's even the whiff of performance-enhancing drug use. Another truism, however, is that the cover-up is worse than the crime, and it's this aspect of the scandal that turned so many against Alex Rodriguez.
Reports first surfaced in 2013 that A-rod's name was connected to a purported PED drug lab called Biogenesis run by a man named Anthony Bosch. Rodriguez's publicist quickly denied the infielder was a steroid cheat. "The news report about a purported relationship between Alex Rodriguez and Anthony Bosch are not true. Alex Rodriguez was not Mr. Bosch's patient, he was never treated by him and he was never advised by him," his rep told the New York Post.
The league didn't buy it, and A-rod was suspended in August 2013. But the slugger still protested his innocence and even accused baseball commissioner Bud Selig of prosecuting a witch hunt. "He's trying to destroy me," Rodriguez told WFAN. "By the way, he's retiring in 2014, and to put me in his big mantle on the way out, that's a hell of a trophy." A-Rod's phony on-camera indignation was just as damning. He called his suspension "disgusting" and even used his child to appear more sympathetic. "… And I have to explain this to my daughter every day," he said of the steroid allegations, all of which turned out to be true.
Alex Rodriguez blames only himself for the PED scandal now
The prohibition of PED use in pro sports is controversial, to say the least. Not everyone thinks it's unhealthy or even immoral. But when critics of anti-doping excuse athletes who violate the rules, they forget all the other athletes who didn't — and who might not want to use unregulated drugs to compete. It took Alex Rodriguez a year of public denials to admit he was on the crooked side of this uneven playing field.
In a shocking twist, behind closed doors, A-Rod had been telling the truth. He'd already cut a deal with the DEA in exchange for immunity in an ongoing case against his steroid clinic. Rodriguez "bought performance-enhancing drugs from Biogenesis of America, paying roughly $12,000 a month … to fake doctor Anthony Bosch," reported the Miami Herald. A-Rod was using human growth hormone injections and even eating "gummies" laced with testosterone from 2010 until 2012.
By 2017, Rodriguez publicly admitted the scandal cost him $40 million and probably his chance at the Hall of Fame. "You have a guaranteed contract for hundreds of millions of dollars. Literally, you can sit on the couch and get fat. Right? How stupid can you be?" he told famed baseball announcer, Joe Buck, on Undeniable (via ESPN). Rodriguez says the scandal haunted him, 'How the 'F' did I get myself in this position?' I'm the only jacka** that has pocket aces and figures out a way to lose the hand."
What happened between A-Rod and his brother-in-law?
Alex Rodriguez was married to a former psychology teacher named Cynthia Scurtis from 2002 until alleged infidelity split up their marriage in 2008. During that time, A-Rod brokered a billion-dollar real-estate venture with his wife's brother, Constantine Scurtis. A-Rod's baseball millions provided 95% of the cash for this startup — so he probably had good reason to think he owned it. But after a ruinous 2007 confrontation between the brothers-by-marriage about A-Rod's purported philandering, Constatine filed a 2014 suit claiming the slugger had been shadily maneuvering to screw him out of millions, according the Daily Mail.
In 2021, Constantine filed a further suit alleging a whole suite of major league white-collar crimes: "embezzlement, obtaining property by fraud, insurance fraud, forgery, mail fraud, and wire fraud," notes the Daily Mail.
A final shocking allegation is that A-Rod's company "concocted a scheme to profit off of the devastation wrought by Hurricane Ike," which ravaged Texas in 2008. Court documents obtained by NJ.com claim A-Rod's company "significantly inflated damages" from the storm to his many properties — with an eye on collecting remuneration — and that further, a whistleblower was paid off to keep quiet. Shocking stuff, but A-Rod has denied everything. His attorneys describe the suits (via the Daily Mail) as a "shakedown" and assert all these claims are completely "baseless." However, in February 2021, a judge denied A-Rod's bid to have the $50 million in legal actions thrown out.
A-Rod's wife allegedly left him over Madonna affair
Alex Rodriguez married a beautiful former psychology teacher named Cynthia Scurtis in 2002 — looks and brains! The couple had two daughters, but things soured in 2008 as A-Rod was allegedly "seduced" by Madonna.
The singing star began appearing at Yankees games, though her rep played coy with People, stating, "Madonna and Alex have the same manager, Guy Oseary. They have met. They know each other and Madonna took her kids to a Yankees game last week. There's really not anything to comment on beyond that." Not exactly a denial, right?
Coincidentally, around the same time, A-Rod got super interested in a once-obscure form of Jewish mysticism called Kabbalah, famously favored by Madonna. People claimed Rodriguez was suddenly, "totally committed to its teachings and is loyal to the organization. He has an acute understanding of it." This was all apparently too much for the marriage and a source also told People in July of 2008, "Cynthia has left Alex," adding, "a wife with two young children can only take so much." Another source told the mag: "The embarrassment over Madonna was the last straw." Scurtis then reportedly fled to Paris to stay with rocker Lenny Kravitz, according to the New York Post, though any romance between the two is disputed. Regardless, she filed for divorce that same month, said ESPN. The two had a prenup, but Scurtis reportedly walked away with quite the tidy settlement, including $115,000 a month, for over a decade.
Did Madonna break up Kate Hudson and A-Rod, too?
Alex Rodriguez, not one to mope, was spotted with Kate Hudson soon after his split from Cynthia Scurtis in November of 2008, according to the Daily News. "Hudson had her arms completely wrapped around A-Rod's waist and every time he leaned over to talk to anyone she would pull him back toward her," a source told the paper, adding, "They were laughing and giggling all night."
The relationship quickly hit the disabled list, because A-Rode allegedly wouldn't stop contacting the woman for whom he'd just torpedoed his marriage: Madonna! "Kate was mad with jealousy. She gave A-Rod three chances to stop contacting Madonna," reported the Daily Mail, citing a source who spoke with "a US magazine." The source claimed even Hudson's parents didn't like A-Rod, and the actress decided she wasn't interested in competing with the material girl. "It broke her heart to break up with him, but she didn't have any choice."
It appears Rodriguez knuckled in his own version of events though. Insiders close to the slugger claimed he felt used by Hudson. "She wanted more camera time each and every game," the source alleged, adding, "She would always want to be styled before games and she'd insist on front-row seats." The A-Rod insider continued, "Alex wanted someone who was more interested in building a long-term relationship than just building their profile."
Alex Rodriguez broke Cameron Diaz's heart
A-Rod and There's Something About Mary star Cameron Diaz began dating in 2010. It was a bit of a whirlwind two-year romance full of breakups and public makeups, all documented in the glossy pages of the tabs. By late 2011, it was definitively over, and once again there were rumblings that Rodriguez's shady behavior was the reason. "They've broken up. [Cameron] is hurt and betrayed, because she tried so hard to please him … She went overboard," a source told gossip blogger Perez Hilton, via Yahoo! News.
Serial celebrity dater A-Rod quickly moved on with pro wrestler Torrie Wilson, with whom he split in 2015. But in 2012, Diaz was still fielding questions about the infielder who so coldly pushed her out of his starting lineup, telling InStyle (via OK!), "When I was going through a bit of a heartbreak a little while ago, I said to a friend, 'Wow, this really hurts!' And he said to me, 'That just shows you what your capacity for loving is.'" Diaz didn't let the split damage her spirit though. "I would rather have my heart broken a thousand times than never to love at all. I have so much love to give — I'm not empty of love, I'm full of love."
A-Rod the womanizer?
Anyone sensing a theme here? Prior to Alex Rodriguez's myriad power couple castings, his marriage didn't just fall apart over one alleged affair with Madonna. As a source told People, that situation was only "the last straw."
When A-Rod's ex-wife filed divorce papers in 2008, the petition claimed her slugger ex had "emotionally abandoned his wife and children," according to ESPN. More telling was the allegation implied in this line: "The marriage of the parties is irretrievably broken because of the husband's extramarital affairs and other marital misconduct." That's affairs, plural.
A-Rod's other alleged high-profile romances reportedly include Demi Moore, celebrity fitness trainer Ella Magers, The Real Housewives of New York star Bethany Frankel, and an impressive list of models and socialites, according to NJ.com. The former Yankee has really got game. During the ninth inning of a 2012 playoff series, a struggling A-Rod was benched, maybe because his real attention was on a "leggy" model named Kyna Treacy, according to the New York Post. He "openly flirted" with her during the game and scored her number when he sent a ball boy to deliver a baseball with a note attached. Rodriguez went down swinging at the plate that night, but was still described as hitting a "homer" from the dugout.
Did A-rod cheat on JLo?
Alex Rodriguez's relationship with Jennifer Lopez has to be the pinnacle of the power-hitter's power-couple career. The acronym mashups alone are worth it. Jenny from the block met Alex, playing in the Bronx, in 2015, back when JLo was still married to singer Marc Anthony. Two years later, JLo officially traded up from minor key crooner to major league jock, according to People, and the couple got engaged in 2019.
But, did A-Rod's foul balls continue to stray? Southern Charm star Madison LeCroy started a furor on Andy Cohen's Watch What Happens Live in 2021, claiming a very famous baseball player had slid into her Instagram DM's. Another cast member alleged this player had flown to Miami for a hookup with the reality star, all this recapped via the New York Post. A-Rod's name was bleeped during the broadcast, but LeCoy later confirmed to Page Six Rodriguez was indeed the baller in question.
LeCroy later clarified that although she had shared some sporadic phone conversations with the engaged slugger, "He's never physically cheated on his fiancée with me." A source close to A-Rod made an even stronger denial, telling the New York Post that despite liking LeCroy's Instagram pics, "He doesn't know this woman." The source went on, "Look, does this mean he didn't DM her and liked a photo or two? I guess not, but he doesn't know her — and he definitely didn't hook up with her."
A-Rod the womanizer: Part II
In 2019 Jennifer Lopez took to Instagram to show off the hefty rock that she got from Alex Rodriguez. Hours after the engagement announcement, another baseball bad boy, and full-time Twitter troll, Jose Canseco alleged, "Watching JLO text Alex Rodriguez, little does she know that he is cheating on her with my ex-wife Jessica." Canseco then bizarrely challenged Rodriguez to a boxing match. Crucial note: Canseco went bankrupt in 2012, and in 2021 took a much lesser celebrity boxing match with an intern from Barstool Sports where he was TKO'd in a matter of seconds.
Weeks after Canseco's allegation, a model named Zoe Gregory published WhatsApp messages purporting to show A-Rod had solicited a threesome and further claimed he sent her a lewd photo. "JLO is amazing and she doesn't deserve this … he was asking me for sex videos, demanding we hook up and asking me to make arrangements with other girls," she told The Sun. "If he is doing this right up until the point he is proposing to her it is just not fair."
JLO remains unbothered through all these suspiciously thin and thirsty allegations. "She thinks it's outside noise and trusts Alex. She's so in love with him," a source told ET regarding those rumors about A-Rod and Madison LeCroy. Lopez later admitted to Allure though that she and Rodriguez had sought couples therapy, "I think it was really helpful for us in our relationship," she revealed.