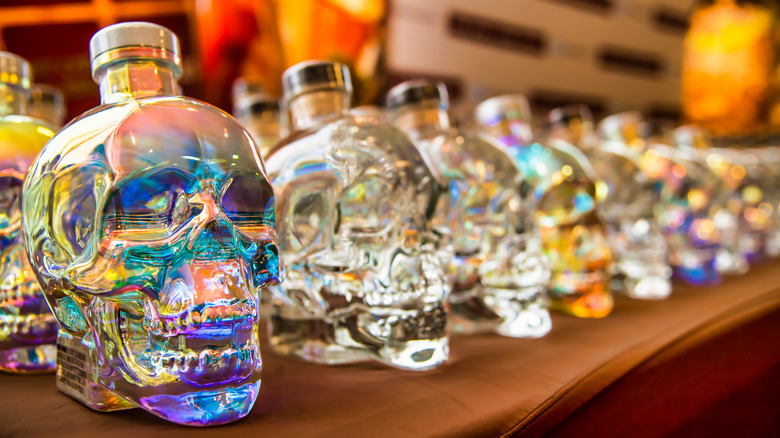 You've probably come across Crystal Head Vodka before — after all, it's hard to miss. With its distinctive bottle and celebrity ownership, this is one vodka brand that doesn't just fly under the radar. Created by actor Dan Aykroyd in 2008, Crystal Head has only garnered more success as people begin to understand that the intricately-made glass skull bottle is only the beginning: what that bottle holds is just as pure, just as thoughtfully produced.
Crystal Head uses only the most pristine ingredients, from fresh Newfoundland water to the Herkimer diamonds used in the filtration process. All Crystal Head products are additive-free and certified kosher.
If you're a vodka fan, Crystal Head is one of the best out there. Though skeptics may be wary of the kitschy (albeit beautiful) bottle, the vodka itself is of the highest quality. After just a sip, it will become clear that Aykroyd and his employees really care about their product — the thoughtful processing techniques are evident in the smooth, clear liquid.
It was created by an SNL star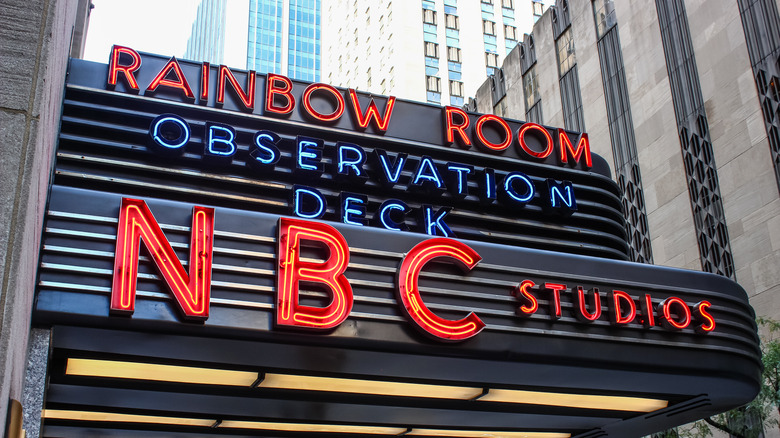 In 1975, a 22-year-old Canadian joined the writing room of an upcoming comedy sketch show called "Saturday Night Live." Dan Aykroyd's starring role on what would become one of the most popular comedies on television kicked off a successful career in comedy, eventually leading him to act in the 1984 classic, "Ghostbusters." Akroyd was years away from getting into the vodka business, but SNL helped pave the success that would lead him there.
In 1992, Aykroyd turned his attention to business and founded the House of Blues concert hall and restaurant chain. In the mid-aughts, he became interested in spirits; Aykroyd first focused on getting Patron tequila imported to Canada, according to BBC, before starting his own liquor company.
Crystal Head makes high-quality vodka, but its success has been boosted in part thanks to Aykroyd's celebrity status. "When Aykroyd launched it, it was cool because it was him," says Holly Wyatt, who works to promote different kinds of spirits. "It is also a great package and a great liquid, so people would go back to it. But him still being involved is very evidently a reason why some consumers buy the brand."
The idea was inspired by the Mexican Day of the Dead holiday and Indigenous history
When Dan Aykroyd began working with spirits, his future business partner was involved with spirits of another kind. According to Drink Spirits, Aykroyd's friend John Alexander had been attending the annual Day of the Dead celebration in Mexico for several years, and the holiday tradition celebrating the ghosts of deceased relatives provided the perfect springboard for Crystal Head Vodka's now-iconic bottle.
Aykroyd explained the mythic symbolism of the skull-shaped container in an interview with Haute Living. "The Crystal Head skull bottle concept derives from a spiritual place — in legend the Aztec, Mayan, and Navajo tribes each possessed a crystal skull which they used primarily for scrying," Akroyd said. "This was to serve the well-being of their people. Power through sacred purity." Aykroyd explained that the careful ingredients and manufacturing processes used in his vodka line are meant to reflect this dedication to and appreciation of purity.
Aykroyd tapped his friend to design the unique bottle
Though Dan Aykroyd started the Crystal Head Vodka business, John Alexander was the mastermind behind the acclaimed design. Alexander is a visual artist who works in a variety of mediums, predominantly painting. His work has been featured all over the world in private collections and esteemed museums like the New York City Metropolitan Museum of Art, the Corcoran, the Smithsonian, and the Houston Museum of Fine Art (via Crystal Head Vodka FAQ).
Alexander's paintings often include political satire — recognizable faces and historical scenes can be found in his work, always with a jarring twist that seeks to make a statement about the state of the United States today. "It's always a similar cast of characters," he told The New York Times. "Anybody I perceived as dishonest, hypocritical or just generally up to no good."
When he turned his attention to the crystal skull, it took him two years to perfect it. Luckily, he had the help of Bruni Glass, a packaging manufacturing company originally based in Milan, Italy. According to the Crystal Head Vodka website, upon completion of the bottle, Bruni Glass said it was of "unsurpassed complexity."
Crystal Head Vodka was banned in a Canadian province
In 2010, just a few years after Crystal Head's release, Ontario banned sales of the vodka across the province. A Liquor Control Board of Ontario spokesman told The Globe and Mail that the skull bottle was "the thing that's really problematic" for the organization. "That's an image that's commonly associated with death. It's especially problematic at a time when there are concerns around binge drinking by younger adults, which in some cases unfortunately has resulted in alcohol poisoning."
Crystal Head Vodka was still able to be sold in restaurants and bars; consumers just couldn't buy the skull-shaped bottles in stores. The LCBO thought taking bottles off shelves would prevent underage drinking and limit access to disturbing images for younger shoppers. Aykroyd defended the skull, telling The Globe and Mail that the head on the bottle isn't unhappy. "It's not a menacing head. It doesn't have crossbones under it."
The ban was eventually reversed
Luckily the ban didn't last long. In 2011, just a year after it was put in place, the LCBO revoked their ban and Crystal Head was released on shelves across the province (via Kingston Herald).
So how did Dan Aykroyd manage to get his product in Ontario liquor stores? According to an interview with The Globe and Mail, he had some help from Crystal Head fans. "The public basically started a kind of letter-writing and Web campaign to ask why it was not available," he said. "The consumer really pulled it through for us."
The LCBO requested that the vodka company make a small adjustment to the Crystal Head box. The adjustment made the skull a little less intense, and that seemed to be all that was needed to get approval from the LCBO. Not long after the change was made, the spooky vodka bottles found their way to stores, and presumably the glasses and home bars of consumers in Ontario cities.
They released one of the first agave-based vodkas in 2020
Crystal Head Vodka outdid itself in 2020 when it released the first commercially available agave vodka. Dubbed "Crystal Head Onyx," the spirit is made using Blue Weber Agave that comes from one particular Mexican farm, resulting in a fresh and consistent taste in all bottles.
The agave, which is typically used in tequila, gives the vodka a subtle flavor, both spicy and sweet. Like most Crystal Head products, the bottle is its own work of art. The Crystal Head Onyx bottle is a black version of the glass head, symbolizing the Onyx crystal for which it's named. According to the Crystal Head website, this stone represents "intuition, focus, and positivity," it is said to protect all those who obtain it.
"With Onyx, we wanted to make an innovative liquid, an agave-based vodka, with an equally imaginative bottle to match," Aykroyd told Food & Beverage Magazine. "Onyx is unlike anything you have tasted before –- it drinks like vodka but has the nuances of Blue Weber agave."
Crystal Head Vodka is an award-winning spirit
Despite its focus on aesthetics, Crystal Head is more than meets the eye. The quality and flavor of the vodka has garnered praise across the world, and Aykroyd's diamond-infused processing techniques have received acclaim and helped the brand stand out from the crowd.
At the San Francisco World Spirits Competition in 2011, over 200 vodkas competed for awards, but only a few brands — including Crystal Head — took home the prestigious Double Gold Medal. The next year, Crystal Head's success continued at the Australian Liquor Industry Awards. The vodka company won two highly coveted awards: New Product of the Year and Luxury Spirits ($75 plus). The competition was fierce Down Under, with popular brands like Jack Daniel's and Johnnie Walker battling for international acclaim (via Crystal Head Vodka).
Aykroyd was excited about the success of his products, telling the Kingston Herald that he was "pleased that all our hard work developing this clean pure spirit is being recognized as the genuine article by expert authorities in the industry."
Over 21,000 bottles were once stolen from a warehouse
In May of 2011, a Crystal Head Vodka warehouse in California was robbed. The thieves disappeared with over 21,000 bottles of vodka, leading to many logistical questions as to how and where the vodka could have gone (21,000 bottles is quite the bender).
Even stranger was Dan Aykroyd's reaction to the news, which he described to TMZ as "distressed and elated." Elated …? This news would have most business owners on the verge of firing their security guards and installing a moat around the premises, but Aykroyd was somehow able to keep a sense of humor about the ordeal.
"My partners and I are sorry to lose this much vodka to theft and do not condone criminal activity in any fashion," Aykroyd said in a statement to TMZ. "But we are happy that some consumers will be afforded the opportunity of tasting it at significantly lower than retail price."
The vodka is infused with diamonds
The intricate process behind Crystal Head vodka starts with two simple ingredients: peaches and cream corn (via Crystal Head FAQ). From there, the product is distilled and mixed with pure water that comes from Newfoundland, Canada. Crystal Head filters their vodka seven times to ensure their product's purity; part of this process entails the vodka mixing with Herkimer diamonds.
Herkimer diamonds are a kind of quartz crystal that have been around for some five hundred million years, according to Herkimer Diamond Mines. After World War II, vodka manufacturers began filtering vodka using charcoal instead of wood products, which was the preferred method up until then. From there, it was a short jump to diamonds, which are the compressed version of charcoal (via Daily Beast).
And diamonds, of course, sound a little more refined than charcoal, making it an excellent marketing venture for vodka distillers. But, though Carbonadi Vodka co-founder Ricky Miller III, can't tell you exactly how, he insists that the diamonds really do make the final product purer: "I would be lying to you if I said I knew exactly what was being pulled out," he told the Daily Beast. "But it picks up and absorbs impurities that aren't caught in a conventional process."
The best way to drink Crystal Head is in a vodka martini
With vodka, it's easy to make delicious cocktails with pretty much anything you have lying around. Because it's so adaptable, vodka tastes great with all kinds of flavors and cuisines. But for Dan Aykroyd, the best way to drink Crystal Head is to let the vodka itself shine, without muddying the clear, sharp flavor with mixers or syrups.
"I'll take 2.5 ounces of the Head, shaken, up in a Martini glass with a little shavings of ice in there," Aykroyd told Vine Pair. "Add a twist, and prior to the pour, just a rinse of really fine white vermouth." Though traditional martinis are made with gin, vodka martinis have risen in popularity, and once you try it with Crystal Head, you just might become a convert.
But if martinis aren't your favorite, Aykroyd recommends sipping the vodka neat in a chilled shot glass or mixing it into a Cosmopolitan by shaking it with white cranberry juice, elderberry syrup, and an egg white.
They've sued over their unique bottle design
Though Aykroyd comes off as a laid-back kind of guy, even he won't stand by while someone steals his product design. In 2019, Crystal Head's parent company, Globefill, sued a Mexican tequila maker for trademark infringement, according to the Chicago Tribune. The tequila bottle design was described as a "crystal bottle with the stylized form of a masked human head that resembles a masked man." If that sounds familiar, well, that's what Aykroyd thought. The lawsuit Aykroyd's company filed stated that "confusion is almost certain if Defendants' continue with their nascent market entry," stating that there were only two skull-shaped liquor bottles on the market — and only one should remain.
In 2017, a similar lawsuit was filed, a battle Crystal Head Vodka easily won, according to McHattie Law. The trial featured consumers making claims about whether or not the two skull bottles were confusingly similar. Based on the verdict, it appears they were.
The vodka went on tour with The Rolling Stones
In 2013, Crystal Head Vodka was named the official vodka for The Rolling Stones' 50th Anniversary Worldwide celebration. This match made in heaven provided Rolling Stones fans with Crystal Head Vodka products, and vice versa. The partnership created gift sets for consumers with items such as limited recordings of live Rolling Stones performances, a bottle decanter, and Crystal Head fake tattoos. Released just before Father's Day, the gift set made a perfect present for classic rock-loving dads.
"Crystal Head honoring the Stones in this way makes perfect sense," Aykroyd told Stockhouse. "The Stones make great music with passion and creativity—and Crystal Head makes great vodka the same way."
The Rolling Stones marked the landmark occasion by hitting the road. Their 50th Anniversary Worldwide Tour brought together fans of all ages as they traveled across the U.S. with several dates in the U.K., ultimately exposing a lot of Stones fans to this premium vodka.
Its release coincided with the new Indiana Jones movie in 2008
In 2008, Aykroyd was hard at work perfecting what would become his renowned Crystal Head Vodka. Unbeknownst to Aykroyd, Steven Spielberg was at the same time putting the finishing touches on "Indiana Jones and the Kingdom of the Crystal Skull." See the connection?
"I didn't want him to think that I was ripping him off," Aykroyd told Empire Australia. In an effort to avoid any awkwardness (or trademark infringement lawsuits), he called Spielberg to explain that it was mere coincidence that caused their similar ideas — great minds think alike, etc. According to Aykroyd, Spielberg wasn't concerned about how the actor-made-vodka-producer got his idea.
"He said, 'Had I known you were working on this, I would have had it at the premier of our movie!'" (via YouTube). Unfortunately, Indiana Jones didn't have much of a premier, and it was too late to market the two products together. Still, Aykroyd was relieved to have Spielberg's ("he is the Pope," Aykroyd said) support.