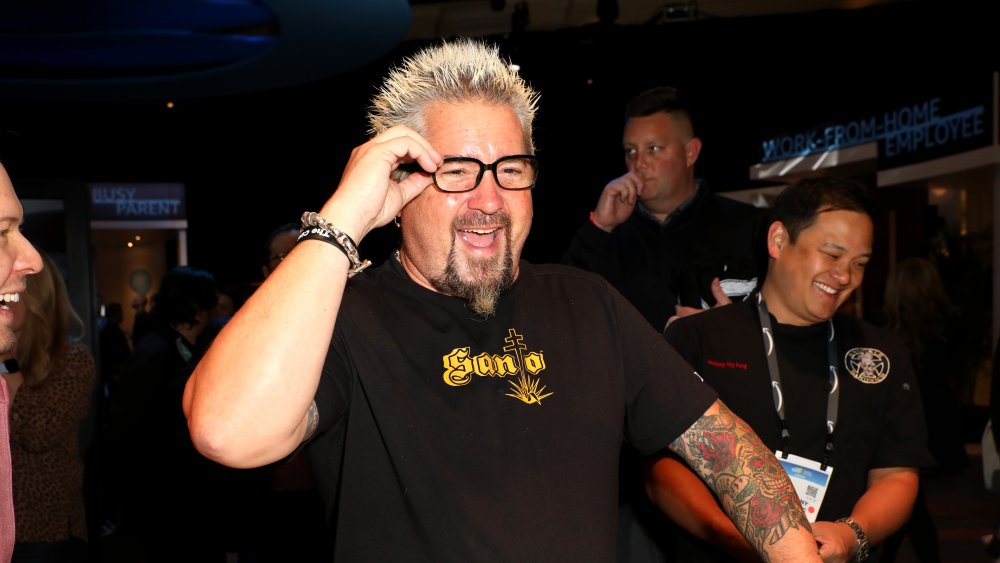 Guy Fieri is more known for eating than cooking, but he can cook. Fieri got an early start in the food business when he and his dad began selling soft pretzels from a cart when he was only ten years old, and he was able to sell enough pretzels to fund a semester abroad in Chantilly, France, where he fell in love with the culinary world. Fieri opened his first restaurant, Johnny Garlic's, in 1996, which eventually expanded to seven locations across California before the chain closed permanently. Guy Fieri shot to fame after winning the second season of The Next Food Network Star and is best known for his show Diners, Drive-ins and Dives.
You might think that it would be easy to find a list of truly awful recipes from Guy Fieri, a.k.a. the bleach-blonde, loud-mouthed mayor of Flavortown. Guy's American Kitchen & Bar did get a zero-star review from the New York Times, and Fieri has the habit of naming recipes things like "Mac-Daddi-Roni Salad." Guy Fieri is not high brow. But he is definitely a master of traditional, hearty American food. His barbecue advice is unimpeachable. This burger recipe is pretty freaking amazing. But some of his recipes just don't make the cut.
Guy Fieri's s'mores pizza recipe makes no sense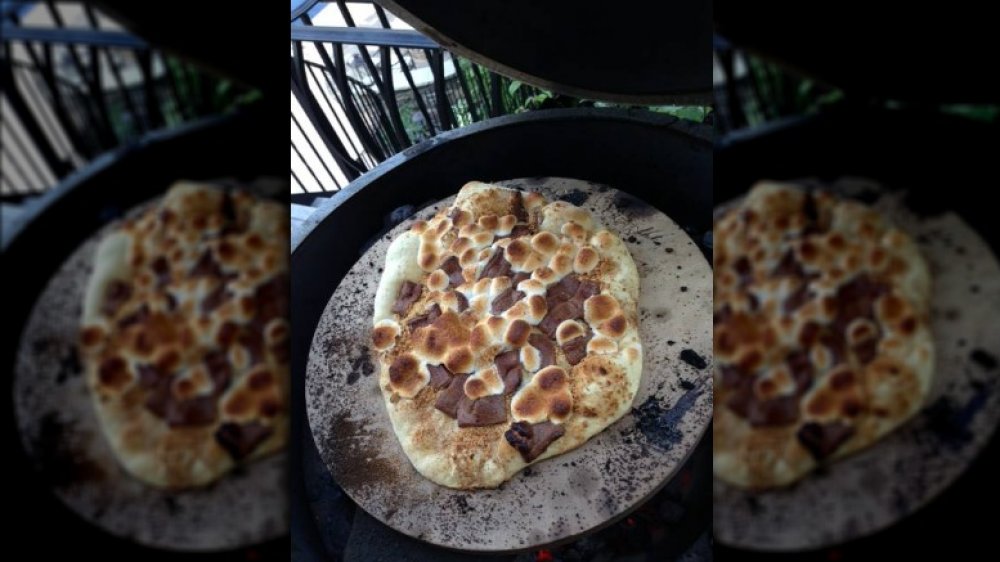 Dessert pizza is definitely a thing, and a s'mores pizza when done right can be delicious. Dessert pizza is usually made with sweet base, such as a giant sugar cookie or a graham cracker crust, and it's not so much a "pizza" as it's a cute way of referring to a flat pie or a giant cookie.
But not for Guy Fieri. Guy Fieri decided to make a s'mores pizza using actual pizza dough because who doesn't want savory — not sweet — pizza dough paired with marshmallows? This recipe is an unholy mess, taking two food items that are delicious (pizza and s'mores) and ruining them by combining them together. There's also no way that this doesn't dry out the second it cools: The pizza has no sauce. Marshmallow and dark chocolate will be moist and runny fresh out of the oven, but it will congeal and harden pretty quickly. Hard, dry marshmallow on top of a dry pizza crust? No thanks! Guy also decides to get fancy with sea salt, cayenne pepper, and dark chocolate, but dude, it's a s'mores pizza. This isn't patisserie.
Guy Fieri's electric ice cocktail is a hangover in a glass
Most of Guy Fieri's cocktail recipes are kitschy but respectable, but this blue nightmare is where he goes over the line. Fieri starts out on the wrong foot by recommending two ounces of a lemon-flavored rum. Why not just add a little squeeze of lemon and use good rum? He recommends Bacardi Limon, a rum with a crazy low score on Rum Ratings and a barely better on Distiller.
The recipe continues with a quarter-ounce sweet blue liqueur ("recommended: Blue Curacao") and then a quarter-ounce of sweet and sour mix. At this point, your teeth and your stomach should be angry at the coming onslaught of sugar, acid, and booze. But wait! Add two ounces each of pineapple and grapefruit juice, two flavors that will want to duke it out in your mouth, some shaved ice, and then garnish it with a maraschino cherry, something that should only top a Shirley Temple. After you've assembled your Electric Ice, grab some Advil for the morning after.
Guy Fieri's cornbread-stuffed meatloaf is a crime against meatloaf
Guy Fieri is good at basic American cooking, and what's more basic than meatloaf? Nothing, which is why this cornbread-stuffed meatloaf recipe is so infuriating. Guy Fieri could make a really good meatloaf, but instead, he decides to give us a weird, Franken-meatloaf that puts the appearance of decadence — cornbread! cheddar cheese! two types of meat! — above common sense. The first ingredient for the stuffing is "two large or five small corn muffins." There is no recipe for said corn muffins, so can we suppose that any old corn muffin will do? Food Network stars who rely on store-bought baked goods (looking at you, Sandra Lee) aren't doing their fans a favor in the end. If we need to take a shortcut, we will, Guy. Just tell us how to make the cornbread.
What's worse, the meatloaf portion of this recipe looks extremely dry. There's very little liquid in this recipe, and most of the negative reviews mention that the meatloaf isn't as moist as many wish it would be. The only moisture comes from the meat, olive oil, ketchup, and Worcestershire sauce. Compare that to the Ina Garten's (flawless) meatloaf recipe, which in addition to all that has a third of a cup of chicken stock. You need a little stock or broth in meatloaf.
Guy Fieri's Philly cheesesteak egg rolls are the worst of both worlds
The egg roll is a Chinese–American dish, so Guy Fieri isn't stepping on Chinese culinary tradition here. In the 1930s, a chef in New York City first published recipe for what became the egg roll, and now no order of Chinese takeout feels complete without it. Regardless of the egg roll's American origins, though, I think we can all agree that a Philly cheesesteak egg roll is essentially a deep-fried Philly cheesesteak. A cheesesteak isn't exactly a light meal. And it doesn't really resemble what you would normally find in an egg roll. This is another Guy Fieri culinary mashup that no one asked for, and it seems greasy as hell.
The filling of Guy Fieri's egg roll is also arguably not a Philly cheesesteak. Fieri uses pepper jack cheese instead of the traditional American or Provolone, and roast beef instead of, you know, steak. If you change the cheese and you don't use steak, and then you wrap it up in an egg roll, can you even call it a cheesesteak?
Guy Fieri's Guy-talian nachos are neither nachos nor Italian
On the basis of the name alone, Guy Fieri deserves a demerit for using his name in a bad pun. But look a little closer at these Guy-talian Nachos, and you'll see it's another messy mashup in Flavortown. These aren't really nachos, and this isn't an Italian dish, and it's a big, greasy, decadent mess. This dish is reminiscent of the kind that Guy Fieri would eat and then scream about on Diners, Drive-ins and Dives: "Holy nachos, Batman!" It's Frankenstein's monster, come to life as an unholy combo of nachos, wontons, and antipasto.
The whole recipe is too clever by half. Instead of chips, use wonton wrappers! Instead of salsa, make "Italian salsa." These nachos will definitely take you to Flavortown, but it might be a bad trip. There's a lot going on, something is deep-fried, there are three different kinds of meat, and it's all too much.
Guy Fieri's haluski recipe is, surprisingly, too fancy
Let's hop off that deep-fried bus to Flavortown for just a moment, maybe pop a Tums or two, and get acquainted with a simple and lovely dish known as haluski, a comfort food that can be claimed by the Polish, Slovaks, Ukrainians, and Hungarians that consists of egg noodles or potato dumplings mixed with cabbage, onions, sheep or goat cheese, and pork. Haluski varies from region to region, but it essentially is an easy-to-make dish with simple ingredients.
Enter Guy Fieri's holy haluski recipe, which goes well beyond noodles, cabbage, onion, and meat. Fieri's recipe adds capers, peas, parsley, white wine, lemon juice, thyme, and carrots. Fieri also opts for thinly sliced pancetta instead of the more humble bacon you might find in in a bowl of haluski in a diner in Pennsylvania. The addition of so many ingredients may not seem like such a big deal — what's a few vegetables, right? — but imagine a potato latkes recipe adding seven ingredients that aren't potatoes, eggs, flour, and onions. This is a nice pasta recipe, but it's not real haluski.
There is nothing pretzel-like about Guy Fieri's awesome pretzel chicken tenders
Guy Fieri knows his way around fried chicken. Along with opening the fried chicken restaurant "Chicken Guy!" (exclamation point included), Guy Fieri has some pretty legit fried chicken recipes out there. That's why his awesome pretzel chicken tenders recipe is so weird and disappointing.
The central conceit of the pretzel-ness of these tenders comes from the fact that part of the coating for the chicken tenders includes crushed-up pretzels. Crushed-up pretzels taste like breadcrumbs. And so the instructions in the recipe say "large breadcrumbs" to preserve some pretzel flavor, except that large breadcrumbs will not stick to chicken. Most of the negative reviews mention that the coating was either flavorless or didn't stick. If you look at the photo that accompanies the recipe, there are large chunks of breading. This seems like a recipe that just may not work for home cooks, but in the Food Network universe that requires more and more content and novelty, this "easy" recipe leads a bunch of Guy Fieri fans to fruitlessly smash a bunch of pretzels.
The ingredient list of Guy Fieri's special sauce sounds like he just dumped everything in his pantry into a bowl
Guy Fieri is probably better known for another sauce, donkey sauce, which is his trademarked version of aioli with a Flavortown-appropriate name. And there are many versions of a "special" or "secret" sauce. In-n-Out Burger's "secret" sauce is pretty much just Thousand Island, as is McDonald's. When you see the ingredient list of your favorite fast food chain's "secret sauce," it may make the thought of eating a burger there in the future a little less appealing.
So it isn't really Guy Fieri's fault that his reading his special sauce recipe is more of a WTF journey than a bus straight to Flavortown because it starts out as a pretty standard "special burger sauce" recipe. Nonetheless, it's still pretty gross. Two cups mayo, a half-cup ketchup, and a quarter cup of yellow mustard all together? And this can be used as a dip, apparently, as well as a sauce? To add insult to injury, the last ingredient is two tablespoons of water, despite the fact a slightly watery mayonnaise-based dip is appetizing to no one, ever.
We've got the need not to eat Guy Fieri's fried cheese
Guy Fieri, being Guy Fieri, looked at fried provolone, a traditional, greasy recipe and thought, how can I make this into an egg roll and add meat to it? And thus the "I've Got the Need, the Need for Fried Cheese!" was born, a recipe that manages to contain both a Top Gun reference and an exclamation point in the title.
This is another deep-fried culinary mashup that begs the question, "Why?" It's like a deep-fried cupcake at a state fair. This recipe involves a fried piece of string cheese wrapped in salami wrapped in an egg roll. It tastes like a delicious heart attack, and it seems like the invention of a stoned short-order cook. Do we really need a recipe for this? As for the dipping sauce, the only guidance is: marinara sauce. Just get a jar. You're eating fried cheese, so store-bought sauce is fine.
There's just something unsavory about Guy Fieri's trashcan nachos
To be fair to the Mayor of Flavortown, the actual recipe for these so-called trashcan nachos looks pretty amazing. His so-called "SMC" (super melty cheese) mixture of half and half, Velveeta, smoked gouda, white cheddar, Worcestershire sauce, and Tabasco is pure genius. Including smoked brisket and pickled red onions is classy AF. So why is this delicious nachos recipe on this list? For one, the unappealing name. We are humans, not raccoons, no? And second, the method of presentation is grotesque, reminiscent of the weirdest of Chef Club's horrifying Instagram videos.
At Guy Fieri's Vegas Kitchen, the server brings a plate with a mini trashcan of nachos to the table, pulls the trashcan away, and voila! A tower of wet, kind of-congealed nachos, with nary a dry chip in sight. A video of the un-trashcanning went viral on Twitter, and while some people thought it looked amazing, others just couldn't stomach even the sight of it.
Fieri debuted the trashcan method at the South Beach Wine & Food Festival in 2015, making what looks like some very wet, cheesy nachos in an actual trashcan because, according to the Food Network's blog about the event, "It was the only container large enough to hold his super-layered snack."
Guy Fieri's dragon's breath chili recipe drastically underestimates how long it takes to caramelize onions
Guy Fieri obviously has more than one chili recipe, but his dragon's breath chili recipe is the kind of chili that you bring to a chili cook-off if you want to win. It's hot, it's spicy, and it's not for the faint of heart. It's a really good recipe! So why is it in the hall of shame? Because Guy Fieri, like many other celebrity chefs, seems to not know how long it takes to caramelize onions. The recipe says to add the onions and cook until caramelized, "about five minutes."
Onions do not caramelize in five minutes. They start to caramelize after 25. In Guy Fieri's defense, he isn't the only chef who does this. Rachael Ray, among many others, does it too. In an article for Slate, Tom Scocca uncovers a pattern of recipe writers severely understating how long it takes to truly caramelize onions, saying, "Telling the truth about caramelized onions would turn a lot of dinner-in-half-an-hour recipes into dinner-in-a-little-over-an-hour recipes."
If you're going to make this chili, give yourself more time to caramelize your onions, and roast and peel your peppers the day before.