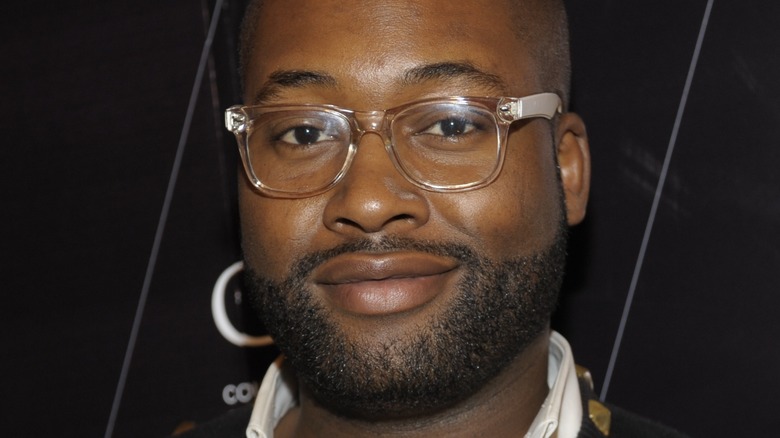 It's one of the longest-running and best-loved reality TV show competitions on TV, and since debuting in 2004 "Project Runway" has given audiences a variety of memorable contestants alongside jaw-dropping fashion moments. As most "Project Runway" fans can cop to, however, though we all have our favorite contestants, it can sometimes be difficult to keep up with their lives and careers following their "Project Runway" time. And as a result, it can be upsetting to discover there are "Project Runway" stars you might not know died — particularly when they're someone whom we rooted extra hard for and loved during their time on the show.
Though Heidi Klum's "Project Runway" catchphrase that "in fashion, one day you're in and the next day you're out" may hold true for the show, the legacy that all of these designers left is one that ensures they're very much "in," for all time. On top of all being incredibly entertaining personalities on the show, all of these "Project Runway" stars who have died have also brought their own unique vision to fashion and inspired countless others to do just the same.
The first huge personality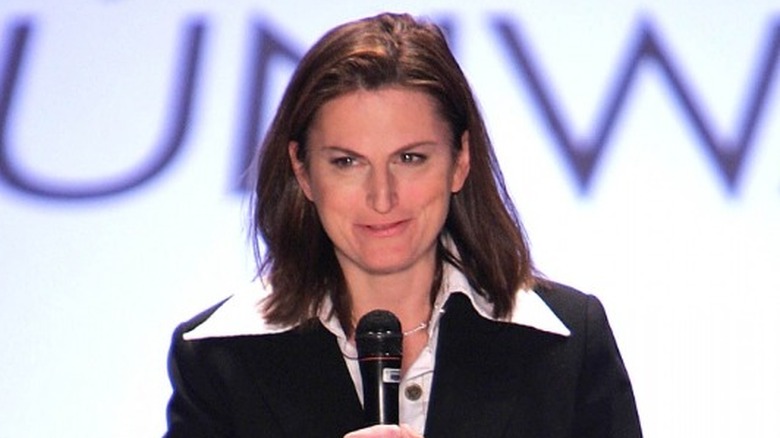 As known for serving dramatic looks on the runway as she was for stirring up drama in the workroom, Season 1 alum Wendy Pepper was one of Project Runway's first major personalities –- a designer who truly kept things interesting. During her "Project Runway" run, Pepper scored a couple of memorable wins, including a structured mini-dress which Nancy O'Dell wore for the 2005 Grammy Awards, and a short-caped navy silk dress which was sold by Banana Republic. Her designs pushed her through to finals at Fashion Week, however her "Thrill of the Hunt" collection – which showcased decadent romantic looks with a raucous edge –- failed to win the leading affections of the judges, and she placed third.
Pepper died in 2017 at the age of 53, with Middleburg Life reporting that the "Project Runway" star had cancer "for several months" before experiencing "complications of pneumonia." On Twitter, "Watch What Happens Live" host Andy Cohen paid tribute to the memorable contestant and the legacy she'd left on the show, calling her "one of the first of many great characters to appear" on "Project Runway" and "a big reason for the first season's success."
According to Deadline, Pepper followed up her "Project Runway" success with her first major fashion line debuting in Washington D.C. in 2006. She subsequently maintained a boutique in Middleburg, VA, where she "launched a half a dozen businesses" including made-to-order bridesmaid dresses and an artisanal cookie business (via Middleburg Life).
The Season 3 fan-favorite
Renowned for creating powerful come-hither looks that celebrated the female body with flattering fits and cuts, Mychael Knight's designs could often disrupt the taste level of the judges who could be notoriously shrewd when it comes to what they perceive as overtly sexy designs. Though Knight achieved a respectable fourth place on the show, his Season 3 journey saw him winning the fan-favorite award –- likely due to his endearing personality and accessible, eye-catching design aesthetic. Prior to his time on the show, Knight was an established fashion stylist within the music industry and went on to launch his own label, Mychael Knight, and a unisex lingerie label, Kitty & Dick (via The New York Times).
Knight died aged 39, in 2017. His close friend Jerris Madison announced his death via Obvious, and called the designer "a voice of reason everyone wants in their corner of the entertainment industry," and added that Knight was "a true Southern Gentleman" who "was passionate, outspoken, direct, kind, and unapologetic." On Instagram, R&B icon Ciara called the designer "the sweetest soul" and shared how he "custom made" both of her prom dresses. "[He] made me feel beautiful!," she wrote, "He was always there for me when I called." Meanwhile, Andy Cohen also paid tribute to Knight on Twitter, who he called "the sweetest guy, full of life, ambition & talent."
The A-Lister fave
Easily one of the most beloved contestants to have appeared on "Project Runway," Chris March quickly became a fan-favorite thanks to his innovative creations which conjured feminine power with a whimsical twist. March first appeared on Season 4 of the show, where he finished fourth. However, his vivacious personality and entertaining screen presence led to him enjoying his own Bravo TV series "Mad Fashion." His outrageous designs were too "costumey" for the "Project Runway" judges – who have notoriously long-held reservations about such work -– but it was exactly his eye for the theatrical that led to him becoming a go-to designer for stars including Madonna, Beyoncé, and Lady Gaga (via Variety).
In 2019, TMZ reported that March had sadly died of a heart attack at the age of 65. The website reported that the designer "struggled to fully recover" from a fall two years earlier, which led to him being "placed in a medically induced coma." In a statement shared with Entertainment Weekly, March revealed that he'd suffered a range of physical complications including sepsis, a collapsed lung, and partial paralysis. Designer Christian Siriano – who won season four and collaborated with March on one of the show's best-loved designs – addressed a tribute on Twitter to the former contestant, "Chris, you brought so much beauty into this world and will truly be missed," he wrote, "It was an honor to share a very special experience with you."
The idiosyncratic icon
In a season cheekily dubbed "Project Runaway" by Today due to the number of contestants who quit the fashion competition at the beginning of Season 10, Japanese contestant Kooan Kosuke became the second designer to voluntarily leave. During his short time on the show, the offbeat contestant repeatedly surprised the judges with his unorthodox ideas, but his eccentric designs didn't always land favorably. Ultimately, Kosuke found the show wasn't for him and told his competitors, "I thought about it for three days, and I think I should go," he explained. However, Kosuke continued to thrive in New York as a designer and sold his quirky line of accessories online, and in 2018 he proudly announced the launch of his first pop-up store on Tompkins Avenue.
In 2020, a friend of the 38-year-old posted on Kosuke's Instagram to announce that the designer had died after "fighting" viral encephalopathy for about six months. Kosuke was described in the post as "holding hands with a friend" when he died, as well as having friends and family from the U.S. and Japan able to say their goodbyes to him via Zoom. Kosuke's friend added that contrary to "various rumors" the designer "was not a drug addict" and also didn't contract Coronavirus. Instead, "he was bravely fighting" viral encephalopathy "until the very end."