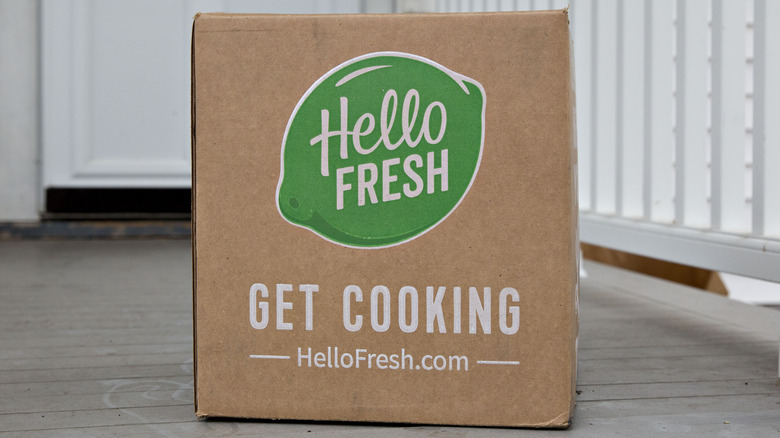 We all love food. But the tedious process of grocery shopping and then cooking? Not so much. That's where HelloFresh comes in – a company that sends fresh produce and ingredients along with recipes to subscribers' doorsteps, cutting out the need for at least the grocery shopping part (and the meal planning, too). Because of this, it is one of the most popular food subscription services on the market.
Chances are, you've seen one of its many advertisements on YouTube, which is evidence that, in addition to being able to deliver its customers the freshest ingredients, marketing is one of HelloFresh's greatest strengths. As briefly mentioned, HelloFresh prides itself in the fact it is able to save consumers time by sending over ingredients and recipes for them to prepare — and in our busy lives, time may be the most precious commodity we have.
Each box (usually arriving weekly, though you can skip weeks any time) comes with pre-portioned ingredients and easy-to-follow recipes with full nutritional info, making cooking a breeze and fun for the whole family. There are 27 recipes each week to choose from for a custom kit. The cost is around $7.49 per serving and servings are set up for two people (or leftovers!).
As well, the meal kit company prides itself in being able to deliver customers the freshest ingredients by sourcing them from small vendors and farms, according to their website. In fact, Urban Tastebud ranked HelloFresh at the top of its Full Meal Subscription list. Mashed explores how exactly it got to that spot, along with some other secrets about the company that you may not know.
It wasn't the first meal kit subscription service but it's one of the strongest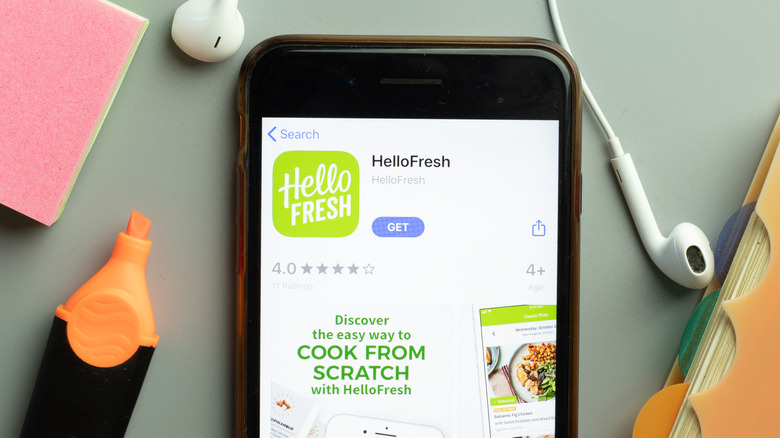 Despite how well-known it has become in the food subscription space, the Berlin, Germany-headquartered company HelloFresh was not the first of its kind when it launched in 2011, according to Productmint. In fact, its predecessor was launched four years before in Stockholm, Sweden. The likeminded company Middags Frid was founded in 2007 and delivered groceries to customers' doors, along with recipes that could be made with those products. Although the company is relatively small, with around 20 employees, it has served numerous customers across Sweden since its beginnings (via Crunchbase).
Since then, a handful of other meal subscription services, including Blue Apron and Plated have come to life that have further fueled interest in this meal kit model, especially in America. But HelloFresh remains dominant in the marketplace, especially with the pandemic — and people stuck at home — boosting the interest. The company's customer base is up 46% in the US in 2021 with $2.5 billion in sales last year, a 102% increase over the same time a year ago, according to Grocery Dive.
HelloFresh is actually headquartered in Germany
As mentioned above, HelloFresh was founded and is currently headquartered in Berlin, Germany as a creation of Germany's Rocket Internet, which is known for investing in startups and owning shareholdings of various models of business. With capital funding, HelloFresh was quickly able to bootstrap its way into the food industry, and was able to get into markets across Europe, Australia, and the United States in a short period of time, according to Tech.eu.
This may come as a surprise to many, as HelloFresh is now available in 14 countries, including the United States, where it brands itself as "America's #1 Meal Kit" (via HelloFresh). Of course, where it sources its produce and animal products differs by country, in order to provide customers the freshest ingredients. On its United States website, the company fully divulges its suppliers, as well as its promise to sustainability and quality.
This is similar to its Canadian counterpart, where the suppliers are different and of course located within the country. Because HelloFresh uses regional sources, it also prides itself on lower carbon emissions. However, you can find a variety of HelloFresh recipes, regardless of your location, on their website – allowing you to make the same meals from home, even if you don't get the meal kits in a certain country. One recipe from its German cookbook, for example, is Einfaches Antipasti-Gemüse mit Salsiccia, or simple antipasti vegetables with sausage. Best of all, you can access these recipes with or without a subscription.
You can apply to be an affiliate of HelloFresh
If you have a platform — social media or otherwise — where you can share your love for HelloFresh, you can apply to be an affiliate. That's right, you don't need a huge YouTube following in order to get sponsored by the company. Although many social media influencers are promoting the meal kit service on their platforms, regular folk can apply to be an affiliate through the company's website. Simply submit your information, including your account display name, address, and website.
Some perks of being a HelloFresh partner are a chunk of commission from referrals and being able to offer your followers some money off of their order, too — like a friends and family program.
Not to mention, you get to be an ambassador for one of the most popular meal kits out there, while also receiving fresh and high-quality meals yourself. So now that you know you don't need to just be Internet famous to be a HelloFresh partner, you can get to submitting that application — it just takes a few steps.
They had a Wine Club box for a time, too
Not too long ago, HelloFresh had a wine box monthly subscription, too, that came in three varieties: the Summer Wine Plan, the Red Wine Plan, and the White Wine Plan, according to Meal Delivery Experts, though Reviewed.com notes it's no longer available. Each of these options included six bottles of wine, along with a recommended meal pairing for each.
According to a review on the Meal Delivery Experts website, the plan was of great value, with a cost of about $15 per bottle (and you didn't need to be a member of HelloFresh to take part). The writer also noted that this feature could have been used in conjunction with a regular HelloFresh meal plan, which would have been perfect to cut out the hassle of deciding what drink to pair with your dinners.
HelloFresh's Wine Club definitely debunked the ongoing myth about wine that the best ones are pricey and exclusive, as the reviewer seemed to be quite happy with the varieties they received. Even though the wine box program has since been discontinued, we're hoping that HelloFresh considers bringing it back.
HelloFresh owns other popular meal kit subscription companies
in the time since HelloFresh was founded in 2011, Green Chef, EveryPlate, and Chef's Plate have all come under the larger company umbrella. Each of them had their own unique beginning and continue to have quirks that make them stand out.
Green Chef is a "healthy" branch of the HelloFresh brand. Its options are catered towards those with special diets, including keto/paleo as well as vegetarians and vegans. All of Green Chef's ingredients are non-GMO and, like with HelloFresh, you can select the number of people in your household, and how often you would like a delivery.
EveryPlate launched as a cheaper alternative to HelloFresh, with a subscription fee of just $4.99 per serving. EveryPlate still delivers top quality ingredients for a lower price, due to the smaller amounts of packaging materials used, as well as the inclusion of simpler ingredients.
Chef's Plate is a Toronto-based meal-kit subscription and was once on its own the largest provider of meal kits in Canada. Chef's Plate was acquired by HelloFresh in 2018, allowing the latter's customer reach to expand throughout the country, according to FoodBev Media.
With each of their little differences, there surely is a meal kit service out there that is the best fit for your dietary and financial needs, all while simplifying your grocery and meal-prepping routine.