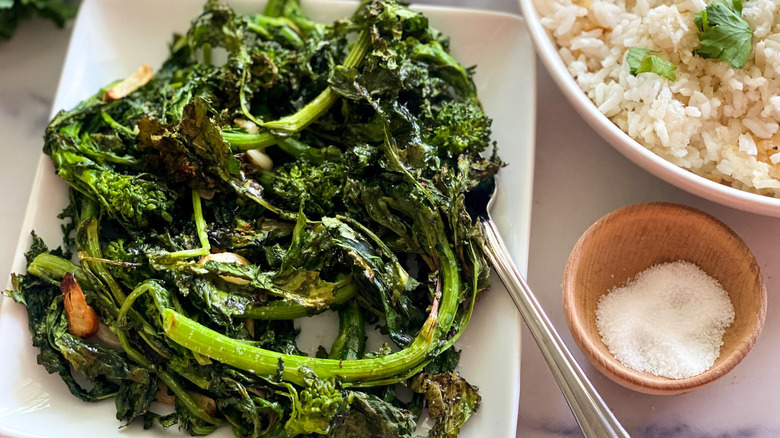 Sick of plain ol' broccoli? The broccoli rabe is definitely a new take on this health food staple. This roasted broccoli rabe recipe is a delicious side dish, in addition to being good for you and very easy to whip up, because sometimes the best way to eat vegetables is with a lot of garlic and salt, and a really hot oven.
"What inspired this recipe is when I learned broccoli rabe was on the list of cruciferous vegetables," says Miriam Hahn, the recipe developer behind this broccoli rabe. "Cruciferous vegetables have so many disease fighting properties so I try and eat at least one serving a day of them (and I work as a wellness coach so urge my clients to also)."
Hahn continues, "I had never used broccoli rabe before, so a couple years ago I tried roasting it and loved it. I love using all different kinds of produce instead of always buying the same things every week."
Keep reading for details on how to perfectly execute this veggie the next time you need something green on your plate.
Gather your ingredients for roasted broccoli rabe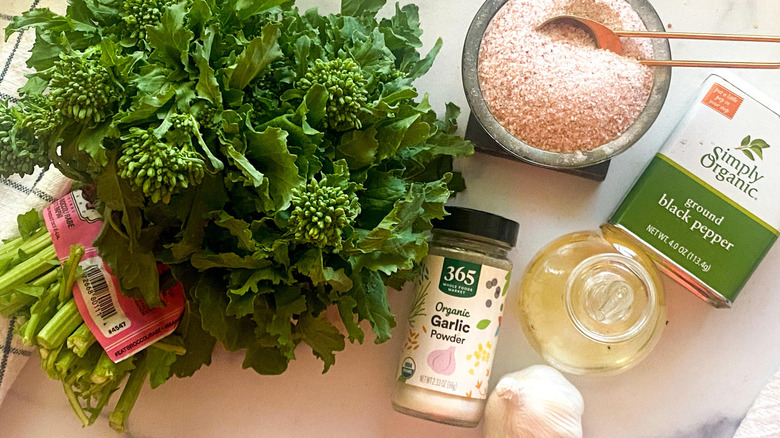 For this roasted broccoli rabe recipe, you'll just need one bunch of broccoli rabe, two to three cloves of garlic, avocado oil, sea salt, and garlic powder or garlic granules.
Garlic granules are basically a grainier form of garlic powder. Both will do the trick for this recipe, so feel free to use whatever you have on hand. Avocado oil is a great choice for high heat cooking.
After you've gathered the ingredients, you can preheat your oven to 425 F.
Rinse and trim the broccoli rabe
The broccoli rabe does need a little bit of prep before you put it in the oven. Rinse it thoroughly, then cut off about two inches from each stem. Lay the trimmed rabe out on a clean dish towel and pat it dry. As per the recipe, "You don't have to be gentle as it is not a delicate green," says Hahn. "At this point you can chop the broccoli rabe into bite-size chunks so you don't need to cut when eating."
What makes rabe special? According to Hahn, "The rabe is different from broccoli because of all of the leafy greens that go along with it. When they are roasted, they resemble crispy kale chips, which I love," she says. "The other difference is the stems. They are much tougher than broccoli stems and involve a sharp knife for sure." And in case you're wondering, broccoli rabe is also different from broccolini.
Toss the broccoli rabe with garlic, oil, and spices
Once the broccoli rabe has been washed, trimmed, and dried, the next step in the recipe is to add it to a bowl for marinating. Toss the broccoli rabe with the avocado oil, salt, garlic slices, and garlic powder or granules.
Use your hands to evenly distribute the oil and salt, making sure you coat all of the broccoli rabe thoroughly. You could technically use a spoon or spatula, but your own two hands are the most effective method for getting this job done. This should go without saying, but make sure you wash and dry your hands prior to dunking them in the bowl with this green goodness.
Place the broccoli rabe on a baking sheet
Now it's time to put the broccoli rabe on a baking sheet. Lay the greens and garlic on a baking sheet lined with parchment paper (this will save your life later when cleaning up). The vegetable is ready to enter the oven at this point.
And in case you're wondering, or in case you can't land yourself some broccoli rabe at the local grocer, Hahn confirms, "You can basically roast regular broccoli that same way too, though! Both are delicious!" Garlic, salt, and oil will make any green taste better, trust us.
Roast the broccoli rabe
Roast the broccoli rabe in the oven for 15 minutes. When the broccoli rabe is ready, the stems will be tender, and the leaves will be crispy. It's important to note that the broccoli rabe will shrink significantly in size after it's baked. You can drizzle more avocado oil on the broccoli rabe before serving.
How long will it keep after you make a batch? Hahn tells us, "It will be fine for a few days if you have leftovers. I would reheat in the oven or air fryer to revive some of the crispiness."
Also, don't assume this recipe only works with chicken or fish. Hahn proclaims, "This is great with any main dish. I serve it with pasta quite a bit."
1 bunch broccoli rabe
2 to 3 cloves garlic, sliced
2 tablespoons avocado oil
½ teaspoon sea salt
½ teaspoon garlic powder or granules
Preheat the oven to 425 F (or 400 F for convection).
Rinse the broccoli rabe. Cut off about 2 inches from each stem.
Lay the broccoli rabe out on a clean dish towel and pat it dry.
Toss the broccoli rabe with the oil, salt, garlic slices, and garlic powder. Use your hands to mix it well.
Lay it out on a parchment paper-lined baking sheet and roast it for 15 minutes.
When the leaves are crispy and the stems tender, serve the broccoli rabe, drizzling it with additional oil if desired.