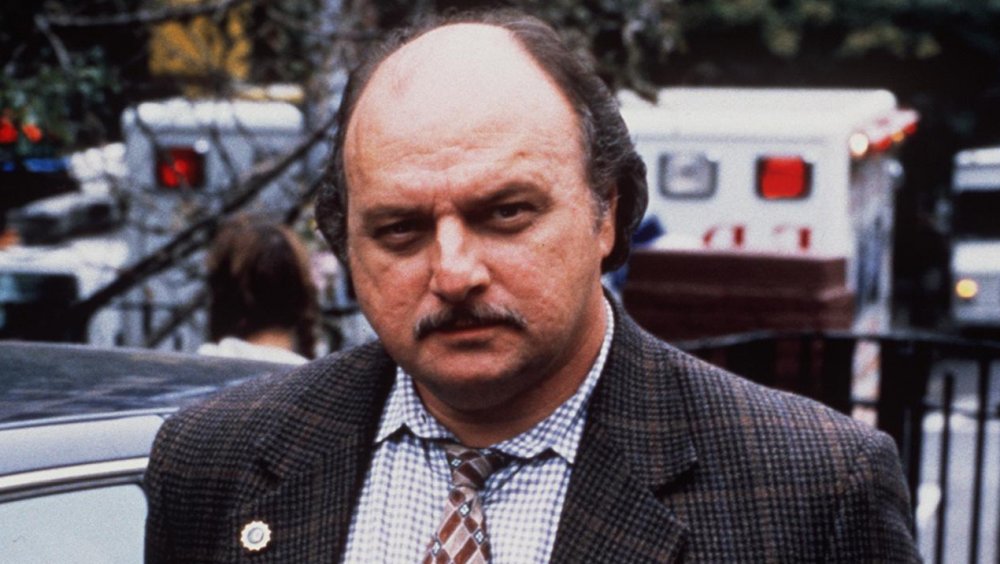 The 1990s was a point of convergence for television. Still dominated by a small handful of broadcast TV networks, the programming remained traditional, with familiar and formulaic formats like police procedurals — cop dramas, detective shows — resonating with viewers. But as the decade wore on, and cable TV rose up to compete with the networks, television got a bit racier, particularly police shows. Before long, this quaint style of program grew gritty and weighty, with more violence, profanity, complex characters, and shocking crimes added to the mix to add a realistic vibe.
Revamped and renewed takes on the detective show laid the groundwork for the innovative "peak TV" cop shows of the 21st century, such as Justified, True Detective, and The Shield, but the '90s dramas remain important and classic TV shows in their own right. But all things must come to an end, and even the most successful and popular police dramas got pulled off the air like a "perp" off the street. Here are some of the '90s most prominent cop shows … and why their runs were arrested.
Chuck Norris walked away from Walker, Texas Ranger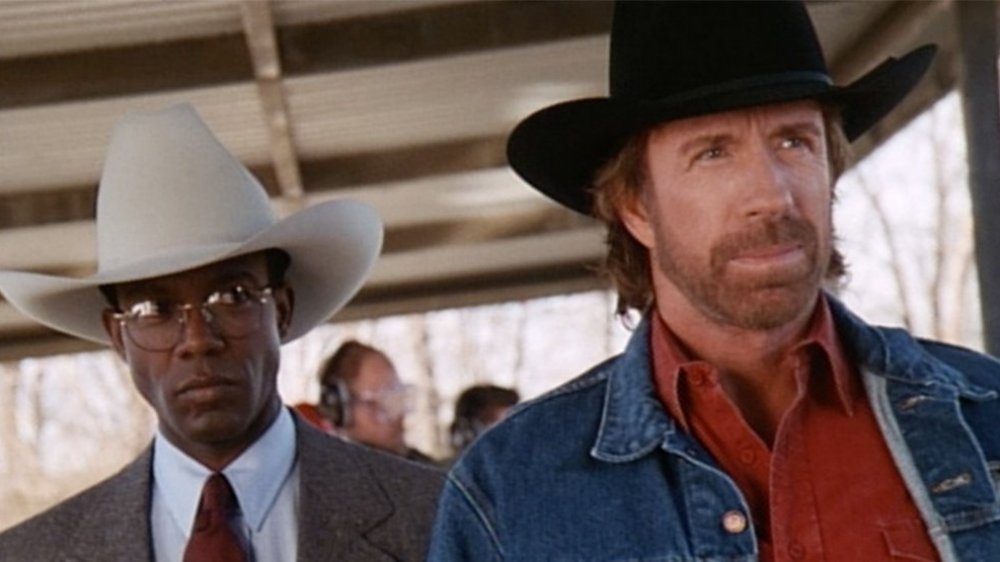 It hit CBS in 1993, but Walker, Texas Ranger was an '80s relic. It starred Chuck Norris, the lead of action movies like Invasion U.S.A. and Missing in Action, as Cordell Walker, a taciturn, jeans-wearing Texas Ranger who punished bad guys — kidnappers, drug dealers, murderers — by kicking and punching them very hard. The show was heavy on the action (Walker's many acts of martial arts-based crime deterrents were shot from dramatically low angles), and it gave the people the kind of exciting, old-fashioned entertainment they craved. As a result, it often ranked among television's top 30 most watched shows on TV.
After eight years of keeping the fictional peace in the Lone Star State, Norris decided it was time to move on from Walker. It's not like Walker, Texas Ranger would continue without Norris, but as one of the show's chief creative participants, he had a say in the direction of the show. "Being the executive producer and the lead doesn't give you much time for a life," Norris told the Los Angeles Times in January 2001. "You always want to try to quit as a winner." Still, viewership was on the decline, dropping from 14 million to 10 million over the previous two years. Walker, Texas Ranger finished its final season (2000–2001) at #68 in the Nielsen ratings. Had Norris returned for season nine, it likely would've continued to metaphorically kick and punch viewers away, leaving CBS no choice but to cancel it.
CBS wanted more Nash Bridges, but the production company didn't
Halfway through the 1995-96 TV season, Don Johnson returned to television in a way that suited the actor quite nicely. The star of the immensely popular Miami Vice headlined Nash Bridges, a Friday-night show about a San Francisco detective (and his partner, portrayed by Cheech Marin). Nash Bridges was a breezy, lightly comic procedural that found the title character investigating and solving crimes and — like Miami Vice's Sonny Crockett — cruising around in a cool car (a 1971 Plymouth Barracuda) and flirting heavily with most any woman he encountered.
Nash Bridges proved a moderate hit for CBS. Despite airing on the traditionally little-watched Friday nights, it got as high as #42 in the annual ratings, and the network kept renewing it year after year. But six was enough for all involved parties. According to the San Francisco Chronicle, by 2001, NBC's Law and Order: Special Victims Unit was routinely trouncing Nash Bridges on Fridays, but CBS was still considering ordering up a seventh season. Producer Paramount, however, wasn't interested, not wanting to spend the $2 million per episode it cost to make Nash Bridges. That may all have been moot, though, as Johnson was ready for something else. "Doing a TV series five days a week for as long as he did is an exhausting task," Johnson's agent, Elliot Mintz, said. "Don was ready to move on."
JAG was actually canceled twice
NCIS is an absolute programming juggernaut for CBS. The original series, which debuted in 2003, has routinely ranked among TV's most-watched shows and led to similar series about investigators within the U.S. Navy — thus creating a military/police show hybrid — such as NCIS: Los Angeles and NCIS: New Orleans. But the initial NCIS was itself a spinoff of JAG.
Short for "Judge Advocate General," the drama that covered the breadth of the internal military legal system aired for one unremarkable, little-watched season on NBC in 1995–96. The Peacock canceled the 79th-ranked JAG, and CBS picked it up … and turned it into a top 20 hit that ran for an additional nine seasons. But by the 2004-2005 season, JAG's viewership had fallen off, and CBS wasn't yet sure if it wanted to keep the show around.
In February 2005, its fate was seemingly solidified when David James Elliott, who'd portrayed main character Harm Rabb Jr. since the beginning of JAG, announced that if the show were to return that fall, he wouldn't be back. His character was sent off to a new post in Europe, and JAG ended after 227 episodes in April 2005.
New York Undercover was undone by Must See TV
In the early 1990s, Fox was the newest and edgiest of the "big four" broadcast networks, and it was also one of the few to program content aimed at and starring people of color. Fox's Thursday night lineup in the 1994-95 season included Martin and Living Single, sitcoms with predominantly African-American casts, and New York Undercover, a police drama from Law and Order creator Dick Wolf about Puerto Rican detective Eddie Torres (Michael DeLorenzo) and his African-American partner, J.C. Williams (Malik Yoba), as they investigate gang-related and violent crimes in New York's Fourth Precinct.
Despite critical acclaim for its new approach to the police procedural format — including a more diverse cast of characters, use of popular music, and a focus on inner city social issues — New York Undercover's overall viewership figures were low but consistent. During its first three seasons, it ranked right around 100th place. That was due in large part to the also consistent but far more successful competition. New York Undercover ran on Thursday nights, opposite NBC's historically popular "Must See TV" lineup, lead by juggernaut Seinfeld. A fourth, truncated season of New York Undercover aired sporadically between January 1998 and February 1999, and unsurprisingly, the elusive series didn't fare well in the ratings, and Fox quietly retired it.
Diagnosis Murder finished when Dick Van Dyke retired
There aren't many TV stars as beloved as Dick Van Dyke. He played television writer and family man Rob Petrie on the 1961-1966 classic sitcom The Dick Van Dyke Show, and he starred on a few more shows over the decades, most notably Diagnosis Murder. Here, he portrayed Dr. Mark Sloan, a jovial doctor who helped his homicide detective son (Van Dyke's actual son, Barry) solve crimes. But booking a TV legend as the star of a series is a doubled-edged sword for a network. Sure, they'll bring in viewers bearing goodwill, but if the actor is of an advanced age, the show hasn't got long before the star walks away from the grind of making a weekly television series.
This was the diagnosis faced by the producers of Diagnosis Murder. At an October 2000 tribute to The Dick Van Dyke Show creator Carl Reiner, Van Dyke announced that the current season of Diagnosis Murder would be his last one … and it would be his last season of any and all television shows. "It's time for me to go to pasture," Van Dyke told the Associated Press (via E! News). "Tastes have changed. Television's going, as far as I'm concerned, downhill, and I'm an anachronism." And so, in the spring of 2001, Diagnosis Murder closed down after 178 episodes owing to Van Dyke's retirement. However, it didn't last long. Just a year later, he reprised his role of Dr. Mark Sloan in two Diagnosis Murder made-for-TV movies.
Homicide was too expensive and too unpopular for NBC
Homicide: Life on the Street is probably the bleakest police drama to ever air on television. As for its origin, David Simon, a reporter who would go on to bring the equally sad and hopeless The Wire to HBO, wrote a book entitled Homicide: A Year on the Killing Streets. This would serve as the basis for the 1993-1999 NBC series about a Baltimore police precinct staffed by flawed individuals who always felt the crushing mental and spiritual consequences of their sometimes futile investigations .
Apart from a brief pop when it hit the Nielsen Top 30 in its second season, Homicide was always more of a favorite with critics than audiences. It generally finished in the 60s or 70s of Nielsen's annual rankings while simultaneously earning fawning praise from TV critics and notices at the Emmy Awards, winning trophies for directing, writing, and star Andre Braugher. But nevertheless, NBC respectfully canceled the series in May 1999.
Executive producer Tom Fontana told The New York Times that NBC had four hour-long shows in contention for the fall of 1999, and producing any one of those would cost $200,000 per episode less than it would to make another season of Homicide, a savings of about $4.4 million. Homicide already had banked 122 episodes, enough to sell into the syndication market, and NBC executives didn't think another two dozen episodes or so would increase the value of the rerun package, so it opted to cancel the series. In other words, as Fontana explained, "It came down to economics."
Silk Stalkings quickly lost popularity after cast departures
Though widely adopted into American homes in the 1980s, cable was still a programming frontier in the 1990s, and the more prominent channels began to brand themselves as the home of slightly edgy, too-hot-for-network-TV content. For example, USA had a lot of crime procedural dramas that involved people wearing skimpy outfits, such as Pacific Blue and Silk Stalkings. In the latter, Mitzi Kapture and Rob Estes played Chris Lorenzo and Rita Lee Lance, Palm Beach detectives who investigated crimes of passion that usually involved some manner of infidelity, models, lingerie, sleazy photographers … and murder.
Silk Stalkings debuted as a CBS late-night show in 1991 before moving to USA, where it thrived. In the fifth season, debuting in 1995, writers gave in to fan demand and coupled up Chris and Rita. They got married, Rita found out she was pregnant … and then Chris was shot while investigating a case. Recently promoted to lieutenant, Rita then left the police force because she was too distraught to continue. From that point, Silk Stalkings continued as procedural with Nick Kokotakis and Tyler Layton as new detectives Michael Price and Holly Rawlins. Silk Stalkings viewers, who apparently watched the show for the Estes-Kapture interplay, tuned out, and after half a season, their replacements were replaced with Chris Potter and Janet Gunn as a couple of even newer detectives. The show's popularity still dwindled, and USA pulled the plug in 1999.
The X-Files ended not long after its star left
The X-Files was one of the most popular and influential shows of the 1990s. A unique combination of detective show and science fiction saga, it showed how ambitious and rewarding a TV series could be if it took its time. Over its eight years on the air, the show followed two FBI agents — true believer Fox Mulder (David Duchovny) and perpetual skeptic Dana Scully (Gillian Anderson) — as they unraveled and got wrapped up in a far-reaching government conspiracy involving the paranormal activity (aliens, monsters, weird science, and unexplained phenomena) they were charged with investigating. The X-Files mixed horror, sci-fi, and drama, and it tapped into the culture of conspiracy theory on the way to stellar ratings for Fox and 16 Emmy Award wins.
After seven seasons, Duchovny left The X-Files in pursuit of bigger and better things while also embroiled in a lawsuit with Fox, claiming he was stiffed on profits generated by the show. By the time season nine of The X-Files began, it was a very different series. Robert Patrick and Annabeth Gish had joined the cast as Special Agents John Doggett and Monica Reyes, accounting for the absence of Duchovny. Also absent? Huge audiences. The X-Files sunk to #67 in the ratings, and Fox closed it down in 2002. However, the show didn't go away for good. Fox aired two X-Files miniseries — starring Duchovny — in 2016 and 2018.
Profiler didn't bring in big ratings even after an overhaul
On Profiler, Ally Walker played Dr. Sam Waters, a forensic psychologist with the FBI's Violent Crimes Task Force (VCTF). Dr. Waters created psychological profiles of suspects so as to be able to track them down, and she could also uncannily take on the point of view of violent criminals. Dr. Waters was driven to bust murderers because of her husband's death at the hands of serial killer "Jack of All Trades," whose presence loomed over the show for almost its entire existence.
Shortly after that long-term plot line wrapped up, Dr. Waters left the VCTF, and Walker left Profiler. After capturing Jack, Dr. Waters considered her work finished, and she retired from the FBI. In her stead came no-nonsense former FBI instructor Dr. Rachel Burke, portrayed by Melrose Place star Jamie Luner. But as it turns out, NBC actually fired Walker and brought in Luner in an effort to retool Profiler after three seasons of perpetually low ratings. In its debut season (1996-97), it ranked #82 on the Nielsen chart, fell to 96th in season two, and then bumped up a tad to 92nd place in season three.
According to the New York Post, network executives didn't think Walker, who'd played her character for three years, was believable in the role, and so they brought in Luner. But the switch didn't have much of an effect on Profiler's popularity. It finished its fourth and final season at #91 in the ratings, and NBC canceled it.