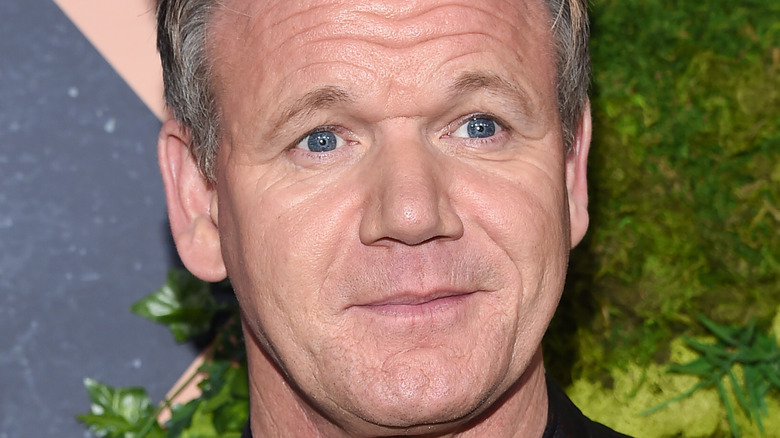 After more than a decade of culinary competition, Fox's "MasterChef" has made a name for itself. The show has garnered a huge, loyal audience who keep coming back to watch dozens of eager contestants battle it out for a white apron and a chance to learn from some of the best chefs in the country. The one chef who can rise above the challenges — and take the heat from Gordon Ramsay and other tough judges – will walk away with a whole bunch of prize money and a new culinary future. "MasterChef" is exciting, high-stakes, and crave-inducing television. Some might even call the show legendary.
Now, Fox is taking that idea to the next level with the newest season of "MasterChef: Legends," which is currently underway, with new episodes airing every Thursday. The new season promises to be "the most intense season in Masterchef history," featuring "the most respected culinary legends" in the industry as well as "all new challenges" in order to "raise the 'steaks' of the competition" (via Fox). Mashed did a deep dive on what viewers can expect from this season, and exactly what sets it apart and makes it so legendary. Keep reading for everything you need to know about "MasterChef: Legends."
MasterChef: Legends is the 11th season in the series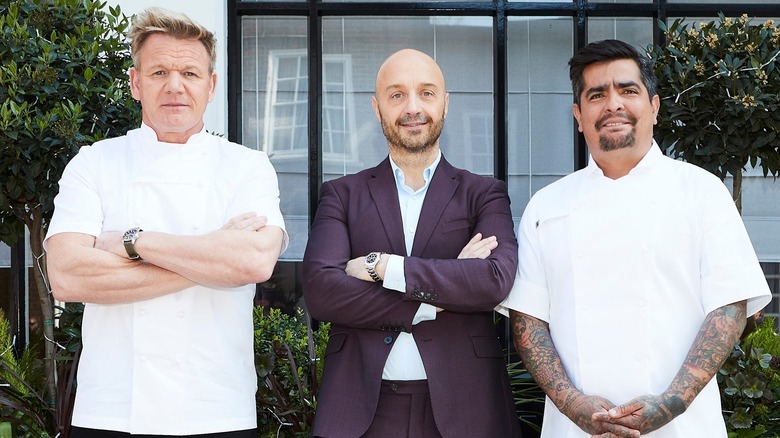 While some have referred to "MasterChef: Legends" as a spin-off because of its special title, it is in fact a continuation of the beloved competition series we've grown to love. The 11th season of the U.S. version of "MasterChef" — which was originally a British TV series (via IMDB) — kicked off on June 2, 2021, with world-renowned chef Gordon Ramsay at the helm as usual. He's once again joined by acclaimed chef Aarón Sánchez, who has been a judge on the show since Season 8 in 2017 (via Parade), and famous restaurateur Joe Bastianich, who left the show after Season 5 in 2014 and then returned as a judge for Season 9 in 2018.
Over the next several months, competing chefs will test their limits in the kitchen, learning and trying new dishes and techniques, until an ultimate winner is crowned. While that sounds like the usual turn of events in the "MasterChef" kitchen studio, "MasterChef: Legends" will also have some unique elements that viewers haven't seen before in previous seasons.
MasterChef: Legends brings some serious star power to the screen
Contestants on "MasterChef" already have the opportunity to learn top notch cooking skills and explore new facets of flavor with the likes of Gordon Ramsay, not to mention Aarón Sánchez and Joe Bastianich. As if that alone isn't enough to knock an amateur chef's socks right off, this new season of "MasterChef: Legends" definitely will. If "MasterChef" is considered the big leagues, then "MasterChef: Legends" is the World Series.
According to Fox, the new season will bring on some of the most critically acclaimed and accomplished chefs in the industry — including Emeril Lagasse, Paula Deen, Roy Choi, Nancy Silverton, Curtis Stone, and Iron Chef Masaharu Morimoto — to help guide the competing chefs and judge their culinary creations. Over the course of the season, "MasterChef: Legends" will give the competing chefs a once-in-a lifetime chance to work with and cook for their heroes … if they can handle the pressure.
MasterChef: Legends aims to really focus on the mentoring
If you're a home cook who enjoys soaking up the kitchen knowledge that contestants learn on "MasterChef," then you're in for a major treat with "MasterChef: Legends." Host Gordon Ramsay told Parade that this new season is "going to be like no other year, high octane, some incredible challenges, and as always, great mentorship from Aarón, Joe and myself, alongside the legends." And according to chef and fellow host judge Aarón Sánchez, the new season really aims to amplify and elevate that aspect of the show. In an interview with The A.V. Club, Sánchez said that the mentoring that happens on "MasterChef" is such a big part of what makes the show so special. The goal behind "MasterChef: Legends" is to "amp that up with the pillars and the cornerstones of American regional cuisine," Sánchez explained.
Additionally, Ramsay revealed during the interview that bringing on icons who are at the "forefront cutting edge of industry" means the standards for the whole competition are so much higher. And Sánchez would agree with that as well. He told FanSided, "It's always amazing to see what wealth of knowledge they come in with, but I have to say I think the ability to pick things up and integrate techniques has really improved. These home cooks are able to really be mentored and walk away with so much even if they don't make it to the end."
MasterChef: Legends is passing out fewer white aprons than most seasons
"MasterChef: Legends" is raising the bar on all sides this season, inviting legendary judges and mentors, and narrowing down a tighter group of talented contestants. This time around, Fox says only 15 white aprons are being handed out, which is the fewest since the very first season of "MasterChef." The previous season, along with Season 7 and Season 8, had 20 contestants batting it out. Season 5 and Season 6 had 22 contestants, and Season 9 takes the cake with a whopping 24 home chefs competing.
This time around on "MasterChef," they are getting down to business, and fast. With less aprons to fight for, contestants have to bring their very best to the first plate. As Gordon Ramsey put it to Parade, "we're focusing on 15 strong individuals. So, we're getting straight to the heartbeat, the real meat on the bones, trimming the fat."
Emeril Lagasse's appearance on MasterChef: Legends was long overdue
If you're going to convene the legends of the culinary world, Emeril Lagasse has to have a seat at the table. And as such, the acclaimed chef of creole cuisine and beyond is the first legendary chef to make an appearance on "MasterChef: Legends." Lagasse shows up in the season premiere to judge the first round of auditions, and help hand out six of the 15 coveted white aprons up for grabs (via FanSided).
While Lagasse was certainly a natural choice to include for this season, it turns out that getting him to appear on "MasterChef" has been a long time coming. Lagasse spoke with TV Insider about his experience filming the show, and shared that he and Gordon Ramsay "have been friends a long time, and he has been trying to get me to do the show for quite a while." The problem, according to Lagasse, is that "it's never worked between his schedule [and] my schedule." Luckily, when "MasterChef: Legends" came calling, the timing happened to work out for everyone. And Lagasse says "it was absolutely time well worth spent waiting because it was a fabulous experience. I had an absolute blast."
MasterChef: Legends had to shut down because of the COVID-19 pandemic
Like so many media productions, "MasterChef: Legends" persevered through COVID-19 and some major pandemic-related setbacks to bring this new season to all of us viewers. In March of 2020, as the pandemic led to lockdowns across the world, production of "MasterChef: Legends" was shut down for safety reasons (via Deadline). For seven months, the cast and crew watched and waited for a safe opportunity to resume filming. Aarón Sánchez told Distractify "that was an incredibly tough decision to make, but we ultimately were able to come back and finish so I'm glad we were able to get this done safely and now get to share it."
"MasterChef: Legends" was able to resume filming in late October 2020, with a slate of protections in place. Gordon Ramsay confirmed in an interview that the show got back to work in a protective bubble, and in addition to following guidelines from health experts, the program made sure to consult with the right mentors as to how to proceed safely (via The A.V. Club). The "MasterChef: Legends" producers also told Deadline in an official statement, "given the COVID-19 restrictions placed on production, we are creating new and innovative ways to produce the series, while honoring its creative spirit." They added that "the behind-the-scenes culinary team" followed safety protocol, and took "additional precautions including wearing gloves, masks and face shields/goggles."
The judges say COVID-19 had other impacts on MasterChef: Legends as well
While the COVID-19 pandemic led to a slew of challenges for the "MasterChef: Legends" production team, the show's judges say the setbacks also led to some positive outcomes for the show and contestants. Speaking with The A.V. Club, Joe Bastianich said the team came together to "take a difficult situation and make the best out of it," adding "nothing COVID related affects the heartbeat of 'MasterChef.'" Gordon Ramsay, who was also part of the interview, along with fellow judge Aarón Sánchez, mentioned that the halt in production created an opportunity to make the show even better, giving producers a chance to get even more creative with the set design and the challenges for each episode.
Furthermore, Ramsay also suggested that the circumstances of the pandemic and the shutdown really highlighted the dedication and perseverance of the contestants this season, saying it's "given them time to go back and finesse so they've come back stronger." Sánchez added that the chefs were able to use those extra months to dig in and learn as much as they could in preparation for the competition, and that they returned to filming "better researched, better prepared to tackle … a wider breadth of techniques and backgrounds and cultures because this time's really allowed them to dive deeper."
MasterChef Legends paid a special tribute at the end of the first episode
If you watched the season premiere of "MasterChef: Legends" on live TV, you might have noticed something out of the ordinary at the very end of the show. As Cinema Blend reports, the show shared a special tribute for a very beloved "MasterChef: Junior" star, Ben Watkins. It included a photo of Watkins, along with the hashtag #love4ben.
Watkins' story touched many hearts in the "MasterChef" community and beyond. He was an early competitor in Season 6 of "MasterChef Junior," and though he didn't clinch the win, or even come close, Watkins clinched everyone's heart right from the start with his infectiously joyful personality – so much so that when it became known he had an extremely rare and aggressive form of cancer, the show's cast, including Gordon Ramsay, rallied together to share their support. Unfortunately, Watkins died from the disease in November 2020, at just 14 years old. But he is living on in the hearts of so many fans, and everyone involved with "MasterChef."
MasterChef: Legends will feature a face-off with Gordon Ramsay
"MasterChef: Legends" promises higher stakes, higher standards, tougher challenges, and a lot of surprises along the way. And perhaps one of the most exciting new twists to come this season is a cook off with Gordon Ramsay himself. That's right, Fox says this season will include what it's calling the toughest challenge yet, "a head-to-head battle with 'MasterChef's' own culinary legend, Gordon Ramsay."
It's not totally clear yet when this kitchen battle will take place, and how many competing chefs will be a part of it. But "MasterChef" Season 10 winner, Dorian Hunter, who returns as a mentor on "MasterChef: Legends," did share some insight. While speaking with Fox 5 Atlanta, Hunter, who got the chance to watch Ramsay cook and demonstrate his techniques on multiple occasions during Season 10, confirmed that she was glad she wasn't the one who had to take this challenge on against Ramsey. "Being able to keep up with him has to be the hardest thing in the world," she shared. "He's so quick. Like one minute you see nothing, the next minute you see a finished dish." Yeah, we're glad it's not us, either.
The winner of MasterChef: Legends will walk away with a windfall
While 15 of the best home cooks in America will face off in front of their culinary idols on "MasterChef: Legends," only one will walk away the champion. And whoever that is will also win a whole bunch of prizes, too. Fox confirms that when all is said and done, one contestant will claim the title of Master Chef, and with it the grand prize of $250,000. That's not all, though. They'll also be gifted with a complete Viking professional kitchen, which can cost anywhere between $4,000 and $13,000, along with a variety of kitchen tools and bakeware products from Oxo.
On top of all the material prizes, the winner of "MasterChef: Legends" also wins something else that you can't as easily put a price tag on: Winning this prestigious competition, and impressing all the legends along the way, could mean a whole new future for one home chef. The win — and prestige that comes with it — could open up all kinds of new opportunities. Take it from past winners, such as Dorian Hunter from Season 10, who's now teaching cooking classes, growing a massive fan base online, as well as working on her first cookbook deal — or Gerron Hurt from Season 9 of "MasterChef." He was able to leave his teaching job and focus on food entirely, starting his own company and opening a food truck.
Some fans are already disappointed with MasterChef: Legends
As is the case with most media these days, especially content made for a mass audience, there are already "MasterChef: Legends" haters out there, making their opinions known. For the most part, the disappointment centers around the branding for this season. Many viewers have taken to Reddit to complain that "MasterChef: Legends," despite being marketed as a more intense, elevated version of the show, really isn't that different from the previous seasons. One Redditor pointed out that "the legends just appear to be guest judges that we normally get anyways." And they do kind of have a point, as big names in the food and restaurant industries have made frequent appearances as guest judges throughout the past 10 seasons of "MasterChef," including Wolfgang Puck, Daniel Boulud, Paula Deen, Iron Chef Morimoto, and more.
In the same thread, another user suggested that the new season's title was misleading, and said they'd prefer a different set of legends on the show. "I thought it was going to be ex finalists, most disappointing," a viewer wrote. Only time will tell if "MasterChef: Legends" can actually live up to its hype and impress the skeptics.