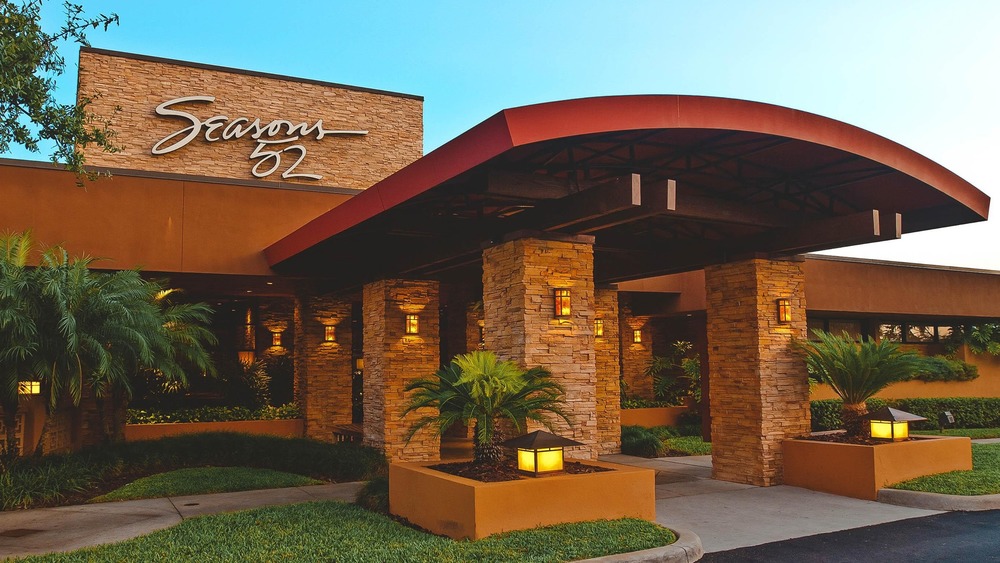 At Seasons 52, you can dine without the guilt of overindulging. The dishes are on the lighter side, and the dessert portions are unusually small. Owned by Darden Restaurants, Seasons 52 is essentially a fresh grill and bar that uses only the seasonal produce to create its floating menu. At any given time of the year, according to the chain's website, there are "over 50 varieties of vegetables, fruits, herbs and spices in our pantry and the latest catch from the sea on ice."
A lot of thought is put into the journey of the food, right from how it is sourced to how it is served. The scallops and the Florida stone crabs are caught in a sustainable fashion, making sure only the quantity that's necessary is caught. At the restaurant, water is served only upon request rather than to the entire table, an effort that helped the restaurant reduce the usage of water by 25 percent between 2008 and 2016. And it is for these reasons that consumers voted the chain as the Socially Responsible Restaurant of the year in 2016 at Technomic Inc.'s Chain Restaurant Consumers' Choice Awards.
Though it's a casual dining chain, it somehow doesn't seem to fit the definition because of its sophisticated provisions such as private dining rooms, valet parking, and a wall featuring wines from around the world. Here are some little known truths about the chain that lets seasons decide its menu.
Seasons 52 changes the menu 52 times a year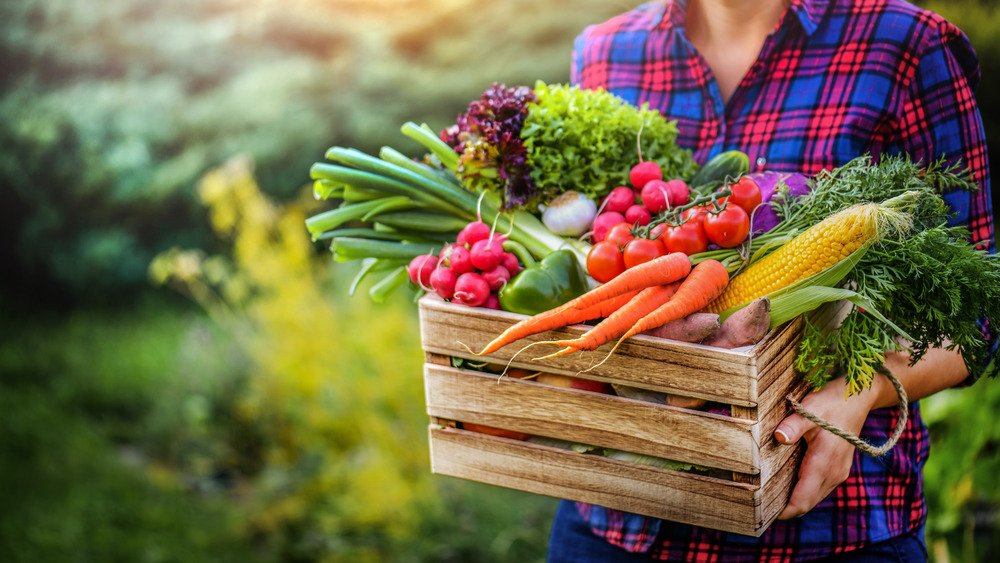 The restaurant may not have your favorite entrée all year round. But that's not such a bad thing. The wild Alaskan salmon, for example, is only available between late spring and late summer at the restaurant. And that's because that's the only window during which it is sustainably caught from the Copper River in Alaska. For the restaurant to serve it in any other season would mean compromising on the freshness of the salmon.
Use of fresh ingredients has been the chain's number one priority. "When Marvel-Striped tomatoes in Sonoma County are perfectly ripe in August; when Delta asparagus reaches its peak in Victoria Island in March; or when Copper River salmon runs for a few weeks in late May, that's when Seasons 52 will have them on its menu," Barry Moullet, the then-senior vice president of purchasing at Darden, had said before the opening of the first Seasons 52. The idea behind it: fresh veggies and seafood harvested at the right time would ensure great taste, even without flavor enhancers like fats and sauces.
While the menu largely changes every season, mild alterations are made on a week-to-week basis based on what's fresh. That way, one can say that the chain has 52 menus a year (hence the name). The summer menu features ingredients such as cherries and fresh figs, the fall menu includes pumpkin, Brussels sprouts, and mushrooms, and the winter menu features Florida stone crabs and Portuguese kale.
The first Seasons 52 started in Orlando's popular 'Restaurant Row'
Darden Restaurants owned around 1,200 restaurants, including Olive Garden, Red Lobster, Bahama Breeze, and Smokey Bones BBQ before it conceptualized the casually sophisticated grill and wine bar, Seasons 52, in 2003. The chain was born after Darden sensed a trend in which more and more people were being conscious about consuming fresh ingredients and taking a growing interest in food that was grilled instead of fried. To fill the void caused by this demand, Darden conceived a restaurant chain that would offer meals low on calories and made with seasonal produce, featuring a sophisticated atmosphere complete with an impressive list of wines.
When the first Seasons 52 opened on 7700 Sand Lake Road — part of Restaurant Row, which features the best of Orlando's eateries — it drew in customers who wanted a slightly more elegant experience, reports Orlando Sentinel. Though the sales at the eatery were ahead of its projections, after two years, there was still a lot of apprehension about whether it will turn out to be a success. It was nothing like Darden had attempted before.
Blaine Sweatt, president of new business development in Darden, told Orlando Sentinel in 2005, "Six, seven, or eight locations in different markets and trade areas will give us a good idea as to whether this has legs or not." The second Seasons 52 was launched in a mall at Fort Lauderdale, and the third near the Altamonte Mall, targeting middle income population.
Disney World's California Grill and Seasons 52 have a common link
When California Grill opened in 1995, Chef Clifford Pleau and Master Sommelier George Miliotes were part of the opening team. They worked on the menu and the wine list, and together, raised the restaurant to become one of the most popular eateries at Walt Disney World Resort. They were stars in their field. The reason California Grill is as popular as it is today, as mentioned in The Culinary Institute of America blog, is Chef Pleau. Nation's Restaurant News named him among the "Top 50 New Tastemakers," and The American Academy of Taste gave him the "Master of Taste" title. Meanwhile, Miliotes is among only 140 Master Sommeliers in the United States. This is a huge deal, for to become a Master Sommelier, one has to crack perhaps the hardest test in the world: The Court of Masters Sommelier exam.
"Pleau and Miliotes were such a successful team that Darden Restaurants, in 2002, lured them away to spearhead its yet-to-be-named new brand that would lift the company's reputation above Olive Garden and Red Lobster," reports Orlando-based food critic Scott Joseph. Pleau and Miliotes found themselves together again as the opening team for Seasons 52. Pleau and his colleague Toni Robertson designed the menu from scratch, and Miliotes brought his wine expertise to curate different wines that customers could ask for by the bottle at Seasons 52.
Seasons 52 offers wines that you can't get at a grocery store
It's hard to miss the big wall of shimmery wine bottles at a Seasons 52. The sheer size of it conveys that they take their wine very seriously. They offer over 52 wines by the glass. The list is curated by Brian Philips, Director of Wine Strategy at Darden, who is on a constant lookout for new wines (in this pursuit, he has tasted 500 different wines in Napa Valley alone). Don't we love his job?
Thanks to all his travels, Seasons 52 has a curious "Drink them before they're famous" menu. Nice wording. Who could resist the opportunity to taste a soon-to-be-famous wine while it's still affordable? Wines from the Mendoza region of Argentina and the Jansz Tasmanian Sparkling Rose (via Gwinnett Daily Post) are some of the names that have made it to this list. And too bad if you crave for these wines outside the walls of Season 52, as you probably can't get them at your local grocery store. It's not surprising that 40 of the Seasons 52 restaurants have been given the Award of Excellence by the publication Wine Spectator.
Wine at Seasons 52 is also generously used in food. Their wood-grilled filet mignon is doused in red wine, the short ribs are cooked with wine, and wine is the main ingredient in the Artisan cheese fondue appetizer (via North State Journal).
Seasons 52 doesn't use butter or fryers in any of its locations
There is no complimentary bread, no French fries, and no butter. It might seem like a punishment to dine without any fried items, but the restaurant chain has been able to flourish sans a fryer. "Much of the menu is grilled — like cedar plank salmon — or roasted, like mesquite-roasted pork tenderloin," Atlanta Business Chronicle reports. There is no pizza either. Instead, they serve a variety of flatbreads topped with veggies and healthy proteins.
And every single dish — be it mac 'n cheese, truffled risotto, or steak salad — is less than 595 calories. In fact, when Chef Clifford Pleau and his colleague Chef Toni Robertson created the menu for Seasons 52 in 2003, they collaborated with nutritionist and author of Eat Well Live Well, Pamela Smith. The idea was to conceptualize dishes that brought out the freshness of all the ingredients and made for a nutritionally balanced diet, according to a report.
To achieve this, they decided to go with cooking methods that are more natural, like cooking over an open fire oak or mesquite grill or roasting on a stone hearth oven. The result was a light menu featuring grilled jumbo sea scallops, black mussels in an orange ginger broth, and grilled filet mignon.
Some Seasons 52 restaurants once featured piano bars
Seasons 52 was envisioned as a place where you could sip wine and enjoy live music. In the past, some Seasons 52 restaurants had a piano bar. In a 2014 report, CBS Philly ranked Seasons 52 among the top five piano bars in Philadelphia. Seasons 52 used to organize month-long music festivals featuring veteran musicians. For example, the King of Prussia, Pennsylvania, location featured live performances by pianists such as Scott Gurney and Mike Margarite, and Seasons 52 in South Coast Plaza, California, featured artists such as Nicholas Cole, one of the top 30 contestants in American Idol Season 4.
Piano bars are not a staple within Seasons 52's walls anymore, suggest several reviews by disappointed customers, on restaurant review platforms such as Yelp and TripAdvisor. The Seasons 52 restaurants at Coral Gables, Jacksonville and Altamonte Springs in Florida and Plano, Texas, no longer have a piano bar. Spencer Bates, a professional musician, who had played at Seasons 52 restaurants in North Bethesda and Tysons Center locations in Maryland for over five years confirmed on his official website that the company was re-branding and won't have piano bars in the locations that he used to perform at.
Seasons 52 in Los Angeles has an edible wall
In the chain's pursuit to use the freshest of produce in their dishes, they went ahead and created a whole wall of edible herbs. Think Asian jasmine, rosemary, mondo grass, lemon button ferns, and mint. The restaurant in LA, which was the chain's twenty-third location, features a 112-square-foot living wall with 125 types of herbs (via Greenroofs.com). It was envisioned by chef Clifford Pleau, the founding chef of Seasons 52, and created by Jim Mumford, a certified landscape professional ad green roof professional, who is the founder of GreenScaped Buildings that specializes in living walls and green roofs.
The set up included a glass-enclosed environment with the necessary cooling system, temperature control, lighting, and water filtration set in place for the herbs to grow. And the edible wall was build right next to the chef's table, making it convenient for the chefs to pluck a herb or two to add to the drinks and dishes. The produce vendor for Seasons 52, the chef, the produce supplier, and the GreenScaped Building's maintenance team together decided on what kind of herbs are grown in the garden and what kind of maintenance was required for their sustenance.
Seasons 52 serves mini desserts in shot glasses
At Seasons 52, shot glasses have a different purpose than what you may be used to. They feature what Seasons 52 calls "mini indulgences." They include Belgian Chocolate S'more, Raspberry Chocolate Chip Cannoli, Pecan Pie, Key Lime Pie, and more, served in shot glasses. No problem doing "bottoms up" with these. Chef Clifford Pleau wanted to create desserts that were light on calories but, at the same time, used high-quality ingredients. Upon someone's suggestion, he decided to make the portions smaller, and the result was a pie-filled shot glass.
In order to decide on the flavors, Pleau went to a nearby grocery store and browsed through their bakery and dessert sections to see which were the most in demand. When it came to deciding on a way to present the desserts, he was inspired by a chandelier in a hotel lobby. Just how the chandeliers held the candles, he created a tower with holders that instead of candles held 18 mini desserts. (via Darden.com)
The yellowfin tuna served at Seasons 52 is responsibly sourced
Yellowfin tuna is sold worldwide and is often overexploited. So much so that even organizations like the World Wildlife Fund (WWF) have been working toward recovering the depleted tuna stock and raising awareness about sustainably-caught tuna, like the one in the Ahi Tuna Tartare that's served at Seasons 52.
At the chain, the yellowfin tuna are sourced through the Fishing and Living Program — a program launched by Anova Food to promote sustainable fisheries and support fishing communities. The fish are caught in the Coral Triangle (in the Western Pacific Ocean) using a sustainable fishing practice: the handline method (via Seasons 52).
Using this ancient technique, the fishermen manually catch one fish at a time using a line that's fitted with a hook and a bait in the end. This way, only the fish that is required is caught, and the rest of the marine life remains unaffected. This is a stark contrast to the industrial fishing method that uses large trawls to catch fish, and in the process, tends to trap sea turtles and dolphins.
Seasons 52 faced a lawsuit for age discrimination when hiring employees
As many as 254 candidates who applied for a job at Seasons 52 restaurants alleged that they faced age discrimination. They said that they were told by the eateries that they don't hire "old white guys," reports The Dallas Morning News. The US Equal Employment Opportunity Commission (EEOC) filed a lawsuit against the company for denying applicants aged over 40 years the opportunity to work in the chain's restaurants. As part of the litigation, many applicants wrote in their testimonies that during the job interview, the managers at Seasons 52 used age-related comments such as, "Seasons 52 hires young people" or, "We are really looking for someone younger," according to a report on EEOC website.
Darden Restaurants, which owns the chain, settled the federal lawsuit in 2018 for $2.85 million. Seasons 52, however, denied all allegations.
Besides Seasons 52, restaurant chains such as Texas Roadhouse and Ruby Tuesday have also come under the spotlight for denying jobs to applicants because of their age. Ageism, according to Jesse Newton, co-founder and vice-president of the Central Florida Restaurant Administration, does actually pervade in the food industry. Servers who are above 40 years of age said that they were criticized, intimidated, and harassed into quitting, as reported in Orlando Sentinel.
The interior is inspired by the architecture of Frank Lloyd Wright
Seasons 52 restaurants feature plenty of indoor plants inside. For example, the restaurant at Altamonte in Florida has a tall tree in the midst of the dining area. There are vases atop the bar counter near the entrance and in front of the open kitchen. They bring in an outdoorsy feel, which is aligned with the type of architecture that renowned American architect Frank Lloyd Wright practiced. He is known for designing prairie-style dwellings, a technique of designing that takes into account the surrounding environment (via The Spruce). And this prairie-style architecture is the inspiration behind the architecture of Seasons 52 restaurants that sport earthy colors and stone accents.
Inspired by Wright's style of organic architecture, the inside of the restaurants feature tall living plants. The restaurants also feature massive wine displays. In some locations such as Buford, Georgia, they form the center wall, while in Garden City, New York, the wine bottles are stored in custom-made wine cellars. Some restaurants use locally sourced natural wood for the interior design (via Gwinnett Daily Post).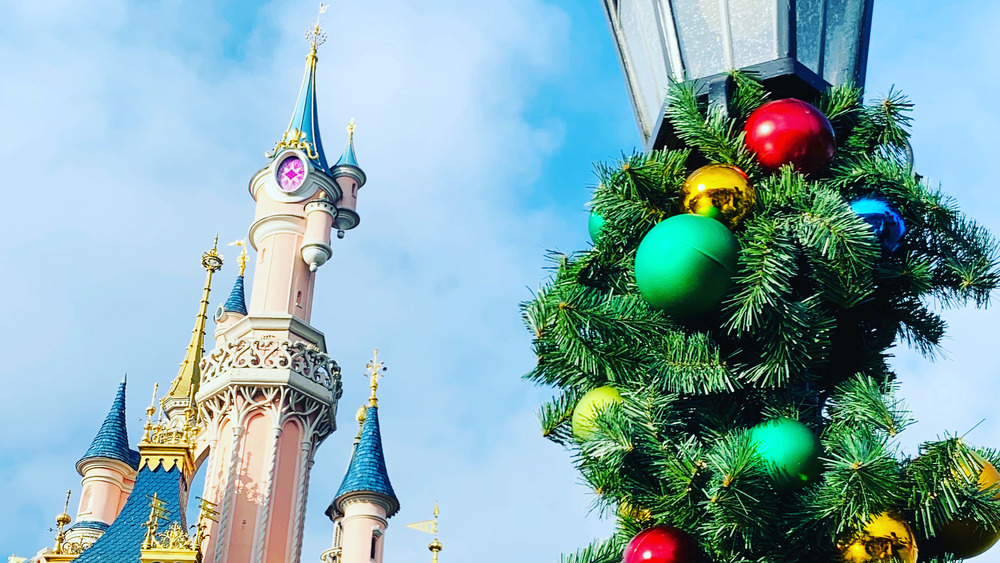 It's beginning to look a lot like Christmas, but Christmas this year is going to look a bit different. While we wish it was all sugar, spice, and everything nice, theme parks have been met with the unprecedented challenge of operating while navigating government mandates for COVID-19. Nevertheless, the holidays have arrived at Disney parks across the globe. The most magical place on Earth, Walt Disney World, is joining in on the action with the addition of decor and modified limited-time celebrations. Located in central Florida, its parks and resorts transform into a flurry of festive fun while maintaining the guest's healthy and safety at the forefront.
Epcot is a celebration of innovation that examines the past and looks toward the future through a series of attractions and dining experiences. Located within Epcot, World Showcase is a year-round World's fair celebrating the diverse cultures of the world. It's the only place on the planet where you can experience the spirit of Norway and, within minutes, take a stroll to romantic Italy. Cultural appreciation meets culinary experimentation each year at the park's food and wine festivals.
The largest, Epcot's International Food and Wine Festival, has been taking place annually each fall for 25 years, but the parks also serve as host to several other smaller festivals throughout the year. Foodies who have a soft spot for the holidays will delight in the Epcot International Festival of the Holidays, with the added bonus of milder temperatures and lighter crowds.
Disney's Epcot's International Festival of the Holidays kicks off November 27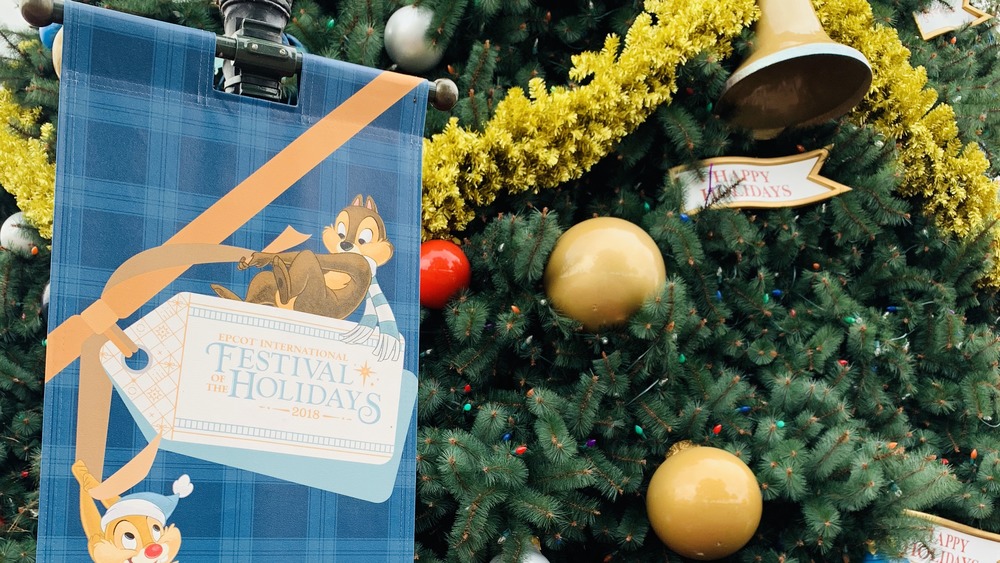 Taking place around World Showcase, the Disney Epcot International Festival of the Holidays is a feast for all five senses. The festival kicks off November 27 and runs daily through December 30. Guests experience the holiday traditions from various destinations around the globe through entertainment, decorations, stories, and of course, food. During this festival, 16 different types of food are represented in the form of holiday kitchens where you can dine on a sampling of traditional dishes each culture serves during the holidays. These dishes are designed as small plates meant to be shared, so you can sample a little bit of everything around the festival.
The celebration isn't limited to food, as the sights and sounds plays a major role as well. There's entertainment to be found throughout the festival, including holiday twists on some of Epcot's long-standing musical groups. Additionally, limited-time entertainment includes the Santa Claus Promenade and a lively vocal ensemble. Beloved Disney characters, including Mickey, appear decked out in their holiday best. The festival begins when you enter World Showcase Plaza, the central hub that is adorned with a massive Christmas tree with decor reflective of each nation.
Admission is included with your Disney park ticket …
Given all that's included, this sounds like it would be an expensive upgrade to your current Disney ticket. Wrong. Admission to the festival is included with your regular park admission ticket. The winter is an ideal time to visit Central Florida as to avoid the scorching hot temperatures found there most of the year. You'll also get to experience the very special holiday overlays of certain attractions.
Living With The Land is a boat attraction in Epcot that takes you on an agricultural journey through greenhouses while learning about conservation and the future of farming. For the holidays, it receives a merry makeover with the addition of Christmas lights and decor, including colorful wreaths and snowmen.
The feasting isn't limited to the holiday kitchen marketplaces — year-round food and beverage locations get in on the action as well. Did you really visit a theme park if you didn't scarf down a funnel cake? We think not. For the holidays, Epcot takes their regular funnel cakes and gives them a major upgrade in the form of a sweet potato casserole funnel cake. If you're looking to turn it up a bit (because *2020*), you can find T.G. Lee Eggnog loaded with spiced rum. Even your average coffee gets a twist in the form of a Caramel Tinsel Latte from Joffrey's, the official specialty coffee of Walt Disney World. Epcot is awesome year-round, but these little touches make it an extra special time to visit.
… But you'll need a Disney park reservation
Planning a Walt Disney World vacation is a massive undertaking, and unfortunately, it proves to be a bit more challenging given recent times. Long gone are the days of park-hopping (that's Disney talk for visiting multiple parks in one day), and until 2021, guests are only able to visit one park each day. Because of limited capacity, advanced reservations are required through their website via a newly created theme park reservation system.
Safety is a priority, and masks are required at all times for anyone over the age of two, including while walking around, taking photos, and while enjoying attractions. It's important to note that you can no longer actively be walking around while eating and drinking. Social distancing is also practiced throughout the parks and in line queues.
Cast Members (that's what Disney calls its employees) are dedicated to maintaining a safe environment for all and ready to enforce these new protocols. This does prove to be a bit of a challenge while attending a food and drink festival, but Disney has overcome this obstacle by providing many spaces to enjoy your eats and libations. Socially distanced high-top tables and picnic tables are found throughout World Showcase. Additionally, they are now utilizing World Showplace, previously only used as a special events space, as an indoor, temperature-controlled relaxation zone with plenty of seating, food and beverage booths, and entertainment.
There are 16 Disney holiday kitchens
In order to proceed with this experience, you must take all of your preconceived notions about what theme park food is and throw them out the window. While we'll gladly gorge ourselves silly on a Mickey pretzel any day of the week (this is a judgement-free zone), the chefs at Disney know what's up. Walt Disney World is, after all, home to a AAA Five Diamond Award-winning restaurant, the only sommelier-owned wine bar in Florida, and one of the nation's top tequila bars.
Food is serious business at Walt Disney World. Culinary creations for all the parks and resorts are dreamt up at the property's dedicated facility, dubbed the Food Lab. Highly top secret, this lab is an uber-private meeting space for chefs, mixologists, sommeliers, and food experts to dream up their next over-the-top creations for guests. After years in the festival business, they have gotten it down to an art. Each festival kitchen features several food items reflecting the culture's cuisine as well as drink pairings, including native wines, beers, and cocktails. The booths typically open around 11 a.m. each day, and in order to avoid the crowds that typically swell in the afternoon, the early bird gets the worm here.
There's a Disney cookie stroll (what?)
We appreciate Disney and their attention to details. It's the little things that enhance our visits and set Disney apart from the countless other destination theme parks around the world. If you've ever been to a Disney festival, you've likely grabbed what they call a festival passport. These pocket-sized guides include menus, entertainment schedules, and general festival info. They also double as a guide to track what you've consumed throughout the festival. Stickers are provided that represent each marketplace experience. You simply apply them to your passport after each visit.
If you're up for a sweet (pun intended) challenge, Disney has announced the return of the Cookie Stroll. The cookie stroll takes you around to five different holiday kitchens that have their own unique cookies. This year's cookies include a chocolate crinkle cookie from the American Holiday Table that has been a fan favorite, a Linzer cookie from the German-themed Bavaria Holiday Kitchen, peppermint pinwheel cookies from Canada's Yukon Holiday Kitchen, and a classic New York-style black-and-white cookie from the L'Chaim Holiday Kitchen.
Upon devouring all of these cookies, you are gifted with a reward cookie. Your progress is marked by a stamp that is provided by a Cast Member upon purchasing all of the five cookies. This is a fun group activity that's reasonably priced, as each cookie typically costs less than $3.00. This year's completer cookie is a peppermint Minnie cookie that looks both adorbs and delicious.
There are some returning food favorites at Disney
Epcot's festivals rank as some of the top food and wine festivals in the nation. With its success comes the droves of visitors who make the annual pilgrimage year after year. Naturally, there are some clear standouts every year. Some items have been a welcomed part of the festival for many years. The L'Chaim Holiday Kitchen celebrates Jewish traditions and delicacies and also happens to be a crowd-pleaser year after year. It's a safe bet to say that when we visit the festival, you can usually find us noshing on some deli-inspired delights here. They've been continuing to offer a standout pastrami on rye slider that's maintained its ranking as a festival favorite.
The American Holiday Table is another favorite that's reminiscent of traditional dishes you'd expect while gathered around Grandma's dinner table. For the ultimate taste of home, Disney continues to offer a slow-roasted turkey dish complete with all the fixings, including stuffing, mashed potatoes, green beans, and cranberry sauce. Be careful with this one. It's been long known to be a rather generous portion, and you're going to want to ease up if you plan to make your way around to all the holiday kitchens.
There are also some new menu items at Disney
While we're all about the nostalgia associated with a returning favorite, we also love checking out Disney's newly created dishes. The annual release of menus in advance of the festival is a time-honored tradition that has loyal fans glued to their devices. We'd go out on a limb and say that 2020 owes us. Gladly, the new additions to the festival this year have us pretty excited.
A new booth will be joining the festival lineup this year. Mele Kalikimaka is the thing to say and eat. This holiday kitchen will have us singing its praises (we hope!) with a kalua pork dish served over Okinawa purple sweet potatoes and topped with mango salad. Oh, what yum! Holiday Hearth, another new holiday kitchen, will be serving up desserts and milkshakes, including festival newbies, like a red velvet mini bundt cake and a salted caramel Spaceship Earth cookie, modeled after the park's centerpiece attraction. Over in Mexico, we always anticipate to be pleased by the Las Posadas Holiday Kitchen and can't wait to try a new giant tostada de chorizo.
Local is the name of the game when it comes to drinks at Disney
Of course, we need something to wash down the festive fare with. The Disney festival offers a stellar collection of cocktails, including a frozen hot chocolate martini. But local is the name of the game when it comes to the wine and especially beer options. Florida is home to stunning white sand beaches and a bustling tourism industry to say the least, but it also has one of the fastest-growing craft brewery scenes in the country.
We're pleased to see that the festival supports a number of these local breweries in their beverage offerings and celebrates their unique holiday brews. The Prost! Holiday Kitchen will be offering a M.I.A. Beer Company White Christmas IPA. Also at Prost!, 3 Daughters Brewing Company, from St. Petersburg, Florida, will be serving a Blueberry Peppercorn Hard Cider. Over in the Canada Pavilion, the Yukon Holiday Kitchen will be serving a Maple Cinnamon Coffee Beer from the 81Bay Brewing Co. from Tampa.
Your favorite Disney characters will be decked out
Grabbing a photo with your favorite character is practically the hallmark of a successful visit to a Disney theme park. Given the current mandates and health protocols the parks have in place, a visit with Pluto and Goofy is going to look a bit different. Gone are the traditional meet-and-greet experiences, parades, and nighttime fireworks. Characters now appear in the form of character cavalcades, basically mini parades. These experiences are spontaneous and unscheduled as to not produce a crowd and typically include one moving float and a few characters. While you won't be able to grab a photo up close and personal, it is the perfect opportunity to take a pic selfie style. You may feel a little apprehensive, but we promise you these have become a welcomed surprise and addition. And, to be honest, we'll take what we can get at this point.
The 2020 International Festival of the Holidays will be incorporating characters into the mix in this unique way. Mickey and the gang are adorable, but have you seen them decked out in their holiday best? Now, you can. Mickey and friends will be appearing in spontaneous world tours throughout the day during the festival. You can also catch a glimpse of the Disney princesses as they travel around World Showcase in a horse-drawn carriage. And we just couldn't let it go if we didn't get a visit from Queen Anna and Elsa.
Entertainment will look a bit different this year at Disney
Entertainment is a cornerstone of each of Epcot's festivals. Disney has previously brought out A-list talents, like Neil Patrick Harris and Whoopi Goldberg as well as musical acts Hanson and Boyz II Men. The annual Candlelight Processional will not be happening this year given the current crisis, but they've managed to still keep the spirit of the holidays alive through a variety of modified musical offerings. Over in the American Garden Theater, you can catch socially distanced gigs from Mariachi Cobre, the JAMMitors, and Voices of Liberty. These three longstanding and iconic Epcot music acts will be performing special holiday versions of their sets.
Yes, there is a Santa, but you will not be sitting on his lap this year. Instead, Santa Claus himself will be appearing throughout the day around World Showcase in his horse-drawn carriage. One of our favorite annual appearances are from the JOYFUL! vocal ensemble. This powerhouse vocal group performs an electrifying selection of R&B, Gospel, and holiday songs celebrating Christmas and Kwanzaa.
There's an Olaf-themed scavenger hunt at Disney
Unless you've spent the last near decade in hiding, there's no way you could have avoided hearing "Let It Go" on repeat. Love it or hate it, Frozen is a hit spawning a sequel, spin-offs, merchandise galore, and even upcoming themed lands in Disney parks across the world. Whether you are Team Elsa or Team Anna, we can all agree the true star of the show is Olaf, their lovable snowman companion. While winter is a good time to stay in and cuddle, we can't resist a good challenge. Walt Disney World has played host to a number of self-guided scavenger hunts throughout the parks for years. These are activities the entire family can participate in on their own time.
For the first time ever, they will be introducing an Olaf-themed scavenger hunt to the festival. Olaf's Holiday Tradition Expedition is a quite the mouthful to say (especially while chomping on a fruit cake), but will have you on an Arendelle-sized quest around World Showcase on a hunt for our favorite snowman's holiday traditions. This experience will cost you a small fee but includes a scavenger hunt map and stickers. Not sure about you, but we're down to unwrap this newest holiday tradition.
There's a ton of super-cute merch exclusive to this Disney event
Disney tends to send us into a frenzy each season with the release of limited-time merchandise (don't @ us, we just HAVE to have it!). We can't help coming back for more, like with the Halloween collection that included super-cool Haunted Mansion hitchhiking ghost sippers and popcorn buckets. We continue to materialize in the parks for our shot at snagging these unique mementos. Epcot's festivals are not exempt from this, and with each new festival comes its own line of merch to commemorate the occasion.
The festival collections are typically themed around a central character or motto (we loved the "olive to cook" collection), and feature gifts for the foodie in your life, like kitchen accessories and glassware, as well as a slew of everyday practical items, like t-shirts, sweatshirts, and even MagicBands. Each collection also features a themed festival Spirit Jersey, which is basically the unofficial uniform for any hardcore Disney fan. Annual Passholders (guests who hold yearly passes to the parks) will also have access to an additional collection available only to them.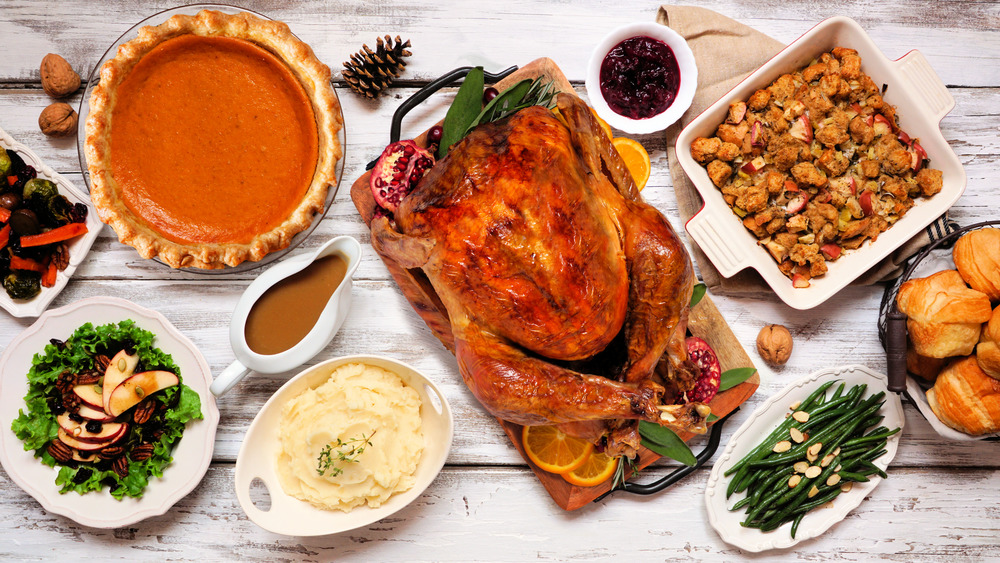 When it comes to Thanksgiving, stuffing is a staple side dish. Whether you actually call it by that name, swear by the term dressing instead, or don't understand the difference, chances are there is still some version of the dish on your table on turkey day. In fact, The Washington Post argues that "no other Thanksgiving staple better reflects the nation's diversity than the side dish known as stuffing."
At its basic core, stuffing is a combination of starch and other ingredients (usually vegetables and herbs) that soak up liquid while baking in the oven, either inside a piece of meat or in a casserole dish. There are endless variations on how you can make stuffing and what you can put it in. But there are right and wrong ways to do it, and certain rules must be followed. Keep reading for the mistakes everyone makes when making stuffing — and how to avoid them.
Using fresh bread for your stuffing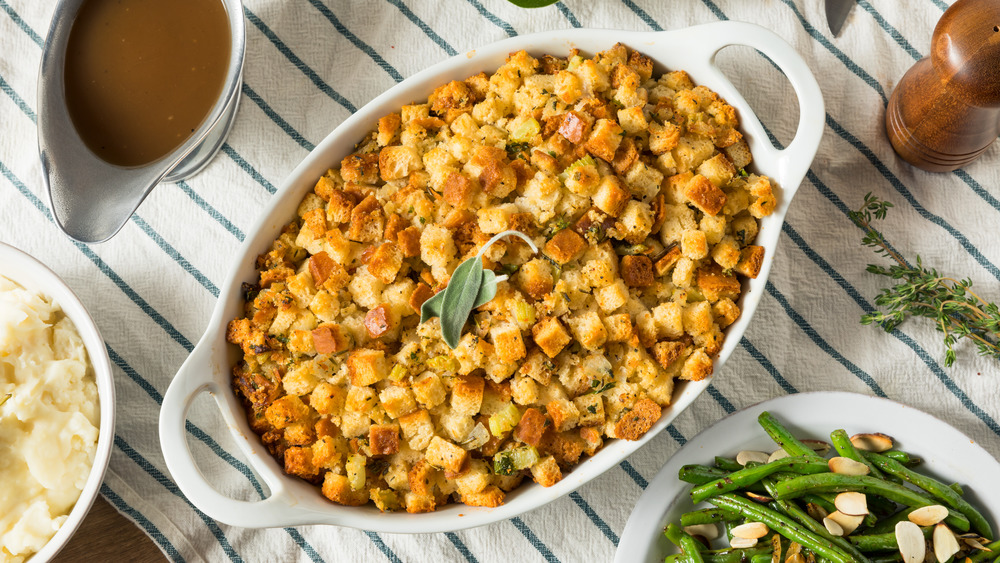 While it may be a natural tendency to assume fresher is always better, that's not the case when it comes to stuffing. One of the worst things you can do when making this dish is use fresh bread. The soft, airy texture will quickly become soggy the moment you add the wet ingredients. Make this mistake, and what you'll end with is nothing short of a mushy, unappetizing side dish that no one will be reaching across the table for.
No matter which variety you decide to use, the key to a great stuffing is to use stale or thoroughly dried-out bread. It will soak up all the delicious flavors you are adding to your stuffing, while maintaining some hearty texture. Food Network chef Sandra Lee advises cutting your bread into cubes and then letting it sit out on the counter for a day or two to get stale. But if you're crunched for time, Serious Eats also recommends toasting your bread cubes in the oven at 275°F for about 45 minutes, tossing it a few times to dry out all the pieces evenly.
Not cooking the veggies for your stuffing first
Vegetables and aromatics are important texture and flavor components for any stuffing recipe. Many classic versions, like this recipe from Martha Stewart, call for onions, celery, and garlic at the very least. But there are truly endless possibilities as to what you can add to a stuffing, from shallots, carrots, and leeks to ginger, mushrooms, cranberries, and more.
No matter what you're including, it is a cardinal sin to add these ingredients to your stuffing uncooked. Food blogger Cafe Mom says this mistake "will leave your stuffing devoid of important texture and flavor." Not only are you denying these aromatics the chance to moisten and release their fragrances before baking, but you're also running the risk that all the ingredients in your stuffing will not be cooked evenly. For the best results, the food experts at All Recipes recommend sautéing your veggies (and any other ingredients you plan to add to your stuffing) in a little bit of butter for a few minutes until they are tender.
Using dried herbs instead of fresh for your stuffing
While fresh bread is a definite no-go when it comes to stuffing, when it comes to your herbs, fresh is always best. Whether you're throwing in the classics, like sage, thyme, rosemary, and parsley, or spicing things up with the likes of basil, dill, oregano, or maybe even tarragon, this rule still applies. Fresh herbs have much more bright and vibrant flavor than dried herbs, which have more concentrated, earthy notes.
While there are certainly times when one is better to use than the other, for a celebratory dish like stuffing, you want to stick with fresh herbs, which "will give you maximal flavor and fragrance," according to Eat This, Not That!. If you're putting hours if not days of work into your Thanksgiving feast, you want it to be the best dish it can possibly be, and fresh herbs can make that happen.
Adding in all the stuffing stock at once
Achieving the perfect stuffing texture comes down to your ratio of wet and dry ingredients. The balance has to be just right to make sure the components actually come together without leaving your bread totally soaked and soggy. The easiest way to make this mistake and throw off your ratio is to add your chicken stock to the recipe all at once. If you do that and there turns out to be too much liquid in your mix, the stuffing is pretty much ruined before you've even baked it.
To avoid this pitfall, Bon Appétit advises adding stock to your recipe slowly, about a half a cup at a time. You can always add more until you reach the right ratio. And what exactly does that look like? The Kitchn says the "bread should absorb the liquid without leaving a puddle at the bottom of the dish."
Oversalting or overseasoning your stuffing
There are a lot of flavor components that go into a stuffing, from the veggies and aromatics to the fresh, savory herbs. There's also the butter, broth, and bread, which can be packed with sodium. And that's before you include the customizable add-ins like sausage, bacon, nuts, spices and more. What can result is a stuffing that has way too much salt or is over-seasoned.
There are a few ways to avoid this mistake. First and foremost, Eating Well says that making stuffing from scratch, rather than using a box mix, is the best way to go because you have better control over the amount of salt and seasoning that will be added. When it comes to adding extra ingredients, be "judicious" with how much you use. Things like sausage and bacon inherently contain a lot of salt, and a little goes a long way in your recipe. Other tips include using low-sodium chicken broth and tasting your stuffing to see if it actually needs any extra salt added to the recipe.
Overpowering the binder in your stuffing
When you add extra ingredients to your stuffing, over-salting isn't the only risk that you take. Using too many mix-ins could also make it harder for your stuffing to come together in the oven. The most prominent dry ingredient in your stuffing must be the bread, which soaks up almost all of the liquid and acts as the binder for the dish. If you overpower your binder, then your stuffing will not hold together, but rather, start falling apart the moment you try to serve it up. Keep that in mind when choosing what kind and how many ingredients to add to your recipe.
Epicurious' guide to making stuffing suggests using about twice as much bread as you do other ingredients. For example, a stuffing that serves eight to ten people should have a ratio of ten cups of bread to 3 cups of chopped vegetables and up to a pound of meat (which is roughly two cups).
Not keeping your stuffing ingredients separate
Another way to end up with soiled stuffing is to combine your ingredients too soon before baking. If you try and assemble your recipe ahead of time but wait to bake later, your bread will sit there in all that liquid and get really soggy, really fast. To prevent your dish from getting too mushy, Food Network advises waiting to combine your dry and wet ingredients until right before you are ready to dump the stuffing into a bird or casserole dish and bake it.
This is also a food safety issue. The USDA Food Safety and Inspection Service (FSIS) says stuffing, especially before it's cooked, is "an excellent medium for bacterial growth." So it's extremely important to handle and prepare the ingredients properly to reduce the risk of food-borne illness. For this reason, the FSIS also encourages cooks to cook their turkey and their stuffing separately.
Not getting the stuffing cook time right
In order to get the perfect stuffing texture, it's not just your wet and dry ratio that needs to be spot on. The baking time is also very important. If your stuffing is undercooked, it will mostly be a wet, soggy mess when you try and dish it out. On the other hand, overcooked stuffing can dry out quickly and become difficult to eat. Be sure to stick closely to the temperature and baking time instructions in your stuffing recipe.
And once again, this becomes a food safety issue as well, especially if you're using eggs in your recipe, which many call for. Food safety experts say anything with eggs in it needs to be cooked to an internal temperature of at least 160 degrees Fahrenheit to make sure any harmful germs that could cause food poisoning are killed. And for casseroles (which is technically what stuffing is), that temperature needs to be 165 degrees Fahrenheit.
If you need to make your stuffing ahead of time, another helpful tip from Cafe Mom is to undercook the dish just slightly, and then pop it in the oven right before dinner to reheat and finish cooking without drying out.
Cooking the stuffing inside the turkey
There is an ongoing debate about whether or not stuffing should actually be stuffed inside a turkey or simply made in a casserole dish. According to Food Network, the idea of not stuffing the bird was unheard of in the past, but these days, most chefs and food experts will tell you not to bother. Why, you ask? Because the risks just aren't worth it.
Usually one of two things will happen when you stuff your turkey. If you're focused on getting your bird cooked to juicy perfection, you risk undercooking your stuffing, which can create a serious risk for bacteria developing inside the bird and causing people to get sick. On the other hand, by the time you do get your stuffing cooked all the way through safely, there's a good chance you'll have overcooked and dried out your turkey. And let's be honest. All the gravy in the world can't mask that.
Trying to be diet-friendly with your stuffing
Beyond giving thanks and watching football, Thanksgiving is about indulgence and comfort food. It's about eating all the turkey and sides we can contain, plus at least one kind of pie that we don't possibly have room for. It's about gravy and bread, and above all else, butter. It's not a low-fat holiday, nor should you try and make it one, if you ask us.
With that said, one of the biggest mistakes you can make when it comes to stuffing is to skimp on the butter. It's an essential part of the nostalgic, comforting taste we know and love in each bite of stuffing, which would simply not be the same without it. Bon Appétit says about half of the moisture in your stuffing should come from butter. This will help give the dish a richer flavor and texture, plus help achieve those crispy edges we all love.
Not having enough stuffing to go around
While the recipes vary from table to table, most people agree that stuffing is a Thanksgiving staple, if not a favorite part of the meal. So another fatal mistake that can be made when it comes to stuffing is simply not making enough of it. Typical Thanksgiving portion guides, including Food52's, recommend allotting three-quarters of a cup of cooked stuffing per person. However, that doesn't take into account how many people are inevitably going back for seconds on turkey day.
Not to mention, there are literally so many amazing things you can do with leftover stuffing for days after Thanksgiving is over (deep-fried stuffing mozzarella balls? Yes please!). It's important to keep all of these factors in mind when planning out how much stuffing to make for your Thanksgiving table so that everyone can have their fill and you've got some extras to get creative with later if you want.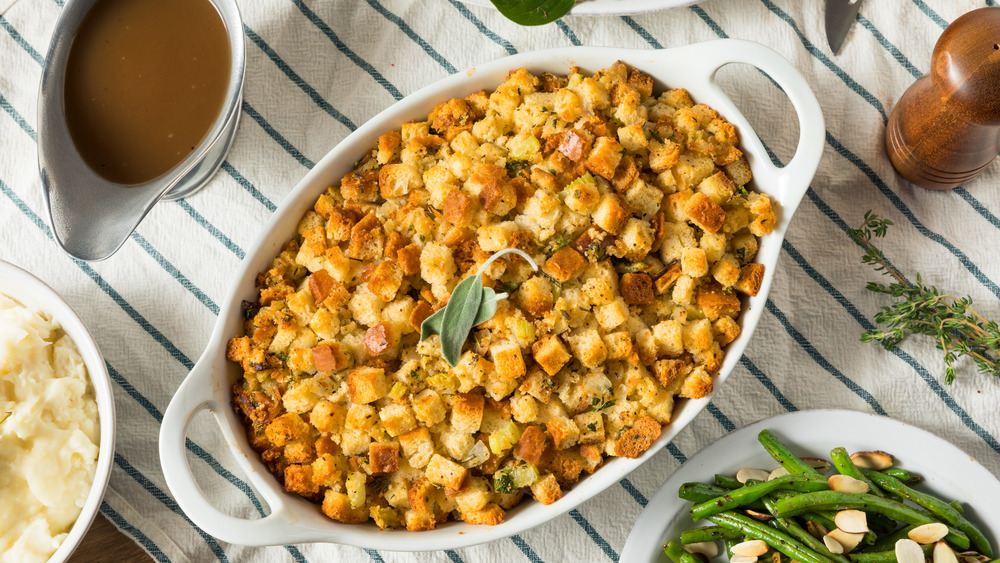 The holiday season is a time to be with the people you love and eat some of your most beloved family recipes that have been passed down from generation to generation. Another tradition that is as much of a mainstay as the roasted turkey served during Thanksgiving? Passionate family discussions about everything — from sports to politics to how your aunt's sweet potato casserole is better than your mom's (which is something that the family doesn't say too loudly around dear mom). One debate that has caused a bit of contention among relatives, especially those who live in different parts of the country, is the ever-so-delicious topic of what the true name for stuffing is (or is it dressing?).
This debate is so far-reaching, that even The Pioneer Woman, Ree Drummond, named her late mother-in-law's recipe "Thanksgiving Dressing/Stuffing." But, is there really a difference between the two? Or is it more a difference of words the same way soda and pop are sometimes used interchangeably.
The differences between stuffing and dressing come down to geography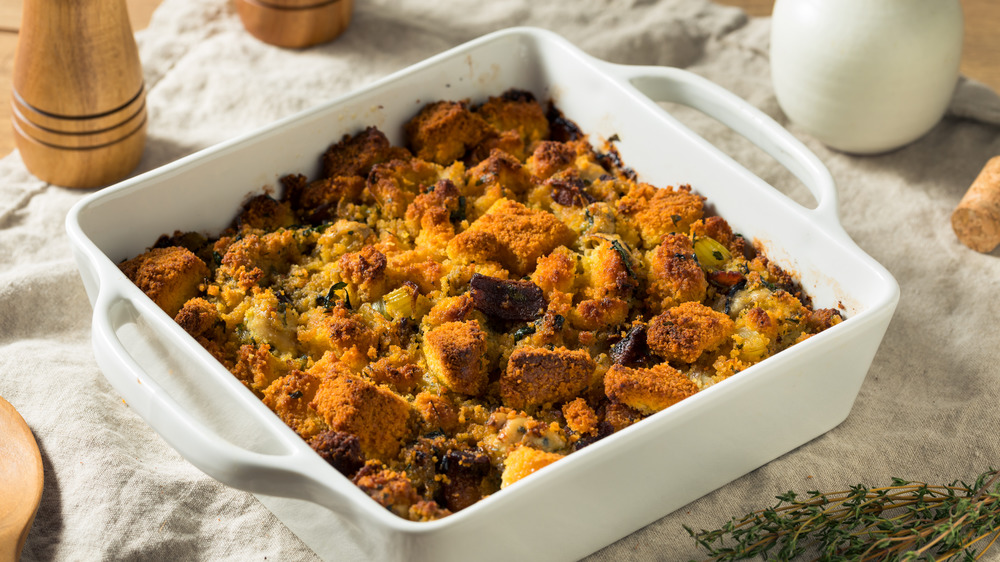 According to My Recipes, the true definition of stuffing is something that is cooked inside of something else. In theory, the article explains, turkey stuffing is a mixture that is cooked within the turkey. The Pioneer Woman details that cooking it within the turkey is something that has, for the most part, gone out of style. The USDA recommends that stuffing and turkey chefs stay away from this practice. But, if you can't stay away from it, make sure everything inside the cavity of the turkey is cooked to at least 165 degrees Fahrenheit.
So, what is the definition of dressing? It's a mixture that is cooked in a pan next to the turkey, My Recipes reports. Both stuffing and dressing are made with the same basic ingredients like dried bread cubes, diced vegetables, broth, butter, herbs, and spices, according to The Daily Meal, so if you were looking for that to differentiate both, you're gonna hit the proverbial dead end. Another thing that marks the difference between the two on the holidays? Where you live and where you were raised (assuming you've moved), The Daily Meal cites. The report claims that Southern states like Texas, Oklahoma, Alabama, Georgia, and Missouri, have a higher tendency of using "dressing." What do the Northeastern states use? They are partial to "stuffing." And if you're from Pennsylvania, you call it filling, My Recipes reports.