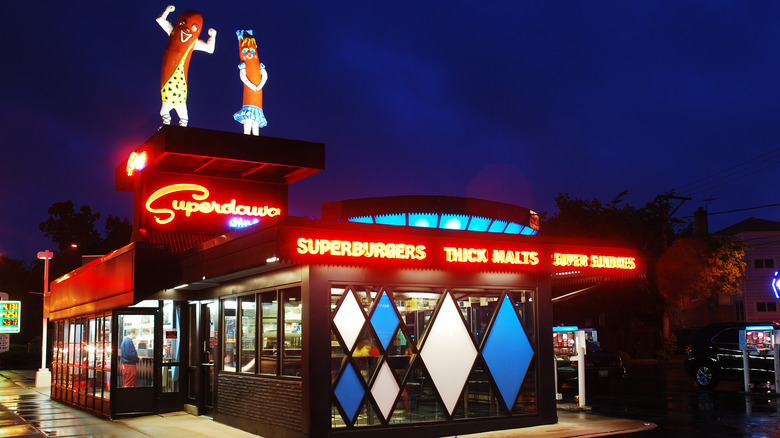 If you pay a visit to Chicago, it goes without saying that it's a must to stop by one of the city's treasured hot dog stands — and few are more iconic than the attention-grabbing Superdawg Drive-In. Most notably, the restaurant's claim-to-fame — a 100% beef Superdawg that's loaded with golden mustard, piccalilli, kosher dill pickle, chopped Spanish onions, and a hot pepper (as noted on the website) — has been served on a poppyseed bun with a side of crinkle-cut Superfries and delivered in that classic red box for generation after generation. It's not hyperbole to say this stand is an important part of hot dog culture in Chicago.
Even just visiting the drive-in is like stepping back in time. Superdawg is renowned for their delicious food, of course, but the experience is what has kept customers coming back time and again. From the vintage style of the architecture to the recognizable hot dog sculpture mascots and the friendly carhops that serve your meal to your car on a tray — it's all vital to a memorable Superdawg experience.
Whether your family has been driving up here for years, or you're planning a visit the next time you're in Chicago, your bellies and your soul will feel full afterwards — and hopefully with some room left for one of their delicious milkshakes.
Superdawg wasn't originally a drive-in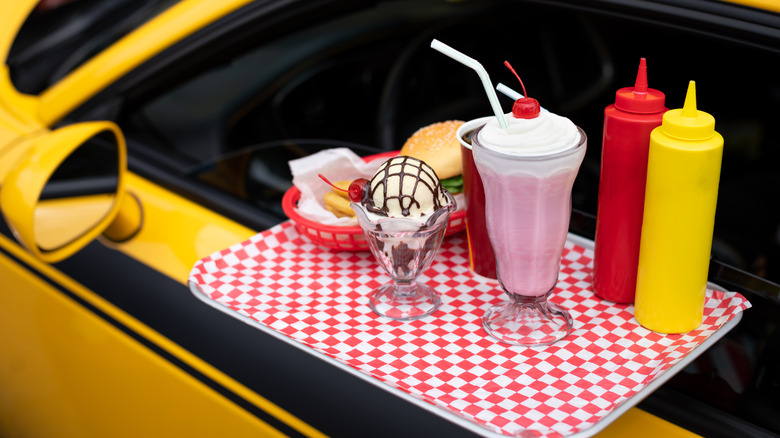 Superdawg Drive-In didn't start off in the same way it appears now. When Maurie Berman established the original location at the corner of Milwaukee, Devon, and Nagle on Chicago's northwest side in 1948, Superdawg was a simple hot dog stand at the end of the streetcar line. At the time, Berman had recently returned from combat lines in WWII and was enrolled as a student at nearby Northwestern University. He had just married his high school sweetheart, Florence "Flaurie" Berman who was a Chicago Public School teacher.
So, they initially envisioned Superdawg as a summer-only restaurant when they had breaks and at the same time, to appeal to the high volume of people taking the Milwaukee streetcar to visit the forest preserve and community pool that sits across the street (via Superdawg).
The restaurant gained so much popularity in its first three years of summer-only operations, however, that the Bermans decided to open it year-round (via Thrillist). As the restaurant expanded, so did the physical building, and the business model shifted to accommodate the increasing car traffic. A new speaker system was installed so customers could order from the comfort of their car and Flaurie became Superdawg's first carhop, setting the restaurant up to become a local legend (via Chicago Reader).
Maurie Berman designed the original location
Superdawg is not just famous for its food, but also for being a Chicago landmark with an instantly recognizable design. To this day, the restaurant maintains the neon drive-in kitsch of the 1950s. And all of it was designed over time by founder Maurie Berman.
The original building was simpler and smaller than the restaurant appears today. However, with many returned veterans opening roadside hot dog stands to supplement their income on the GI Bill, Berman wanted to design something distinct that would stand out and bring in more traffic. Scott Berman, the son of Maurie and Flaurie, told the Chicago Tribune about his father's intentions, "He wanted to open something more noteworthy … a building, a tower, something with some identity."
And what he landed on was a simple 12-foot by 20-foot building topped with two giant anthropomorphic hot dogs that beamed at passerby, inviting them in for one of Superdawg's specialties (via Thrillist).
As the restaurant expanded, it adopted the distinctive drive-in style of the Eisenhower era with patterns of blue and white diamonds and neon signage. At night, the carhop control center still lights up with blue lights. The restaurant was renovated in 1999 with special care to preserve the building's overtly graphic style, and a second location was designed with a similar aesthetic, which opened in the nearby town of Wheeling in 2009 (via Superdawg). Thanks to Maurie Berman's dedication to distinctive design, Superdawg Drive-In remains an architectural landmark to this day.
The Superdawg mascots are named after the founding couple
Perhaps the most distinctive parts of the original Superdawg Drive-In location are the two giant hot dog characters adoring the roof that wear clothing and make faces. They are each 12-feet tall, and definitely meet Maurie's goal of bringing attention to the hot dog joint. The sculptured couple is named after the founders Maurie and Flaurie. The Maurie mascot wears a leopard-print muscleman outfit and is in a flexed pose while his counterpart Flaurie wears a blue skirt and a bow in her blonde hair. They are sans buns and instead have human legs, arms, and faces.
It's all fine and cute, but some have taken issue with the red lights glowing in their eyes that, at sundown, flicker on and off once every few seconds as they appear to wink at each other and the customers they invite into the drive-in. While the Superdawg mascots are widely loved, this one facet makes them admittedly a bit creepy. The Takeout even included them on a list of the food world's most upsetting mascots (as seen on Yahoo! News) for their "bloodthirsty eyes" with the writer saying, "I will happily support Superdawg until the day I die, but I choose to do so only by the light of day.
Maurie's candid response to the book "Hot Dog Chicago"
A great representation of Maurie Berman's unique nature and the big personality that drove the brand is seen in how he responded to Superdawg's inclusion in the 1983 book "Hot Dog Chicago: A Native's Dining Guide," by Rich Bowen and Dick Fay. The popular foodie encyclopedia outlined the hot dog scene in the city and reviewed the many hot dog stands, restaurants, and establishments around town, ranking them all in a snarky, tongue-in-cheek style.
In an interview with Chicago Reader years after the book's publication, Rich Bowen remembered Maurie Berman's remarks at the launch party. All the featured hot dog restaurants were invited to the extravaganza, so the Superdawg owners were of course in attendance. Bowen recalls, "He was a little guy, shorter than me, but I thought of him as the Rasputin of the hot dog business — he came up to me and said [speaking in gravely voice]: 'Rich, you did a great thing for the hot dog industry. You didn't name us number one, but you know what, Rich? F— you, we don't need ya!'" The Superdawg team verified the likelihood of the story, saying that it sounds like something Maurie would say (via Chicago Reader).
Unfortunately, many of the hot dog joints reviewed by Bowen and Fay are no longer around. Superdawg has however stood the test of time, possibly proving Berman's assertion that a number-one spot in "Hot Dog Chicago" didn't outweigh the delicious recipe and unique experience of visiting the popular drive-in.
Superdawg has more than hot dogs
Although Superdawg was started as a hot dog stand, it serves much more than just the classic Chicago dog. The special Superdawg recipe is delicious and has been the backbone of the restaurant's business since it was established in 1948, but the drive-in also offers a wide menu of burgers, ice cream, and sandwiches.
After Superdawg grew in popularity and opened year-round, expanding the physical building and drive-in system, the classic Superdawg recipe stayed the same. However, the Bermans began experimenting with new specialty items to keep their customer's appetites perked and keep up with their own innovative spirit.
In 1989, Superdawg introduced the Whoopskidawg. This menu item is their charbroiled take on a Polish sausage with special sauce and grilled onions on a signature roll. Another new item debuted in 1991: the Superchic. The Superchic is their take on a chicken sandwich with a charbroiled boneless chicken breast, special sauce, and grilled onions on a delicious roll. Both of these items added exciting variety to the menu when they were introduced, says the official website.
Superdawg continues to thrive and serve drive-in customers to this day, so next time you're in Chicago, be sure to stop by for a classic hot dog or one of their other delicious staples that you'll want to write home about.