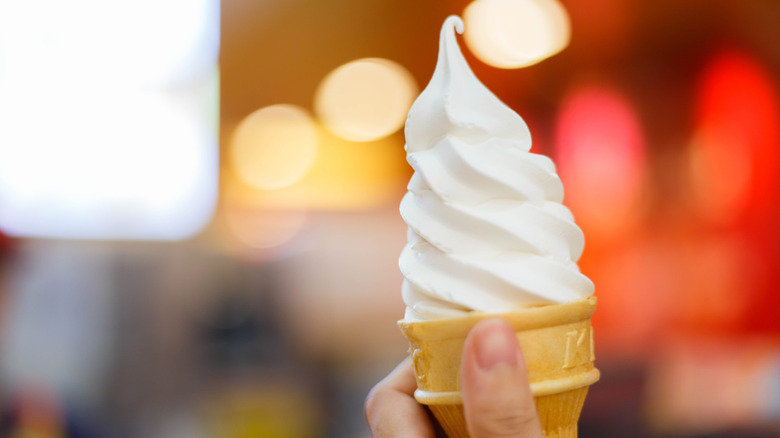 When you want a sweet treat from a drive-thru window, you have a multitude of options. You can opt for anything from a fast food pie to the glorious frozen dessert that is the Wendy's Frosty. When you just can't decide, a fast food ice cream cone is something that will always hit the spot. It's portable, it's tasty, it has various textures at play, and it usually comes with a very reasonable price tag.
The history of the modern ice cream cone dates back to the 1904 World's Fair that took place in St. Louis. Before that, if you wanted to eat ice cream, you typically had to use a bowl. It didn't take long for the cone to become commonplace in the United States, and now, it's impossible to imagine American life without it.
When it comes to fast food ice cream cones, there's a lot of variance. In this ranking, we will list them from worst to best. Don't be surprised if your sweet tooth demands that you go acquire one of these treats by the time you have finished reading.
13. Sonic Drive-In's Vanilla Cone
Sonic Drive-In has a lot of amazing dessert options. However, their Vanilla Cone isn't one of them. In fact, this is the worst ice cream cone that you can find in the fast food universe.
First of all, the ice cream isn't memorable. The vanilla flavor is supremely lackluster. Second of all, the cone is really unenjoyable. It's harder to bite into than other cones, and once it's in your mouth, the experience just gets worse and worse. As you chew it, the grittiness is annoying. It's as if you are trying to eat sand. After you finally swallow the cone, a chalk-like substance remains in your mouth.
When you're in the market for an ice cream cone, don't even consider going to Sonic. If you're already at Sonic, pick anything else from their ice cream menu, and you will be happier. Even better, get your hands on one of their legendary Cherry Limeades.
12. Burger King's Vanilla Cone
If you buy a Whopper at Burger King, you will most likely be thrilled with your selection. It's a flavorful and filling burger. However, if you're purchasing a dessert from Burger King, you need to be careful. Not only do they have terrible milkshakes, their Vanilla Cone isn't much better.
Unlike Sonic's disaster, the problem isn't with the cone at Burger King. The issue is the ice cream. On your first lick, you'll instantly know something is amiss. This ice cream has no creaminess and a very limited amount of sweetness. It basically tastes like watered-down milk. To make matters even worse, the texture of the ice cream leaves a lot to be desired. It's so icy that you almost need to chew it.
If you're searching for a yummy dessert from Burger King, your safest bet is to order the Hersey's Sundae Pie. That bad boy is a dream for chocolate lovers.
11. Jollibee's Chocolate Twirl
Jollibee is a fast food chain that was born in the Philippines and is now taking the world by storm. It's been in the United States since 1988. In America, they are most famous for their scrumptious fried chicken.
While not available at each of their locations around the globe, if you look hard enough, you can find their Chocolate Twirl. This dessert consists of vanilla soft serve ice cream in a cone that is then dipped in chocolate. While it sounds good and looks good, it doesn't taste good. The chocolate is what ruins the party. It's actually so sweet that all the chocolatey goodness is lost. The chocolate also has a chemical aftertaste that overshadows the ice cream and the cone.
If you want a dessert from Jollibee, you should always pick the Peach Mango Pie. It's literally the best pie you will find at a fast food restaurant anywhere in the world.
10. McDonald's Vanilla Cone
The Vanilla Cone from McDonald's is a ubiquitous dessert choice. Seemingly every American has had one at some point in their life. That said, there are very few die-hard fans who religiously go to McDonald's when the craving for a fast food ice cream cone strikes. Why is that? It's because McDonald's Vanilla Cone is so boring.
It's not bad, mind you, but you very well could fall asleep while you're eating it. The vanilla soft serve is nothing worth writing home about. The cone is easy to chew, but any flavor it possesses is minimal. It's not quite like eating cardboard — but it's close. By the time you're done with this ice cream cone, you'll be underwhelmed by the ordeal. Sure, the Vanilla Cone is inexpensive, but it also tastes cheap, which is a problem.
McDonald's also loses points in this ranking due to the unreliability of their ice cream machines. Even if you want this treat, there's a good chance that the machine will be down.
9. A&W's Signature Soft Serve
More than 100 years ago, A&W started life as a roadside stand selling root beer. These days, they're still known for their root beer. A&W also deserves credit for being the inventor of the bacon cheeseburger. What they're not known for is their Signature Soft Serve, which is what they call their vanilla soft serve in a cone.
This A&W dessert is very similar to McDonald's Vanilla Cone. The soft serve is a little bit tastier, and the texture of the cone is a little bit better. That said, eating their Signature Soft Serve is still a yawn-inducing experience. Nothing about it will impress you at all.
Truth be told, their vanilla soft serve is best when paired with root beer. That's why you should always get A&W's Famous Float. The root beer float you can get from their drive-thru window is spectacular. Even if it isn't as easy to handle when you're on the run, it's definitely worth the extra effort.
8. Chick-fil-A's Icedream Cone
When you visit Chick-fil-A, your expectations are through the roof. From their delicious chicken sandwiches to their breathtaking nuggets, it seems like everything on their menu is guaranteed to be fabulous. Unfortunately, the Icedream Cone from Chick-fil-A doesn't quite live up to those lofty standards. Instead of this dessert blowing you away with yumminess, you'll find this treat to only be average.
Compared to the aforementioned Vanilla Cone made by McDonald's, this dessert is certainly creamier. However, the cone is forgettable and tends to get soggy way too fast. You may even be tempted to throw the soggy cone in the trash rather than finishing it to the final bite.
Interestingly, the name Icedream Cone didn't come about as a happy accident. Chick-fil-A uses this play on words because they legally can't call it ice cream. For something to be marketed as ice cream, it has to meet specific standards set by the FDA.
7. Tastee Freez's Vanilla Soft Serve Cone
Tastee Freez is a chain of fast food restaurants that deserves a round of applause for inventing soft serve ice cream back in 1950. There's a very real possibility that the first soft serve you ever tasted was at Tastee Freez, as they had 1,800 locations at the peak of their popularity. Sadly, there are only a few locations left standing these days.
While we should all be thankful that they introduced soft serve to the culinary world, it's not worth tracking down the closest Tastee Freez. Their Vanilla Soft Serve Cone is an above-average choice — but only slightly. Ironically, it's their soft serve that holds them back. Compared to what the competition is making, Tastee Freez is no longer anything special. Other fast food chains have not only caught up, they have passed them by.
Even if you're drunk on nostalgia and you're convinced that a trip to Tastee Freez should be on your bucket list, you'd be better off picking another fast food ice cream cone higher in this ranking.
6. Andy's Frozen Custard's Chocolate Custard Cone
If you've done your research, you will be able to get a tasty ice cream cone at Andy's Frozen Custard. However, if you don't heed this advice, your dessert future could be doomed.
At Andy's, you need to avoid their vanilla custard. When it's by itself in a cone, you'll be distracted by the slightly sour aftertaste of the vanilla custard. That odd aftertaste promises to ruin your sweet tooth's day. But on the other hand, the chocolate custard at Andy's is phenomenal. It has a deep, rich flavor that has just the perfect level of sweetness. Pick the Chocolate Custard Cone, and you'll feel like a genius.
Andy's was founded in Missouri in 1986, and they now have more than 80 locations in a total of 14 states. This chain only does desserts — and they do it well. On their menu, you can find a variety of concretes, sundaes, splits, shakes, and floats.
5. Shake Shack's Chocolate Custard Cone
From burgers to chicken sandwiches and from hot dogs to their eponymous shakes, Shake Shack has numerous menu items that you deserve to try. But the next time you eat at this fast food chain, don't forget about their custard. It's fantastic, and it's impossible to mess up. Unlike Andy's Frozen Custard, you don't need to visit Shake Shack with a game plan. Whichever flavor tickles your fancy at the moment will be well worth your hard-earned cash.
At Shake Shack, you can get cones filled with vanilla custard, chocolate custard, or the custard flavor of the month. To date, they've yet to unveil a flavor that is anything less than delicious.
While ice cream cones are an afterthought for many fast food chains, cones were a part of Shake Shack's vision from the very beginning. When the business plan for the chain was written on a napkin, custard and cones were prominently listed.
4. Culver's Vanilla Waffle Cone
In the fast food industry, you can argue that no chain is hotter than Culver's. They're seemingly doing everything right, no matter what they try. Culver's is the best chain restaurant of them all when it comes to burgers, and their onion rings are also the best you can find anywhere. That mastery extends to their desserts, particularly their slow-churned custard.
When it comes to the quality of their custard, Culver's reigns supreme. It's so creamy and so flavorful that you'll love every lick. As far as their cones are concerned, you have two options. You can pick a regular cone, which they refer to as a cake cone. Alternatively, you can upgrade your dessert by opting for a waffle cone. That's an upgrade you should do each and every time, as their waffle cones are as good as what you'd find at Baskin-Robbins.
When it comes to the flavor of the custard, you should pick vanilla at Culver's. Their vanilla is sourced from Madagascar, and the custard is made in the restaurant. Try it once, and your taste buds won't allow you to buy fast food custard from anywhere else.
3. Jason's Deli's Ice Cream Cone
Jason's Deli is becoming a popular fast food destination in many nooks and crannies of the country. While their sandwiches, salads, and soups rightfully get a lot of attention, their desserts should also be recognized as one of the reasons why this chain is always busy with paying customers.
On the dessert menu at Jason's Deli, you will find various goodies including cookies, brownies, and cheesecake. But the item that will steal your heart and make you visit this chain again and again is the free ice cream cone. Yes, that's right, Jason's Deli doesn't charge you even a single penny for their ice cream cone. Every customer is given their choice of either vanilla, chocolate, or even swirled ice cream in a cone for free.
Even leaving the price tag out of the equation, this dessert at Jason's Deli is really, really good. Add in the fact that there is no charge, and you'll love your ice cream cone even more.
2. Rally's Wicked Strawberry Cone
Outside of chocolate and vanilla, strawberry is one of the most popular flavors of ice cream in the United States. Tragically, it's difficult to find strawberry ice cream from drive-thru windows, specifically strawberry ice cream that comes in a cone. Thankfully, Rally's has come to the rescue. Their Wicked Strawberry Cones are devilishly delectable and joyously unique.
Although Rally's also has vanilla ice cream cones, you should stick to the strawberry version. The vanilla is great — but the strawberry is next-level delicious. The cones at Rally's are also extraordinary. They're crunchy, tasty, and surprisingly addictive. Combine the strawberry ice cream and the cone, and you'll soon be able to revel in dessert nirvana once it's tickling your tongue.
If you've never heard of Rally's before, you may know this fast food chain as Checkers. The two brands have the same owners and even have the same menu. Don't worry, if you go to Checkers looking for the Wicked Strawberry Cones, you'll find it.
1. Dairy Queen's Chocolate Dipped Cone
When it comes to ice cream cones, Dairy Queen is the queen and the king of the galaxy. No other fast food eatery can compare. Others have offerings you will love, but Dairy Queen has ice cream cones you will fantasize about and obsess over. After your first encounter, you will count down the minutes until you can gleefully stuff your face once again.
If you typically just pick a Blizzard when you go to Dairy Queen, you need to break that habit. These cones are so good that they deserve your undivided attention on your next visit. You can pick their Vanilla Cone, which is the best of its kind. But you need to strongly consider choosing either the Dreamsicle Dipped Cone or the Chocolate Dipped Cone. While both of these are great, the Chocolate Dipped Cone is the epitome of perfection. The hardened chocolate coating is oh-so flavorful and flawlessly crunchy. Each mouthful of this dessert is euphoric. Order this sweet treat once, and you'll never look at fast food ice cream cones the same way again, as you'll know they are truly not created equal. What you find at Dairy Queen is undoubtedly the creme de la creme.