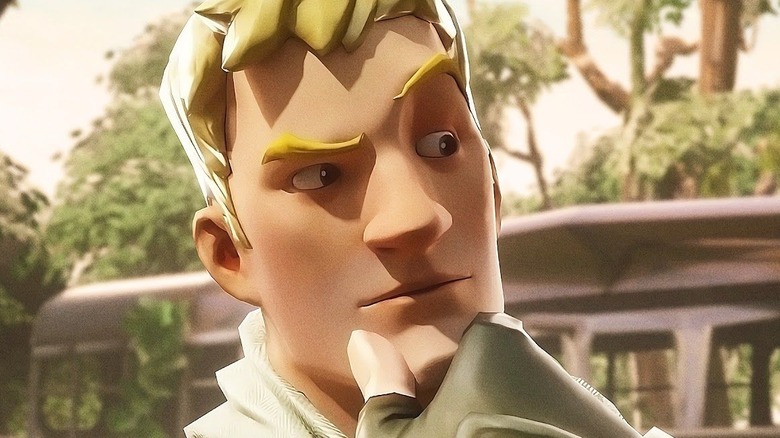 Fans might occasionally get mad about changes to "Fortnite" game modes, but the title is still a hit with many players. Its timeline might seem convoluted, and its character list neverending, but "Fortnite" continues to find ways to reinvent itself, which is why it's still worth playing in 2021 and beyond. A huge part of the game's appeal comes down to its flashy cast of memorable characters.
Regardless of fans' opinions on "Fortnite" itself, no one can deny that the game has a stacked group of talented voice actors behind its characters. With such a massive lineup, Epic had to bring in heavy hitting talent to do the hard work of bringing each character to life.
Most gamers know the voice of Jonesy, Troy Baker, who is gorgeous in real life. However, some of the other actors might not seem as familiar. As you'll soon learn, the rest of the cast is just as lovely as Baker, with many impressive credits to back up their inclusion in "Fortnite."
Adria Arjona – Ramirez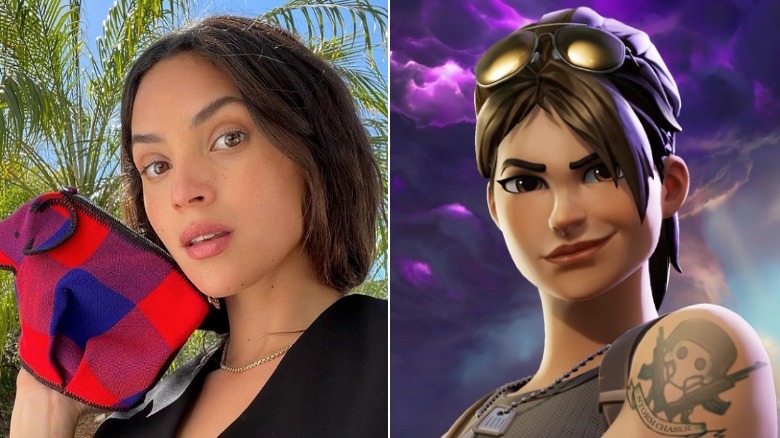 In "Fortnite," Ramirez is a Soldier with a good head on her shoulders, always dependable and ready to save the day at all costs. She's also easily one of the most recognizable characters in "Fortnite," serving as the base model for many of popular skins that players can earn and purchase. While gamers might know Ramirez's face, the voice behind the character is beautiful in her own right.
Adria Arjona is a Puerto Rican actress who spent much of her childhood in Mexico City. Gamers might have seen her as Anathema Device in "Good Omens," or as Five in Michael Bay's "6 Underground." She also appeared as Emily in "True Detective." To date, "Fortnite" is Arjona's only video game acting credit.
Arjona is currently working on the upcoming "Father of the Bride." The new film will feature a predominantly Latinx cast, with Arjona starring as the titular bride. Based on the 1950 film and its 1991 remake, "Father of the Bride" focuses on the love shared by a family, something that Arjona appreciates in her own life.
Arjona can also be seen using her good looks to model Armani lip color in sponsored posts on Instagram.
Ashly Burch – Ray
If gamers close their eyes and listen, they might be able to pick out Ashly Burch in a ton of different games. The prolific voice actress has helped bring a wide array of characters to life, including Aloy in "Horizon Zero Dawn," Danika Hart in "Spider-Man: Miles Morales," and Tiny Tina in the "Borderlands" series. She's also worked on many animated and live action shows, including "Bee and Puppycat," "Attack on Titan," and "Mythic Quest." In "Fortnite," she voices the robotic character Ray.
Burch also fervently supports the storytelling and the tabletop roleplaying game community. She's appeared on shows like "Critical Role" and "Stream of Blood" to play games and hang out with her friends. With her short dark hair and inviting, brilliant smile, Burch is hard to miss.
Gamers can get excited to hear Ashly Burch reprise her role as Aloy in "Horizon Forbidden West" very soon. While the game doesn't have an official release date just yet, fans can spend their time picking over trailers for small details until it arrives.
Damien C. Haas – Dennis
Damien C. Haas has been working with Smosh, the online sketch comedy group, since 2017, so "Fortnite" players might recognize him from his work there. However, Haas played several roles in video games and TV. He provided additional voices for "Days Gone," played Tad Chance in "Fallout 76," and voiced Saul in "Fire Emblem: Heroes."
In addition to voicing the shaggy-haired Dennis, an employee at Durrr Burger in "Fortnite," Haas is a Twitch partner that frequently streams games. He streams games that provide a challenge, like "Dead Cells," while chatting with fans about random things.
Like many voice actors, Haas also enjoys telling a good story. He recently appeared on "Damsels, Dice, and Everything Nice," a Dungeons & Dragons livestream show that takes place in the world of Disney princesses. Haas guested as Flynn Rider, Rapunzel's smoldering beau. He also guested on "The Pixel Circus," another D&D stream, as the silly Squangarlo. No matter what Haas does, on screen or off, he puts his heart into the role.
Haas has traditional Hollywood good looks, with wavy dark hair and a chiseled jaw, so he's sure to turn heads outside of the video game roles he typically takes. And while he might not look anything like his character Dennis in "Fortnite," he has that same goofy charm down pat.
Amy Pemberton – Penny
Penny is a Constructor in "Fortnite: Save the World," and she's also an available skin in Battle Royale mode, but her voice might seem familiar. If Penny's voice sounds like Gideon's from "Legends of Tomorrow," that's because Amy Pemberton plays both characters. While fans might not notice every small detail about "Legends of Tomorrow," they may still recognize Pemberton from her iconic voice acting skills.
Pemberton's no stranger to video game voiceovers, either. In addition to her role in the Arrowverse, Pemberton appeared in "Titanfall 2," "Uncharted 4: A Thief's End," "Marvel Heroes," and "Call of Duty: Black Ops Cold War."
In an interview with "Let's Dive In," Pemberton explained her drive for acting by saying, "I just know that we all have certain things that happen in life and it's, it's sort of a wonder to just be taken on a journey for a bit or be transported, like, you know not like a checkout, but just be transported for two hours."
In other words, Pemberton sees film as an escape from some of the stresses of modern life. Film allows viewers to forget their problems for a bit and take a journey to someplace completely different.
Eden Riegel – Jess
Eden Riegel had a breakout role on the soap opera "All My Children," where she played Bianca Montgomery, one of the most iconic lesbian characters in all soap opera history. Additionally, Riegel has performed various voice and live roles for film and television, and has almost 150 credits listed on her IMDB profile. Gamers will know Riegel from her roles in "Guilty Gear: Strive," "Yakuza: Like a Dragon," and "Crash Bandicoot 4."
In "Fortnite," Riegel voices Jess, an Outlander character with short, spiky hair. Riegel looks much different in real life, with long brown locks and a bright, enthusiastic smile. While Riegel looks absolutely gorgeous, she seems kind as well. On Twitter, she advocates for people to consume less fast fashion in order to save the environment. She's also used her platform to reach out to Jack Dorsey on behalf of all those harmed by medical misinformation spread on Twitter. Riegel wants people to prosper, even if it means stepping on a few toes in the process.
In the midst of advocacy, Riegel extensively tweets about "The Owl House," a show she's currently working on. While she has a significant role on the show, her tweets often praise her costars, allowing others to share in the limelight.
Victoria Atkin – Thora
Victoria Atkin is very familiar with the world of video game voice acting, making her the perfect choice to voice multiple roles in "Fortnite," including Thora. Atkin has appeared in 15 video games, including "The Sinking City," "World of Warcraft: Battle for Azeroth," "Assassin's Creed: Syndicate," and "Horizon Zero Dawn." Outside of her work in video games, Atkin has also dabbled in podcasting, making an appearance on "The Bystanders," a dark comedy series.
Atkin said that she typically prefers bringing her characters to life through full performance capture, where she records motion capture material and voice work simultaneously. However, Atkin explained that she even sometimes records motion capture for other performers that receive voices later in the development process. In that way, her acting more closely resembles performances for stage and film, which include full body work. Atkin admitted that she's still trying to figure out herself, right along with her fanbase. She tries to bring all of the different parts of herself to each role she plays.
Ray Chase – Dennis Jr.
Ray Chase knows his way around voice acting, both in video games and in anime. He's recently voiced Bruno Bucciarati in the English dub of "Jojo's Bizarre Adventure" and Tengen Uzui in the English dub of "Demon Slayer." Still, Chase also has a long list of video game credits, including Dennis Jr. in "Fortnite."
The voice actor appeared as Genichiro Ashina in the rage quit-inducing "Sekiro: Shadows Die Twice," Gebel in "Bloodstained: Ritual of the Night," and Noctis in "Final Fantasy 15." However, fans might know Chase best from one of his first roles, Gendo Ikari in "Neon Genesis Evangelion" — one of the most terrifying anime series you'll ever watch.
If all of those roles seem confusing, Chase made a concise and hilariously well-edited TikTok video that included his most recent voice roles, synced to perfection.
In his limited off time from near constant voice acting gigs, Chase likes to troll fans in the most good natured way possible. When one gamer asked why the character of Roy (from "Fire Emblem") seems to yell "Scott" when in downward aerial in "Super Smash Bros. Ultimate," Chase had the perfect response. He joked, "Roy is referring to his brother Sandy 'Scott' Emblem. He has red hair but an unfortunate accident left him with swords for arms and shields for legs. Roy reminds himself to be careful when doing aerials." With a sense of humor like that, it's clear why other voice actors and fans seem to love Chase.
Freya Fox – Unicorn girl
Freya Fox used to be a pro gamer, going head to head with some of the world's best "Super Smash Bros." players. Now, Fox helps others build their online reputations through her PR consultation group. While Fox participates in many business ventures, gamers may know her as the unicorn girl in "Fortnite."
Fox's primary career focuses on branding and streaming, but she has also earned a special place in the popular battle royale game. Most remarkably, Fox uses her platform within the gaming world to advocate for others.
In an interview with Pink News, Fox said, "I don't think that the gaming world is necessarily inclusive of LGBTQ people in general. I won't say that for everybody, but I think on a broader scale the amount of homophobia that I have experienced from other gamers … is unbelievable."
Fox feels that games should include more representation of the LGBTQIA+ community, and that gamers should work to be more inclusive of everyone, not just a specific group of people.
Mara Junot – Ice Queen
Mara Junot has a shapeshifting voice. They play Jonesy's boss, Doctor Sloane, in "Fortnite," as well as the Ice Queen. By voicing three characters in "Fortnite," Junot proves that voice actors must be able to act, bringing a different personality to each role. Junot has appeared as Sherri Woodhouse in "Far Cry 5," Ikora Rey in "Destiny 2," and Lisa in "Genshin Impact," but they've also had a hand in several TV series.
Junot originally wanted to be an actor before realizing that performing on-screen doesn't offer as much privacy. Instead of enduring paparazzi and constant attention, Junot decided to enter into the world of radio, then voiceover work.
Junot identifies as nonbinary and has spoken about how their gender identity affects their work. They said, "As a life-long chaser of self-love and authenticity, having the privilege to serve as a queer role model in the media industry is one that I never take for granted." Junot works to amplify other LGBTQIA+ voices in the voice acting industry and advocates for more versatile roles.
Cassandra Lee Morris – Sarah Hotep
In "Fortnite," Sarah Hotep is beautiful mummy, with green skin and a sweet smile. The voice actor who portrays Hotep, Cassandra Lee Morris, is even more gorgeous in real life, though her warm smile is much the same as her character in "Fortnite." One of Morris' biggest roles actually involves another popular game, "Persona 5." Morris guides the team through palaces as Morgana, the adorable cat-like team member that teaches the crew about the world beyond perceived reality.
Online, Morris tries to encourage aspiring voice actors to keep trying, even if they don't initially land a big role. She tweeted, "The only people the entertainment industry welcomes with open arms are those with famous last names. Anyone else puts in YEARS of hard work to book their first gig, and the blood, sweat and tears continue from there. There's no such thing as an overnight success."
Morris emphasized that very few voice actors could earn parts without auditioning, and even then only after years of working in the industry. Morris herself worked as a voice actor for years before landing the role of Morgana.
Elias Toufexis – Ragnarok
As a series, "Deus Ex" accurately predicted the future, and voice actor Elias Toufexis was a part of that prescient storyline. The gorgeous Canadian played Adam Jensen, the protagonist of both "Deus Ex: Mankind Divided" and "Deus Ex: Human Revolution," giving the character a gritty edge that players couldn't forget. Toufexis also lent his pipes to other video game projects, like "Immortals Fenyx Rising," "Death Stranding," and "Assassin's Creed: Odyssey." In "Fortnite," Toufexis voiced Ragnarok and the Major, showing his versatility by taking on two roles in the same game.
After almost a year of lockdown, Toufexis felt antsy to get back in a motion capture suit and begin working again. He posted a photo of himself in full mocap gear with the caption, "Happy to be getting back into the Performance Capture suit for the first time since lockdown."
Toufexis loves mocap work so much that he helps other voice actors work on their body skills by teaching classes. By showing his love of the voice acting profession, through both helping train others and sharing his experiences online, Toufexis proves he's just as lovely inside as outside.