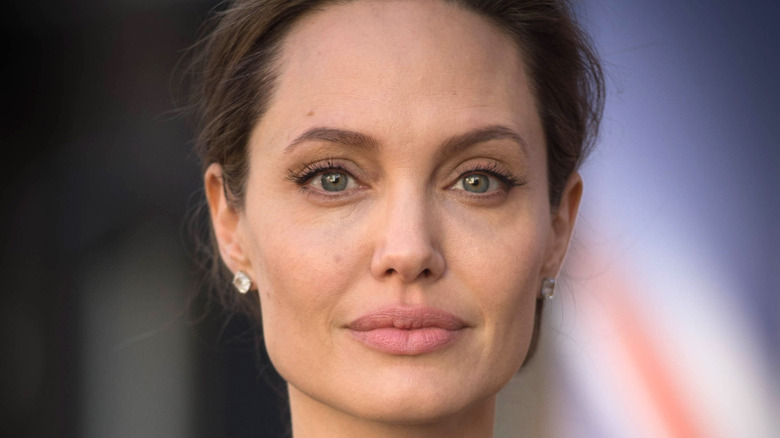 The following article includes allegations of self-harm, disordered eating, and addiction issues.
Hollywood icon Angelina Jolie has undergone quite the evolution since she made her debut alongside her father (fellow Oscar winner Jon Voight) at the age of seven in "Lookin' to Get Out," a comedy released to little fanfare in 1982. When she returned to the big screen just over a decade later in the sci-fi sequel "Cyborg 2: Glass Shadow," she was a young woman ready to launch an assault on the film industry.
Jolie became one of the biggest names in Tinseltown and is known all over the world for her humanitarian work today, but her path to the top was far from straightforward. The actor and director has faced much hardship in her life, and, as an A-list celeb of many years, her troubles have largely been played out in the public eye.
From her turbulent early years and her time as a Hollywood wild child to Brangelina's high profile implosion and beyond, this is the tragic real-life story of Angelina Jolie.
Angelina Jolie's Oscar-winning dad left when she was just a year old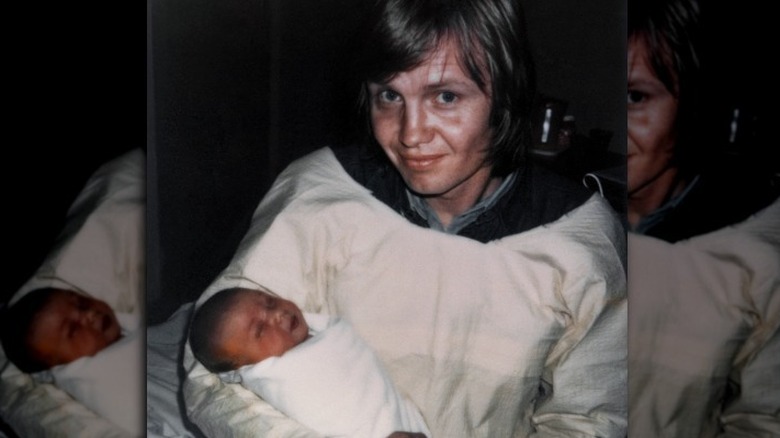 It was apparently love at first sight when Jon Voight met actor Marcheline Bertrand, Angelina Jolie's mother, at the Beverly Hills Hotel one evening. "I was quite taken with her and in the conversation I said, 'You know, I could have two children with you,'" Voight told Men's Journal (via Express). "She didn't blink, and neither did I. Sure enough, I had two children with that gal." Sadly, things didn't work out. Voight had an affair, and the fallout caused "a lot of hurt and anger," he told Express. It had a long-lasting impact on Jolie, who was still a baby when Voight and Bertrand separated.
"I never thought I'd have children, I never thought I'd be in love, I never thought I'd meet the right person," Jolie told Elle in 2014. "Having come from a broken home — you kind of accept that certain things feel like a fairy tale, and you just don't look for them." She was credited as Angelina Jolie Voight in her first film, but 1982's "Lookin' to Get Out" would be the last time she'd use her dad's name professionally. When she spoke to The Hollywood Reporter's "Awards Chatter" podcast in 2017, Jolie said that she dropped the "Voight" part because she "didn't feel that close to" her dad and wasn't comfortable being "hired for a name."
She reportedly went through an 'anorexic stage' during high school
Angelina Jolie is one of those not-so-rare cases of a celebrity that wasn't very popular in high school. At least, that's how family friend Cis Rundle remembers it. Rundle was pals with Jolie's mother and claims to have been an occasional caregiver to the future star, who apparently had a torrid time at Beverly Hills High School. "They made fun of her because of her lips and the girls were mean to her," Rundle told Radar. "She has these broad shoulders and long legs, she moved like a gazelle." According to Rundle, Jolie's mother used to worry about her, and not just because she was getting bullied. "Marcheline got scared that she wasn't eating," said Rundle, who claimed that she "carried [Jolie] into the hospital" during an "anorexic stage" she was going through.
Jolie's older brother James Haven once admitted that "she doesn't pay much attention to food," and he became extremely worried about her after the death of their mother in 2007. Jolie admitted that the ordeal had indeed left her looking thinner than usual. "I've always been lean and this year I lost my mom and I've gone through a lot," she said, via London's Evening Standard. She told Metro that she was getting into good shape in preparation for her Marvel role in 2019, but rumors of more weight loss surfaced the following year, with one insider telling Radar that the actor was "barely 100 pounds."
If you are struggling with an eating disorder, or know someone who is, help is available. Visit the National Eating Disorders Association website or contact NEDA's Live Helpline at 1-800-931-2237. You can also receive 24/7 Crisis Support via text (send NEDA to 741-741).
Angelina Jolie's fascination with knives led to self-harm
According to Jon Voight's brother, Chip Taylor, the actor became "real concerned" when he learned that his estranged teenage daughter had started "cutting herself" (via "Angelina Jolie – The Biography"), something Jolie has never denied. In fact, she's been shockingly open about her fascination with knives, of which she's an avid collector. She once told Barbara Walters that she utilized knives in the bedroom during her first relationship, though she's also used them to self-harm in darker times, the actor has revealed. "I went through a period that when I felt trapped I would cut myself," Ok! quotes her as saying. "I have a lot of scars."
In the aforementioned Barbara Walters interview (via ABC), Jolie confirmed that she stopped self-harming when she adopted her first son, Maddox, from Cambodia in 2002. Speaking to Cosmopolitan the following year, the actor revealed that her knives were now "out of reach at home, but they're not gone. And yes, when I was 14, I cut myself and went through that phase, and I haven't revisited that phase and I'm not going to, especially now that I have Maddox." As soon as he was old enough, however, Maddox was allowed to start his own little collection. "My mom took me to buy my first daggers when I was 11 or 12 and I've already bought Maddox some things," Jolie told W in 2008.
If you or someone you know is struggling with mental health, please contact the Crisis Text Line by texting HOME to 741741, call the National Alliance on Mental Illness helpline at 1-800-950-NAMI (6264), or visit the National Institute of Mental Health website.
She started acting to help her mom pay the bills
Angelina Jolie probably didn't even know what a bill was when she made her movie debut alongside her dad in 1982's "Lookin' to Get Out," but when she returned to acting as a young adult, she was very much aware of what it took to keep a household running. The actor and director stopped by The Hollywood Reporter to discuss her career on its "Awards Chatter" podcast in 2017, and she revealed that she only reentered the industry because she needed to start helping her single mother (who also appeared in "Lookin' to Get Out," playing the cameo role "Girl in Jeep") make ends meet at home.
"When I started acting … it was a job," Jolie said on the podcast. "It was a creative job …[but] you're young, and you don't know exactly who you are, and yet you also get a microphone in front of your face, and you're 17, 18, people asking [for] your opinions and you haven't formed those yet, and you shouldn't form them yet, completely." Jolie quickly realized that following her folks into the family business wasn't going to be a walk in the park. She managed to make more than enough money to help her mother out, but the rigors of celebrity life were already taking a toll on the young starlet. "I was miserable," she admitted. "I was completely unhappy."
She fell into a dangerous depression playing troubled supermodel Gia Carangi
Angelina Jolie married her first husband, "Hackers" co-star Johnny Lee Miller, in 1996, but she grew apart from him and everyone else in her life when she starred in 1998's "Gia," an HBO TV movie about tragic supermodel, Gia Carangi. "Gia has enough similarities to me that I figured this would either be a purge of all my demons or it was really going to mess with me," Jolie told Entertainment Weekly at the time (via AP). Sadly, the latter came true. The actor became suicidal making the movie and even came up with a plan to end her life guilt-free.
"This is going to sound insane but there was a time I was going to hire somebody to kill me," Jolie told IMDb (via The Herald). "With suicide comes all the guilt of people around you thinking they could have done something. With somebody being murdered, nobody takes some kind of guilty responsibility." Luckily, the hitman she tried to hire had a heart. According to Jolie, the man insisted that she think the whole thing over for a month. "And after a month other things changed in my life and I was surviving again," she said. The overwhelmingly positive response to "Gia" (Jolie won a Golden Globe for the film) was ultimately what helped her get better. "Suddenly it seemed like people understood me," Jolie told Rolling Stone. "Somehow life changed" (via Made in Atlantis).
If you or anyone you know is having suicidal thoughts, please call the National Suicide Prevention Lifeline​ at​ 1-800-273-TALK (8255)​.
Angelina Jolie has taken 'just about every drug possible'
Angelina Jolie has a history of hard drug use that she's made little effort to hide at times. "Heroin has been very close to me in my life," she once said (via Vanity Fair), and it's far from the only drug she's dabbled with. Jolie admitted to having "done just about every drug possible" during one particularly candid interview in 1998, per the Daily Mail. "Coke, heroin, ecstasy, LSD, everything," she reportedly said. "I remember taking LSD before I went to Disneyland. I started thinking about Mickey Mouse being a short, middle-aged man in a costume who hates his life. Those drugs can be dangerous if you don't go into it positively."
Jolie went on to say that she had stopped using said drugs "long ago," but that wasn't true according to the man who claims to be her former supplier. In 2014, convicted drug dealer Franklin Meyer released a video of Jolie looking worse for wear that he claims he shot with her permission during a drop-off at her New York pad in 1999. "Angie was a client of mine for several years," he told National Enquirer. "I sold her heroin and cocaine." Meyer also claimed that Jolie (who's on a phone call in the clip) was discussing a family issue with her father. The actor took legal action against the Daily Mail for using the video, The Times later revealed.
If you or anyone you know is struggling with addiction issues, help is available. Visit the Substance Abuse and Mental Health Services Administration website or contact SAMHSA's National Helpline at 1-800-662-HELP (4357).
Angelina Jolie knows she's lucky to be alive
According to the man who claims to be Angelina Jolie's ex-dealer, the superstar actor took drugs right before a big promotional interview during the height of her Hollywood wild child phase. One-time heroin peddler Franklin Meyer told Life & Style magazine that Jolie was high when she sat down opposite Charlie Rose to talk about her film "Girl, Interrupted," for which she won Best Supporting Actress at the Oscars. "She'd taken coke," Meyer alleged during a 2010 interview with the mag (via Page Six), adding: "She did the show and then she came back over after."
When "60 Minutes" caught up with Jolie in Budapest the following year, she admitted to veteran CBS correspondent Bob Simon that she was dancing with the devil during her hard-partying days. "I went through heavier, darker times and I survived them," the resilient actor said from the picturesque Hungarian capital, where part of her film "In the Land of Blood and Honey" was shot. "I didn't die young, so I am very lucky. There are other artists and people that didn't survive certain things … for many reasons, I shouldn't be here." Jolie went on to say that she took "too many chances" with her life back then, and she "came close to too many dangerous things" as a result of that reckless behavior. "I still have that side of me," she added, "it's just in its place now."
She briefly reconciled with her dad when they worked on Tomb Raider together
Jon Voight played Angelina Jolie's long-lost, presumed-dead father Lord Richard Croft in 2001's "Lara Croft: Tomb Raider," sharing the screen with her in an emotional dream sequence. Jolie said that working on the video game adaptation together gave them a chance to engage in some real "bonding time" during an interview with Radio Times magazine, though the ceasefire didn't last very long. "We seemed to understand each other and it was fun, but afterwards he returned quickly to old habits of being judgmental," the actor said (via the Irish Examiner). It all started to go wrong again right before Jolie left the country on a United Nations mission, she said.
According to Jolie, Voight decided to come along to the airport with her, and on the ride over he handed his daughter a mysterious letter. "[He] said, 'This is my truth, this is unchanging,'" Jolie recalled. "I was unaware of what he'd written and said, 'That's wonderful, I love you, see you later.' Then I opened the letter. He'd written I was a bad person. I was upset and thought of 100 replies, and then decided I don't value this person's opinion so it's okay." Ouch. As if that didn't make her position clear enough, Jolie added: "I no longer see us as father and daughter." Unsurprisingly, Voight didn't reprise his role in the 2003 sequel "Lara Croft Tomb Raider: The Cradle of Life."
Her father's 'unforgivable' interview with Access Hollywood could have been very costly
Angelina Jolie separated from her second husband, Billy Bob Thornton, in 2002, around three to four months after they adopted Maddox together. The pair met on the set of 1999's "Pushing Tin" and got hitched in Las Vegas the following year, becoming major tabloid fodder in the process (though that's to be expected when a couple starts wearing matching lockets smeared with each other's blood). Thornton, it turns out, just "wasn't ready" for adopting, Jolie said (she would later call the whole thing "tragic" during a chat with Vanity Fair). She quickly regrouped and prepared for life as a single mom, but she was dealt another blow when her father took part in a highly publicized TV interview that potentially jeopardized her recent adoption (via Entertainment Weekly).
A few months after Jolie and Thornton called it quits, Jon Voight told Access Hollywood that he knew the marriage was doomed and that his daughter had some "serious mental problems." When Jolie (who legally dropped the name Voight in the aftermath of his tone-deaf interview) sat down with Barbara Walters the following year, she was still angry about her father's comments. "The most difficult thing, in him doing that, is that it could have affected my relationship with my child," she said (via The Guardian). "They could have decided: 'He's right, she's crazy, let's remove that child from her custody.' And that's unforgivable."
Angelina Jolie doesn't trust anyone
It's hardly surprising considering her complicated history with her father and the shady circumstances in which she and Brad Pitt got together, but Angelina Jolie has admitted to having major trust issues. "I don't trust anyone," she told Vogue in 2007 (via Jolie-Pitt Press Archive). "This is going to make you think that maybe I should get some therapy, but trust is such a bizarre word." The actor revealed that she was even wary about putting too much faith in those closest to her. "I'd like to say that I trust my mother, but I also don't know if she might do something that she thinks is in my best interest," Jolie said. "I trust that Brad will never do anything… I don't know. I don't trust anybody completely."
Her faith in Pitt would be tested when rumors of an affair with "Allied" co-star Marion Cotillard emerged a few years after they tied the knot, rumors that a source (described by Page Six as being "well-placed") claimed were indeed accurate. According to the insider, Jolie hired a PI to spy on her hubby as he filmed the WWII pic in the UK. "She felt that he was fooling around with her on the set, and it turns out, he was," the source claimed, though no infidelity was ever proven. The actual reason for the split, Jolie later confirmed to Vogue India, was "the wellbeing of my family," she said, adding: "It was the right decision."
She underwent preventative surgery when doctors discovered a 'faulty' gene
In 2013, Angelina Jolie revealed via an op-ed in The New York Times that she had undergone a double mastectomy after doctors discovered she was at high risk of cancer. "I carry a 'faulty' gene, BRCA1, which sharply increases my risk of developing breast cancer and ovarian cancer," she explained. "My doctors estimated that I had an 87% risk of breast cancer and a 50% risk of ovarian cancer, although the risk is different in the case of each woman." The procedure was "like a scene out of a science fiction film," but Jolie had her reconstructive breast surgery and doesn't "feel any less of a woman," she said.
Two years later, when blood tests revealed a potential "sign of early cancer," Jolie had her ovaries and fallopian tubes removed as a preventative measure, and she once again documented her surgery experience in The New York Times. "It is not easy to make these decisions," she wrote. "But it is possible to take control and tackle head-on any health issue." The actor being so open had a "global and long lasting" impact on the number of women coming forward to ask about genetic testing, studies have shown. "Having women with strong family histories [of cancer] seeking counseling and education and in many cases, surgery, based on having the role modeling of Angelina Jolie can be very helpful," Dr. Robyn Andersen of the Fred Hutchinson Cancer Research Center said.
Angelina Jolie reportedly became isolated following her split from Brad Pitt
Angelina Jolie made headlines during a trip to Pakistan in 2010, and not because of the stellar work she was doing as the UN's Goodwill Ambassador. The A-lister was in the country to help victims of flooding, but it was an offhand comment she made about Brad Pitt that ended up filling column inches back home. "I don't have a lot of friends to talk to," the Oscar winner admitted to reporters (via the Daily Star). "Brad is really the only person I talk to." Rumors about Jolie being isolated in Hollywood began to pop up as soon as Pitt was no longer in the picture, and even the star's estranged step-grandmother was expressing concern about her apparent lack of a social circle.
Speaking to the Daily Mail in 2016, Elke Bertrand said that Jolie didn't have "many people left in her life" after her third divorce, adding: "I know she's got her father, but I don't know how close they are." You'd think that the coronavirus pandemic would have made things worse for Jolie in terms of feeling isolated, but sources say that she actually began reconnecting with old pal and fellow actor Ellen Pompeo during lockdown. "Their kids are really close," one insider told Us Weekly in 2021. "Angie has a tight support system that largely consists of her household staff, her brother, James, and a handful of very trusted friends."
She's missed her mother terribly in recent years
The one person that Angelina Jolie would have loved in her corner during her divorce and the global pandemic that followed is her mom. It was Marcheline Bertrand's death from cancer at the age of 56 that led to Jolie getting her preventative, potentially life-saving surgeries, and the Oscar winner has always tried to follow the example Bertrand set as a mother. When the "Maleficent" star gave an interview to Elle France in 2017, she was in the midst of her split from Brad Pitt and missing her mother more than ever. "She would have thrived as a grandmother," Jolie said (via W). "I would give anything for her to be with me at this time. I've needed her."
The A-lister opened up about her late mom again in 2021, revealing that Bertrand was a "very gentle" mother and that she's exactly the same with her six kids, Maddox, Pax, Zahara, Shiloh, and the twins, Knox and Vivienne. "I can be many things in my work and in life, but I am very warm and gentle with my children," Jolie told The Sydney Morning Herald. "That kindness and warmth is a foundation that's unbelievably important."
The kids apparently returned that kindness during the coronavirus pandemic, helping her around the home during the COVID-19 lockdown. "I feel like I'm lacking in all the skills to be a traditional stay-at-home mom," Jolie joked during an interview with British Vogue.
Has Angelina Jolie finally made up with her dad for good?
Angelina Jolie had a huge falling out with her father after she split with her second husband, Billy Bob Thornton, and it took another divorce to bring them back together again. Jon Voight stepped up during Jolie's highly publicized separation from Brad Pitt, not only for his daughter but for his grandkids, too. "He's been very good at understanding they needed their grandfather at this time," a grateful Jolie told Vanity Fair in 2017. "I had to do a therapy meeting last night and he was just around."
According to Jolie, she's drilled her dad on how to "be a cool grandpa who's creative," something he doesn't have a problem with. Voight is still actively working in Hollywood (in recent years he's become known for his turn as ex-con Mickey Donovan, father to Liev Schreiber's Ray Donovan in the now-canceled show of the same name), and when he appeared on CBS Sunday Morning in 2021, he revealed that he'd love the chance to appear in one of his daughter's films. "Yeah, she's really remarkable," Voight said, praising Jolie's work as a director. "She would be tough [but] I would love to work with her."
He may be one of the root causes of her tragic past, but — for the time being, at least — Angelina Jolie's dad seems fully committed to helping her achieve a bright future.