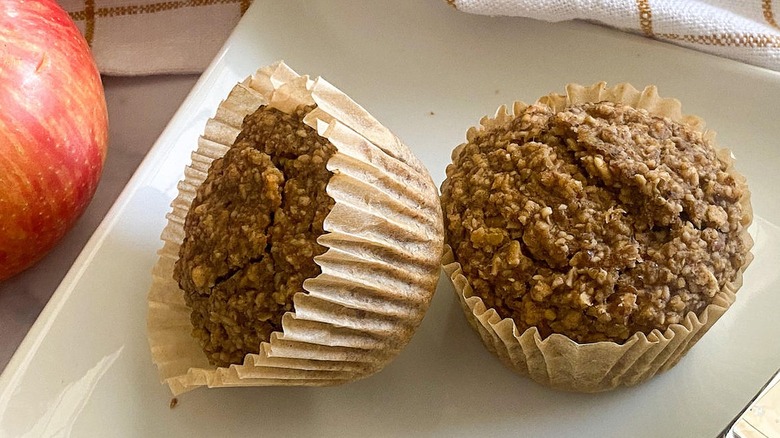 When it comes to breakfast foods, muffins are often a top choice. The fluffy, delicious breakfast treat comes in a number of flavorings, including blueberry, chocolate chip, banana nut — there are virtually no limits to the versatility of muffins!
While muffins are a tasty breakfast option, there is one big downfall: They're not typically healthy. Many muffins are packed with processed sugar, butter, and oil, making them more of a dessert than breakfast. Fortunately, because muffins are so versatile, you can swap out a few ingredients to make them a healthy, fulfilling option for the start of your day. Thanks to recipe developer and wellness coach Miriam Hahn's applesauce breakfast muffin recipe, it's never been easier to make a yummy, wholesome, and healthy muffin! "These are definitely healthier than your average muffin," Hahn says. "They don't have any oil or butter, which can really pack on the calories. The addition of flax seeds adds a lot of fiber, and also, flax seeds are known to be protective against cancer."
Whether you're looking for a healthier muffin option or you simply love apple cinnamon muffins, this recipe will easily become your go-to. And since they only take 30 minutes to whip up, these applesauce breakfast muffins are a great option to plan ahead and prep a healthy breakfast for the whole family!
Gather the ingredients to make applesauce breakfast muffins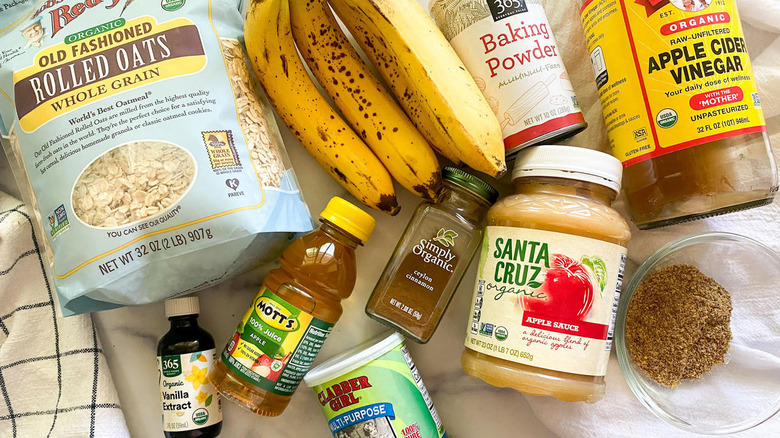 To make applesauce breakfast muffins, you'll need to first gather the right ingredients. You'll need rolled oats, bananas, baking soda, baking powder, ground flaxseed, cinnamon, apple juice, applesauce, vanilla extract, and apple cider vinegar. Notice that there are no added sweeteners in this recipe — the natural sugar in the bananas and applesauce will provide sweetness without being overbearing. Also, Hahn notes that the baking powder and baking soda are crucial in this recipe so you get nice, fluffy muffins. If your baking soda and/or powder has been in the pantry for more than six months, buy them again so your muffins rise properly.
Blend your oats so they form a flour
Once you have the ingredients sorted, you can get started on making your applesauce breakfast muffins. Start by preheating your oven to 350 degrees Fahrenheit. Then, add the rolled oats to a food processor and grind them until they reach a flour-like consistency. When the oats are done blending, pour the flour mix into a large bowl. Then, go ahead and add your baking soda, baking powder, ground flaxseed, and cinnamon into the bowl as well. Stir these ingredients until they're thoroughly mixed, and then set the bowl of dry ingredients aside.
Add your wet ingredients to the food processor
Now it's time to focus on the wet ingredients! In the same food processor that you used for the oats, go ahead and add your ripe bananas. Blend them until they're creamy and smooth. Then, you'll want to add in the rest of your wet ingredients. Carefully pour the apple juice, apple cider vinegar, vanilla, and applesauce into the food processor. Blend once again until all of your wet ingredients are thoroughly mixed together.
Combine the dry and wet ingredients, then pour the batter into a lined muffin tin
After you've mixed the dry and wet ingredients separately, you can finally combine them into the same bowl. Your muffin batter should come together to be nice, light, and fluffy. Then, go ahead and grab your muffin tin and line it with paper cups. Alternatively, you can use nonstick cooking spray if you don't have any paper liners available. Now, carefully pour the batter into each of the cups in the muffin tin. You should have enough batter to make 12 standard-size muffins.
Bake your muffins, cool, and then enjoy!
Once your oven is fully preheated, you can go ahead and pop your muffin tin in. Bake the muffins for 25 to 30 minutes, or until a toothpick comes out clean. Transfer the muffins to a wire cooling rack, and after they cool for a bit, they're ready to serve!
"I love these muffins with coffee or tea in the morning," Hahn says. "They also are a great afternoon snack with a glass of milk." Also, if you happen to have any leftovers, you can easily store the muffins in an airtight container, refrigerated, for up to a week. They're easy to make, healthy, and taste incredible — it's safe to say that you simply can't go wrong with these applesauce breakfast muffins, and they're sure to be a hit in your household!
2 cups rolled oats
1 ½ teaspoons baking powder
½ teaspoon baking soda
2 tablespoons ground flaxseed
1 teaspoon cinnamon
4 ripe (browning) bananas
½ cup apple juice
½ cup applesauce
2 teaspoons vanilla
1 ½ teaspoons apple cider vinegar
Preheat oven to 350 degrees Fahrenheit.
Put the oats in a food processor or blender and grind into flour. Pour into a large bowl and add the baking powder, baking soda, ground flaxseed, and cinnamon. Mix.
Add the bananas to the food processor or blender and blend until creamy and smooth. Add in the apple juice, applesauce, vanilla, and apple cider vinegar. Blend again until mixed well.
Pour the wet mixture into the dry mixture and stir to combine. The batter will be light and fluffy.
Line a muffin tin with paper cups or spray with cooking spray. Distribute the muffin batter into 12 cups.
Bake for 25 to 30 minutes or until a toothpick comes out clean and the muffins are nicely browned.
Cool on a cooling rack and serve. Store in an air-tight container.