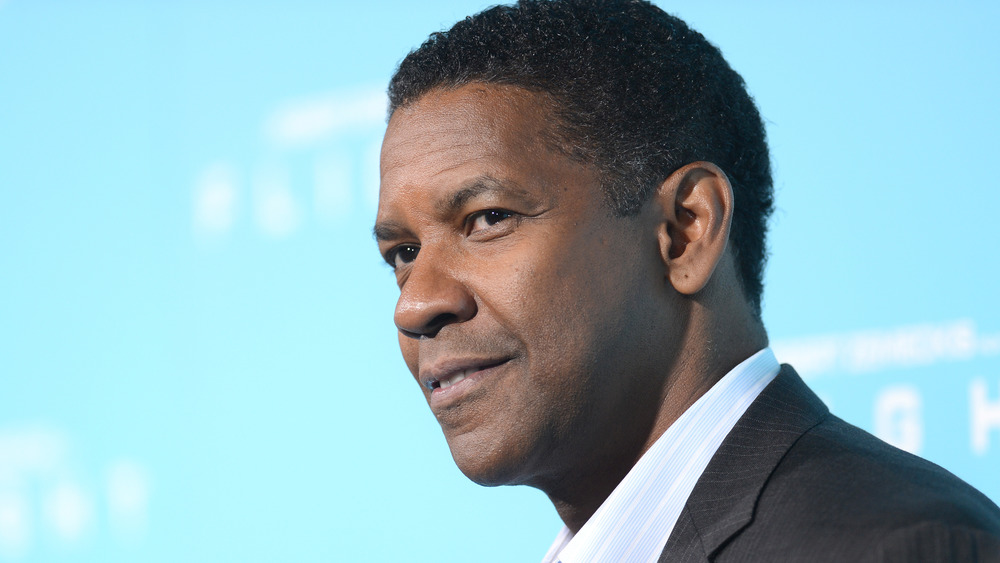 Denzel Washington was last seen on the screen in 2018's The Equalizer 2 (and won't return again until 2021 in The Little Things), but there's never a bad time to talk about one of our greatest living actors. Washington has played the most compassionate heroes, the cruelest villains, and the regular joes living somewhere in between, and he's never been less than brilliant no matter where he goes on that spectrum.
He can do everything from Shakespeare to a trash-TV-based action franchise. He's worked with many of the world's greatest filmmakers, and his industry clout brought many of them to prominence in the first place. And he's proven he can stand right alongside them by directing his own masterpieces like Antwone Fisher and Fences. He broke a decades-long lockout for Black actors at the Oscars, then came back to earn another little gold man just to prove it wasn't a fluke. Any serious film fan should be familiar with all these great accomplishments, but there's still more in his long and distinguished career that might not be so familiar. Just to start with, here are 12 untold stories from the life of Denzel Washington.
Denzel Washington's named after the doctor who delivered his father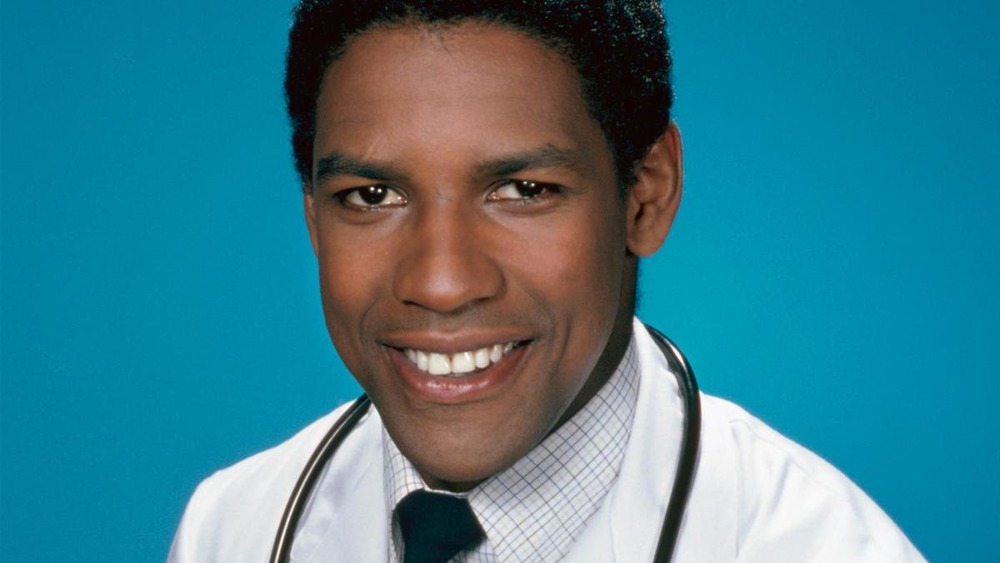 Washington's full name is actually Denzel Washington Jr. His father, Denzel Washington Sr., was an important figure in his community in his own right, a Pentecostal minister who his son described to Parade as "this spirit-filled man until the day he died," in addition to the many other odd jobs he took to make ends meet. The younger Washington insists they have two different names, though: As he explains it, his mother would call him Denzel and his father Denzle to tell them apart.
But to really get to the origin of Washington's name, you have to go back another generation. The name "Denzel" entered the Washington family all the way back in 1909 in Buckingham County, Virginia. When the elder Washington was born, his own parents named him after the Dr. Denzel who oversaw the delivery. Washington lived up to his name many years later on TV when he got one of his first big roles as Dr. Phillip Chandler on NBC's medical drama St. Elsewhere.
He considered many different careers
Many actors dream about performing their whole lives, but Denzel Washington was not one of them. "I went to college to be a doctor," he told Charlie Rose, but he saw the problems with a medical career early: "I started off in biology in college because I thought, oh, okay, I know what I'm going to be, I'll be a doctor. I try biology and…I just remember the teacher sitting there, blah blah blah blah blah. I'm like, what is he talking about? I'm not going to make it. I'm not going to stay awake."
Even after Washington moved on from medicine, it still wasn't a direct route to acting. He began studying political science, then journalism. The reason wasn't any big lightning bolt of inspiration or passion: He told another interviewer, "I just took a class in acting because they said you can get an easy and good grade in it and I just liked getting good grades easily. It's still true!" Acting turned out to be the ideal career, since it allowed Washington to explore all the others as well — in addition to playing a doctor on St. Elsewhere, Washington was also a journalist in The Pelican Brief and played political activists in Cry Freedom and Malcolm X.
Washington still thinks about preaching
One career path Washington didn't take is the family business — preaching. Washington told Parade that the week before he started studying theater in college, Ruth Green, a Pentecostal sister from his mother's church, told him, "You're going to speak to millions of people…You're going to do great things!" The woman had been known in the church for having a gift for prophecy, and Washington wonders if his acting career has fulfilled her prediction or if God meant for him to work in the ministry.
"I think in a way I do speak, like Ruth Green said, to millions of people," said Washington. "I guess she was right in that way…A part of me, and I'm being real honest with you, still says, 'Maybe, Denzel, you're supposed to preach. Maybe you're still compromising.' Well, right now, since I've been given this ability to act, this must be what Ruth Green was talking about. So then I say to myself, 'Okay, you've been blessed. What are you going to do with it?' I've had an opportunity to play great men and, through their words, to preach. I take what talent I've been given seriously, and I want to use it for good."
With the inspiration Washington has given his viewers, both within the acting field and outside it, it seems safe to say he's more than lived up to that goal.
Chadwick Boseman said, 'There is no Black Panther without Denzel Washington'
Washington has used his talent and wealth for good by investing in young, struggling artists. In the late '90s, Cosby Show star Phylicia Rashad was teaching drama at Howard University in Washington, DC. The British American Drama Academy had accepted several of her students into its world-class Midsummer Program, but they couldn't afford the tuition. Rashad reached out to Washington to help her pay their way, and he agreed.
One of those students was late Black Panther star Chadwick Boseman, who said at an American Film Institute ceremony honoring Washington, "Imagine receiving the letter that your tuition for that summer was paid for and that your benefactor was none other than the dopest actor on the planet. I have no doubt that there are similar stories in Boys' and Girls' Clubs and theaters and churches across the country…There is no Black Panther without Denzel Washington…The many sacrifices [he] made for the culture on film sets through [his] career, the things [he] refused to compromise along the way laid the blueprints for us to follow."
Washington also made another major contribution to Boseman's life, telling CBS Sunday Morning, "I used to watch how [Taylor Simone Ledward] took care of him, and I actually said to him, I said, 'Man, you know, you need to put a ring on that finger.'" Apparently Boseman agreed — the announcement of his death revealed that Ledward had married him some time before.
Desmond Tutu officiated his vow renewal ceremony
Washington first met his wife Pauletta on the set of his very first movie, NBC's Wilma. Their wedding five years later was a relatively small affair — Washington told Jimmy Kimmel that their dinner afterwards was just the two of them driving down the street to a diner. ("We had eggs or something.") That wasn't the case when they renewed their vows in 1995 in the presence of one of the biggest heroes of recent history.
Archbishop Desmond Tutu is a legend of South Africa's anti-apartheid movement, fighting tirelessly against segregation, state violence, and white supremacy in the country for more than half a century. Washington has long admired the anti-apartheid movement, playing one of its greatest leaders and martyrs, Steve Biko, in Cry Freedom.
The bishop and actor have met several times since then, and Denzel and Pauletta Washington flew all the way to South Africa for him to renew their vows, where Washington also got to meet Tutu's most famous comrade and South Africa's first Black president, Nelson Mandela. While they were in the country for the ceremony, Tutu and the Washingtons had tea at Mandela's house — and Washington told Charlie Rose Mandela even flirted with Pauletta!
Washington doesn't believe in self promotion
Washington might have dropped out of political science in school, but if there's any profession that requires as much campaigning as politics, it's acting. Most stars spend their time ping-ponging around the world to talk shows, magazine interviews, premieres, and public events so they can get audiences to go see their latest project, and nowadays, every minute they don't spend doing that has to be taken up posting on social media.
Denzel Washington doesn't believe in any of that. In a Thrillist interview, he told Jamie Foxx, "You want people to go, 'I can't wait to see him!' Not, you know, 'Oh, I see him everywhere'…I think if you drink too much water, you'll drown. So you want to keep some mystery, you know, you keep things quiet so that you build up to that next movie — where is he? When's the last time you saw Daniel Day-Lewis? Branding for an actor is being good, not being known. Your brand is, whatever you did, was it any good? Not how many likes you got." If that's Washington's strategy, it's working. No matter what quality of material he's working with, everything he does is a lot more than just "any good."
He stuck with Malcolm X through a director change
Hollywood had their eyes on a film about influential and controversial civil rights leader Malcolm X as early as 1967, just two years after his death. The great writer and activist James Baldwin wrote in his classic The Devil Finds Work about his frustrations trying to adapt his friend's life for the screen — at one point, he even says the studio was considering Charlton Heston in blackface for the part! Fortunately, saner heads prevailed, and director Norman Jewison ended up working with Denzel Washington instead many years later.
That wasn't the end of the controversy, though. Even if Malcolm X would no longer be portrayed by a white actor, activists were still concerned Jewison would whitewash the militant leader's uncompromising life. Jewison graciously bowed out, and was replaced not just with a Black director, but the Black director, the legendary Spike Lee. Departing directors often take their cast with them, but Washington had no reason not to continue working with Lee. The two had already worked together on Mo' Better Blues, and they would continue collaborating on He Got Game and Inside Man after Malcolm X wrapped. In fact, their partnership spans generations — Washington's son, John David Washington, arrived on the Hollywood A-list with a starring role in Lee's recent hit BlacKKKlansman. Look closely in Malcolm X – you can see a very young John David there too, in the closing montage of people declaring, "I am Malcolm X!"
Wahington's one of the first actors to film in Mecca
Malcolm X takes its subject's Muslim faith seriously, showing the beginning of his political awakening when he converts to Islam after meeting a member of the Nation of Islam in prison. Spike Lee also portrays Malcolm X's pilgrimage or hajj to Mecca, the holiest city in the faith, as an essential turning point. Worshipping side-by-side with Muslims of all races inspires the activist to reject the Nation of Islam's ideology of racial separatism, a decision that leads to his death.
Spike Lee wanted authenticity in the pivotal sequence in the Saudi Arabian holy city, and that meant actually going there to film it. This was unprecedented. Mecca forbids anyone but Muslims from visiting, so Denzel Washington filmed his scenes there with an all-Muslim crew – some of them officially welcomed into the faith just for the occasion. To this day, Washington and his co-stars are still the only actors to ever film in Mecca. In fact, the famously conservative Saudi Arabia didn't produce any films until 2012's essential coming-of-age story Wadjda, and the country's first public film screening was in 2018 — with The Emoji Movie of all things!
Tom Hanks said Washington was the best acting teacher he ever had
One of Washington's most iconic roles came in 1993, when he starred opposite Tom Hanks in Philadelphia. It was one of the first movies to deal with both the AIDS crisis and a sympathetic gay protagonist, starring Hanks as a former lawyer whose bosses fire him when they discover he is HIV-positive and Washington as the attorney who defends him when he sues for discrimination.
If anyone has as much a right as Washington to the "greatest actor of his generation" title, it's Hanks. But Hanks himself didn't see it that way. He said watching his co-star work was "like going to film school" and that he learned more making Philadelphia than at any other time in his career. All those lessons obviously paid off. Before Philadelphia, Hanks was mostly known for light comedies like Big and Sleepless in Seattle. But his work with Washington marked his transformation into one of Hollywood's most respected dramatic actors. He won his first Oscar for Philadelphia and his second just one year later for Forrest Gump.
He made sure his death was extra nasty in Training Day
Another of Washington's signature roles, and the one that won him his second Oscar, was the crooked cop Alonzo Harris in Training Day. Teaming up with director Antoine Fuqua for the first of four movies they'd make together, Washington takes an idealistic rookie (Ethan Hawke) on a ride-along and shows off the dirty dealings he gets into in the mean streets of Los Angeles. Alonzo is a real nasty piece of work — he made it onto the American Film Institute's list of the greatest villains in movie history just two years later. Most actors don't get involved in rewriting their parts except to make themselves look better — Elvis Presley famously refused to ever die onscreen after his death in Love Me, Tender made his mother cry. Denzel Washington went in the exact opposite direction.
He told Charlie Rose, "The first thing that I wrote on the screenplay was, 'The wages of sin is death.' And they had a very small death for the character as written; in fact, I think you heard about it on the news or something. I said no no no…the only way I can justify this character living in the worst way is if he dies in the worst way. Once we rewrote the ending and made it to my liking, then I could do anything…because justice is coming."
Washington's directorial debut adapted a script by a security guard
After proving his greatness as an actor, Denzel Washington showed he could handle other aspects of the filmmaking business with his directorial debut in Antwone Fisher. He also appears in front of the camera as psychiatrist Jerome Davenport, but the real star is Derek Luke as the title character, a sailor in the US Navy who was born in prison and whose traumatic history bubbles up in outbursts of violence.
But the story behind the movie's creation is at least as exciting as the one onscreen. The whole thing is taken from Fisher's real life, and he was able to bring it to the screen even though he came into the movie business from its outermost periphery. After he left the Navy, Fisher became a security guard at Sony Pictures, where his turbulent life story caught the attention of producer Todd Black, who hired him to turn it into a screenplay. Denzel Washington signed on to direct in 1997, but it took over half a decade to finally bring Fisher's story to theaters; Washington told Charlie Rose he eventually agreed to take the role of Dr. Davenport to sweeten the deal for investors. His persistence paid off: Antwone Fisher racked up awards from the NAACP, BET, and the Independent Spirit Awards while launching Washington's directing career, which continued with The Great Debaters and the must-see August Wilson adaptation Fences.
He's one degree of separation from Bruce Lee
In recent years, Washington has taken the counterintuitive path of other stars like Liam Neeson and Helen Mirren and transitioned from highbrow dramas to action-packed popcorn flicks right at the age most people are slowing down. One of Washington's most memorable action roles is The Book of Eli, where he carries the last known copy of the Bible across the post-apocalyptic wasteland to humanity's archive in the ruins of Alcatraz.
Washington hadn't played many action heroes in the past, but he learned from the best. He trained with Jeff Amata, a martial arts expert whose own teacher, Danny Inosanto, had trained with no less an authority than Bruce Lee. The latter was probably more responsible than anyone for martial arts' popularity in the West through his TV appearances on The Green Hornet and his classic movies like Enter the Dragon. Amata and Inosanto were able to pass some of that technique onto Washington so he could keep up with directors Allen and Albert Hughes' demanding vision for the movie. They told MTV, "We wanted the audience to feel like everything was in real time, no slow motion when the violence went down and for the audience, subconsciously or consciously, to know that it was Denzel doing all the work…I think in the end fans will appreciate it because it's him." In any movie where Washington appears, fans will always appreciate that it's him, because there's no other actor quite like him.