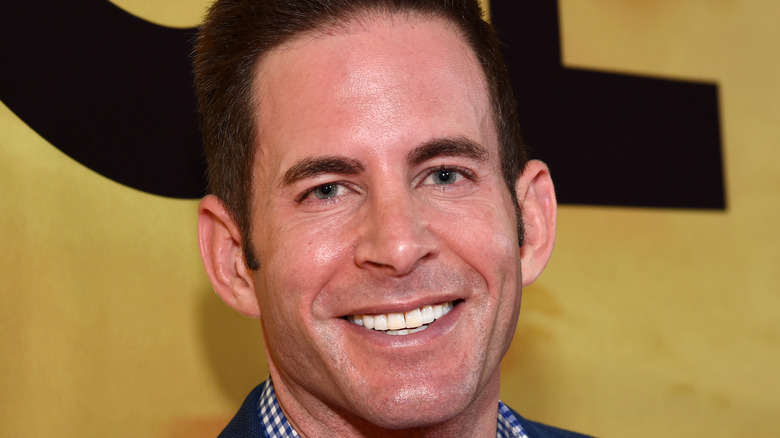 For millions of people, Home & Garden Television, or rather HGTV, offers the greatest lineup of programming that's both comforting and aspirational. Viewers can just let the low-key slate wash over them (and barely realize that six hours of a Saturday have flown right by) as they fantasize about buying a home, renovating a home, selling a home, or flipping a home in one of its many personality-driven shows about contractors, rehabbers, real estate agents, and house hunters. The world of HGTV has grown so popular and influential (even if some naysayers have dubbed HGTV shows as totally fake) that it has its own shorthand — "open concept," "board-and-batten," "Dutch doors," "pergola" — as well as its own stable of handy superstars.
These various artisans, crafters, laborers, and businesspeople are celebrities in their own right, and as such, they often find themselves embroiled in salacious scandals. Here are all of the biggest, saddest, and most shocking controversies ever faced by the smiling faces of HGTV.
A cheating scandal tainted on Ellen's Design Challenge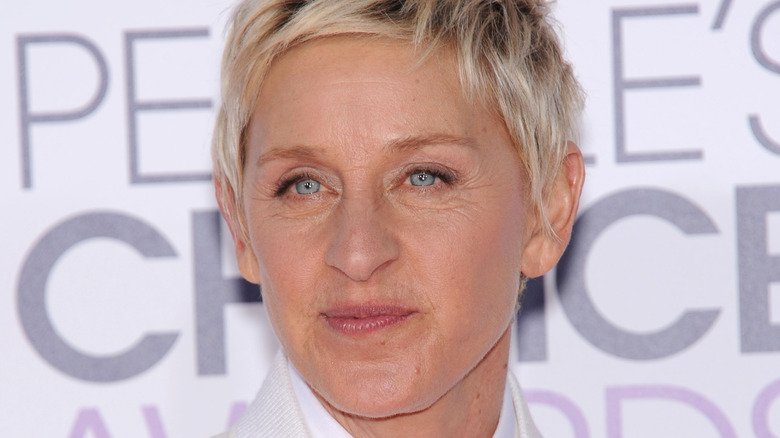 Ellen DeGeneres isn't just a daytime talk show host and stand-up comedian. With wife Portia de Rossi, DeGeneres has bought and sold more than 20 homes and properties, according to Architectural Digest, and she also published a book about interior design. In other words, DeGeneres is an ideal and well qualified HGTV content creator, and she joined the network in 2015 with "Ellen's Design Challenge," a reality competition show akin to "Project Runway" or "Top Chef," but focused on furniture creation.
The first season of the series ended with one of the most shocking twists in reality TV. Contestant Tim McClellan was declared the winner of the competition (and a $100,000) prize for designing a wooden desk in the ultimate challenge. According to The Washington Post, a week after the finale taped, "Ellen's Design Challenge" producers learned that established designer Simon Schacht had previously created a desk nearly identical to the one McClellan claimed as his own. And so, McClellan was disqualified, and his victory and prize money went to runner-up Katie Stout.
DeGeneres invited McClellan onto "The Ellen DeGeneres Show" to explain himself. "In recollection, I've never seen his piece," he said of the Schacht desk. "With that said, the similarities of the two pieces are quite compelling, and I understand the decision made and accept it."
Love it or List It reportedly left behind wreckage
HGTV's long-running series "Love It or List It" makes a life crossroads moment into a game — should one move to a new home because their current one is boring or no longer suitable, or should they just aggressively renovate everything… and then sell it and move on anyway? In 2015, according to the Miami Herald, realtor David Visentin and designer Hilary Farr brought the whole "Love It or List It" operation to Raleigh, North Carolina, for Deena Murphy and Timothy Sullivan.
It's fair to say that Murphy and Sullivan did not "love" the work performed by the "Love it or List It" crew. In 2016, the couple filed suit against production company Big Coat TV (and the local contractors hired) in Durham County Superior Court in North Carolina, alleging breach of contract and unfair trade practices over what they felt was extremely subpar renovation work. The pair were required to give Big Coat TV $140,000 and to use a local contractor they didn't like and who had poor customer ratings. And then Big Coat didn't even pay all of that money to the contractor, nor did it use a licensed architect. The result: an "irreparably damaged" floor, with ductwork so bad that "vermin could enter the house," low-quality carpeting installed, and multiple "unpainted surfaces." Murphy and Sullivan contend that they were essentially duped into paying for the production of an episode of the HGTV series.
One of the Property Brothers got into a bar fight
Drew and Jonathan Scott, the identical twin house rehabbers and flippers who bill themselves as the Property Brothers, are the flagship personalities and faces of HGTV. Since 2011, they've been all over the network, with shows like "Property Brothers," "Property Brothers: Forever Home," "Buying and Selling," and "Brother vs. Brother." The Scotts maintain a wholesome, warm image and HGTV has reaped great financial success from doing business with the duo. But both the twins and network alike were dealt a blow when Jonathan Scott, the Property Brother who is the building contractor, got into a seemingly uncharacteristic bar fight in North Dakota.
According to USA Today, the Scotts arrived in Fargo to speak at an April 2016 design conference, and late one night, Jonathan hit the local bar, Dempsey's Public House. As the closing time approached at 2 a.m., staff tried to get everybody to stop drinking and move out, which agitated Scott. According to TMZ Live, things escalated to the point where a bouncer placed Scott in a headlock. Claiming to have not done anything wrong and only "wandered" into a fight already in progress, Scott called 911 and reported the bouncer for assault. Prosecutors never charged Scott with a crime, citing a lack of evidence.
HGTV flipped on Flip it Forward
For a while, it seemed as if HGTV would be the home to not just Drew and Jonathan Scott, the Property Brothers, but to a second pair of identical twins: David and Jason Benham. In April 2014, HGTV unveiled its slate of new shows for the year, which included "Flip It Forward," starring the Benham brothers, veteran house-flippers who help underprivileged families renovate rundown properties.
"Flip It Forward," whose title is a portmanteau of "flip it" and "pay it forward," never actually aired. A few weeks after the show was announced, the website Right Wing Watch uncovered some of the Benhams' political activities. For example, the Benhams led an anti-homosexuality rally outside the 2012 Democratic National Convention. David Benham lobbied to get a law banning same-sex marriage passed in North Carolina and frequently protested outside of women's health centers.
After the report picked up steam, HGTV tweeted (via CNN) that it had "decided not to move forward with the Benham Brothers' series." Hours later, Jason Benham appeared on CNN's "Erin Burnett OutFront," and said that HGTV had known about his and his brother's views before it green-lighted the series, and David Benham said that the cancellation in the wake of the backlash was merely a "business decision."
Chip and Joanna Gaines were criticized for attending a church with anti-LGBT views
Married home renovation team Chip and Joanna Gaines are HGTV darlings and the network's biggest breakout stars in years. The "Fixer Upper" stars are so valuable to HGTV that they got their own spinoff channel, the Magnolia Network, named after their lucrative home decor business and brand. Married since 2003, per Parade, the Gaines' are a tight-knit, family-first couple who balance their many professional endeavors with the rearing of five children. They're also a deeply religious duo, and they've openly discussed their faith in a number of venues, including on Oprah Winfrey's "Super Soul Sunday" (via The Christian Post) and on the website of their church, Antioch Community Church, a non-denominational Christian congregation in Waco, Texas.
In a November 2016 report, Buzzfeed revealed that the church takes a firm stance against same-sex marriage and promotes "conversion therapy," in which LGBT individuals are purportedly made heterosexual, in what the Human Rights Campaign has called a "dangerous practice." Also, as of 2016, no same-sex couples had ever appeared on "Fixer Upper." Representatives of Gaines' company didn't respond to the Buzzfeed story, but HGTV did. "We don't discriminate against members of the LGBT community in any of our shows," the network said in a statement. "HGTV is proud to have a crystal clear, consistent record of including people from all walks of life in its series."
When HGTV recommended the desecration of the American flag
HGTV is more than just a channel where confident, attractive people renovate and sell homes — it's also got a website, where viewers can find tips and tricks on how to make their living spaces more comfortable and unique. In the run-up to the Independence Day holiday in the summer of 2013, according to The Washington Times, the HGTV website ran a feature called "Classic Fourth of July Table Setting Ideas." It included a picture of summer treats sitting atop a table dressed with an American flag used in lieu of a tablecloth, imploring readers to "Drape a large American flag over the table as a bright and festive table runner," and a tip to "use a nylon flag so spills can be easily wiped off."
While using flag-inspired imagery in Fourth of July decorations is nothing untoward, or out of the ordinary, the use of an actual American flag is both those things. According to the U.S. Code on "Respect for Flag" (via Cornell Law School), it would be disrespectful to use Old Glory as a tablecloth, as "The flag should never touch anything beneath it, such as the ground, the floor, water, or merchandise."
After receiving complaints, HGTV removed the controversial material from its website and apologized. "This was a regrettable use of our flag and it never should have happened," the network said on its Facebook page. "We want to assure our fans that HGTV is proud of the American flag and everything it symbolizes for our people."
Police were on the scene to nab the star of The Vanilla Ice Project
Vanilla Ice is one of pop music's great flashes in the pan. In 1990, his single "Ice Ice Baby" topped the Billboard Hot 100, the first time a rap song had ever topped the American pop chart. After reporters found holes in Vanilla Ice's purported tough background, his rapper credibility was questioned, and his career cratered, per The Ringer. Fortunately, the rapper, a.k.a. Robert Van Winkle, he found a new career: flipping houses. In 2010, he took his skills to HGTV, starring in the home renovation reality show "The Vanilla Ice Project." Things certainly got awkward for the network in 2015, when Van Winkle ran afoul of the law.
According to NBC South Florida, police arrested Van Winkle and charged him with burglary and grand theft, where he was released after meeting bond. Authorities say that several pieces of furniture, pool equipment, and bikes had been swiped from a foreclosed home, located next door to a property Van Winkle was rehabbing. A search warrant uncovered the items at that house, leading to the former rapper's arrest. "It's a misunderstanding, it was blown out of proportion," Van Winkle told reporters, while telling police (via NBC News) that he'd actually started the process of buying the home he was accused of burglarizing, although there was no record of that. Van Winkle avoided jail time for the incident after agreeing to a plea deal, with a sentence of community service and a $1,000 fine.
House Hunters takes the "real" out of reality TV
Reality TV has been around long enough that the general public has at least some sense that shows in the genre are carefully edited, staged, or juiced in the name of clear storytelling and to maximize entertainment. That being said, HGTV's "House Hunters" was singled out in 2012 for a wrongdoing that would make it one of the most non-real reality shows going.
A former "House Hunters" participant named Bobi Jensen wrote about her experience on the show for the blog Hooked on Houses. Jensen, her husband, and three young kids were in the market for a larger house and planned on turning their present home into a rental property. Producers said their story was "boring and overdone," so they instead pushed forward the idea that "our home was too small and we needed a bigger one desperately."
Then, Jensen blew up the whole concept of the show, dishing that "House Hunters" follows a couple or family as they look at different houses and then choose the best option. According to Jensen, they'd already signed the papers on a new home before their "House Hunters" started production. "So then when they decided to film our episode we had to scramble to find houses to tour and pretend we were considering." The "losing" homes the Jensens rejected were just those of their friends, "who were nice enough to madly clean for days in preparation."
The El Moussas' marriage fell apart
As the hosts of the HGTV juggernaut house-flipping show "Flip or Flop," former real estate agents and married couple Tarek and Christina El Moussa had a lot of happily ever afters when it came to properties. In real life, their seemingly picture-perfect marriage and carefully calibrated image were erased after a frightening blow-up.
In May 2016, according to TMZ, police in Orange County, California, answered a call regarding "a possibly suicidal male with a gun" at the El Moussa home, sending a helicopter and 11 deputies to diffuse the situation. According to witnesses, Tarek took a gun from the house, bolted away, and ran down a hiking trail while Christina emerged from the house, visibly trembling and sobbing. Authorities found Tarek, and he willingly disarmed, although police later seized five guns from the home.
In December 2016, the El Moussas announced their separation (via a statement to People) after seven years of marriage. "Like many couples, we have had challenges," the statement read, with the El Moussas adding that they had been through counseling and would continue to work together, which would include more seasons of "Flip or Flop."
Tarek and Christina El Moussa allegedly ran a scam operation
When they were still together, personally and professionally, Tarek and Christina El Moussa's "Flip or Flop" was so popular and their success so seemingly attainable that countless viewers figured they could also find financial independence by buying, renovating, and reselling houses at a huge profit, too. The El Moussas encouraged that wealth mindset, holding a series of seminars called "Success Path," according to In Touch.
Led to believe that flipping houses was a relatively easy way to make money, Ohio resident Kathryne Brockfield paid $1,997 to attend a seminar. But after alleging that the class was little more than a scam, she asked but did not receive her money back, leading her to file a complaint to the state's attorney general office. A similar story went down in other states. In Florida, Wendy Sisk contacted authorities after she says she wasted $80,000 on courses, while in Iowa, Lori Ingersoll got her attorney general involved (and got almost all of the $42,000 she sunk into "Success Path") after she filed a scam complaint and authorities discovered that the El Moussas program violated the law.
Chip Gaines got sued by a neighbor
One part of Chip and Joanna Gaines' portfolio of projects, portfolios, and money-makers is the Magnolia Market at the Silos in Waco, Texas, a large, upscale complex that includes shopping, a garden, and a café. It's an effective way for Gaines fans to get a taste of the HGTV stars' lifestyle, aesthetic, and brand, but it was also the source of a squabble that didn't cast the otherwise easygoing and friendly-seeming Gaines duo in a good light.
In October 2016, according to the Waco Tribune, Daron Farmer, a manager of Head Properties, filed a lawsuit against the Magnolia complex and Chip Gaines specifically. Farmer sought damages of $200,000 to $1 million over a gate installed by Gaines that blocks access to the adjacent property he controls. While Farmer bought his piece of land earlier in 2016, the previous owner had worked out a lease agreement with Gaines so that Magnolia employees and customers could park there. The lease expired, renewal talks between Farmer and Gaines fell apart, and so Gaines put up the gate. "Chip is just trying to strong-arm me because he doesn't want to pay what I am asking for that lot," Farmer said, adding that he would start charging Magnolia Market customers a $10 parking fee. A judge dismissed the lawsuit in 2017, according to KWTX, when the Gaines' just bought Farmer's lot.
Carter Oosterhouse was accused of assault
Once a designer carpenter who wasn't a part of even one of cable television's many home renovation-oriented TV shows, Carter Oosterhouse entered the fray in 2004 with TLC's hit "Trading Spaces" and then landing his own show on HGTV three years later, "Carter Can."
In 2017, after he'd moved on to other projects, Oosterhouse was accused of sexual assault by a former colleague who had worked on "Carter Can." Makeup artist Kailey Kaminsky told The Hollywood Reporter that in 2008, Oosterhouse repeatedly demanded she perform a sexual act on him, which she did after he threatened to fire her. Then, Kaminsky alleged, Oosterhouse forced or coerced her into repeating the sex act 10 to 15 times.
In response, Oosterhouse called the allegations "upsetting" and admitted to an "intimate relationship" with Kaminsky, but characterized it as a consensual arrangement. A producer on "Carter Can" told The Hollywood Reporter that the situation "didn't raise any flags, so I don't think we suggested an intervention." Oosterhouse continued to work for HGTV in several capacities.
If you or anyone you know has been a victim of sexual assault, help is available. Visit the Rape, Abuse & Incest National Network website or contact RAINN's National Helpline at 1-800-656-HOPE (4673).
Windy City Rehab has faced internal and external lawsuits
As of this writing, "Windy City Rehab" has aired two seasons worth of home renovation projects. Interior designer Alison Victoria finds old, broken-down, architecturally interesting fixer-uppers in the Chicago area and then makes them modern and livable. She was assisted by Donovan Eckhardt, a contractor who would supervise and manage the construction elements of each project.
"Windy City Rehab" will continue production, according to Deadline, but without Eckhardt. His time on the show culminated in multiple messy lawsuits for HGTV. According to People, Victoria and Eckhardt were co-defendants in a case filed in 2020 by Chicago-area homeowners Shane Jones and Samantha Mostaccio, accusing the "Windy City Rehab" team of shoddy construction that led to water damage, cracked columns, and other problems that required more than $100,000 worth of repairs. Also in 2020, per People, homeowners Anna and James Morrissey filed suit against "Windy City Rehab" and its stars for leaving several problems with its renovation, such as water drainage issues, leaks, and a faulty roof.
In 2021, Eckhardt moved from defendant to plaintiff when he sued "Windy City Rehab" producer Big Table Media and HGTV parent company Discovery Inc. for $2.2 million, citing "defamation" and "intentional infliction of emotional stress," per Deadline. Eckhardt alleged that his show was scripted and carefully constructed to make him seem like the villain of the piece as well as the reason behind many of those bad work allegations.
Color Splash star David Bromstad was sued by an ex
In 2006, sunny and enthusiastic David Bromstad won the first iteration of HGTV's talent search and competition show "Design Star" with his vibrant designs, and he'd go on to appear on many shows for the network, like "My Lottery Dream Home," "Beach Flip," "Rock the Block," "Design at Your Door," and "Color Splash." When he got famous, Bromstad stuck with his romantic partner, Jeffrey Glasko, although they split up in 2015 after 11 years as a couple, according to In Touch.
Shortly after the breakup, Glasko filed a civil breach of contract lawsuit in Miami-Dade County, Florida. Glasko alleged that his former partner, Bromstad, was financially liable because he broke an agreement over a cohabitation and partition contract they'd worked out for their shared condo. It wasn't such a cut-and-dry financial matter, however, as Glasko levied several claims against Bromstad, alleging that in 2010, the designer had used their mutual accounts to pay for drugs and sex workers.
A judge called those charges "among the most scandalous" they had ever seen, struck them from the suit, and then dismissed the case altogether."These salacious claims were made by a desperate person," Bromstad's lawyer, William V. Roppolo, said.