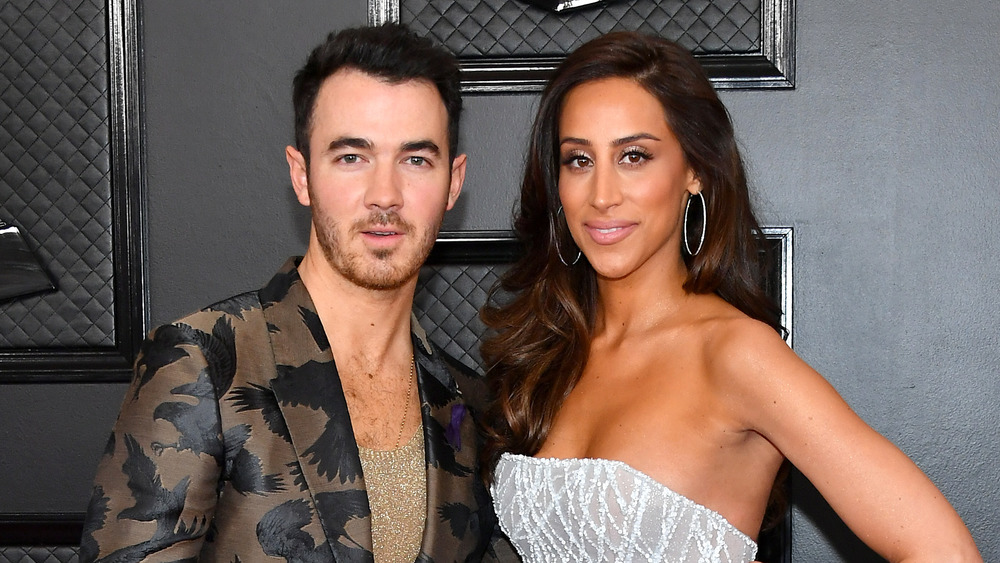 The Jonas Brothers have come a long way since their beginnings on the Disney Channel. All of them are married men with three kids between them, as of this writing, and five studio albums released from 2006 to 2019. In that time, this pop-rock trio wasn't able to avoid family drama — which would eventually lead Kevin, Joe, and Nick Jonas to announce they were splitting up in 2013.
Fans would later learn that the admitted "deep rift within the band" ran deeper than creative differences. The Jonas Brothers didn't speak to each other for some time, per Joe's 2016 Reddit AMA, and spent the next six years focusing on their personal lives and pursuing solo endeavors. They would, of course, make their grand comeback with 2019's hit song, "Sucker." As Kevin told HuffPost Live of their mended relationships, "I think that's why we're close now, because we're not in the band. We chose to be a family, not a band."
As the band's guitarist and backup vocalist, it could be argued that Kevin's the most mysterious member of the Jonas Brothers, partly because he hasn't pursued a solo music career in the spotlight. But luckily, Kevin had an ally to lean on during the difficult times — his wife, Moments jewelry company owner Danielle Jonas. Let's take a look inside their marriage (hopefully you like dessert, because this couple is about as sweet as apple pie.).
Danielle and Kevin Jonas' sibling setup in the Bahamas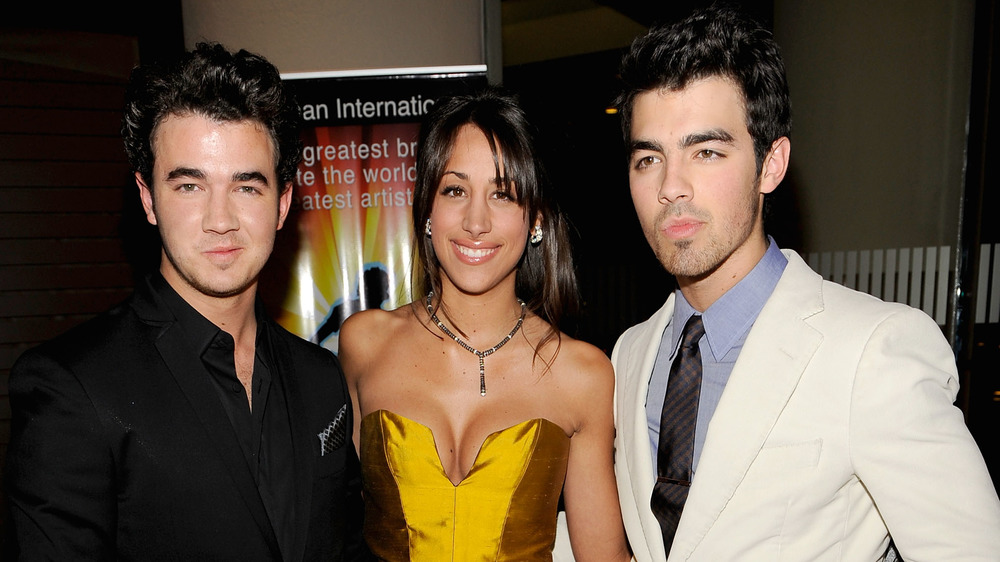 Danielle and Kevin Jonas both hail from New Jersey, but they didn't meet there. Rather, the story of their meet-cute is made for a TV movie. The future spouses were on separate family vacations in the Bahamas back in 2007 when their paths first crossed. But don't think that Danielle — a hairdresser at the time — fell head over heels for the rock star right off the bat.
"At the time, it was early enough in our career that we weren't really in a place where people were coming up to us," Kevin told PR.com in 2012. "When I met Danielle, I was the one that was pursuing her most of the time and I didn't want her out of my sight. She actually ran away twice." Ouch! That had to hurt. But Danielle explained her logic to the site: "He lived in LA, and I was on family vacation. I thought, 'I'm never going to see this kid again, so why would I spend time away from my family while we're on vacation?'"
That actually makes a lot of sense. But sometimes, siblings know best. "I had to get her number through the sister, can you believe that?!" Kevin said. Meanwhile, Nick and Joe Jonas supported the blossoming romance, too, as evidenced by footage in their 2019 documentary, Chasing Happiness, featuring the two teasing Kevin and predicting Danielle would become his wife (via Bustle).
A romantic surprise on Danielle Jonas' doorstep
Danielle and Kevin Jonas got engaged in 2009, after about two years of dating. By that time, the Jonas Brothers were definitely household names — meaning that Kevin could've proposed in the most extravagant way his mind could imagine. For example, the guitarist-singer could've brought his future bride on stage during a show, declare his love for her in front of thousands of adoring fans, and pop the question. However, Kevin took on a much more private and intimate approach.
People reports that the eldest Jonas brother simply went to Danielle's house in New Jersey and dropped to his knee on her doorstep. "It was tough performing last night, knowing that I was going to ask the biggest question in my life to the most amazing girl in the world," Kevin told the magazine (cue a chorus of "awws"). Unsurprisingly, the pop-rocker's plan worked. "She said yes, yes, yes like 500 times super fast in a row," Kevin continued, while Danielle said at the time, "It still feels like a dream." As for her engagement ring? The outlet notes that it was "a cushion-cut diamond that [Kevin] designed with Jacob & Co."
Inside Danielle and Kevin Jonas' fairytale white wedding
Danielle and Kevin Jonas got married at one of the most exclusive venues in the tri-state area — Long Island's Oheka Castle in Huntington, NY — on Dec. 19, 2010. True to the couple's classic and elegant style, the event was reportedly like a fairytale set in a "winter wonderland," complete with a snowstorm that event planner Michael Russo told People only enhanced the ambiance. Danielle wore a Chantilly lace Vera Wang gown, with Russo telling the outlet that she "looked like a princess," and adding that "Kevin couldn't stop smiling."
The couple invited 400 guests to celebrate their big day with them, including fellow Disney Channel star Demi Lovato. Meanwhile, brothers and bandmates Nick and Joe Jonas served as co-best men for Kevin, and each gave a toast. "We're so happy that we're finally married and we were able to share the special moment with family, friends and loved ones," the happy newlyweds told People at the time. Russo added, "Kevin has said many times he feels like he met his princess. To see them together you can feel the warmth and the love all around them. They are just perfect for each other."
There was no way to know it at the time, but Kevin and Danielle's extravagant affair ended up being pretty understated compared to Joe and Nick's future weddings, as documented by The New York Times.
Danielle and Kevin Jonas started sharing the spotlight
A year before the Jonas Brothers announced they were (temporarily) breaking up the band, Danielle and Kevin Jonas decided to step into the spotlight together with reality TV show Married To Jonas, which premiered on E! in 2012. While speaking with PR.com, Kevin revealed that the televised opportunity appeared while he was in meetings about doing hosting gigs for the network — and Danielle agreed to go on the adventure. Then two years into their marriage, the couple felt like they had a strong foundation that a reality show wouldn't shake.
"We had a good time doing it, and learned a bit more about ourselves too," Kevin said. "Plus, we're doing it with our families, so it's not like it's just two people stuck in a room driving each other nuts." Kevin and Danielle's story has been compared to fairytales — partly because Danielle had a "normal" job when she met the up-and-coming Disney rock star and was content to play a supportive role in his life. "I don't need for everyone to know me, or to know me as much as they know him," Danielle explained. "I feel like, I just want to see his goals come out and his career be huge."
This attitude might be part of the reason their marriage has long outlasted the show (which aired for two seasons) — very much unlike Nick Lachey and Jessica Simpson's three-year marriage, which ended shortly after wrapping their similar mega-hit reality show, Newlyweds: Nick & Jessica, per E!.
Kevin Jonas traded Hollywood for a hardhat
Nick and Joe Jonas continued to pursue showbiz careers following the Jonas Brothers' split in 2013. In addition to his self-titled 2014 solo debut, Nick acted on TV in Scream Queens and Kingdom, and nabbed a starring role in the Jumanji films; Joe voiced a character in Hotel Transylvania 3, and formed the band DNCE (best known for its hit debut single, "Cake By the Ocean"). But for his part, Kevin Jonas basically stayed away from the entertainment industry all together over the next six years.
Aside from a stint on The Celebrity Apprentice in early 2015, Kevin not only started a family with wife Danielle Jonas, but also launched a construction business called Jonas Werner Fine Custom Homes. The company's first project? Building the family's (first) dream home in New Jersey in 2016 (it was sold for $2.25 million two years later, per the Los Angeles Times). However, Kevin did make a cameo on The Real Housewives of New Jersey during a Season 6 episode in his new occupation, when the company built a home for cast member Kathy Wakile. Per Heavy, Kathy's sister, Rosie, asked Kevin, "Don't you sing or something?" To which he replied: "That was my day job. Now I'm doing this." This led Rosie to quip, "Who's next to design their landscaping? 'NSync? Let's get Lance Bass in on this s**t!" Oof.
It's unclear whether the company is still in business.
Danielle and Kevin Jonas built the perfect home again and again
Collectively, all three members of the Jonas Brothers have quite an extensive history with real estate, as noted by Love Property. While Kevin, Joe, and Nick all have had homes in Texas, California, and New York over the years, the eldest Jonas bro and wife Danielle Jonas have preferred to stay in New Jersey, where they both grew up.
However, even though this adorable family of four have stayed in one state, Kevin and Danielle sure move their brood around quite a bit. As of early 2018, they had moved three times in five years, per the Daily Record — presumably because of Kevin's experience as an entrepreneur in the construction business, which means that he can have luxury homes designed and built for his family rather quickly.
Joshua Baris of Coldwell Banker listed a property for this particular Jonas family in 2018, and told Daily Record that Kevin and Danielle (unsurprisingly) planned to "stay in the area." As for why Kevin's family keeps moving, Baris explained, "My experience with custom builders is that once they build, they look for another project." Baris also praised the craftsmanship of the house on the market, noting, "The attention to detail is breathtaking."
Danielle and Kevin Jonas shared some great expectations
The Jonas Brothers were once infamous in Hollywood for a reason that had nothing to do with their talent — their purity rings. Joe and Nick Jonas have been open about the fact that they lost their virginity before marrying their wives, respectively tying the knot with actress Sophie Turner and marrying actress Priyanka Chopra. While Joe named names during his Reddit AMA (via Billboard), telling a story about how he lost his virginity to a woman named Ashley (presumably Twilight's Ashley Greene), Nick quipped on The Wendy Williams Show in 2014 that he was an "adult in all ways."
Though the Jonas Brothers revealed on The Late Late Show with James Corden in 2019 that Kevin Jonas physically took his ring off first, he and wife Danielle Jonas presumably did wait until marriage to have sex. In 2011, he talked about his first time at a press conference (via HuffPost): "To be honest about it, sex was not worth the wait … After we did it, I was kind of like, that's it?" As for what Danielle thought? Kevin said of his wife, "That's what she said."
Of course, the married pair liked doing the deed enough to have daughters Alena Rose and Valentina Angelina Jonas in 2014 and 2016, respectively — complete with some unique gender reveals shared on social media.
Living through the Jonas family feud
Though the band has thankfully healed old wounds, the Jonas Brothers' breakup clearly wasn't a clean one. This is especially sad because, as their name says, they are brothers. As previously mentioned, Danielle and Kevin Jonas welcomed daughters Alena and Valentina while the band was apart — and while Uncles Joe and Nick did meet their first niece, Alena, shortly after she was born in February 2014, the Jonas Brothers revealed in their 2019 documentary, Chasing Happiness (per Bustle), that they weren't on good terms at the time.
Not to mention, during their time apart, Joe and Nick also performed some of the band's songs together — without Kevin — at the B96 Pepsi Jingle Bash in 2013. Revealing how much that hurt him in Chasing Happiness, Kevin said, "I think that may have been the hardest moment in my entire life." Joe even went so far as to admit that he and Nick thought Kevin was "holding [them] back" at the time, because he was more focused on his family life than his career.
While Joe confessed that this logic was "f**ked up," we're happy to know that Kevin had such a strong and loving partner in wife Danielle Jonas while living through the Jonas family feud. For her part, Danielle couldn't be happier now that the band is back in action, telling E!, "Seeing Kevin on stage again and seeing that smile he always had … he's truly having the best time of his life. It feels very good to see that."
How Danielle and Kevin Jonas are raising daddy's biggest fans
Since Danielle and Kevin Jonas' daughters, Alena and Valentina Jonas, were born during the time that the Jonas Brothers weren't performing (and Kevin wasn't in the entertainment industry), they haven't grown accustomed to fame like some celebrity kids.
In 2019, Kevin told Entertainment Weekly that his girls were a big part of the reason he said "yes" to the band's reunion when Nick Jonas proposed it. "We broke up as a band and about two months later me and Danielle had our first daughter Alena. She never experienced the Jonas Brothers," he said. "At this point she's probably three or four years old when we're having this conversation. I just looked down at her sitting in the room while we were having this conversation and it was one of those moments of, 'I need her to experience that. If it's not for me, it's for them.' That was the moment I realized how badly I did miss it." (Aww! We're not teary-eyed reading that quote, you are!)
Kevin clearly made a good choice. "Oh my gosh, they're so proud of them," Danielle told E! about her daughters watching their dad and uncles perform live. "They'll be by the stage and they'll be waving to them and if they don't get a wave, they'll look at me and say, 'Why are they not waving?' I'll say, 'They're looking at a lot of people right now but they love you.'" Alena and Valentina are the biggest JoBros fans. Period.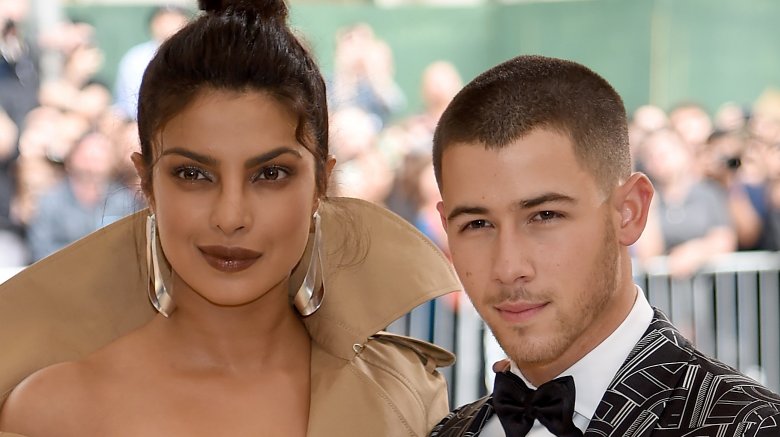 Nick Jonas and Priyanka Chopra surprised everyone when they started dating in May 2018. And months later, people were shocked yet again to learn that the former Disney Channel darling and the Quantico actress were engaged to be married! After all, they had only just begun going out! But while some former Jonas Brothers fans have likely remained shaken by their past teen idol getting taken off the market, others are surely intrigued by this celebrity couple. And that's super understandable, especially when you consider all of the seriously strange details about about the A-list pair's romance.
From the questionable conception of Jonas and Chopra's intimate relationship to their significant age difference — not to mention Jonas' history dating older women — there are definitely a lot of things about this couple that raise eyebrows. Keep reading to learn all the oddest things about Nick Jonas and Priyanka Chopra's May-December love affair.
Did they have a fling?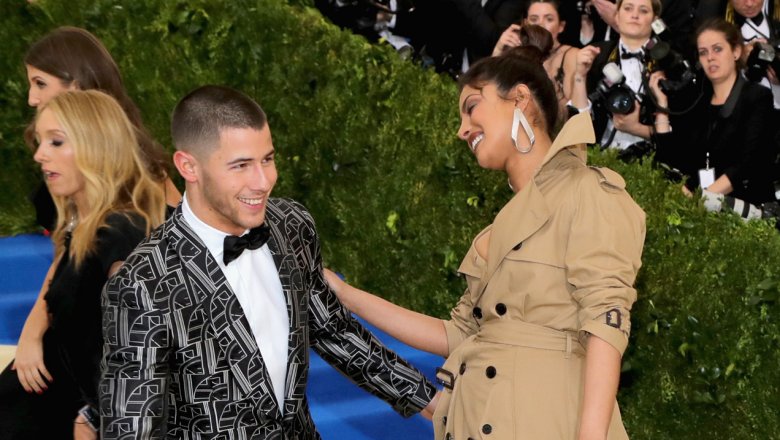 Unlike most celeb couples, Nick Jonas and Priyanka Chopra made their grand red carpet debut together before they were even romantically involved. Or at least, that's what they claim. On May 1, 2017, Jonas and Chopra walked the Met Gala's red carpet together, showing off their designer duds for the cameras as they posed side by side. But the two weren't even dating at the time, as Chopra insisted to late-night TV's Jimmy Kimmel. When asked by the Jimmy Kimmel Live! host if she was dating Jonas, Chopra denied she was, saying, "We were both wearing Ralph Lauren. We decided to go together because it was fun."
Still, it seems awfully suspicious that Jonas and Chopra would attend fashion's biggest night of the year together as two single friends — especially since they'd never gone to an event together before. So, could Jonas and Chopra have actually been hooking up at that time? Well, considering how Chopra giggled her way through Kimmel's interview, we'd bet that there was something more going on between Jonas and Chopra than friendship. But, of course, we just won't know for sure unless the two speak out about their romantic beginnings themselves.
They moved at lightning speed
Nearly one year to the date after the pair's 2017 Met Gala red carpet rendezvous, Jonas and Chopra are said to have started dating. At the time, Us Weekly reported that the two celebs had just started their relationship, though things were looking good for their future. "They are dating and it's brand new," a source told the magazine. "It's a good match and they are both interested in each other."
Not long afterwards, Jonas and Chopra hit some major relationship milestones when they met one another's families. In June 2018, Jonas brought the Baywatch star with him to his cousin's New Jersey wedding, where he introduced her to his family (via TMZ). "It's a huge deal that Nick brought Priyanka to his cousin's wedding," a source close to Jonas shared with People. "He's dated a lot over the last couple years but it's never been anything serious, so this is a big step."
Weeks later, Chopra invited Jonas along with her to India and the two grabbed dinner with her mother, Madhu (via People). Clearly, things heated up quickly for the celebrity pair — and that wasn't all that happened. In late July 2018, Jonas and Chopra were reported to have gotten engaged. Clearly these two have no trouble moving fast, and there's no sign that they'll be slowing down anytime soon.
There's a mighty big age gap between them
While Nick Jonas and Priyanka Chopra seem perfect for one another — they both appear to be likeable, genuine people in the entertainment biz — their romance was definitely unexpected. Why? Well, there's a ten-year age difference between the two. At the time of their engagement, Chopra was 36 years old to Jonas' 25. To put that into perspective, Jonas was just a 10-year-old in middle school when Chopra made her big-screen acting debut in the Indian drama Thamizhan.
But, of course, Jonas wouldn't be out of touch with the world of entertainment for long. A few years later, he and his older brothers, Kevin and Joe, would become internationally known as the Jonas Brothers and would appear on the Disney Channel in the hit original movie Camp Rock and their own scripted show Jonas. As fans already know, more acting roles and a thriving solo music career followed.
It's entirely possible that Nick Jonas' early career success may have helped him mature faster than most people in his age group, making him the perfect match for Chopra. And, considering his dating history, that certainly seems to be the case…
Does Jonas have a thing for older women?
Looking back at Nick Jonas' past, it seems clear that he quickly grew tired of dating women his own age. Following short-lived relationships with the likes of Miley Cyrus and Selena Gomez — his fellow Disney Channel stars — Jonas pursued a couple famous women who were notably older than him. In 2011, Jonas dated Australian singer Delta Goodrem, who is eight years his senior. The two obviously didn't work out in the end, and they split after ten months together (via the Daily Mail).
Then in September 2015, Jonas got together with How to Lose a Guy in 10 Days star Kate Hudson, whom he later described as "incredible." Jonas and Hudson, who was older than the actor-singer by 14 years, reportedly only had a quick fling, but it was enough to leave a lasting impression on the "Jealous" singer. Speaking with Complex in 2016, Jonas shared, "We had an unbelievable connection as two humans who just admire things about each other, and see something in each other that's beautiful."
So, does Jonas like the older ladies? Well, according to one insider's report to Us Weekly, Jonas just "loves women who are mature like him," which "usually means he dates a little outside of his age bracket." Hey — as long as both Jonas and Chopra are okay with their age difference, what does it matter? It's just a number after all.
Chopra's ties to royalty
As could be expected by such a high-profile pair, Nick Jonas and Priyanka Chopra have major ties to some big-name celebrities. But we're not just talking about Jonas' BFF Demi Lovato. We're actually talking about Chopra's friendship with former Suits actress and the Duchess of Sussex herself Meghan Markle. That's right — Chopra and Markle are super close! Chopra even attended Markle's highly anticipated royal wedding to Prince Harry.
So, given Chopra's connection to the royal family, should we expect to see Jonas hanging out with Harry on a regular basis? Well, maybe the two won't be partying it up often, but they have already spent some time together. In fact, the very same week that Jonas proposed to Chopra, the pair had visited Markle and her husband at their home in Oxfordshire, England. And, according to E! News, Markle totally approves of her pal's choice in men, as a source told the celebrity news publication that Markle is "very excited" about Jonas and Chopra's engagement.
A birthday surprise
Speaking of their engagement, Nick Jonas reportedly asked Priyanka Chopra to marry him while the two were vacationing in London (via People). And, while some couples get engaged on a special date — like, say, an anniversary — Jonas had the unusual idea to pop the question to his beloved on her birthday. Yep, that's right: Jonas proposed to Chopra while the two were celebrating her 36th birthday.
But, from what we can tell, Jonas didn't just ask for Chopra's hand in marriage on her birthday to make the most of their good time. He'd apparently been planning to propose for a while, as he reportedly closed down a Tiffany & Co. jewelry store to pick out the perfect ring for his future wife. And though, at the time of this writing, Chopra has not yet released details about her engagement ring, we bet that sparkler was one heck of a birthday present.
Still, we can't help but wonder why Jonas got down on bended knee around the time of the actress' birthday. Couldn't he find time in his busy schedule to propose on another day? And what if she had said no? That would've been one bummer of a birthday.
A Bollywood director leaked the news
While most people may worry about family members and future in-laws oversharing about their personal lives, Nick Jonas and Priyanka Chopra apparently had a Bollywood director to watch out for. On July 26, 2018, one day before news of the couple's engagement made headlines, Ali Abbas Zafar, an Indian film director who's worked on projects like Mere Brother Ki Dulhan, took to Twitter to blab the news about Chopra's engagement to Jonas.
Announcing that Chopra would no longer be appearing in his film Bharat, Zafar tweeted out, "Yes Priyanka Chopra is no more part of @Bharat_TheFilm & and the reason is very very special." Growing more obvious by the second, Zafar added, "She told us in the Nick of time about her decision and we are very happy for her … Team Bharat wishes @priyankachopra loads of love & happiness for life." Just in the "Nick" of time, huh?
While he didn't flat-out share that Jonas and Chopra were engaged, he definitely hinted at their big news and may have led news outlets do some digging about the couple's relationship. For shame, Zafar.