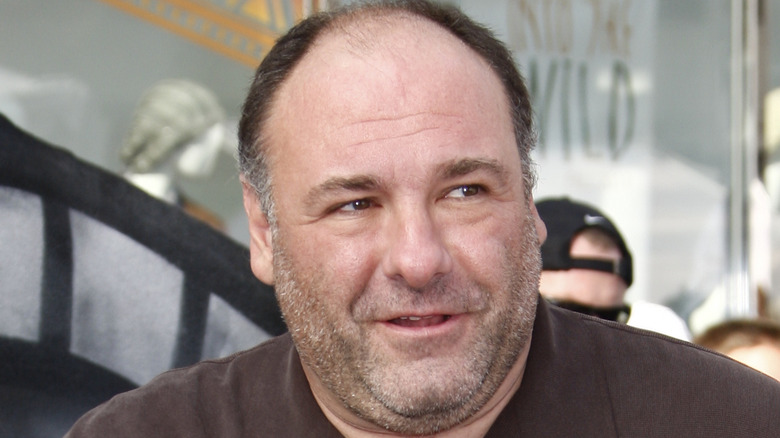 If you were a fan of television, either now or twenty years ago, then it is highly likely you've seen the late actor, James Gandolfini, on your screen. At the height of his career, Gandolfini was known for playing the legendary mob boss Tony Soprano in the hit show, "The Sopranos." Tony and the gang are just as popular as they we're back when they first debuted their intricate crime ring in the suburbs of New Jersey over twenty years ago. In fact, GQ reports that in 2020, viewership of "The Sopranos" increased an impressive 179% as diehard fans began to re-watch and Gen Z viewers tuned in for the first time. "The Sopranos," and especially its controversial finale episode, continues to be a hot topic in cultural discussions. But unfortunately, Gandolfini is not able weigh in.
According to Biography, Gandolfini's unexpected death happened at the age of 51. The actor had flown with his family to Italy for both a vacation, and a chance for Gandolfini to rediscover his heritage. Both of his parents were Italian immigrants that settled in New Jersey, the state where the three-time Emmy winner was raised.
Gandolfini passed away after a wonderful day with his family in Italy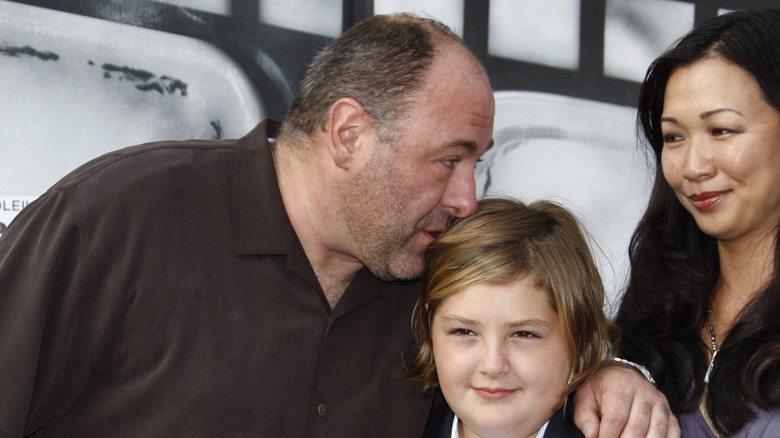 "The family had a marvelous day together, and when he returned to the hotel Jimmy [Gandolfini] went to the bathroom and that is when something happened," reveals his assistant, Tom Richardson, to Biography. After attempts at reviving the actor failed, Gandolfini was taken to the hospital and died soon after.
Considering the actor's fairly young age, many were skeptical over his cause of death. But his friend, Michael Kobold, shut down any rumors, telling CBS News, "There's nothing out of the ordinary. It was a heart attack. It was a natural cause," he stated. Adding, "There was no foul play, no substance abuse. None of that."
Yes, Gandolfini suffered a heart attack. But according to CBS News, officials in Rome officially listed cardiac arrest as the cause of death. And while a heart attack and cardiac arrest can be related, they are distinct medical events.
The actor experienced a heart attack which led to cardiac arrest
According to the Heart Foundation, cardiac arrest happens when the heart stops beating — this is classified as a medical emergency. When the heart stops beating, the brain and other vital organs in the body become deprived of oxygen, which can lead to death. In the United States, around 383,000 episodes of cardiac arrest happen per year. There is only an 11% survival rate, and many who experience this critical episode have no previous known history of heart disease. In Ganolfini's case, a heart attack triggered cardiac arrest. However, this isn't always the case. Cardiac arrest can happen if there is an electrical malfunction in the heart brought on by an irregular heartbeat, also known as an arrhythmia, notes CBS News.
A heart attack, also known as a myocardial infarction, occurs when one of the arteries in the heart becomes blocked and prevents blood from reaching the organ (via WebMD). Often this blockage results from a buildup of fat and cholesterol, which forms a plaque on the inner surface of the arteries. Heart attacks can be fatal if they lead to cardiac arrest, as it did in Gandolfini's case, but WebMD notes that treatment has improved over the years. That's why it's vital to seek medical help immediately if you think you might be having a heart attack.
Gandolfini had a heart attack at the relatively young age of 51. CBS News says the average age of people who suffer heart attacks heart attack is 65. Gandolfini, though, was likely at greater risk than others of the same age.
James Gandolfini never complained of having any symptoms
According to Healthline, Gandolfini's larger frame was a sign of possible heart issues. The overweight actor could have been at an increased risk for heart disease, though family and friends claim he never complained about any troubling heart disease-related symptoms.
Gandolfini had also struggled with both alcohol and drugs earlier in his life. In an excerpt about the actor's private life shared via USA Today, it appears Gandolfini was struggling personally as the show thrived. "In papers related to a divorce filing at the end of 2002, Gandolfini's wife described increasingly serious issues with drugs and alcohol, as well as arguments during which the actor would repeatedly punch himself in the face out of frustration." During this time, Gandolfini was also known to disappear and not show up to work, and had violent outbursts on set. Four years after filing for divorce, the actor — who notoriously despised interviews about his personal life — admitted to the National Enquirer that he did in fact struggle with alcohol and substance abuse, reports NJ Monthly.
Gandolfini's diet may have put him at risk
According to the American Heart Association, increased risks for heart disease include: stress, excessive alcohol consumption, a high-fat and high-sodium diet, smoking, high cholesterol, high blood pressure, a sedentary lifestyle, and obesity. It is clear Gandolfini was struggling with stress. And while his heart attack that led to cardiac arrest can't be blamed solely on his diet, it may have been one of the biggest risk factors.
The New York Post reports the actor had up to eight alcoholic drinks while enjoying fried food and fatty foie gras as the last meal he ate before experiencing a heart attack. "I was worried about the way he ate," admitted co-star of "The Sopranos," Joey Pantoliano, to Extra.
According to a study's published in the European Heart Journal, more than two-thirds of heart disease-related deaths can be linked to poor food choices (via Cleveland Clinic). "A way of looking at it is thinking about food as medicine," explains registered dietician Kate Patton to Cleveland Clinic. She adds that, "The right food can really improve your health and decrease your risk of developing these chronic diseases."
James Gandolfini's heart failure put into focus the importance of a healthy lifestyle
As stated by Insider, the legendary actor's body was flown back from Italy and laid to rest at the Cathedral Church of Saint John the Divine on Manhattan's Upper West Side. He may have experienced some darker times in his life, but that doesn't stop his admirers from respecting his work. "He was a genius," said "The Sopranos" creator David Chase in 2013 via Biography. "Anyone who saw him even in the smallest of his performances knows that. He is one of the greatest actors of this or any time. A great deal of that genius resided in those sad eyes. I remember telling him many times, 'You don't get it. You're like Mozart.'"
Though the exact cause behind the ultimate television mob boss' untimely heart failure is likely never to be known, it does put into focus just how important a healthy lifestyle can be to reduce the risk of an all-too-common heart disease-related death.