The following article includes allegations of alcoholism, addiction, and mental health issues.
Just because a celebrity is a rock star of a world-famous band doesn't mean they get carte blanche to act like total jerks. Similarly, it also doesn't mean that their careers can't come crashing down — even if they've done nothing wrong. Sure enough, even in the world of the musical A-list, stars get fired, and it's up to them to bounce back.
Of course, some iconic firings have only boosted a musician's career. Ozzy Osbourne, for example, was famously fired from Black Sabbath due to his excessive drinking and partying (via Loudwire), yet it only propelled his career. As Rolling Stone puts it, "all but two of his studio albums … have been certified gold or platinum," and he's also taken home two Grammys — along with a Lifetime Achievement Award.
That being said, not everyone has a wild success story like Osbourne. Sometimes, getting booted out of a musical act can lead to feelings of frustration and shame, leading a star to only spiral further, and in some cases, become a perfect candidate for a "Where Are They Now?" featurette. Let's take a look at the rock stars who fell into tragedy after getting fired from the band.
Was Pete Best 'the best drummer in The Beatles'?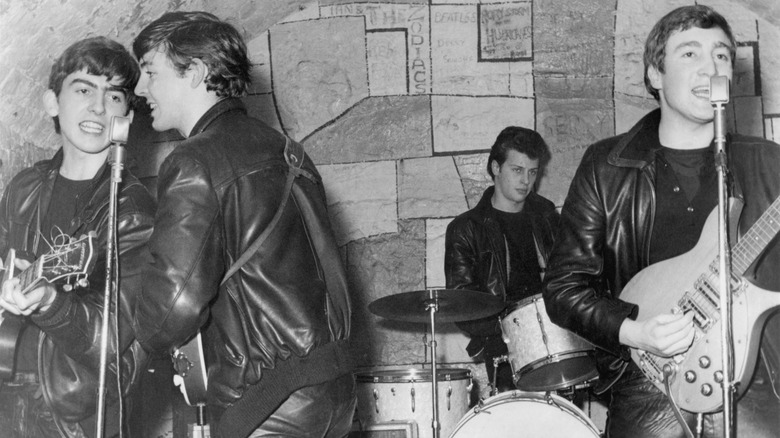 In 1981, during a taping of the BBC comedy "Radio Active," Philip Pope famously quipped, "Maybe Ringo Starr wasn't the best drummer in the world. Alright, maybe he wasn't the best drummer in the Beatles." And while Starr joined the legendary band in 1962 (via Biography), whatever happened to the Beatles' original drummer, Pete Best?
"'I don't know how to tell you this,' the manager said, 'but the boys want you out and it's already been arranged that Ringo will start with the group this Saturday.'" Those harsh words were delivered to Best by way of Beatles manager Brian Epstein, per AARP. "The golden apple was within my grasp and it was taken away from me," the drummer told the outlet in 2010, adding that "the severity of the situation" left him weeping. It's no wonder that Best was an emotional wreck; after all, that same year, the Beatles signed a recording contract with EMI — and the rest was history.
Remarkably, as of this writing, Best still doesn't have a clue why he was sacked from the Beatles. As he explained to AARP, allegedly Paul McCartney is the only person who has a reason for it — but the pair have never discussed it. As for Best, after a suicide attempt in the mid-60s, he appears to have finally found peace, has a family which now includes grandkids, and formed his own act: The Pete Best Band.
Brian Jones' demise came immediately after his Rolling Stones departure
Rhythm guitarist Brian Jones was a founding member of the Rolling Stones; in fact, he was the one that came up with their name. According to Biography, in 1962, 19-year-olds Mick Jagger and Keith Richards came across Jones one night at a London performance, eventually forming the band along with Dick Taylor, Ian Stewart, and Mick Avory (in time, the latter three would leave the group). As the group's former bassist, Bill Wyman, reflected to Daily News, Jones was "very influential" during the band's formative years yet "slowly lost it." As he explained, "[He] just kind of wasted it and blew it all away."
At the time, Jones had a crippling drug addiction and was showing up to recording sessions "incoherent and unable to play," per Variety. By May 1969, he was sacked from the Rolling Stones, meeting his demise two months later. According to Rolling Stone, the co-founder of the band was found dead on July 3, 1969, "after being pulled, unconscious, out of the … pool at his home." The coroner ruled the death "drowning by immersion in fresh water associated with severe liver disfunction caused by fatty degeneration and ingestion of alcohol and drugs."
The tragic event has remained a mystery among fans in the years since, with some even alleging Jones was murdered (via NME).
Was Scott Weiland fired from Stone Temple Pilots more than once?
Stone Temple Pilots frontman, Scott Weiland, may have had more than one firing from the iconic band. Per Fuse, "He exited STP twice under acrimonious terms," yet it's his ejection in 2013 that seemed to be the most tragic, as he claimed he found out from the press. "Not sure how I can be 'terminated' from a band that I founded, fronted, and co-wrote many of its biggest hits," Weiland wrote in a statement (via The Christian Science Monitor).
Weiland's firing shouldn't have come as a surprise. After all, the problematic singer had a history of drug use and mental health concerns. According to Billboard, along with his "well-documented" heroin addiction of the '90s, the final 10 months of the singer's life included going through two cancer diagnoses of his parents, the death of a friend, along with "severe financial troubles, estrangement from his children, self-medication and mental illness."
Weiland died in his RV on December 3, 2015, from an accidental drug overdose. He was 48 (via The San Diego Union-Tribune). As STP guitarist Dean DeLeo recalled to Billboard of hearing the news, "It was a feeling I had never experienced. My heart dropped. It felt like a part of me fell out." It turns out, Weiland had lost touch with members of the band a few years prior. Sadly, STP faced another tragedy in 2017 when Weiland's replacement, Chester Bennington (of Linkin Park fame), died by an apparent suicide (via Rolling Stone).
David Ruffin of The Temptations believed he deserved more
Ah, Motown, the record label that churned out legendary stars — and "created one of the most influential sounds of the 20th Century" (via BBC). Although the company graced the world with the sounds of iconic acts such as Diana Ross and The Supremes, The Jackson 5, and Marvin Gaye, to name a few, it was also home to real-life tragedies of its musicians, and David Ruffin of The Temptations is no exception.
Per Biography, Ruffin joined The Temptations in 1963 as a replacement for Eldridge Bryant, taking the lead on celebrated tracks such as "My Girl" and "I Wish It Would Rain." According to AP, The Temptations' success only grew, and they "became Motown's most successful male group," rivaling the glory of their female counterparts, The Supremes. Unfortunately, fame only went to Ruffin's head, and he began feeling bothered by a lack of preferential treatment for himself — at one point even demanding that the band be renamed "David Ruffin and the Temptations." That, coupled with his incessant cocaine use, led to his ejection from the band in 1968, notes Biography.
Ruffin's solo career was nowhere near as successful as his time with The Temptations was, and, according to AP, his "career was plagued by drug problems" and arrests, eventually leading to his tragic death in 1991 due to an "apparent drug overdose."
Syd Barrett knew he was 'disappearing'
Roger Keith "Syd" Barrett was one of the key members of Pink Floyd, having joined the band early in their careers in the mid-1960s (via Biography). Acting as the band's guitarist, Barrett defined their sound, also becoming the main writer for their 1967 debut album, "The Piper at the Gates of Dawn." According to Biography, as brilliant and as innovative as Barrett was, the sounds he was creating were coming to him by way of taking LSD, and he "was already losing his tenuous grasp on reality through his incessant drug use."
As UCR explains, in January 1968, Pink Floyd began avoiding Barrett, playing concerts behind his back, and by April, they officially announced he was out of the band. Barrett tried going the solo route, yet heartbreakingly told Rolling Stone in 1971, "I'm disappearing." He added, "I'm sorry I can't speak very coherently. It's rather difficult to think of anybody being really interested in me. But you know … I am totally together." As another piece by Rolling Stone reveals, it was shortly after that interview that the creative genius truly disappeared from the music world.
Barrett wound up back in Cambridge, England, where he was originally from, and chose to go by his birth name again. He took on painting but mostly remained out of the public's eye before dying from pancreatic cancer in 2006. As Rolling Stone sadly notes, however, "Syd Barrett, the rock icon, died long before" then.
Pete Doherty of The Libertines is remarkably still alive
To some, the name Pete Doherty may strike up memories of early 2000s UK garage rock, yet to others, he may just be seen as a drug-addled musician, more famous for once being Kate Moss' arm candy. According to Vulture, Doherty co-founded the Libertines, signing to Rough Trade in 2001 and releasing their debut album "Up the Bracket" the following year.
Throughout his time with the Libertines, it was no secret Doherty was experimenting with excessive drug use, and in 2003, per NME, he broke into his bandmate Carl Barat's home and was sentenced to six months in prison. As Judge Roger Davies declared, "He probably was suddenly earning too much money for his age and began behaving irresponsibly." By 2005, Doherty was fired from the band, and as one journalist for The Guardian observed, made no effort to hide the "nightmare" he was living in, his "crack pipe" visibly placed "on his bedside table" during interviews.
While Doherty's personal hell may have lasted for a while after his ejection from the Libertines (he was practically broke in 2007), he's remarkably still around — and still living with his drug addiction. When asked by The Guardian in 2019 if he wishes he were clean, the musician mused, "Yes, a part of me would. Just so I can feel things … It really is a mental deficiency."
Tony McCarroll is 'reminded' of Oasis every day
Tony McCarroll didn't join the Manchester-based Oasis later on after their formation — he was there from the start. Per AP, McCarroll was the band's original drummer, equally as important as guitarist Paul "Bonehead" Arthurs, bassist Paul "Guigsy" McGuigan, and the notoriously scrappy brothers Liam and Noel Gallagher. So, what happened? After all, McCarroll was present for the band's highly successful debut album, 1994's "Definitely Maybe."
Spoiler alert: Noel Gallagher wasn't exactly easy to deal with. According to Irish Examiner, the singer would regularly make snide jabs aimed at McCarroll's drumming, with the latter suddenly finding himself "blanked" out of the band in 1995 (via Manchester Evening News). Confused, McCarroll tried seeking out his bandmates at local pubs, looking for any sort of reason for why they suddenly sacked him — yet nobody was willing to say anything. The musician ended up moving across the pond, and as he told Manchester Evening News, he "got drunk for three whole years."
Per Irish Examiner, McCarroll decided to lawyer up. In 1999, he ultimately accepted "a settlement of £550,000 in exchange for giving up any future royalties" on the Oasis tracks he worked on. He reflected to Manchester Evening News in 2019, "If you're asking when I got back to normality… maybe I'm not normal. You're reminded every single f***ing day of Oasis." Ouch.
Danny Kirwan ended up homeless
Fleetwood Mac has had a revolving door of members throughout the years. As the Observer wisely points out, the band already had "three distinct ideations" before bringing on Lindsey Buckingham and Stevie Nicks in 1975 — with only bassist John McVie and drummer Mick Fleetwood remaining from 1967. Along with McVie and Fleetwood were Peter Green, Jeremy Spencer, and Danny Kirwan, with the latter joining in 1968. Sadly, he only lasted four years.
As revealed by the Independent, Kirwan was a clutch contributor for the band's early sound, "[contributing] strongly to the lyrics, vocals, and instrumentation on the 1969 album 'Then Play On.'" Unfortunately, behind the scenes, the guitarist was struggling — in particular because the band's lineup began changing, and he found himself carrying the weight of songwriting responsibilities. After one particularly vicious argument with new recruit Bob Welch — coupled with his heavy drinking — Kirwan was fired.
The songwriter attempted going solo, releasing three albums — yet nothing compared to his success with Fleetwood Mac. His former band lost touch with him until 1993 when the Missing Persons Bureau finally located him at a London hostel. At the time, he told the Independent "he had lived there for four years, carrying his worldly goods in a rucksack." Tragically, Kirwan died in June 2018, still homeless and living in a hostel at the age of 68 (via The Times of Israel).
Steve Perry was met with crippling 'loneliness'
While some may view the songs of Journey as cheesy '80s ballads, there's no denying their impact. As Rolling Stone so succinctly puts it, "Journey basically invented the power ballad," and with Steve Perry fronting the band with his iconic voice, the San Francisco-based group produced some of the most well-known songs on the planet.
According to The Guardian, Journey was first formed in 1973, achieving little success until hiring Perry in 1977 — and suddenly becoming the voice of a generation by the '80s. With a plethora of hits, tours, and "eight multiplatinum albums" (via The New York Times), Journey was everywhere — yet Perry grew exhausted. He left the band in 1987 — on his own accord — following that up with two solo records until reuniting with his old friends in the mid-1990s. Per Rolling Stone, after a hike in Hawaii, the singer found out "he had a degenerative bone condition that would require hip-replacement surgery," and flip-flopped with when exactly he would have that done.
Ultimately, the band grew impatient and booted Perry out of the group, replacing him with soundalike Steve Augeri. What followed for the former frontman was utter and complete "loneliness." With most of his family members dead, Perry visited their graves and wept. "I used to think that if I became a performer and everybody loved me, that I wouldn't have to go through these things," he told Rolling Stone, adding, "But guess what? There's nowhere to run."
Steven Adler's 'Appetite for Destruction'
Steven Adler's road to recovery from his heroin addiction wasn't easy. The former Guns N' Roses drummer was famously fired from the heavy rock band in the early '90s after a series of questionable behavior, including taking a stumble into his drum kit during one performance. The main incident that gave Adler the boot, however, was during the 1990 recording of their song, "Civil War."
As Adler himself recalled to Ash Avildsen and Booboo Stewart on "Mom It's Not Devil's Music!," he one day decided he was going to stop using heroin, cold turkey, yet didn't realize that if "you stop doing it, you get violently sick." Although he begged his manager and bandmates to hold off on recording the track, they still forced the drummer to come in, and he kept ruining the session due to his health. "I kept telling them, 'I'm sick,'" he remembered, adding, "And they kept saying, 'No, you're not. You're just f***ed up.'" Ultimately, due to that session, Adler was out of the group.
Since his ejection, things haven't exactly been easy for Adler. As he told Stewart and Avildsen, "I've tried to kill myself many times, and let me tell you, it's not easy." The drummer had a stint on "Celebrity Rehab with Dr. Drew" from 2008 to 2011, and in 2019, TMZ reported that the former Guns N' Roses drummer was taken to the hospital after accidentally stabbing himself.
J.D. Fortune was sacked from INXS and ended up homeless
After the death of Michael Hutchence, the lead singer of INXS, the band launched "Rock Star: INXS" in 2005, a reality TV competition that sought out to find a replacement for Hutchence. According to Reuters, the winner was J.D. Fortune, a Canadian rocker who, at the time, was homeless and living in his car.
Per the Toronto Star, Fortune seemed like a fantastic candidate initially, lending his voice and even writing songs that gave INXS "its most vital commercial presence since the multi-platinum heyday." As the singer claimed at the time, "I feel a great deal of responsibility to this band." Well, responsibility or not, Fortune alleged that in 2009, after completing their 18-month "Switch" tour, the Aussie musicians left the singer at the Hong Kong airport with "handshakes all around," not even mentioning that he was ultimately sacked. According to CBC, Fortune did admit to a "substance abuse" problem while touring with INXS, and while the band themselves denied a firing, Fortune claimed he was all alone and homeless yet again.
"I found myself really alone, because I had traveled with these guys for 23 months," Fortune revealed to Entertainment Tonight Canada (via CBC). "I don't know where I am going, from sofa to sofa, from night to night. I am trying to get through my life."