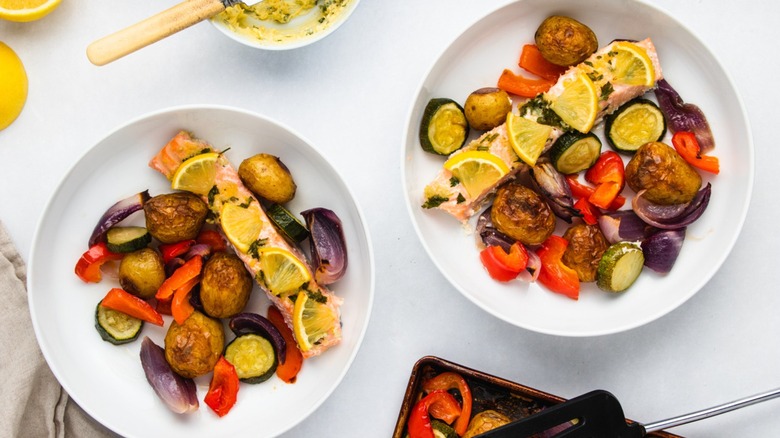 "Sheet pan dinners are perfect for weeknights as they require minimal prep and washing up," Catherine Brookes, the food photographer and recipe developer behind Blue Sky Eating, tells us regarding this super easy and well-balanced recipe for sheet pan garlic salmon. "It's always nice to be able to pop something in the oven rather than standing over a stove!"
We couldn't agree more. Of course, that's not all that we think you're going to adore about this bright yet savory, wholesome yet hearty, one-pan roasted dish that requires a mere 10 minutes of prep. First, it's packed with fiber, potassium, and omega-3s, among other nutrients, not to mention it's also gluten-free. There is also how thoroughly the lemon, garlic, and Mediterranean vegetables complement the salmon and how the bright and savory flavors meld so poetically as they roast in the oven. Moreover, Brookes' choice to include new potatoes (also known by some as "baby potatoes") makes this a "simple, complete meal," as Brookes explains.
Gather your ingredients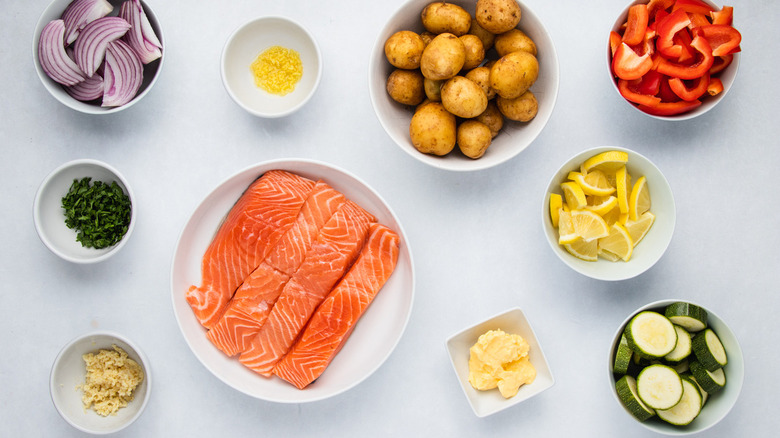 For this recipe for sheet pan garlic salmon, you're going to need to start with four salmon fillets of about 6 to 7 ounces each and 18 ounces of new potatoes (which are sometimes known as baby potatoes because they're harvested before fully maturing, lending them a tender and mildly sweet flesh that complements the other flavors here perfectly). For the vegetables, you'll need one zucchini (sliced into disks), one red bell pepper (sliced into strips and then cut into bite-sized or near-bite-sized pieces), and one red onion (sliced into small wedges). You'll also need a tablespoon or so of oil or a spritz of oil spray — to keep the potatoes and veggies moist while roasting– and a sprinkle of salt. If desired, you could also include cracked black pepper.
The garlic and lemon flavor will come from four cloves of garlic (minced), two tablespoons butter, one teaspoon of lemon zest, one teaspoon of lemon juice, a half of a lemon, sliced, and one heaping tablespoon of freshly chopped parsley. Note: you should be able to get all of the lemon ingredients here out of a single lemon.
And, of course, you'll need a sheet pan, lined with parchment for easy cleanup.
Preheat your oven and get your potatoes roasting
First things first: take your butter out of the refrigerator to allow it time to soften (you'll be happy you did in just a few minutes, as you'll see!). Then preheat your oven to 400 degrees Fahrenheit. Now add the potatoes to a large mixing bowl, moisten with a bit of oil, sprinkle on the salt (and optional cracked black pepper), and mix it all up with your hands until the potatoes are well coated. Then spread the potatoes out onto a baking sheet lined with parchment, and pop it into the oven, once your oven has preheated. Set a timer for 20 minutes, and move immediately onto the next step.
Prep your veggies and get them roasting as well
As soon as you're done popping the potatoes into the oven to roast, you'll want to turn to your veggies because when the timer you set in the previous step goes off, you'll want to be prepared. So, place your pre-prepped zucchini, bell pepper, and red onion into the same mixing bowl where the potatoes were, and, adding a bit more oil and salt (and, optionally, pepper), do the same thing you did with the potatoes: mix the vegetables around with your hands so that they are moistened by the oil. Once the potatoes have been cooking for 20 minutes, add the vegetables to the sheet pan and return to the oven. Set a timer for 15 minutes, and move onto the next step.
Next up: make the garlic and lemon butter
While the potatoes and vegetables are cooking, prep the garlic butter. In a small bowl, mix together the softened butter, lemon zest and juice, minced garlic, and parsley until well combined. Because the butter is softened, Brookes tells us you should be able to whip up your lemon and garlic butter with just a spoon. However, if needed, she suggests popping the butter in the microwave for a few seconds to soften it.
You're almost ready for 15 minutes of set-and-forget
Since you've been slowly roasting your potatoes and veggies for this sheet pan garlic salmon recipe, all that's left now is to add the salmon fillets to the hot pan, spread a bit of garlic butter on top of each, and top with your lemon slices. Pop this into the oven for another 15 minutes, which will cook the salmon all the way through. If you prefer a rarer-cooked salmon, simply keep the potatoes and veggies (without adding the salmon) in the oven for a bit longer, and then add the salmon for the last 10 minutes.
"Basically the potatoes need 50 minutes total and the veggies needs 30," Brookes explains, so you can tweak the salmon's roasting time to be shorter by adding it closer to the end of the whole process. Whenever your salmon is cooked according to your preference, take the sheet pan out of the oven, and serve with a squeeze of lemon, a grind of black pepper, and perhaps a fresh salad.
Ready in an hour, this delicious one-pan salmon and vegetables recipe is healthy and nutritious, and will save you time with an easy cleanup!