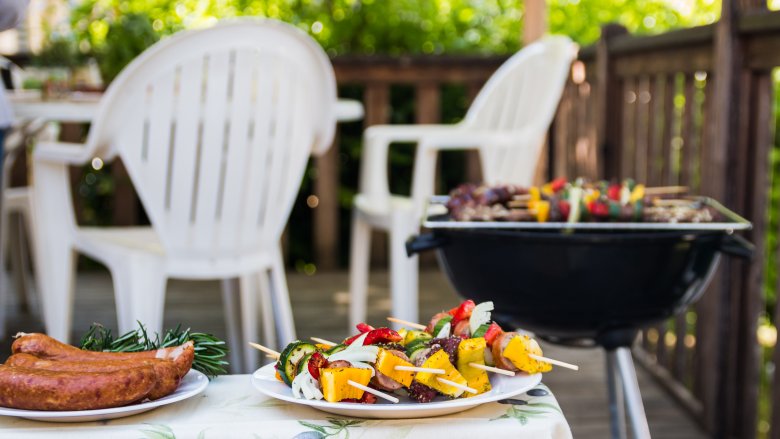 Every group of friends has a vegetarian or two, and that can make backyard BBQs something of a challenge. There's no reason for it to be, though, as there are plenty of delicious meat-free recipes for the grill that might just become favorites of your group's most dedicated carnivores, too.
Grilled portobello steaks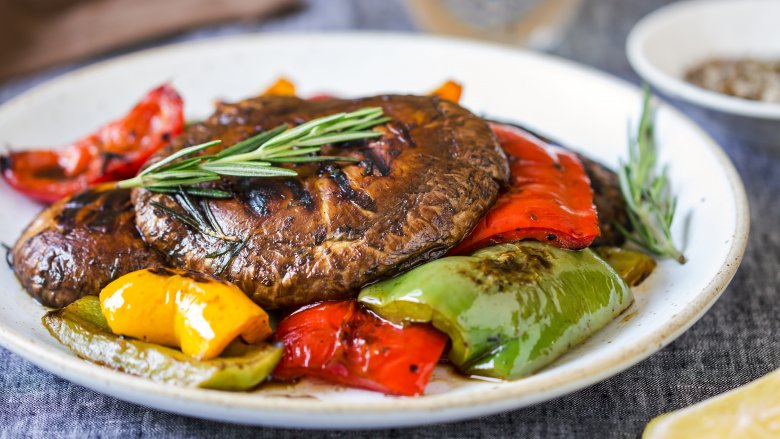 While calling these "steaks" might be a bit of a misnomer, using portobello mushrooms in lieu of a slab of meat will leave you with a surprisingly hearty dish that will satisfy even the hungriest of guests. There are plenty of different ways you can plate up this one, and Making Thyme for Health suggests finishing off a grilled portobello with an easy-to-make pesto aioli that can be made with a base of mayo, yogurt, or avocado.
While you might not dream of throwing meat on the grill without marinating it first, you might not think about doing the same thing with vegetarian mains like portobellos. Take a page from the cookbook of the Minimalist Baker, though, and whip up some of their portobello marinade with flavor-filled ingredients like balsamic vinegar, paprika, and steak sauce. They suggest finishing it off with an avocado chimichurri that's sure to win over anyone who loves avocado… and who doesn't?
Beer-can cabbage
While beer-can chicken has been the centerpiece of countless a backyard cookout, you're looking for vegetarian alternatives. Fortunately for you, Epicurious has taken the idea of beer-can chicken and turned it into beer-can cabbage.
The principle is the same, and the recipe calls for a head of purple cabbage to be hollowed out, basted in BBQ sauce, and set on top of the grill, perched on the top of an open can of lager. While slicing the cabbage into strips of BBQ goodness would make an excellent side, it doesn't take much to turn your cabbage into a main dish, either. Shred the cabbage and pile it on some buns with some cheese, jalapenos, and crispy, crunchy cole slaw for a completely vegetarian take on pulled "pork" sandwiches that will fill up your plate — and you!
Veggie burgers
Veggie burgers have something of a questionable reputation, thanks to so many oddly-textured, tasteless options that come from the freezer at the supermarket. That's definitely not what you want to be serving anyone, and it's time you explored some other possibilities for making your own veggie burgers. Fortunately, there are a ton of amazing options out there.
Start with this grilled chickpea burger from Fine Dining Lovers, and you might just change your opinion on veggie burgers altogether. The burger itself is mostly chickpeas, but there's also red pepper, egg, carrots, and hazelnuts all seasoned with a handful of your favorite spices. If you're a fan of sweet potatoes, Olives for Dinner has what might be the perfect veggie burger recipe for you. Using sweet potatoes, farro, walnuts, and panko bread crumbs, it's surprisingly easy to create this tasty — and meat-free — burger. And if you prefer black beans, try this veggie burger from the Minimalist Baker. With only a handful of ingredients and a texture they've developed specifically to work on the grill, you can't go wrong.
Tacos
Everyone loves tacos, and that goes doubly for tacos on the grill. Two Peas and Their Pod has a recipe for grilled avocado and veggie tacos that even meat lovers will devour. They start by grilling avocado halves, then add in veggies spiced up with traditional taco seasonings.
Tofu-filled tacos are another great option for the grill, especially if you're one who has a questionable relationship with tofu. It's truly a love or hate sort of thing, and grilling up some extra-firm tofu is a great way to introduce yourself to the possibilities. Herbivoracious has a brilliant recipe that won't just help you make great vegetarian tacos, but it'll walk you through using both tofu and achiote paste. Add in some hot sauce, and peppers and onions, and pile it all on corn tortillas and you'll find this one a great way to start using tofu.
Grilled cauliflower steaks
Cauliflower is an incredibly versatile vegetable, and if you've never tried grilling up a cauliflower steak, you're seriously missing out. All Roads Lead to Healthy has a super easy recipe for cauliflower steaks that just calls for a bit of olive oil and salt to be brushed onto the slices of cauliflower before they're grilled up and finished off with BBQ sauce. It's a great way to turn a side dish into a main course, and you don't have to stop at just BBQ sauce.
Foodie Crush has whipped up an Asian-inspired teriyaki cauliflower steak with Asian gremolata, and it's full of good things like teriyaki marinade and sesame seeds. Letting the cauliflower marinade is going to be the most time-consuming part of this recipe, as it's only going to take a few minutes on the grill to go from raw to amazing. And while you can definitely put it on your plate to cut and eat like a more traditional steak, Kitchen Treaty took it one step further with their grilled cauliflower steak burgers. Add a few slices of your favorite cheese and a dollop of mustard, pile these on some fresh rolls, and it might be your new go-to sandwich.
Grilled portobello steak salad
Grilling up some portobello steaks doesn't mean you have to eat them like steaks, and if you find yourself craving something light, green, and packed with the best fruits and veggies the summer months can offer, consider slicing up your portobellos and using them to put the finishing touches on a delicious salad. For a salad that's filled with all the amazing flavors of the grill, check out this suggestion Feasting at Home. Their grilled portobello salad includes other things right off the grill, too, like sweet corn and onions. Top with tomatoes, avocado, and their recipe for a lime-based dressing for a surprisingly filling salad that puts summer right on the plate.
Little Broken takes a slightly different spin on the idea of turning portobello mushrooms into salad, and after grilling up their mushroom caps, they top them with soft mozzarella, garlic, tomatoes, and basil for a wonderfully fresh caprese salad that's sure to delight.
Grilled zucchini boats
The basics to this one are incredibly simple, and all it takes is cutting a zucchini in half, adding a bit of olive oil, and throwing it on the grill to get those nice char marks. It might not sound very exciting, but it's all in what you do with your zucchini boats once you transfer them to your plate, and The Mediterranean Dish has the perfect example of how easy it is to take grilled zucchini from sliced-and-diced side to main course. They add feta cheese, pearl tomatoes, and a green onion — along with a handful of seasonings — for a truly Mediterranean-inspired meal. If feta isn't your thing, Home Cooking Memories takes a similar approach with their grilled caprese zucchini boats, using mozzarella instead for this take on a favorite summertime salad.
And Food Faith Fitness gives the cheese and tomatoes a miss altogether, instead opting to fill their grilled zucchini boats with a cauliflower rice and vegetable mix, and even though they top the whole thing with shrimp, you can definitely leave that off or put your own spin on this light — and unexpected — grilled treat.
Veggie kabobs
If you're grilling up skewers of vegetables, it's easy to get it wrong. You could easily misjudge the cooking times of each of the veggies, or fall into the rut of just making the same old. But fortunately, it's easy to elevate a skewer or two from side to main dish, and that's by packing them full of flavor. Just take this recipe for Moroccan vegetable skewers from Natasha's Kitchen. It's the Moroccan marinade that makes this one a win, and you're not going to want to skip the step where you let all your fresh veggies sit in a marinade made with cumin, parsley, paprika, chili powder, coriander, and cloves — you're not going to want to skip the tzatziki sauce, either.
For something a little more substantial, I Love Vegan uses not just all kinds of fresh veggies, but potatoes and tofu, too, for their kabobs. It's all covered in a sweet maple BBQ glaze, giving these kabobs a brilliant gloss even before they're browned and charred on the grill. And, if you're a fan of the peanut flavor that's found in so many Asian dishes, try this recipe from One Green Planet. Their veggies are slathered in a sauce made from peanut butter, soy sauce, and Japanese cooking wine for a completely unique flavor that means you won't miss the meat at all.
Grilled peach salad
While winters might leave you craving something hot and hearty, the warmer months probably mean you're looking for something a little lighter to fill you up. If that's the case, a grilled peach salad might be just the thing you're looking for. The Local Palate has a recipe for making your own honey balsamic for pouring over your spinach salad, topped with crumbled goat cheese, red onion, pecans, and peaches right off the grill.
Clean Eating Mag puts grilled chicken on their Baja grilled peach salad, but there's no reason you can't leave that off. This amazing salad is topped with peaches and corn right off the grill, all piled high on some mixed greens and a spicy cashew dressing that's so good you'll be looking for more excuses to eat salads for dinner. And Cook the Story has their take on a grilled peach salad, this one topped with feta. While you're grilling the peaches, they say you can grill a few extra for their grilled peach and watermelon kabobs, served post-meal with a vanilla-lime syrup that's everything you want in a summertime dessert.
Halloumi
If you're not familiar with halloumi, it's definitely something you're going to want to experiment with this summer. The most traditional versions of it come from the Greek island of Cyprus, and it's usually made with sheep's milk (and usually doesn't contain rennet). It's also called grilling cheese, and that's because you can throw this one on the grill, give it a nice sear on the outside, and the inside remains soft and cheesy without having the whole thing fall apart.
There's no end to the things you can do with it, and one of the easiest uses it to replace grilled chicken on your favorite salad. BBC Good Food uses grilled halloumi to turn spiced couscous into a full meal that's so good you're going to want to make enough to have leftovers for lunch. Even Emeril Lagasse has some ideas on what you can do with grilled halloumi, and he suggests making a truffle tomato relish to go along with it, and then serving it on slices of crusty bread. And for something that's light but filling, try The Kitchn's recipe for grilled halloumi and quinoa salad. Since halloumi only takes a few minutes on the grill, this is definitely something you can squeeze in no matter how busy you are.
Grilled and stuffed potato skins
The trick to making some seriously amazing potato skins on the grill is twofold: first, get the technique down, and second, let your imagination run wild when it comes to toppings and fillings. For the first part, check out this recipe from Serious Eats for how to grill your potato skins to perfection.
If you're looking for something different, you can do the same thing with sweet potatoes, like in this recipe for Tex-Mex quinoa stuffed skins from Half Baked Harvest. This can easily be done on the grill instead of in the oven, and once they're piled high with black beans, corn, peppers, cheese, and avocado, you'll be filled to the brim.
Pizzas
There's a million and one different ways to make pizza, and whether you lean toward bacon and pepperoni or onions and peppers, you probably have your favorite. You might also be intimidated by the prospect of doing pizza on the grill, and that's completely legit. There's a lot that can go wrong, after all, so let's start with this recipe for grill-friendly pizza dough from The Kitchn. Since this is a stiff dough, it's going to make working with it on the grill a lot easier — but like so many things, it's all down to practice.
Once you have that down, it's all about the toppings. To get you started thinking, how about this recipe from Foodie Crush and Naturally Ella. Not only is the pizza crust grilled, but grilled corn will help bring out the flavors of this one. Foodie Crush brings you another option, too, and this one is perfect for anyone who doesn't want to mess around with their own dough. Naan flatbread works just as well, and when it's topped with peaches, mozzarella, fresh arugula, and pesto, you'll have a light and fruity take on pizza that just goes to show there's no limits as to what a pizza is.