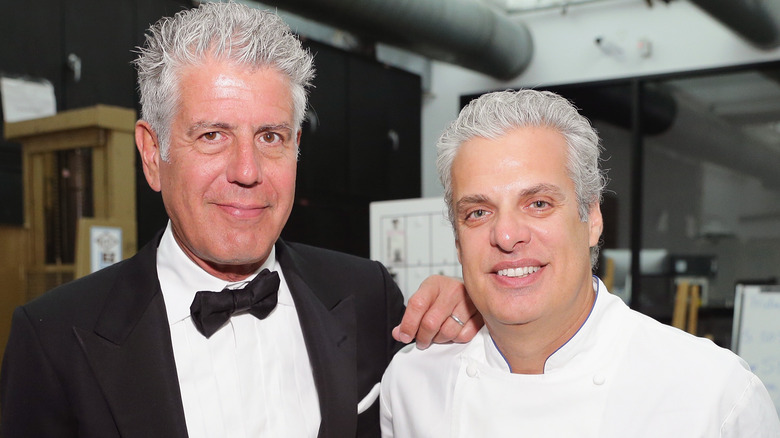 Anthony Bourdain, is of course, famous (and occasionally infamous) for his culinary-themed travel shows as well as his large collection of written work that includes novels, cookbooks, and memoirs that pull back the curtain on the cooking world. With the publication of "Kitchen Confidential" in 2000, the entire course of Bourdain's life and career changed, eventually launching him out of the kitchen and into living rooms around the world with his popular shows, including "No Reservations" and "Parts Unknown".
But before the bright lights of the TV cameras, chef Eric Ripert of Le Bernardin fame picked up a copy of "Kitchen Confidential", and wanted to know more about the author. What followed was a culinary bromance for the ages and a friendship that circled the globe, several times over. There's no shortage of stories about both Bourdain and Ripert's many accomplishments, but here we've collected some of the highlights of their profound and often entertaining relationship. Over the course of two decades, we watched as Ripert and Bourdain went from successful New York City chefs to famous travel and dining companions. Here's a look at their inspiring friendship.
Kitchen Confidential was the first book Ripert read in English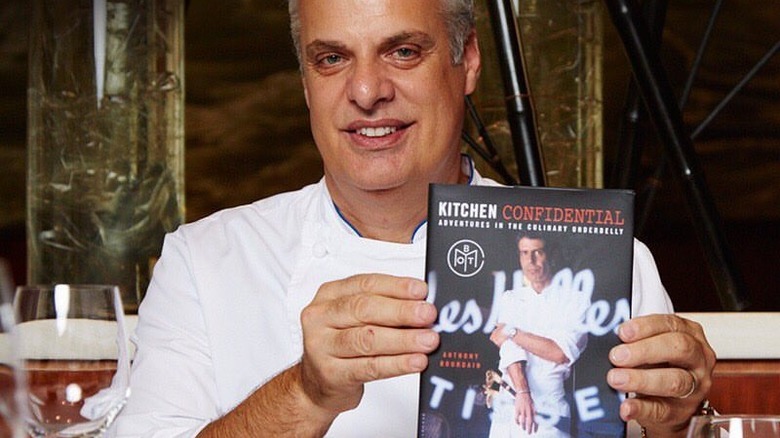 Born in Antibes, France and raised in Andorra, Ripert grew up in a cooking household. He began his formal culinary training at just 15 years old and landed his first kitchen job at the age of 17. He spent the majority of his career working through fine dining restaurants in Europe, Washington D.C., and New York City under some of the world's most acclaimed chefs, including Joel Robuchon, Jean-Louis Palladin, and David Bouley. He finally landed at Le Bernardain in 1991, eventually graduating to the position of Executive Chef where he has remained since. It's there that Ripert laid his hands on Bourdain's first book in 2000.
"'Kitchen Confidential' was the first book I ever read in English," Ripert wrote for One Grand Books. "I love that Tony's world in the kitchen was filled with pirate-like renegades when mine was peopled with regimented professionals. How eye-opening and entertaining to read about the other side!" While Ripert was working his way through finely-tuned high profile kitchens, Bourdain was working his way through the ranks as well, oftentimes in chaotic and rough-and-tumble kitchens that he described in detail in "Kitchen Confidential." Bourdain also found his groove in New York City, becoming the acclaimed chef at Brasserie Les Halles. While they had never met, Bourdain thought very highly of Ripert's work at Le Bernardain, and "Kitchen Confidential" would be the catalyst for the beginning of their incredible friendship.
Ripert called Bourdain after reading Kitchen Confidential and sparked a friendship
After reading "Kitchen Confidential," Ripert was relieved to find that Bourdain had only complimentary things to write about Le Bernardain — a fate many other restaurants did not share. "I never order fish on Monday," Bourdain famously wrote, "unless I'm eating at Le Bernardin — a four-star restaurant where I know they are buying their fish directly from the source." Ripert was both flattered and intrigued by Bourdain's writing, to the point that he made the effort to reach out to Bourdain and strike up a friendship.
"I called him and said, 'I read your book, and I would love to know you. Would you come for lunch?' That was the first time I met Anthony, and we have been friends ever since," Business Insider reports. Equally flattered and intrigued by Ripert, Bourdain kept their lunch date and thus began a friendship that would flourish in the kitchen, on tv, in print, and traveling around the world. Oftentimes friendships are forged between chefs and cooks in the heat of the kitchen, but they're sustained over good meal, cold drinks, and a life outside of the kitchen long after the last guest has left the restaurant. Even though Bourdain and Ripert never worked in the same kitchen, their experience with chef life in New York City forged a friendship of mutual interests and understanding.
Their friendship grew over meals and music
Contrary to what you might think, Bourdain and Ripert didn't spend all of their time wining and dining in the fanciest New York restaurants, but instead eating their way across the city, one hole-in-the-wall at a time. While it wasn't exactly Ripert's scene, he was thrilled to spend time exploring the city with Bourdain, trying new styles of food, and getting to know the larger dining scene.
"It wasn't long before we'd spend evenings away from our restaurants in Anthony's favorite subterranean dive bars, listening to obscure punk music on old jukeboxes," Ripert wrote for Book of the Month in 2016 when "Kitchen Confidential" was the featured read. "These places were definitely out of my element, but it was worth the venture to learn more about the industry underbelly that he spoke of in 'Kitchen Confidential' and gain a deeper insight into Anthony's personality." That dining companionship would soon take on a broader role, as the success of Bourdain's book took him out of the kitchen and into the television spotlight.
Ripert first appeared on TV with Bourdain in 2002
"A Cook's Tour" was Bourdain's first television show, which premiered on Food Network in January of 2002. In episode 18, he invites his favorite dining companion, Eric Ripert, along with chefs Scott Bryan and Michael Ruhlman to dine with him at The French Laundry — the groundbreaking restaurant by chef Thomas Keller in Yountville, California.
This was the first of many appearances that Ripert would make on Bourdain's shows. Sometimes they'd be traveling together, and sometimes just kicking up a scene in New York City together. After moving from Food Network to the Travel Channel, Bourdain began filming the very popular "No Reservations". During one episode of "No Reservations", he makes a stop at his friend's restaurant, Le Bernardain while filming several restaurants in New York. Over the course of eight years, Ripert appeared in five episodes with Bourdain, until eventually joining him for longer trips and dining experiences. If the world didn't know about their friendship by then, they'd soon find out.
Ripert traveled with Bourdain extensively and appeared in many full-length episodes
Over the course of filming both "No Reservations", and eventually "Parts Unknown" for CNN, Bourdain would regularly bring Ripert along for the ride. Their first full-length trip together finds the duo in Paris, a city Ripert knows well from his up-and-coming cook days. Over the course of several meals, from old-world French feasts to contemporary culinary delights, the dynamic between Ripert and Bourdain begins to unfold for the audience. Bourdain's "Give me the weirdest you've got" attitude plays well with Ripert's traditional dining personality, making the entire meal so much more than the dishes on the table.
From Paris to Brooklyn, across Peru, over to Marseille, winding through China, and then back to France, Ripert and Bourdain created an on-screen culinary "bromance" that was as authentic as the two themselves. What started in dingy dive bars over a decade before had turned into a compelling adventure for both chefs, even as their careers progressed in different directions.
Bourdain was supportive when Ripert released his memoir in 2016
Both Bourdain and Ripert are authors several times over, with Bourdain having published 13 books, on top of countless articles and interviews. While "Kitchen Confidential" might be the first book of his that many people recognize, it's actually Bourdain's third book, written after two novels that were released in 1995 and 1997 respectively. His published collection also includes two graphic novels as well as two cookbooks, and two posthumous works.
Not to be outdone, Ripert has also published several books, including four cookbooks, and the deeply moving memoir, "32 Yolks". The bold cover, popping with an illustrated yellow egg yolk floating on a white and blue background, includes just one review — from Ripert's closest friend, Anthony Bourdain. "Hearbreaking. Horrifying. Poignant. And Inspiring," Bourdain writes, which is both a fitting and extremely concise summary of the memoir. For the very first time, readers learn that there's far more behind Ripert's charming smile, and a profoundly moving story of how Ripert became the chef he is today.
Bourdain included Ripert in his cookbook Appetites
Not only did Bourdain make an appearance on Ripert's memoir, but Bourdain included Ripert in his 2016 cookbook, "Appetites: A Cookbook". On page 120, the opening spread for chapter 8 (Pastas), is a full-page image of Eric Ripert unlike we've seen him before. The usually clean and pressed chef is often seen in a crisp white chef's coat, or an equally white and only slightly less crisp linen shirt. Here we find him in a black Jream x Kurt Osiander t-shirt (aptly named "The Ripper Tee", "Ripper" being one of Ripert's nicknames). Bourdain's hand and tattooed arm enter the frame on the right, wielding a messy forkful of extremely long spagetti noodles which he's shoveling into Ripert's mouth. Ripert appears once again on page 215, alongside Bourdain's recipe for Sausage Gravy with Biscuits — a food Ripert clearly doesn't enjoy.
It's a far cry from the clean Michelin-starred dining room where Ripert spends his days professionally, but it's obvious that his friendship with Bourdain has rubbed off on him a little over the previous 16 years. Ripert's hair is still absolutely perfect, but it's clear he's ready to get down and dirty with his bestie Bourdain in "Appetites".
Ripert deeply understood how and why Bourdain operated the way he did
Eric Ripert and Anthony Bourdain obviously had a very public and exciting friendship. Who among us wouldn't love to grab our best friend and eat our way across the world, going on adventures on nearly every continent — and get paid for the pleasure? We were lucky enough to be invited along for the ride while these two friends did just that. While they may have had their differences, they were able to connect in ways that it counted, and their friendship was likely much deeper than we can garner from watching a few TV episodes.
In 2017, Patrick Radden Keefe writing for The New Yorker took a deep dive into Bourdain's career and filming, interviewing Ripert among many others close to Bourdain. In his conversations with Ripert, the chef expressed that he understood why Bourdain spent so much time working, filming, and writing — in part to keep himself out of trouble and perhaps even from confronting some of his demons. The interview, conducted before Bourdain's death, gives us a rare glimpse of Bourdain's more difficult side, even at the height of his career. But that understanding of how and why Bourdain operated the way he did was no doubt a huge factor in the strength of their friendship.
Bourdain didn't have very many long-term friendships, except Ripert
Bourdain was often the first to mention how few friends he really had outside of filming his television shows. With a rigorous travel schedule that kept him on the road for nearly two-thirds of the year, it was difficult for Bourdain to maintain both romantic and friendly relationships. "The kind of care and feeding required of friends, I'm frankly incapable of. I'm not there," said Bourdain to The New Yorker. "I'm not going to remember your birthday. I'm not going to be there for the important moments in your life. We are not going to reliably hang out, no matter how I feel about you. For fifteen years, more or less, I've been traveling two hundred days a year. I make very good friends a week at a time."
That ability to quickly and genuinely connect with people everywhere he went was one of Bourdain's most admirable traits, but also one of the loneliest for Bourdain in the grand scheme of things. Throughout it all, Ripert remained a constant friend, which is priceless when long-term relationships are few and far between.
Ripert set Bourdain up with his second wife, Ottavia Busia
After Bourdain's first marriage to his high school sweetheart, Nancy Potkoski ended after two decades of marriage, Ripert personally set Bourdain up with Ottavia Busia. At the time, Busia was a host at one of Ripert's restaurants and both of their work schedules prevented them from initially investing much in the relationship. Despite the constraints on their time, they plunged forward with a relationship (as well as matching tattoos on their second date), getting married in 2007 and having a daughter, Ariane, the same year. While they were never legally divorced, Bourdain and Busia-Bourdain separated in 2016 after having lived relatively separate lives for a while.
Their marriage may not have lasted, but their split was mostly amicable. Early in the separation, Busia-Bourdain told People Magazine, "We love each other. We respect the decisions the other has made. And we'll always consider ourselves a family." Shortly after separating, Bourdain began dating Italian actress and director Asia Argento, whom he remained connected to until his death.
Ripert was traveling with Bourdain in France when Bourdain died
In June of 2018, Bourdain and Ripert were traveling in France and shooting new episodes of "Parts Unknown" together when Ripert found Bourdain unresponsive in his hotel room. Bourdain's death was ruled a suicide shortly thereafter, setting off waves of shock and grief among friends, family, and fans worldwide. The New York Times reported that Ripert had commented on Bourdain's "dark mood" in the days leading up to his death but had no indication of wanting to end his life.
Ripert took to social media to pay respects to Bourdain, saying, "Anthony was my best friend. He was an exceptional human being, so inspiring and generous. One of the great storytellers of our time who connected with so many around the world on a level rarely seen. He brought us all on some incredible journeys. I pray he is at peace from the bottom of my heart. My love and prayers are also with his family, friends, loved ones and everyone that knew him." While Ripert has given several interviews on a variety of topics since Bourdain's death, he isn't interested in sharing the bleak details of their final trip together with the media.
Ripert, along with Jose Andres began #BourdainDay
After Bourdain's passing, Ripert along with chef Jose Andres joined together in 2020 to inaugurate June 25th as #BourdainDay, celebrated on Anthony Bourdain's birthday. Andres was a friend of Bourdain's as well, often traveling and participating in events with Bourdain and Ripert all over the country. "I suffered so much grief after what happened that I only hope people will turn all that grief into happiness of life, and remembering how Tony made the world a smaller place by bringing us all together," Andres told Esquire Magazine. Since 2020, those who loved Bourdain have found ways to celebrate Bourdain's legacy, including traveling, dining at a local restaurant, striking up a conversation with a stranger over a drink in a new town, reading and watching Bourdain's work, and donating time or money to organizations that address food insecurity — like Andres' World Central Kitchen.
Additionally, the Culinary Institute of America, where Bourdain graduated from in 1978, set up an "Anthony Bourdain Legacy Scholarship" to help financially aid students interested in international cuisines and study abroad programs.
If you or someone you know is in crisis, don't hesitate — call the National Suicide Prevention Lifeline at 1-800-273-8255. The free and confidential support is available 24/7 anywhere in the U.S. Restaurant After Hours is a nonprofit organization that provides non-emergency mental health resources and support to hospitality workers across the country.