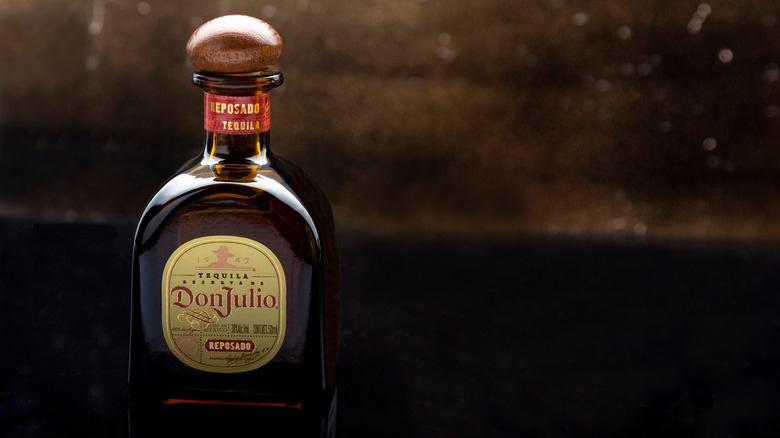 You can keep those martinis, whether they're shaken or stirred. So, what's our preference for a good time? Well, that comes with a rim of salt and a juicy slice of lime (or at least it frequently does stateside). It's the epitome of a good time with great friends. The sauce that's led to many a blurry and booze-fueled evening complete with hazy next mornings. It's tequila. With great fanfare courtesy of everyone from celebrities, like P. Diddy and Dwayne 'The Rock' Johnson, to your own hometown bar, it's undeniable that quite a few people are fans of this classic liquor.
But what exactly is tequila? Produced only in Mexico, it's a distilled spirit made from the blue agave plant. It also follows strict regulations, like all agave used for production must be authenticated by the Tequila Regulatory Council (How do we apply for that council, by the way?). While the history of tequila dates back to the ancient Aztecs where it was first mentioned in 1000 CE, we would not be here talking about it today without the vision and inspiration of one man: Don Julio Gonzalez. He is the entrepreneur behind perhaps the most recognized brand of tequila in the world and is also attributed for making tequila a household name.
Before you knock back another shot, let's take a dive into the spirited life of Don Julio Gonzalez and his mega-successful and popular tequila brand, Don Julio Tequila.
It all started with Don Julio Gonzalez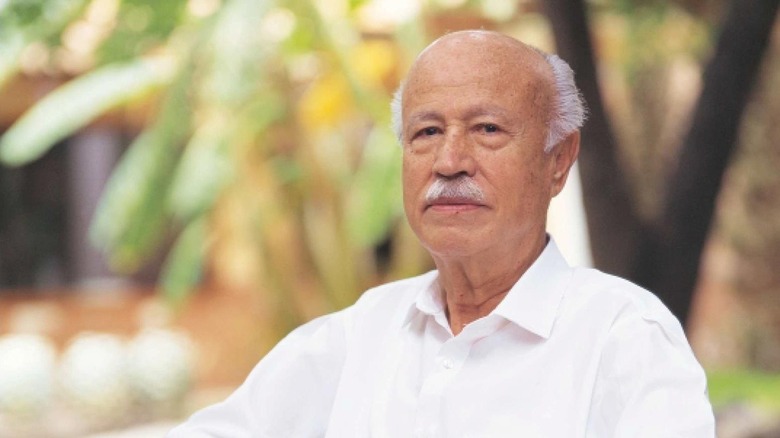 The life of Don Julio Gonzalez is filled with as many twists and turns as a night out while drinking tequila. Born in 1925, Gonzalez started in the tequila biz the year he entered double digits (that is, he was only 10 years old!) when he was hired to work at his uncle's tequila distillery in Jalisco, Mexico, according to Thrillist. Ambitious to say the least, he grabbed hold of this opportunity and began soaking in all the knowledge about the production of tequila that he possibly could.
Tragedy struck when he was 15 and faced with the daunting challenge of becoming his family's sole breadwinner when his father died. With a mother and seven siblings to look after, he struggled to make ends meet, earning a pittance of only 9 pesos a week as a farmhand. In order to up his earnings, the teenage Gonzalez then took a grueling job distributing tequila all across Mexico on horseback, according to the Master of Malt. Armed with two 25-liter barrels of the good stuff, he was then making nearly 10 pesos a day, far outstripping his previous earnings.
Don Julio's path to launching his own brand was a long one
While serving in the role of father figure for his large family, Julio Gonzalez never let go of his entrepreneurial ambitions. With the confidence of someone much older, at just 17 years old he brazenly approached the wealthiest man in Jalisco and shared with him his desire to open up a distillery of his own (via Thrillist). At first, the man thought the hopeful young entrepreneur in front of him was crazy, especially when Gonzalez told the man that he would be the one to fund his ambitious start-up.
In the end, it worked. The man loaned him 20,000 pesos and so Gonzalez began his journey to becoming tequila royalty. He sprung into action and not long after, his tequila facility, La Primavera, opened. With the iconic Don Julio brand still waiting farther ahead in his journey, Gonzalez actually began by producing his first brand of tequila, known as Tres Magueyes.
The road to success was a long and sometimes harrowing one. In the beginning, Gonzalez was a one-man operation, handling everything from distilling to distribution. That hard work would soon pay off, and La Primavera is still in operation to this day. The multinational beverage company Diageo would eventually acquire the brand in 2015, per Diageo.
The brand uses a very specific process to grow its agave
Have you ever had a shot of tequila that feels like the gates of the fiery underworld have opened up to unleash themselves on your throat? Well, that is what practically all tequila tasted like before Don Julio Gonzalez came along. The issue? People were far more concerned about getting a nice buzz going than they were about the actual quality of their tequila. That all changed because of Gonzalez and his unprecedented approach to the agricultural process.
Gonzalez studied the varying climates of his region and settled on the mineral-rich soils in an area of Jalisco known as the Highlands (via Thrillist). He determined that wider spacing of the agave plants necessary for the process (which, of course, meant fewer plants overall) would be a key factor in allowing his crop to grow to its full potential, including developing a rich flavor profile. He also shocked others by allowing his plants to age for almost 10 years, a technique that was all but completely unheard of at the time.
While all of this meant that production time from planting to finished tequila was much slower, the end result was evidently worth it. Each plant is still harvested by hand. To this day, they are awarded for their commitment to sustainability, including being recognized at the first agave plantation to receive a perfect score as awarded by the Farm Sustainability Assessment (via Diageo).
Don Julio made tequila what it is today
According to Swagger, Gonzalez set out on his journey to create a tequila that was smooth, refined, and flavorful. He envisioned it to be something people could casually sip on, like a quality glass of whiskey and far from the harsh taste of many other tequilas of the time. Because of this commitment to quality, he spent decades perfecting his craft. Many would be surprised to learn that during this time, the only sippers that could share in the fruits of his labor were his friends, as his product was not available for widespread distribution just yet (via VinePair).
Word was spreading though, and it was only inevitable that his tequila would eventually catch some serious interest and reach the big time. The sheer demand for Gonzalez's tequila in the region around Guadalajara is what led him to formally create a business with the intention of his tequila landing on the palates of the masses. Along with master distillery Marco Cedano, the man behind Tequila Tromba, Gonzalez celebrated his 60th birthday by officially moving forward with his brand, Don Julio Tequila (via Diageo Bar Academy). Launching in 1987, It is now considered the first-ever luxury tequila brand, according to Saveur.
There's a story behind the shape of the bottle
Never one to do things quietly, Master of Malt reports that Gonzalez also revolutionized the branding and packaging of tequila with his increasingly popular liquor. According to VinePair, tequila was previously sold in a standard tall glass bottle that was easy to hide away beneath a table, given that it blocked the view of one's fellow drinkers. Since so much of the brand's success could be accredited to the many guests as his dinner parties that sipped on his early creations, Gonzalez came up with an idea inspired by those soirees.
So, Don Julio designed a special bottle for his reserve Reposada that could be prominently displayed on the dinner table without blocking the view of other guests across the table. The now-signature square and short bottles are synonymous with the brand and, arguably, with the reputation of tequila itself.
It's considered the world's first luxury tequila
Thanks to its smooth finish and the meticulous care that goes into producing the blue agave, Don Julio is considered the world's first luxury tequila. The distinct attention to craftsmanship and tradition set the precedent in the industry and others would soon follow in their own production methods. Not only did Gonzalez set an industry standard, but he also subsequently changed how the public perceived the spirit. The masses no longer were okay with the previously produced fire-inducing tequila, they demanded something better. Gonzalez was more than happy to provide it.
The brand continues to place emphasis on the most critical part of the production, which is the health of the Blue Weber agave plant that's key to the whole process. While there's no quick path to the final result, the particular process of harvesting the agave is what leads to the distinct taste of Don Julio and its many imprints. Their tequila is now considered "super premium" in the liquor industry, meaning the bottles retail for $26.67 or more and the liquor inside has a seriously good reputation, according to VinePair.
Don Julio now produces six core varieties
All tequila stems from 100% blue agave plant, but there are five main types that end up in the final bottle: Blanco, Joven, Reposado, Añejo, and Extra Añejo. Blanco is tequila in its freshest, least-touched form, which leaves little to hide for a poorly produced spirit. Joven is a form of blended Blanco that's been mixed with another tequila or even sometimes just coloring. Reposado is aged a bit longer in oak casks, from only a couple of months to a year. Añejo packs the biggest flavor punch, with notes of vanilla gained as it's aged in oak for anywhere from one to three years. Extra Añejo has been sitting around for even longer than three years.
According to Tequila Reviews, Don Julio tequila now produces 6 core varieties: Don Julio Blanco Tequila, Don Julio Reposado Tequila, Don Julio Añejo Tequila, Don Julio 70 Añejo Claro Tequila, and Don Julio 1942 Tequila, a tribute to its founder. While these remain as the core in production, they also have Don Julio Real Tequila, one of the few Extra Añejo spirits available on the market today that's aged for up to 5 years in American white-oaks barrels. Other varieties include a Reposado Double Cask Tequila, Reposado Private Cask Tequila (at a whopping 85.4 proof), and a Reposado Double Cask Tequila Lagavulin aged edition.
They also created the world's first clear añejo
In 2020, they shattered the industry's preconceived notions of the agave spirit by producing the world's first clear añejo tequila (via Tequila.net). During the production process, the Tequila Don Julio 70 Añejo Claro is thoroughly filtered to become a clear spirit while still maintaining that rich flavor many imbibers associate with a traditional Añejo.
Created to celebrate the 70th anniversary of Don Julio's tequila-making venture, the clear Añejo is the brainchild of Master Distiller Enrique de Colsa. It's created using blue agave harvested by hand at the peak of maturity. The liquor is then distilled twice at Don Julio's distillery, La Primavera. Finally, the liquor is aged for 18 months in reclaimed American white oak barrels, the flavor of which helps contribute to the tequila's smoothness. According to Tequila.net, the result is a tantalizing flavor journey with notes of fresh honey and citrus that blend seamlessly with the subtle flavors of vanilla and almonds.
Don Juilo has quite a few celebrity fans
You could potentially spend much of your time making the greatest product and, if you simply stopped there, chances are all too good that no one would ever hear of it. That's where the critical element of marketing comes in. Perhaps no one goes bigger in marketing products than the tequila industry. And, if managed just right, big-name fans can make for a pretty big turnaround for a brand. After all, P. Diddy could be credited with making Patrón tequila a household name. Likewise, a luxury tequila brand like Don Julio is not immune to the same marketing trends, according to The Upsider.
What began in the humble neighborhoods of Mexico has turned into a big business with A-list celebrities downing the drink, and it seems everyone is putting their name behind a brand like Don Julio. Nowadays, everyone from Justin Timberlake to George Clooney has their own brand of tequila, but many choose to align themselves with no less than the world's first line of luxury tequila. For instance, Hailey and Justin Bieber included a bottle of the good stuff pretty prominently on their wedding day, where each table at the reception was adorned with a bottle of Don Julio 1942. And Master of Malt reports that Hollywood darling Leonardo DiCaprio is even known to throw back a few, like during a visit to music festival Coachella.
The brand sold after the death of Don Julio
Unlike many legends in the world of food and drink, Don Julio Gonzalez was fortunate enough to witness his hope and dreams come to fruition while he was still alive. His journey even led him to partner up with now-defunct Seagram Company which landed the once hardworking farmer tens of millions of dollars, per the New York Times. But, in 2012, the tequila innovator died of natural causes at the age of 87. Following his death, British beverage company Diageo acquired the brand, intending to build upon the exceedingly well-regarded foundation that Gonzalez had established.
As part of the deal, Diageo also acquired full rights for use of the La Primavera distillery, the sole agave supplier to the Don Julio brand. The company didn't hold back and immediately invested US$400 million in the company, according to The Spirits Business. In addition to putting some serious funds towards agave farming and distilling operations, they also have contributed significantly to the brand's marketing efforts.
Don Julio 1942 is absolutely worth the price tag
If you've ever been to a cocktail bar, you have likely noticed an eye-catching liquor bottle usually reserved for the top shelf. That is likely to be Don Julio 1942. Encapsulated in a tall and skinny brown bottle, this is, according to some, no less than the nectar of the gods and a worthy tribute to Don Julio and the year that began his adventures in tequila. This small-batch tequila is aged for at least two and a half years before ever making it into your glass, according to Mel magazine.
At around $150 for a 750ml bottle, Don Julio 1942 is pretty up there as far as pricing goes, but just accessible enough for average folk. Compare that to a limited-edition Patron that will set you back $7,500 (via Forbes). But, while Don Julio 1942 may still seem like it costs a pretty penny, many will gladly tell you that it is absolutely worth the price tag. As the gold medal winner at the 2020 San Francisco World Spirits Competition, per Liquor.com, this is the ideal sipping tequila. It's lighter and sweeter than the typical Añejo style, while still allowing the depth of flavor from the oak to shine through.
Don Julio Tequila is extremely versatile
Don Julio offers a wide range of tequilas, including those that are suitable for the novice drinker and others better suited for the true connoisseur of this distilled spirit. Ultimately, this means that tequila is surprisingly versatile. Fans of bourbon will appreciate sipping on the aged flavor profile of Añejos, while the less ambitious can enjoy their Reposado in a handcrafted margarita with fresh lime juice.
If you want to do as they did in early 20th century Mexico, a sangrita is surely the drink of choice. No, it's not the calorie bomb that is the combo of margarita and sangria. Instead, as Food Republic notes, a traditional sangrita is a palate cleanser that is sipped along with a Blanco tequila shot. Meaning "little blood" in Spanish, the sangrita is served in a shot glass and combines leftover juices from behind the bar, such as lime and orange. The citrus proves a wonderful accompaniment for the smoothness of the Blanco. You might also see this adapted in America with a side of tomato juice which brings out the peppery element of a complex tequila. And, rather awesomely, if you mix the two, it's often known as the vampiro.