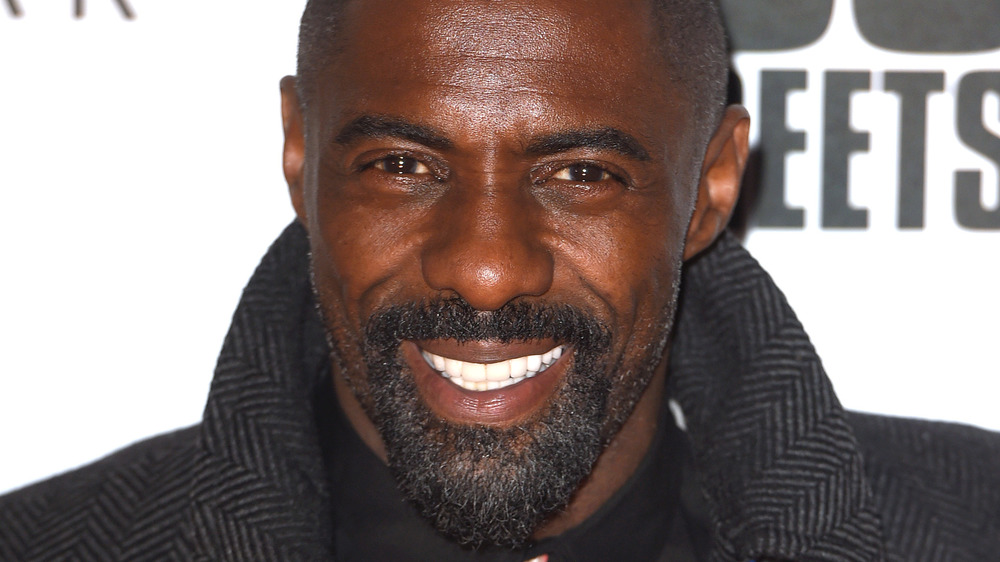 Idris Elba is a man of many talents. Over the years, he's been a bricklayer, an athlete, a public speaker, a U.N. Goodwill Ambassador, and a guy with a unique musical gift. And that's just what he's achieved outside his acting career. On the screen, he's played everything from a traumatized detective and a Baltimore drug lord to a Norse deity and a South African president. The man even showed up at Dunder Mifflin, much to the chagrin of Michael Scott.
To say that Idris Elba has range is an understatement. But whether you know him as John Luther, Stringer Bell, or Heimdall — or for one of his many other roles — chances are he's still done something that will surprise you. This is the untold truth of Idris Elba, who was born in the United Kingdom, became famous in the United States, and wants to change the world.
Idris Elba could've gone into manual labor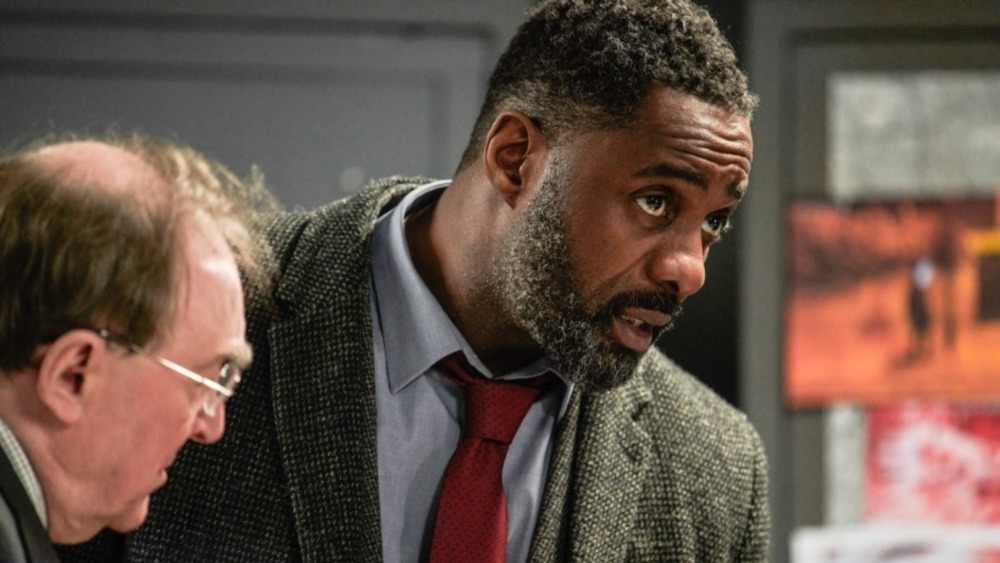 Idris Elba's first job was a far cry from his future movie career. He grew up in Hackney, London, on the notoriously tough Holly Street estate. As he told Radio Times, "Holly Street had a great vibe, but yeah, it was rough. I got run over once, and they drove off." After moving to Canning Town — a little further southeast — at 14, he got a Saturday job fitting tires.
Elba's parents, Winston and Eve, never had much money, despite working multiple jobs each, as he told Esquire. However, Elba was making relatively good money for a teenager. He said this meant that unlike some of the people he knew, he never felt the need to resort to crime.
Elba also credits his parents for instilling discipline in him, protecting him from the violent aspects of their neighborhood, and teaching him the value of hard work. Winston had emigrated from his native Sierra Leone in 1971 — the year before Elba was born — to study for a marketing degree, and instead, he spent 30 years working at the Ford factory in nearby Dagenham. Elba says he could easily have followed in his dad's footsteps. As he explained to Esquire, "I was a good tire-fitter. I brick-laid, I plastered boards. … I could have been a laborer and earned decent money. … But when I discovered acting, the creative side of me just exploded."
He was inspired to act by drama class and Robert De Niro
Always an imaginative kid, Elba discovered acting as a creative outlet at a drama class in high school. Outside school, he looked up to established actors. He admitted to Luxury London that when he was 16, he skipped school one day and went to see Once Upon a Time in America, the 1984 crime saga directed by Sergio Leone and starring a cinematic legend. "I was inspired by Robert De Niro; I was blown away by his performance," Elba recalled. He told his acting teacher that he wanted to act like De Niro, and they encouraged him. "My teacher, who believed in my talent, told me that it was important to pursue your dreams and that one day I would become a great actor."
After graduating from high school, Elba earned a spot at the prestigious National Youth Music Theatre (Jude Law and Lily James are fellow alumni). His first on-screen acting role was in a reenactments for Crimewatch (similar to Dateline.) He started working steadily on British TV — with some side jobs to make ends meet — but the roles were small and stifling compared to what he saw Black actors like Denzel Washington and Don Cheadle doing in the U.S. Elba "had a love affair with New York," as he put it to Radio Times, and he moved there when he was around 23.
Idris Elba's first passion is music
When Elba isn't busy being a movie star, director, and producer, he's playing music. Having learned the DJing ropes from an uncle when he was eight or nine, Elba took on the name DJ Big Driis. "I started DJing first as a way of making money, and at the same time, it was a way of expressing my creativity," he told Luxury London.
Even though acting is more than paying the bills by now, Elba is still DJing. He did a set at Harry and Meghan's wedding in 2018 (mostly R&B and '80s classics), has opened for Madonna twice — to venues of 17,000 people — and performed on the Sonic Stage at the legendary British festival Glastonbury in 2015.
Elba has also created albums inspired by two of his most iconic characters — "Mi Mandela" for Nelson Mandela, whom he played in the 2013 biopic Mandela: Long Walk to Freedom, and "Murdah Loves John," for the titular character in Luther. He's reportedly interested in recording a Stringer Bell album some day.
One of Elba's favorite musical memories is writing and recording the intro for Jay-Z's 2007 album "American Gangster," inspired by the movie of the same name in which Elba had a small role. "It was a real moment of 'dreams can come true,'" he said.
The Wire was Idris Elba's big break
After years of struggling, in 2001, Elba finally landed the part of Stringer Bell in The Wire, the role that would make him a household name. It came just in time. He'd been living in a van for a few months, with no acting jobs coming in, and his then-wife was eight-and-a-half months pregnant. "If I didn't get it, I was going to leave the U.S.," Elba told Playboy (via CBS News).
Elba was originally considered for the role of Avon Barksdale, the head of one of Baltimore's most powerful drug-dealing operations, but producers decided he was a better fit for Bell, Barksdale's second-in-command and the brains of the operation. At the time, they didn't realize he was British, as Elba had perfected an American accent in his local barbershop in New York.
By season two, the show and Elba were famous. But — spoiler alert — showrunner David Simon made the deeply unpopular decision to kill the character at the end of season three. Already reluctant to leave, Elba successfully fought for a more dignified end for Bell, as his original death was supposed to be very degrading.
Nearly 15 years later, Elba's view of the character has shifted. In 2018, he told Unfiltered with James O'Brien, "We're all idolizing Stringer Bell, but who are we really idolizing? … Is it okay to pump a community full of heroin, but because you're smart at it that makes you cool? That was a problem for me."
He returned to London to play Luther
After The Wire, Elba worked steadily. His next big role was another American, Charles Miner in The Office. But the stream of roles — some more fulfilling than others — was a double-edged sword. "An actor who works all the time. … Your parts become better, your acting becomes better … but you stifle your growth as a person," he told Radio Times. However, he was immediately inspired by the script for BBC detective series Luther, which gave him the chance to return to his British roots. "Luther saved my life," Elba said.
Unlike other shows, Luther didn't force Elba into a years-long contract that would dominate his acting life. Seasons one and two came out in 2010 and 2011, respectively. Season three followed in 2013, season four came two years later, and there was a four-year gap before season five aired in 2019. That worked for Elba, who told Entertainment Weekly, "I've been addicted to the lifestyle and expressive nature of Luther for a while." And he always has to take time off after playing the intense character.
In 2020, Elba gave Luther fans exciting news, announcing that a movie is on its way. "I've maintained I'd like to see it come to a film, and that is where I think we are heading towards," Elba said (via Variety), adding, "I'm looking forward to making that happen. It is happening."
Idris Elba made a sitcom about his childhood
In 2018, Elba created a sitcom, In the Long Run, based on his early life on the Holly Street estate in 1980s Hackney. "I didn't set out to do a comedy, I set out to tell a story of a portion of my life which, when I look back, I laugh my head off," Elba told The Westmorland Gazette. In addition to being executive producer and creator, Elba plays Walter, a character based on his own father, Winston, who also works in a Ford factory.
The series shows Walter's relatives moving from Sierra Leone — where Winston grew up — and acclimatizing to Britain. It includes typical sitcom plotlines, like Winston's friendship with his colorful neighbor and his campaign for a promotion, but it also addresses serious topics, including gentrification and racism more broadly. "In the first season … we took a very bold attempt at what racism looked like in the '80s," Elba said.
Elba also hopes that the show will encourage networks to create more diverse programming. "When we started in 2018, the show was a departure from the Afro-Caribbean families we had seen depicted in various programs over the years," Elba told The Guardian. "Now having an African family at the center, I hope, means more people can see themselves represented."
He's a professional kickboxer
Those muscles aren't just for the screen. In 2016, the year he turned 44, Idris Elba decided to train as a professional kickboxer, recording the experience for a Discovery documentary series, Idris Elba: Fighter, which aired the following year.
Elba explained to TRAIN that he'd been doing kickboxing drills to keep fit since his 20s, but he'd never trained to fight anyone before, which was "a totally different thing." Elba said that previously, he was mostly doing three-minute drills with a boxing bag and light sparring, but for the fight, he also started doing "pads, sparring, running, battle ropes, and skipping." And the sparring got more intense. "They were going for me," he said.
It all led up to a professional fight in October 2016, and CBS Sports reported that he won the bout, which took place in London, Elba's home turf. And he still hasn't thrown in the towel. In 2020, it was announced that he would host documentary series Idris Elba's Fight School, training young people from disadvantaged backgrounds how to kickbox.
Elba said that the experience of meeting fighters around the world was "a dream." But he had help from someone closer to home. Warren Brown, who stars opposite Elba as DS Justin Ripley in Luther, is a two-time Thai kickboxing world champion, having boxed for ten years before trying acting.
Going from Mandela to Marvel was tough
No one would deny that Elba can master intense roles. He's arguably most famous as Stringer Bell and Luther, his directorial feature debut Yardie is a crime drama, he played Nelson Mandela in a biopic, and he produced and starred in the child soldier drama Beasts of No Nation.
However, Elba's resume proves that he's not above light-hearted projects. There's his sitcom In the Long Run, his cameo in The Office, and his lead role in Netflix's Turn Up Charlie. He's also appeared in fun action movies, including Prometheus, Ghost Rider: Spirit of Vengeance, Pacific Rim, and Star Trek Beyond. He was one of the best things in Hobbs & Shaw, and he's even the voice of an animated cape buffalo in Zootopia and a sea lion in Finding Dory. Plus, he's perfect for Bloodsport in The Suicide Squad.
Elba's most famous action role is all-seeing Asgardian guard Heimdall in the Marvel Cinematic Universe. However, these aren't always the most satisfying movies to make. In 2014, he admitted to The Telegraph that after immersing himself in the life of Nelson Mandela for Mandela: Long Walk to Freedom, he struggled to take reshoots on Thor: The Dark World seriously. "There I was, in this stupid harness, with this wig and this sword and these contact lenses. It ripped my heart out," he said. But he still came back for Avengers: Age of Ultron, Thor: Ragnarok, and Avengers: Infinity War.
Idris Elba is busy behind the scenes, too
In addition to being an actor on screens big and small, Elba has been doing more behind-the-scenes work in the last few years. In 2013, he founded Green Door Pictures, a production company with a mission "to champion diversity of thought." The company is behind Elba's sitcom In the Long Run and now-canceled Netflix comedy series Turn Up Charlie, starring Elba as a DJ turned nanny in London. Netflix also picked up the company's movie Concrete Cowboy, starring Elba and Stranger Things star Caleb McLaughlin as an estranged father and son.
In 2018, Elba made his directorial feature debut with Yardie, adapted from a novel about Jamaican gangsters in 1980s Hackney that became a cult classic when it was published in 1992. Elba read the book in his 20s, and although his heritage is African-British, he connected with the setting, especially since the main character was also involved in the DJ scene.
It took four or five years to make Yardie, but despite the slog, Elba has plans to direct again. "I really enjoyed directing. … The weird feeling is being the guy that's first in and last out and answering the questions and having that patience. Then you're months in a dark room, trying to create magic from what you've got," he told The Guardian. But his ultimate ambition, he told Luxury London, is, "To direct a film in which I'm playing, and do the score on top of it."
More than half of Americans want Idris Elba to be James Bond
The idea that Elba should take over as James Bond when Daniel Craig finally retires from the role has been around since at least 2011. It's become even more popular since Craig started making it clear that he's done being the world's most famous secret agent. In 2018, a poll in The Hollywood Reporter claimed that 63% of Americans wanted to see Elba play the British spy. Elba even got in on the fun — at least initially. In August 2018, he tweeted, "My name's Elba, Idris Elba", and a month later, during a DJ set at London's Olympic Park, he teased the crowd with a remix of the famous theme.
However, where Daniel Craig tried to talk his way out of being James Bond, Elba actually succeeded. In an interview with Vanity Fair in 2019, he said that although he found the opportunity to play Bond fascinating, the racist backlash that followed even the suggestion that he could play the previously always-white character understandably put him off. "You just get disheartened when you get people from a generational point of view going, 'It can't be.' And it really turns out to be the color of my skin. … That's a difficult position to put myself into when I don't need to," he said. In 2018, he supported a woman taking the role, so he's probably happy that Lashana Lynch will be the first female 007.
Idris Elba's 2016 speech to Parliament went viral
In 2016, during protests over yet another Oscar nomination list packed with white filmmakers, Elba made a speech to the UK Parliament, calling for MPs to work on diversifying British film and TV. The 30-minute clip was shared 10 million times on social media within 24 hours.
In the speech, Elba explained that the parts he'd been offered as a young Black actor in Britain were one-dimensional stereotypes. He said, "When a script called for a 'Black male', it wasn't describing a character. It was describing a skin color. A white man … was described as 'a man with a twinkle in his eye'. My eyes may be dark, but they definitely twinkle!" He explained that the problem wasn't that he couldn't get roles in Britain, it was that the roles were always the same. "I could only play so many 'best friends' or 'gang leaders.' … I knew there wasn't enough imagination in the industry for me to be seen as a lead," he said.
Elba pointed out that other underrepresented groups face the same problem, including disabled people, gay people, and women. "Black actors are seen as a commercial risk. Women directors are seen as a commercial risk. Disabled directors aren't even seen at all," he said. To help change this, he asked MPs to "get all commissioners and content creators to think about diversifying at the beginning of the creative process, not the end."
Idris Elba and his wife recovered from COVID-19
Being ahead of the crowd isn't always a good thing. On March 16, 2020, Idris Elba and his wife, Sabrina Dhowre Elba, posted a video on Twitter, in which he explained that he'd tested positive for COVID-19 after coming into contact with someone else who had the virus. He said he self-quarantined immediately. As a refresher, that was just five days after the World Health Organization officially declared that the world was experiencing a pandemic. Just days later, his wife confirmed that she'd also tested positive.
Even less was known about the outcomes and symptoms of the disease in those very early days. Elba later said that although he and his wife thankfully didn't get symptoms, the lack of information was tough on their mental health. In July, he told Radio Times, "I was asymptomatic. … So, therefore, on that scale, not bad. Mentally, it hit me very bad, because a lot was unknown about it. … So the mental impact of that on both myself and my wife was pretty, ah, traumatic. I needed the lockdown to try to get over it."
After recovering, the couple became U.N. Goodwill Ambassadors, supporting a $40 million fund launched by the United Nations International Fund for Agricultural Development, designed to help farmers and food producers in rural areas through the pandemic.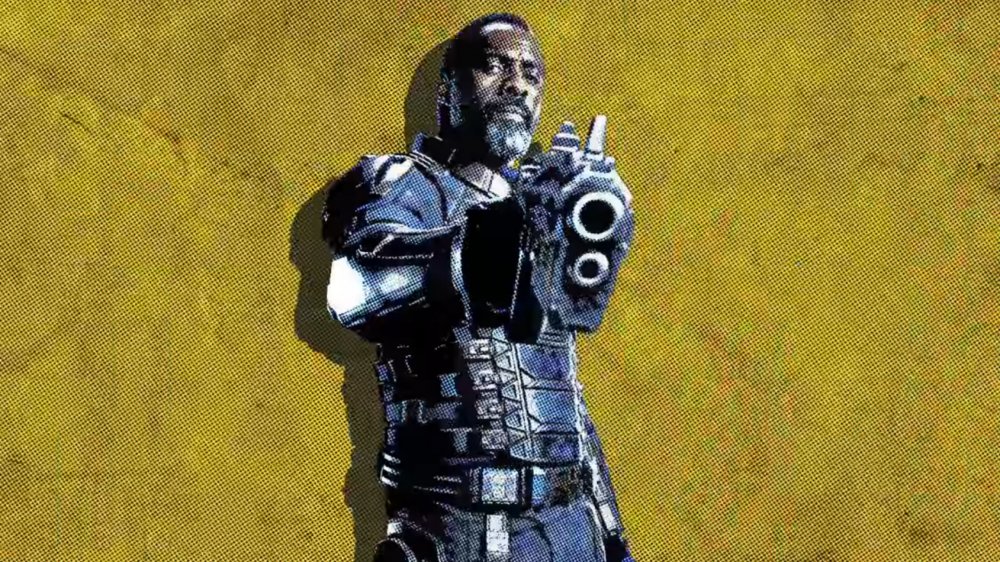 After lots of rumors and speculation, fans are finally getting some exciting updates about James Gunn's take on the DC Extended Universe's villainous super-team, The Suicide Squad. An official roster of the film's characters debuted during DC FanDome on August 22, 2020, giving us a look at exactly who is lined up for the new film. While we already knew that English actor Idris Elba was attached to the movie, we now have formal confirmation that he will be playing the role of Robert DuBois, aka Bloodsport.
The rumors of Elba's casting date back to the film's early days of development, when sources were saying that he had been tapped to step in and play Deadshot after Will Smith decided to not return for the next film in the series. (Smith had to drop out due to scheduling conflicts, and the door remains open for him to reprise his Deadshot role in the future.) Then the story changed, and reports surfaced that Elba was going to appear in the movie but as a different character altogether.
No disrespect to Deadshot, but we're glad to hear that Elba got the chance to bring a new character to life in The Suicide Squad. And we're especially glad to hear that it's Bloodsport. While Elba is a versatile actor, Bloodsport is a role that fits well within his most prominent wheelhouse, and the news of his casting already has us excited to see his take on the character.
Idris Elba is an action movie veteran known for play gritty, complex roles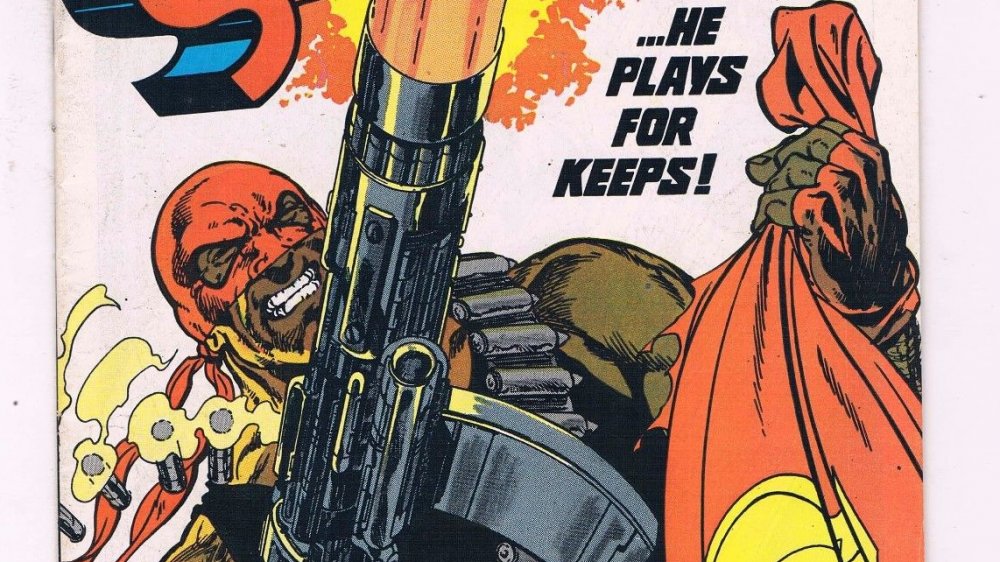 Bloodsport is one of the more formidable baddies in the DC Comics universe, as he once used his incredible arsenal of weapons to seriously wound Superman with a bullet made of kryptonite. However, before he was a gun-toting, rampaging villain, Bloodsport was Robert DuBois. According to Superman Homepage, Robert was a man who fled to Canada to avoid being drafted into the Vietnam War. He suffered extreme psychological trauma after his brother served Robert's tour in his place, which resulted in him losing all of his limbs. Destroyed by guilt, Robert eventually fell prey to Lex Luthor, who psychologically manipulated him into directing his angst at Superman.
Anybody familiar with Elba's career can see why this character is such a good fit for him. The actor has already shown us in roles like Detective Chief Inspector John Luther on the BBC Studios psychological crime drama Luther that he excels at playing troubled men whose tragic backstories often get the better of them. Elba is also a blockbuster movie veteran, having appeared in multiple Thor movies as Heimdall, as well as in Prometheus and Pacific Rim.
On top of all that, Elba doesn't shy away from playing villains. He's done so in human form in Fast & Furious Presents: Hobbs & Shaw, bringing to life the nefarious ex-MI6 agent and cybernetically enhanced terrorist Brixton Lore, and as feline antagonists in both The Jungle Book (Shere Khan) and Cats (Macavity). If anyone is going to be able to pull the double duty of delivering a complex psychological character study while blowing stuff up in front of a green screen, it's Elba.
There are lots of reasons to be excited about The Suicide Squad, but the news that Elba is playing Bloodsport is one of the things that has us feeling like August 6, 2021 can't come soon enough.
The Suicide Squad also stars Margot Robbie as Harley Quinn, Joel Kinnaman as Rick Flag, Viola Davis as Amanda Waller, Jai Courtney as Captain Boomerang, John Cena as Peacemaker, Michael Rooker as Savant, Sean Gunn as Weasel, Daniela Melchior as Ratcatcher 2, David Dastmalchian as Polka-Dot Man, Steve Agee as the voice of King Shark and as John Economos, Nathan Fillion as TDK, Jennifer Holland as Emilia Harcourt, Peter Capaldi as the Thinker, Flula Borg as Javelin, Alice Braga as Solsoria, Pete Davidson as Blackguard, Storm Reid as Tyla DuBois, Joaquín Cosío as Major General Mateo Suarez, Juan Diego Botto as Presidente General Silvio Luna, Tinashe Kajese as Flo Crawley, and Mayling Ng as Mongal. Taika Waititi and Julio Ruiz are in the film as well, but their characters haven't yet been announced.
Roll call!
At the presentation for writer-director James Gunn's off-the-walls reboot-slash-sequel film The Suicide Squad, he and the film's core cast ushered in a special video: a rundown announcing which character each star is playing on screen.
Fans have known essentially from the jump that a number of characters from director David Ayer's original Suicide Squad, the critically derided but commercially successful pic that hit screens in August 2016, would return for Gunn's movie. These include the inimitable Margot Robbie as Harley Quinn, an OG Suicide Squad member who starred in her own standalone movie (Birds of Prey and the Fantabulous Emancipation of One Harley Quinn) after the 2016 Suicide Squad feature; Viola Davis as Amanda Waller, a government official who oversees the Suicide Squad; Joel Kinnaman as the leader of the Suicide Squad, Rick Flag; and Jai Courtney as George "Digger" Harkness, the boomerang-wielding thief otherwise known as — what else? — Captain Boomerang.
Of course, it wouldn't be a reboot-sequel hybrid without the introduction of a handful of new additions. Gunn is fulfilling that obligation … and then some. The Suicide Squad will feature a slew of new-to-the-silver-screen faces — and we've got the scoop on who they are and what they do.
Here's every new character in The Suicide Squad explained.
Idris Elba plays Bloodsport in The Suicide Squad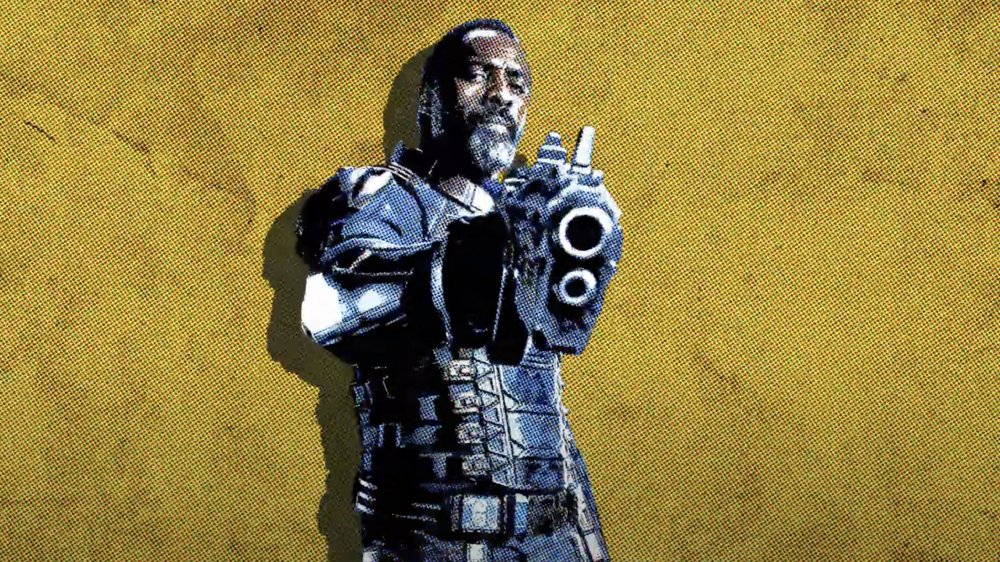 When Idris Elba's name first cropped up in connection with The Suicide Squad, it was as a reported replacement for Will Smith's Deadshot (real name: Floyd Lawson). Smith, who appeared as the smart-mouthed assassin in Ayer's Suicide Squad, had to drop out of Gunn's project due to scheduling conflicts. Warner Bros. and DC Entertainment executives may have initially wanted to have Deadshot in the follow-up no matter what, but soon, it was confirmed that Elba wasn't going to take Smith's spot after all. Instead, he'd be playing an entirely different character not yet seen on the silver screen. That announcement came in April 2019, and for over a year, fans have been left in the dark about who Elba's Suicide Squad character is.
Not anymore. The roll call video shown at DC FanDome confirms that Elba is playing Bloodsport — a name that has the same satisfying staccato that "Deadshot" does — in The Suicide Squad. Three different people have taken on the Bloodsport moniker in the DC comics, but Elba is embodying the original: Robert DuBois, created by John Byrne and Karl Kesel. Having first appeared in print in April 1987's Superman Vol. 2 #4 (April 1987), DuBois suffers a mental breakdown when he learns that, because he was too scared to fight himself, his brother took his place in the Vietnam War and ended up permanently injured. After one of Lex Luthor's lackeys convinces DuBois that Superman is the person he needs to exact revenge upon, DuBois takes on the name Bloodsport and starts murdering his way through Metropolis — even blasting Superman with bullets made out of kryptonite, which Luthor's agent gave him.
Storm Reid plays Tyla in The Suicide Squad
Bloodsport isn't the only member of the DuBois family who will star in The Suicide Squad. His daughter, Tyla, is a part of the bombastic, '70s-war-movie-inspired action. Tyla is another character for which concrete details are virtually non-existent, though some have wondered if Tyla will be something of an answer to Deadshot's daughter, Zoe Lawton (Shailyn Pierre-Dixon).
In the 2016 movie, Zoe was her father's motivation to try to do the right thing, despite him being wrapped up in the thrill of the criminal world. Maybe Bloodsport will be portrayed as a conflicted father grappling with morality amid murder, and Tyla will be the key to a possible redemption … or the reason he tips over the edge.
One thing we know for sure about Tyla DuBois is who's playing her: The Invisible Man and Euphoria actress Storm Reid.
In The Suicide Squad, Michael Rooker portrays Savant
Gunn's Guardians of the Galaxy collaborator Michael Rooker, who played Yondu Udonta in the first two films in the Marvel sub-franchise, has a plum role in The Suicide Squad as Brian Durlin, a super-spoiled dude who moves to Gotham City in hopes of becoming a vigilante much like Batman. Working under the name Savant (after his intelligence and keen skills in technology and digital blackmailing), Durlin is turned away from vigilantism by Batman himself. This motivates Savant to become a professional blackmailer — going on to do such outrageous acts as kidnapping Black Canary and overthrowing the Gotham mafia with the help of Huntress. At one point in the comics, Savant is even offered a place on the Birds of Prey team.
However, the New 52 comics rebooted Savant in September 2011, and the version of the character seen in that run is almost definitely the one we're getting in The Suicide Squad. The fresh comics depict Savant as a member of the Suicide Squad, recruited by Amanda Waller herself.
David Dastmalchian is Polka-Dot Man in The Suicide Squad
Polka-Dot Man is a silly-looking villain who's canonically an enemy of Batman. Born Abner Krill and originally known as Mr. Polka-Dot, Polka-Dot Man is the creation of Sheldon Moldoff, and made his print debut in February 1962's Detective Comics #300. Polka-Dot Man centers his entire modus operandi around spots and dots — from his eye-catching costume speckled with rainbow-colored circles to the tricks and traps he sets all across Gotham City — and acts mostly as a low-level rogue who does all he can to capture Batman's attention and prove he's just as clever and capable as the beloved superhero.
Though his presence isn't as prominent as, say, the Joker, the preeminent baddie in Batman's rogues gallery, Polka-Dot Man still packs a punch thanks to the powers his removable suit dots give him. Dots used as flying saucers and chainsaws, several used as dangerous projectiles, and one that was a hybrid black hole and teleportation system — Polka-Dot Man has these at his disposal. The Suicide Squad's Polka-Dot Man will likely have a fresh story, one focused more on his connections to the titular crew.
For the role of Polka-Dot Man, The Suicide Squad snagged actor David Dastmalchian — who appeared in The Dark Knight as a former Arkham patient named Thomas Schiff, one of Joker's goons who attempted to murder the Mayor. It'll be interesting to see what Dastmalchian brings to the table in a same-but-different sort of role.
Look out! Flula Borg is Javelin in The Suicide Squad
In The Suicide Squad, Pitch Perfect franchise breakout and German DJ Flula Borg will portray Javelin, a German (how fitting!) athlete who became a criminal after leaving his sports career behind. Created by Dennis O'Neil, Mike Sekowsky, and Dick Giordano, Javelin joins the Suicide Squad after losing a fight against the Green Lantern, and asks that all traces of his criminal past be expunged upon him becoming a member of the team. He's a solid addition to the Suicide Squad, using javelin-like weapons to invoke fear and cause destruction, and he even participates in the War of the Gods DC Comics crossover, fighting against Circe.
Like Savant, Javelin ultimately turns against the Squad — namely Amanda Waller — when he partners with the Mirror Master, Jewelee, Punch, and Plastique to pin a crime on Waller that she didn't commit.
The Suicide Squad's Ratcatcher 2 is Daniela Melchior
Fans have known for a while that Portuguese actress Daniela Melchior will portray Ratcatcher in The Suicide Squad; her casting was announced back in May 2019, confirming that she was taking on the role of the ex-Gotham City Sanitation Department employee. Now, we know that Melchior's character is officially known as "Ratcatcher 2" in The Suicide Squad — an interesting moniker that suggests this Ratcatcher could be a second iteration of the exterminator-turned-villain.
Born Otis Flannegan, Ratcatcher used to spend his time scurrying across Gotham City catching rats (and claiming that he could actually communicate with them). However, his job as a Gotham City Sanitation Department rat-catcher ends when he stabs a man to death and is locked up for ten years in the Gotham State Penitentiary. He then develops the villainous alter-ego Ratcatcher, holds people prisoner in sewers, trains an army of rats to attack and kill his enemies on command, and generally terrorizes Gotham to heck and back.
Melchior won't be playing the Otis Flannegan iteration of Ratcatcher exactly, as evidenced by her female-presenting appearance in the Suicide Squad roll call video, but it seems that she'll either portray a gender-bent version (perhaps named Olivia Flannegan?) or another person who has taken on the Ratcatcher name in Otis' place.
The Suicide Squad's King Shark gets his voice from Steve Agee
Where Suicide Squad had Killer Croc (Adewale Akinnuoye-Agbaje), The Suicide Squad will have King Shark, a humanoid shark otherwise known as Nanaue. Created by writer Karl Kesel and artist Tom Grummett, King Shark is the son of the Shark God and possesses superhuman durability, strength, speed, and stamina, as well as sonar capabilities, the ability to regenerate damaged body tissue, and super-sharp shark teeth that come in handy in battle.
Comedian Steve Agee will voice King Shark, who joins the Suicide Squad when Superboy and Makoa team up with the crew to take down the Silicon Dragons, a criminal syndicate that wreaks havoc on the Hawaiian Islands. In the New 52 reboot of DC Comics' continuity, Amanda Waller seeks out King Shark for membership in the Suicide Squad; rather than a cut-and-dry recruitment, however, King Shark is forced to join the group and has to do something pretty unsavory in order to not get in trouble with Waller.
Suicide Squad director David Ayer revealed in July 2016 that he wanted to have King Shark be on the team's line-up. However, the CGI that would have been required to bring King Shark to life was too much of an undertaking, and so the film's creative team went with Killer Croc instead.
According to Gunn, in The Suicide Squad, Agee will also portray a character named John Economos, the "figurehead warden" at the Suicide Squad's headquarters Belle Reve Penitentiary, who assists Waller in the operations of the crew.
John Cena is Peacemaker in The Suicide Squad
The brainchild of artist Pay Boyette and writer Joe Gill, Peacemaker first appeared as Christopher Smith in Fightin' 5 #40, published in November 1966, and was a Charlton Comics character prior to DC Comics' acquisition of the company. As the "Peacemaker" name suggests, Smith is a diplomat so deeply committed to peace-keeping and the pacifist cause that he's willing to go so far as kill those who reject law and order. In the comics, Peacemaker has a life-altering revelation about why he's so opposed to war, and begins to believe that the spirits of people he has murdered are living inside his helmet. It's pretty intense stuff.
Another character called Mitchell Black took on the Peacemaker mantle in the 1999 six-issue comic series The L.A.W., but fans will see the Christopher Smith iteration on screen in The Suicide Squad. Former WWE superstar John Cena, who is continuing to prove his acting prowess, will play Peacemaker — described by Cena himself as a "douchey Captain America."
In The Suicide Squad, Nathan Fillion is TDK
TDK is a character who goes by many different names: Floyd Belkin, Floyd "TDK" Belkin, the hilarious moniker Arm-Fall-Off-Boy, and even Splitter from time to time. Debuting in December 1989's Secret Origins Vol. 2 #46, TDK is based on a fan-created parody character that artist Curt Swan and writer Gerard Jones saw and totally dug.
TDK possesses the giggle-inducing ability to tear off his own limbs and use them as blunt-force weapons. Basically, he embodies the threat, "I'll rip your arms off and beat you to death with them," except he's using his own arms to do the maiming and murdering. In the comics, he's been associated with the Legion of Super-Heroes (for which he was rejected membership) and the Heroes of Lallor (which he actually did join).
Nathan Fillion will play TDK in The Suicide Squad, and with his background in comedy — particularly his role as Captain Hammer in the Joss Whedon short Dr. Horrible's Sing-A-Long Blog — we can't think of a better person for the part.
Peter Capaldi embodies the Thinker
Four different people have utilized the name "the Thinker" to carry out their supervillain tasks within the pages of DC comics: Clifford DeVoe, E.E. Hibbard, Desmond Connor, and A.I. The Suicide Squad will feature the original Thinker, Clifford DeVoe, a failed lawyer who used technologically powered telekinesis and a device called the "Thinking Cap" to become a true criminal. Over the years, he's been both an Injustice Society Member and one of the faces of the Suicide Squad — albeit briefly, as he took on a mission with the Squad so he could be pardoned for his crimes.
While on a mission with the Suicide Squad in Doom Patrol and the Suicide Squad Special, the Thinker was killed by Weasel, another character set to appear in The Suicide Squad, so we wouldn't hedge our bets on the two getting along in the film.
Former Doctor Who star Peter Capaldi will play the Thinker in the upcoming movie.
Pete Davidson takes on Blackguard
Best known for his work on Saturday Night Live and in films like Trainwreck and The King of Staten Island, Pete Davidson is taking on a killer new role in The Suicide Squad: Blackguard. An enforcer for the crime syndicate the 1,000 in the comics, Blackguard was once an everyday criminal named Richard Hertz before he joined the organization.
After escaping death at the hands of his fellow 1,000 members, Blackguard teams with the Suicide Squad on a mission to kill high-ranking members of the Haake-Bruton Corporation. Unfortunately for Blackguard, things don't end well: Wade Eiling, a general and Suicide Squad member with superhuman abilities and regenerative powers, kills Blackguard in a particularly horrifying way.
Alice Braga becomes Solsoria in The Suicide Squad
The New Mutants and Predators actress Alice Braga will portray a character by the name of Solsoria in The Suicide Squad. Not much concrete information is known about Solsoria, though the popular theory is that her name is actually Sol Soria — a legitimate first and last name rather than a super-villain moniker.But regardless of name-formatting technicalities, it stands to reason that Braga's character could be a gender-bent version of Juan Soria, as no such character named Sol Soria or Solsoria exists in the DC comics canon.
As with many other recruits, Juan Soria was a common criminal before joining the Suicide Squad. In the comics, he starts out wanting to become a superhero, injecting himself with nanites to get the job done, but things don't go as planned. Soria auditions for the Justice League, gets denied, robs a bank, gets sent to Belle Reve Penitentiary (in solitary confinement thanks to his expert lock-picking skills), and is drafted into the Suicide Squad. He's treated pretty poorly, but it's on purpose: an enemy the Squad must defeat thrives on positivity, and Soria's negativity is what kills it.
Sean Gunn plays The Suicide Squad's Weasel
Keeping up an apparent tradition, James Gunn cast his brother in The Suicide Squad. Sean Gunn previously played Kraglin in Guardians of the Galaxy and Guardians of the Galaxy Vol. 2, and will portray Weasel in Gunn's newest comic book movie romp.
Created by Gerry Conway and Rafael Kayanan, Weasel begins his story on the pages of 1985's The Fury of Firestorm #35. He's a law student named John Monroe, attending school in the 1960s but generally having a terrible time despite being intelligent enough to get into Stanford University. His peers' incessant taunting ultimately pushes Monroe to murder, adopting the name they called him, "Weasel," as his alter-ego moniker.
Weasel joins the Suicide Squad on a mission to save Hawk; during the rescue operation, Weasel tries to murder the Thinker; he's successful, but the Thinker's mind-enhancing cap is able to control Rick Flag and force him to murder Weasel, so they both die.
Joaquín Cosío portrays Major General Mateo Suarez
Mexican actor Joaquín Cosío is taking on the role of a very important-sounding Suicide Squad character: Major General Mateo Suarez. There isn't much information available about General Suarez, given that a character with that name hasn't appeared in the DC Comics universe just yet. However, it could be that he's related in some way to Martin Suarez, the (fictional) President of the United States who had close ties to Batman.
Based on his title, Suarez seems to be a high-ranking military official. Perhaps he knows Peacemaker somehow, and has a hand in bringing him to the Suicide Squad. On the other hand, maybe Major General Mateo Suarez will be someone who works against the Squad and tries to thwart their missions. It's anyone's guess at this point.
Juan Diego Botto is Presidente General Silvio Luna in The Suicide Squad
Another Suicide Squad character who will likely have a lot of power is Presidente General Silvio Luna, played by Argentine-Spanish actor Juan Diego Botto. Like Cosío's Major General Mateo Suarez, Botto's Luna is largely a mystery. Hardly anything is known about him, what his motivations are, or how he'll factor into the film's narrative. If nothing else, though, a name like that means Luna will be influential no matter what.
Mayling Ng portrays Mongal
Possessing the powers of super-strength and stamina, Mongal is an extraterrestrial warlord whose father, Mongul the Elder (aka Mongul I), is the despotic ruler of the galaxy-traversing, slave-holding satellite Warworld. Mongal meets Superman and brings him onto the Warworld ship, fighting against him alongside her twin brother, Mongul the Younger.
She ends up ruling over Almerac — the homeworld of Queen Maxima, the royal meant to mate with Superman — and then gets decapitated by her brother during a fight in Green Lantern Vol. 4 #8.
In The Suicide Squad, expert martial artist Mayling Ng, who performed stunts in 2017's Wonder Woman, will bring Mongal to life.
In The Suicide Squad, Jennifer Holland plays Emilia Harcourt
The Suicide Squad will also feature a character called Emilia Harcourt, a Russian-American National Security Agency agent who works with the Advanced Research Group Uniting Super-Humans (A.R.G.U.S.) and Amanda Waller to monitor the Suicide Squad. When Waller is suspended from the Squad and put under investigation, Harcourt becomes the Squad's director. But she isn't what she seems: Harcourt is actually a double agent who steals information from Waller and even convinces Captain Boomerang to turn against the Suicide Squad.
In The Suicide Squad, Gunn's girlfriend, Jennifer Holland, portrays Harcourt. Nothing says "love: like casting your partner as a character who may end up betraying people close to her. (Thankfully, Gunn and Holland appear very much in love; no harm, no foul in Holland's casting here.)
Tinashe Kajese portrays Flo Crawley in The Suicide Squad
A character who was announced after the DC FanDome panel for The Suicide Squad wrapped up is Flo Crawley, also spelt Flo Crowly in the DC comics. Gunn took to Twitter to confirm that Tinashe Kajese — known for her roles in The Immortal Life of Henrietta Lacks, The Inspectors, and Valor — will play Flo in The Suicide Squad.
John Ostrander and Luke McDonnell created Flo, who first appeared in Suicide Squad #1. One of Amanda Waller's relatives, Flo works at Belle Reve Penitentiary and serves as a behind-the-scenes mission control operator for the Suicide Squad — putting her expert computer skills to work. She also harbors a deep love for Bronze Tiger, an anti-hero recruited to the Squad, and ends up joining him on a mission that ends with a fatal conclusion. To our knowledge, Bronze Tiger won't be in The Suicide Squad, so here's to hoping that Kajese's Flo will face a gentler fate in the upcoming film.
The Suicide Squad stars in still-undisclosed roles
There are two actors remaining on the Suicide Squad cast roster whose characters are still a total mystery. These stars are Taika Waititi, Gunn's fellow Marvel Cinematic Universe director who changed the face of the franchise forever with Thor: Ragnarok, and Julio Ruiz, who has credits in Vice Principals and Preacher.
Both Waititi and Ruiz have kept quiet about their parts in the new movie, and Gunn, who opened the floodgates on Twitter and shared all the information he could about the cast list, didn't mention either actor in any posts. For now, fans will have to do what they do best: speculate like wild and try to pin down who Waititi and Ruiz are playing in The Suicide Squad.
The good news is that there's plenty of time to theorize: The Suicide Squad won't hit theaters until August 6, 2021.