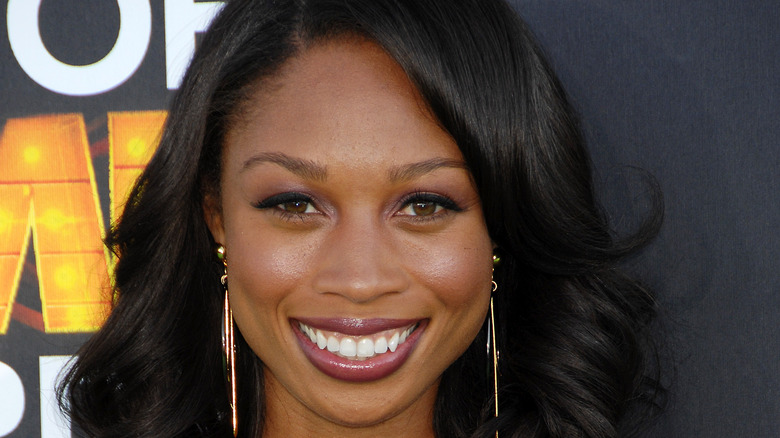 Many women have made their name in sports after participating in the Olympic Games, and one of them is track and field star Allyson Felix, who started her career straight out of high school. Felix had her Olympic debut in 2004 when she was just 18 years old, when she came in at second place for the 200-meter race (via Biography). Since then, Allyson has been a household name in track and field and has, thus far, a total of 9 Olympic medals under her belt, six of which are gold.
Allyson Felix, now 35 years old, will be competing at the upcoming Tokyo Olympic Games, her fifth time to do so since her debut. Felix won her ticket to the worldwide event after finishing in second place in the qualifiers, as reported by First Post. She was ecstatic to be competing in the Olympics once again, and said, "It has been a fight to get here, and one thing I know how to do is fight."
Allyson Felix's childhood and early life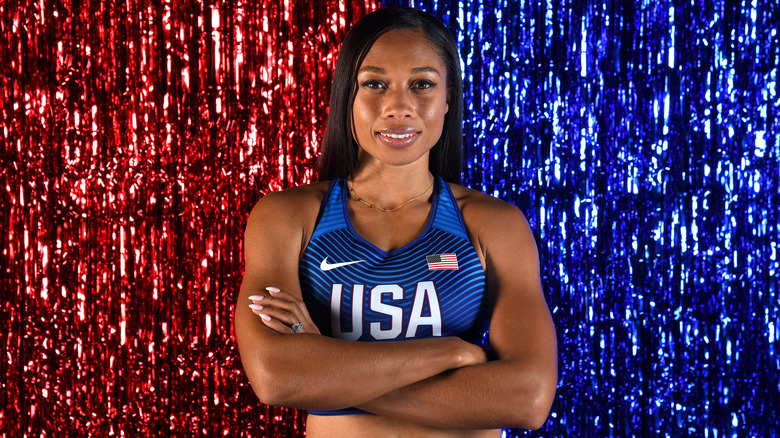 Allyson Felix was born in 1985 in Los Angeles, California. Her father was a minister and her mother worked as a teacher. Allyson had an interest in sports at an early age and played basketball as a young girl. Back then, she was given the nickname "Chicken Legs" for her long legs and slender frame, per Biography. Allyson wasn't the only one in her family who dabbled in sports, as her father was a sprinter in his younger years, and her brother Wes was a sprinter as well.
Allyson started her track career in high school, and she was just a freshman when she tried out for her high school track team. From then on, she excelled in the sport and placed seventh at the California State Meet just a year after. By 2003, Allyson was making waves and was named "High School Athlete of the Year" by "Track and Field News." After high school, Allyson attended the University of Southern California after signing a contract with Adidas, which paid her tuition fees (via The Famous People). She then went on to compete at the Summer Olympic Games in Athens in 2004.
Allyson and her sweet cravings
With a lean and toned body, it's hard to guess that Allyson Felix loves sweets. In an interview with ESPN, her brother Wes (who is also her agent), revealed his sister's love for sugary goodness. Wes, being an athlete himself, tries to eat healthily. His sister, on the other hand, prefers to eat donuts before bed. "And not sugar donuts, powered sugared donuts. Those white Hostess, $1.99 — there may not even be any real bread in them. She just loves them," Wes said.
Allyson is also said to be a talented baker and has some specialties that her family loves. Per an interview with Eating Well, Allyson said that one of the recipes she often makes is cinnamon rolls as her family loves them. "They also love my pound cake and German chocolate cake," she said.
When it comes to savory meals, however, Allyson loves soul food — a reminder of big family dinners she had growing up. "Black-eyed peas, mac and cheese, rice and gravy, catfish. All of that," she said.
On beating one of Usain Bolt's records
Usain Bolt is synonymous with speed and is considered one of the greatest sprinters of all time — but in 2019, Allyson Felix beat Usain Bolt's record of the most gold medals in the World Championships, per NBC Sports. Allyson, together with her three other team members, won the mixed-gender 4×400-meter relay with a time of 3:09:34, beating the second-place team by 2.44 seconds. The win gave Allyson another gold medal, bringing her total up to 12 and overtaking Bolt's 11. And she did it only 10 months after giving birth to her daughter.
When interviewed about beating Bolt's record, Allyson brushed it off by saying, "This is a different event, so I don't really look at it in that way." In a Twitter post, Allyson acknowledged her 12 wins by simply reposting a tweet from Team USA and adding the caption, "Humbled." In addition to her world championship records, Allyson is also one of the most decorated track and field stars.
Allyson's controversial experience with Nike
In 2010, Allyson Felix signed a seven-year sponsorship contract with Nike. That contract ended in December 2017, and contract negotiations were well underway by the time 2018 rolled in. It was also about that time when Allyson started thinking about growing her family. She and her husband Kenneth welcomed their daughter Cameron in November 2018, and it was after that when she revealed her disappointment with Nike, according to Oprah Daily.
In an editorial that she wrote for The New York Times, Allyson revealed that negotiations with Nike went at a standstill after she was offered 70% less than her previous contract. This, Allyson explained, was despite the fact that she was still an exceptional athlete after her C-section. "I asked Nike to contractually guarantee that I wouldn't be punished if I didn't perform at my best in the months surrounding childbirth," Allyson wrote. In the end, Nike declined.
Felix has since left Nike and is now sponsored by Athleta, a brand that Allyson says shares her values (via People). "The way that they are doing sponsorship to me is incredible. It is focused on me as a whole — as an athlete, as a mom, and as an activist," she stated.
A champion for women and mothers
Allyson is an advocate for equality and women's rights, even more so now that she is raising a daughter. In an email to CNBC, the world champion revealed that she is doing her part to fight for change to provide a better world for her daughter. "When I think about the world that Cammy will grow up in, I don't want her — or any other woman or girl — to have to fight the battles that I fought," she wrote.
Together with her sponsor Athleta and the Women's Sports Foundation, Allyson launched The Power of She Fund: Child Care Grants, which offers child care funds to athletes who are also mothers. The program affords mom athletes to provide care for their children while pursuing their athletic careers, as reported by USA Today. Furthermore, Allyson has also provided her time and effort over the years to various charitable institutions to raise funds for children's hospitals and senior centers.
Allyson's latest endeavor is the lifestyle brand Saysh, which offers products made by and geared toward women per Oprah Daily. In an Instagram post, she said "When you see me run, know that I'm not running for medals. I'm running for change. I'm running for greater equity for each of us. I'm running for women. More than anything, I'm running toward a future where no woman or girl is ever told to know her place."