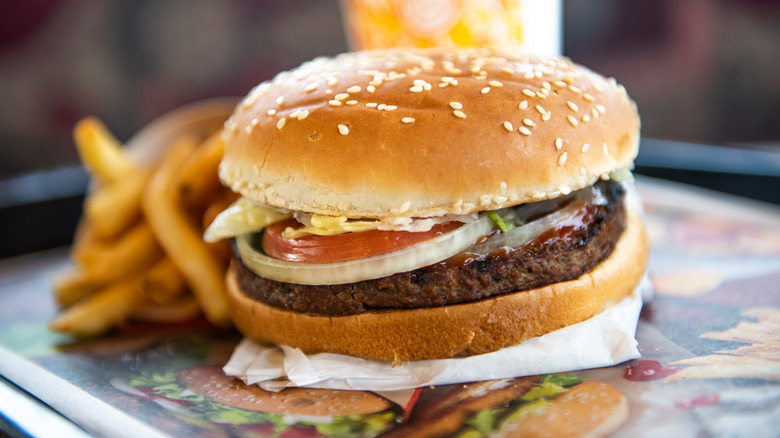 With Burger King welcoming more than 11 million guests around the world, you have to wonder what's keeping them coming back (according to the chain itself). Is it the customer service? The flavorful chicken sandwiches? Could it be the zesty onion rings? Or maybe, just maybe it's one huge fan favorite staple — The Whopper. The product of a redesign of the company's process for cooking burgers, the menu item was introduced three years after the famed establishment's opening in 1954 and has been a number one among fans for decades. In fact, according to one of the co-founders of the restaurant, Jim McLamore, the name itself represented something he knew was going to be big, in size and customer indulgence (via The Washington Post).
"I suggested that we call our product a Whopper, knowing that this would convey imagery of something big," he stated in his autobiography, 'The Burger King.'"
And that's exactly what it became. So, what is it that makes the beloved burger so delicious?
Whoppers are made with 100% beef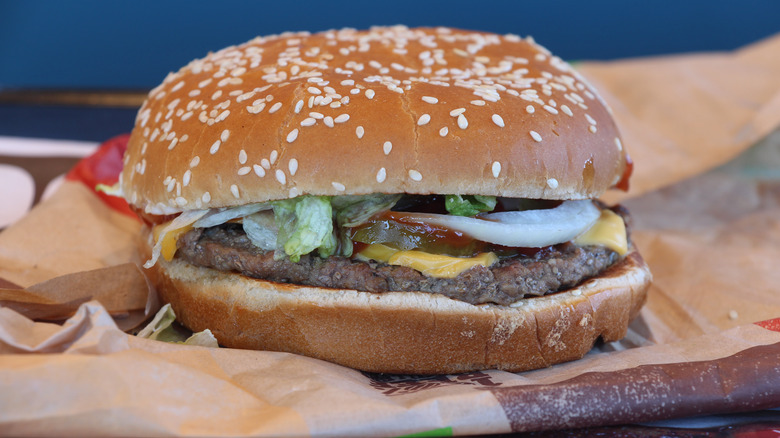 Each Whopper sandwich is created with 100% beef, allowing for the natural, juicy flavor of a real burger. With no fillers, preservatives, or additives, the Whopper is made with 1/4lb of flame-grilled beef and freshly prepared for each order. The change to 100% beef was rather recent. Back in September 2020, the chain introduced us to the new and improved Whopper, with no change to its original delicious taste. The sandwich had already been free of artificial ingredients in several countries.
To even further this change, the franchise began putting the Whopper recipe on its wrappers as part of a push for clean eating (via Marketing Dive). The new packaging lists the Whopper ingredients as "100% flame-grilled beef, tomatoes, lettuce, mayo, ketchup, pickles, onions and a sesame seed bun," and also says the burger doesn't have any artificial ingredients, monosodium glutamate (MSG) or high-fructose corn syrup. The move came as younger consumers who are a key target for quick service restaurants like Burger King prefer food with healthier ingredients.
"In the U.S., 85% of the Burger King permanent food menu is now free of colors, flavors, and preservatives from artificial sources, and the brand is striving to achieve 100% by the beginning of next year," stated an official press release.
The meat is flame-grilled
With every Whopper comes flame-grilled meat, allowing for a fresh-off-the-grill taste. One former employee explained on Reddit how they do it at Burger King, stating, "They use a broiler and you load frozen patties onto the tray and then shove them in and [it's] a flame grill inside… If the broiler messes up and one of them doesn't cook, then you have to count the entire load as waste and cook more. Whenever you drive by BK and see all the smoke roll out of the roof, [it's] from the broiler discharging."
The flame-grilling process allows for a fresh and flavorful taste you would typically find at a summer cookout with a large and classic burger. The broiler and gas-powered grill cook the burger from both the top and bottom, making sure both sides of the burger meat are grilled to perfection. According to a former Burger King general manager on Quora, each patty is then held in an electric unit to ensure fresh quality for each customer.
The toppings add so much flavor
One big thing that makes the Whopper sandwich delicious, aside from the flame-grilled meat of course, is the fully-loaded toppings. One Insider reviewer who enjoyed the Burger King sandwich described it by saying, "The ketchup gave the burger a slight sweetness, while the mayo added a nice, creamy texture that elevated the crunchiness of the zesty pickles and lettuce." Although not the healthiest burger, but definitely the most mouth-watering, we agree that the combination of the onions and tomatoes added on create a freshness to each burger, as stated in the review. The onions and tomatoes are sliced daily in-restaurant and the pickles and mayo contain no additives (according to Burger King).
"It had never occurred to me that the Whopper's flame-broiled flavor was vaguely reminiscent of the burgers my dad grilled in our backyard over Kingsford coals," Keith Pandolfi wrote in a personal essay on Serious Eats. "That there was a snap to the pickles; that the tomatoes were fresh and juicy enough that, once I wrapped my hands around the burger, they smashed into the liberally applied ketchup and the mayonnaise, creating a sweet, sloppy, and tangy mess of condiments that dripped out of my Whopper with each bite, and which I sopped up with my french fries until it was gone."
The combination of all of the original toppings is something we can all appreciate once it's all put together as they help to create the Whopper we've all known and loved.
Additional toppings are always available
What makes a burger more delicious than being able to put whatever you want on it? In compliance with its popular slogan "Be Your Way," Burger King offers a variety of additional toppings for the Whopper, including bacon, cheese and BBQ sauce. You can even add onion rings or fries to your burger, if you desire. In fact, one of the original slogans for the sandwich claimed there to be 1,024 ways to have a Whopper.
It turned out, there's actually a whopping (ha, get it?) 221,184 ways to have a Whopper, according to one of Burger King's ad campaigns. The possibilities are endless with the Whopper sandwich and as long as Burger King has what you want, the burger can be catered just to your taste.
Seasonal and themed Whoppers keep things interesting
To keep our interest, Burger King has released multiple variants of the Whopper with all sorts of different taste profiles. From the Angry Whopper (with pepper jack cheese, jalapenos and "Angry Sauce"), to the California Fresh Whopper (with sour cream-onion dressing and cucumbers), to the Pinata Whopper (with jalapenos, tortilla chips and hot sauce), and even the Windows 7 Whopper (which uses seven quarter-pound patties), the franchise has given us multiple reasons to go enjoy our favorite burger while keeping us on our toes. Themed Whoppers for gay pride and Stranger Things have also been released. Mostly available for a short and limited time only, these exciting burgers have made their way to customers for multiple occasions and kept our taste buds interested.
When releasing the Proud Whopper for Pride, Fernando Machado, a senior vice president of global branding for Burger King, told TIME, "We really want to be more than burgers, fries and shakes, and occupy a space that's more meaningful to people."
The Impossible Whopper has delighted vegetarians alike
Back in 2019, the franchise pushed out the Impossible Whopper to all locations. Crafted from soy protein concentrate with a little bit of potato protein and soy protein isolate, the fat comes from coconut oil and sunflower oil and is bound together with plant fiber and modified food starch. Vitamins, minerals, simple sugars, and some flavor enhancers are also added in, as well as a special molecule called "heme," which you'll see on the label as "soy leghemoglobin."
Containing the typical Whopper toppings, the Impossible Whopper provides vegetarians with the same taste you would get out of a normal Whopper sandwich and even saves you a few calories. With the Whopper weighing in at 657 calories, the Impossible Whopper cuts that down by 29 and comes in at 628 calories — not a huge difference, but enough to matter if you're counting.
A great alternative for vegetarians or those looking for something a little more healthy, Burger King has kept things just as flavorful with the Impossible Whopper through the mixture of its decadent toppings and the use of heme, which gives the meal a flavoring closer to real meat.
Whoppers cater to small appetites too
No matter how delicious a burger is, those last few bites can be anything but if you're no longer hungry, but also not a fan of wasting food. Burger King knows that, and they have a solution.
Burger King also sells the Whopper Jr., available for those who don't enjoy the normal size of the Whopper — or anyone who's trying to live a healthier life but still loves their fast food every now and then. Just as flavorful as the original, this smaller-sized sandwich is well-known and loved by fans of the franchise and provides a great alternative for those with smaller appetites. Created through a lucky mistake, the Whopper Jr. is made with the same beef (just a smaller amount) as the OG and is just as delicious. It's also available with the same toppings, meaning it's the perfect indulgence for someone wanting a delicious burger… just in a normal size.