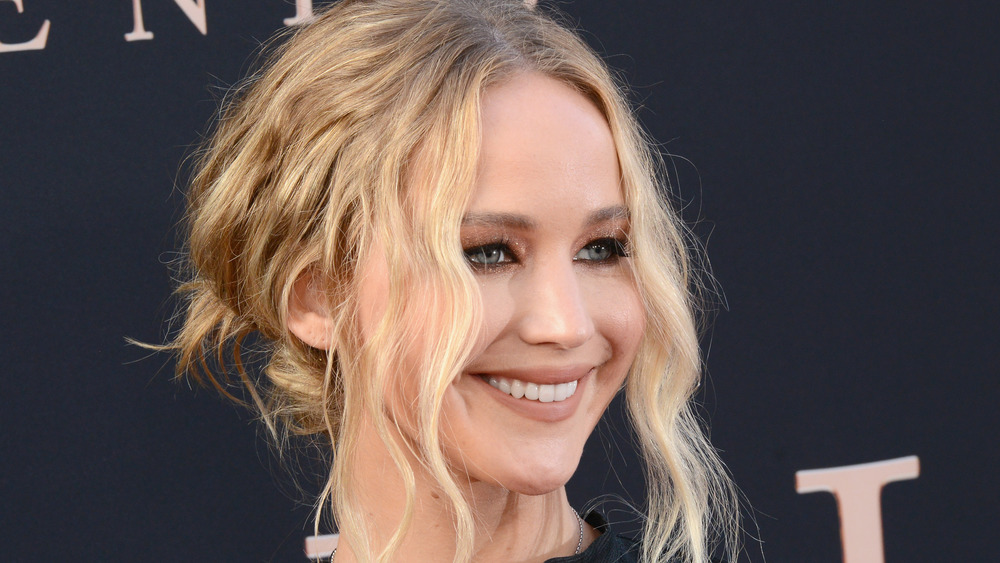 Throughout the 2010s, young Hollywood was full of rising stars and fresh faces, but one actor rose above the fray: Jennifer Lawrence, whose rise to prominence started early in the decade. After modest starts on projects like The Bill Engvall Show — and tiny appearances like a promotional spot for MTV's My Super Sweet 16, which earned Lawrence membership in the Screen Actor's Guild — Lawrence scored her first Oscar nomination thanks to the 2010 drama Winter's Bone. From there, she became one of the biggest Hollywood sensations in recent memory, turning into both a decorated actor and a clear box-office draw before she could even legally go to a bar.
However, for the past couple of years, Lawrence has been largely absent from the big screen, leading fans to wonder just where this funny, seemingly relatable leading lady has gone. After headlining Academy Award-nominated projects as well as a hugely successful young adult franchise, Lawrence has all but vanished from the public eye, leaving fans to wonder where she's gone. Between maintaining a personal life, her incredibly fast rise to international fame, and an unfortunate string of flops, here are some reasons why you haven't seen Jennifer Lawrence onscreen in a while.
Jennifer Lawrence was randomly discovered at a young age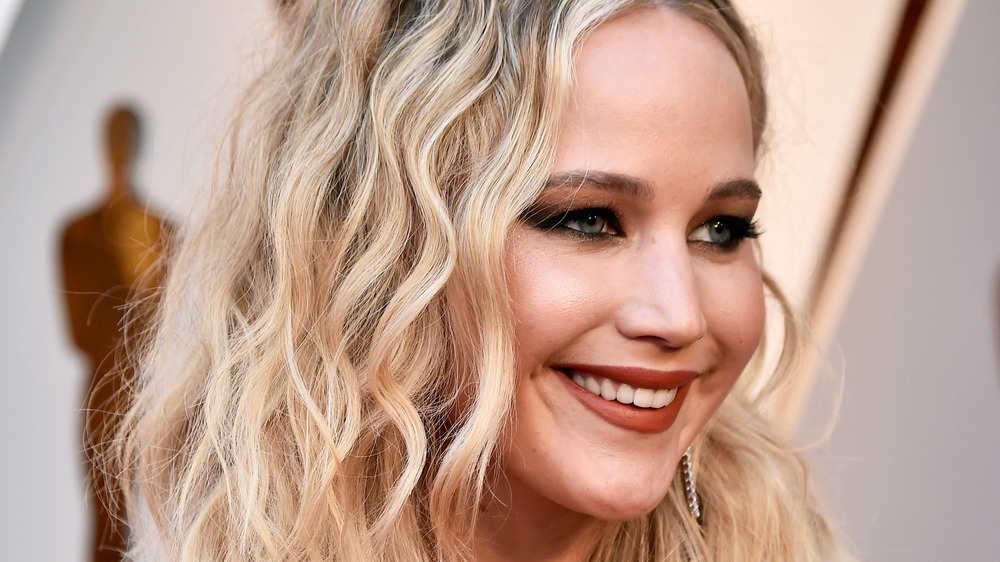 It always seems like an urban legend when you hear that a famous actor was scouted on the street, but according to Lawrence, that really happened — she was just 14 years old and visiting New York City when she was spotted by a modeling agent. Lawrence was hooked… but not on modeling.
"I was playing field hockey and cheerleading and wanted to be a doctor — but within 20 minutes, in the cab ride from the hotel room, I decided I didn't want to be a model, that, in fact, I wanted to be an actress, and I would only sign with an agency if they would let me audition for commercials and act as well," Lawrence told Vanity Fair in 2013. "I don't know where that came from. And one of them gave me a script, to audition the next day, and I read the script and it was the first time I had that feeling like I understand this. This is the first time I've ever understood anything. […] I always felt like I sucked at everything, that I could never find the thing that I liked. I auditioned and I probably sucked, but I had decided 100 percent that this is what I wanted to do."
Despite her knee-jerk reaction to the opportunity, 14 is pretty young to make such a big decision… and her career moved faster than anyone could have anticipated.
Jennifer Lawrence gave up school to pursue acting
Making the huge decision to pursue acting full-time at such a young age would be daunting to begin with, but in Lawrence's case, she gave up something even bigger: she dropped out of middle school, and never earned a high school diploma. In conversation with Bill Whitaker of CBS News, Lawrence opened up about her choices — and revealed whether she regrets the choice.
After explaining that she never felt comfortable in school, Lawrence told Whitaker that she had to convince her parents to let her drop out and make the leap to full-time acting. "It's so hard to explain it was just an overwhelming feeling of, 'I get this. This is what I was meant to do,'" Lawrence explained." And to get people to try to understand that when you're 14 years old. Wanting to drop out of school and do this and your parents are just, like, 'You're out of your mind.'"
Though she said she doesn't regret her choice — "No. I really don't. I wanted to forge my own path. I found what I wanted to do and I didn't want anything getting in the way of it. And even friends for many years were not as important to me as my career. I mean, from the age of 14" — the weight of this decision is enormous for a young teenager. Before long, her career would skyrocket, which would put academic pursuits on the back burner for the foreseeable future.
Winter's Bone was a grueling role for Jennifer Lawrence – and a huge stepping stone
In 2010, Jennifer Lawrence's biggest break to that point came in the form of Winter's Bone, an Ozark-set drama directed by Debra Granik that cast Lawrence as a hard-scrabbling teen trying to protect her family from poverty, a harsh winter, and homelessness in the mountain range. As Ree Dolly, the de facto head of her family, Lawrence came off as wise beyond her years — and to film the role, she endured some pretty harrowing experiences, including skinning a dead squirrel.
However, her work paid off handsomely; in the aftermath of the independent film's release, Lawrence earned widespread acclaim and an Academy Award nomination for her work in the role. Now one of the hottest rising stars on the film industry — seemingly overnight and thanks to her performance in a low-budget indie movie — Lawrence was more visible than ever, catapulted into stardom at an insanely quick pace as well as a staggeringly young age. The courage and focus she displayed in deciding to drop out of school in order to pursue her dream of acting full-time paid off fast — but as countless other stars have learned over the years, fame is a double-edged sword.
Jennifer Lawrence made Oscar history
After one leading film role, Jennifer Lawrence became one of the most recognizable faces in Hollywood, and when she debuted a bombshell look — complete with a skin-tight red dress — at the 2011 Academy Awards to celebrate her nomination for Winter's Bone, it only contributed to her fast-growing notoriety. Before long, Lawrence was fielding a ton of huge movie offers, and just a few years after her first nomination, she made history with her first win.
Two years after Winter's Bone and during the peak of her early career, Lawrence starred alongside Bradley Cooper under the direction of David O. Russell in the 2012 film Silver Linings Playbook, and though she was already a blockbuster star by this point, her performance as Tiffany — a widow looking for love in all the wrong places — earned her the most critical accolades of her career to date. After winning a string of other awards, including a Golden Globe, Lawrence took home the Academy Award for Best Actress in early 2013, making her the second youngest winner in the category; just one year later, she set a record as the youngest ever three-time nominee thanks to her performance in Russell's American Hustle.
Fame came super quickly for Jennifer Lawrence
Even before she won her Oscar for Silver Linings Playbook, Lawrence had cemented her status as a Hollywood staple thanks to her major roles in some of the industry's biggest franchises — and as a result, she was more visible than ever. After Winter's Bone, Lawrence found herself seriously in demand as a performer, and started signing on to play characters in huge blockbusters that made her a superstar.
In 2011, Lawrence joined the X-Men franchise with First Class, where she played Mystique — a role that she would later reprise in 2014's Days of Future Past, 2016's Apocalypse, and 2019's Dark Phoenix. However, you may actually know her best from her starring role as heroine Katniss Everdeen in the Hunger Games franchise, which spawned four films and made Lawrence the highest-grossing action heroine of all time.
To add to what was likely a ton of pressure, Lawrence then partnered with David O. Russell and Bradley Cooper for several different prestige projects, including Silver Linings Playbook, American Hustle, and 2015's Joy. Lawrence was an undeniable star around the world by the time she was just 22 years old, and it's hard not to think that such a breakneck ascent to fame might have been an awful lot for her to handle at such a young age.
Jennifer Lawrence has gotten significant pushback for her "cool girl" persona
Beyond her onscreen performances, Lawrence quickly became one of the most notorious figures in Hollywood… thanks to her public persona, which drew a wide variety of reactions from the general public as she settled into stardom. Right off the bat, Lawrence presented herself as a "cool girl" who would drink to excess, make risqué jokes, and do away with any pretension.
For many women, this was a refreshing change of pace for such a huge celebrity — but as with all things, the internet backlash followed swiftly and intensely. Pretty soon, outlets like BuzzFeed were publishing features critiquing Lawrence's "cool girl" image, invoking the famous speech from Gone Girl detailing the artifice of the whole thing and bringing up her now infamous trip up the stairs on the way to collect her Oscar or her frequent tales of public drunkenness. Whether Lawrence was putting on an act or simply being herself, the damage was done, and the backlash hit hard, accusing the star of faking a relatable public persona just to score likability points. Whether or not her critics had any idea what they were talking about, that can't have been an easy thing for Lawrence to endure, and unfortunately for her, the wave of backlash preceded some of her least popular film releases.
Jennifer Lawrence's first string of critical flops
Flush with industry capital after huge early successes like Silver Linings Playbook and the Hunger Games franchise, Jennifer Lawrence signed on to appear in several films from 2015 on that, unfortunately, didn't bring her much acclaim or success. That year, she reunited with David O. Russell for the biopic Joy, which cast Lawrence as the creator of the Miracle Mop, and though it earned her an Oscar nomination, the critical mass for the film was pretty negative compared to Russell and Lawrence's earlier collaborations. To make matters worse, 2016's X-Men: Apocalypse was described as "middling," despite a respectable performance at the box office.
That same year, Lawrence's final project of 2016, Passengers, had every ingredient for success on paper, between its high-concept space setting and Lawrence's uber-famous co-star Chris Pratt. Though Pratt and Lawrence both earned praise for their performances, the film was largely disliked — thanks in large part to an unsettling third act twist — making for a third consecutive critical flop for Lawrence. After her incredible run of early success, this can't have been easy for Lawrence to process.
An attempt at arthouse horror went badly for Jennifer Lawrence
Following her appearances in several high-profile critical failures throughout 2016, Jennifer Lawrence returned to her roots in smaller independent films in 2017… but unfortunately, this decision didn't quite pan out either. Alongside her boyfriend at the time, director Darren Aronofsky, Lawrence took a huge career leap by taking on the title role in mother!, a disturbing avant-garde horror film that should have put her firmly back on the map as an actor to watch.
After her previous success at the Academy Awards, it probably seemed like an inevitability that Lawrence would score a nomination for mother!, but sadly, the film became a perverse joke, between the fact that Aronofsky made the choice to spend much of the film on close-ups of his girlfriend's face and the sheer divisiveness of the ambitious yet scattershot plot. When all was said and done, mother! wasn't the career resurgence Lawrence needed at all — and as her only film project in 2017, it left a lasting impression of a career that seemed to be on the decline.
Jennifer Lawrence's most recent movies were box office bombs
In the aftermath of mother!'s release, Jennifer Lawrence returned to big-budget projects, which also didn't work out as she likely planned. In 2018, Lawrence headlined the spy drama Red Sparrow, which cast her as Dominika Egorova, a prima ballerina who turns spy when she's tasked to work for the original incarnation of the KGB, which was known in Russia as the SVR. Despite intense training for the role and a "committed performance," Red Sparrow, which reunited Lawrence with her Hunger Games director Francis Lawrence, performed acceptably at the box office, but was largely a critical failure.
Lawrence's next project, Dark Phoenix, which saw her reprising her role as the mutant known as Mystique alongside an ensemble cast that included Game of Thrones star Sophie Turner, suffered an even worse fate. Panned by critics and rejected by audiences, the film became the lowest-grossing entry in the X-Men franchise — though it was later unseated by 2020's New Mutants, which was released during a global pandemic. Sadly for Lawrence, her most recent film projects definitely didn't go as planned… and left her with a string of flops in its wake.
Jennifer Lawrence needed a break when her life became tabloid fodder
Ultimately, Jennifer Lawrence's break from public life is her own prerogative. Her recent career setbacks aside, her personal life has also taken center stage — in good ways as well as bad ones. Besides having to deal with her "cool girl" backlash, Lawrence was also the subject of a cruel data leak in 2014, and her friendships with Amy Schumer and the Kardashian family have been the subject of tabloid attention, sometimes overshadowing her impressive artistic accomplishments.
In October of 2019, Lawrence wed art gallery director Cooke Maroney and has been largely off the radar since. However, as E! Online reported in 2018, Lawrence also just thinks it's healthy to take a break from Hollywood once in a while, and took a scheduled hiatus that year, admitting as much to late night host Stephen Colbert. When you're as famous as Jennifer Lawrence, it's probably healthy to take a break every now and then — and thanks to this performer's sheer talent, it's safe to assume she'll return to the big screen whenever she wants to.